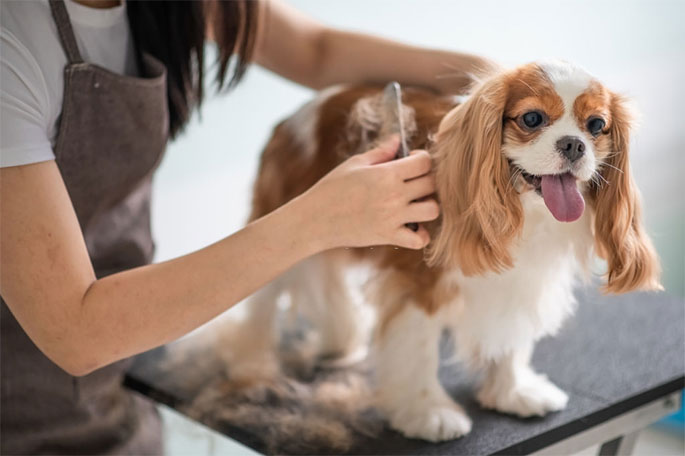 PetDogPlanet.com is an Amazon Associate, and we earn from qualifying purchases.
Dogs have often been referred to as man's best friend. Dogs can snap you out of a bad mood faster than you imagine, alerting you to impending danger not forgetting the companion they provide.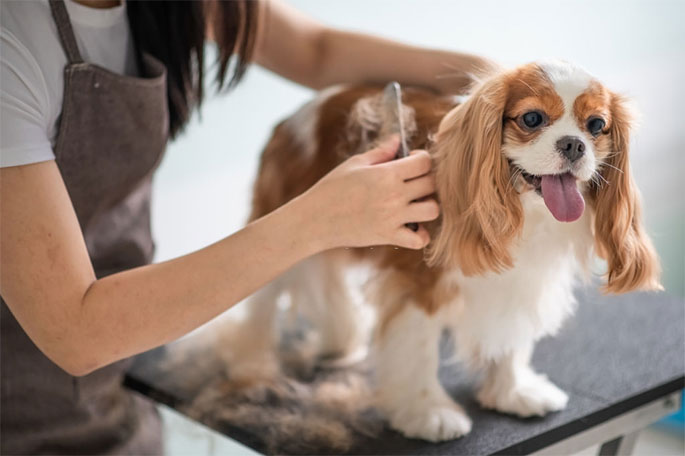 Read More:
It, therefore, goes without saying, taking good care of your dogs is of paramount importance. Proper grooming goes far beyond the physical appearance and improves the overall well-being of a dog. The general condition of your dog's skin and coat are good indicators of the dog's health.
Dogs come in various shapes and sizes most of which need some type of hair growth control with some good dog grooming shears as part of grooming. Some dogs require full haircuts that may call for the experts or just a little trimming of specific areas that can be done at home.
Last update on 2023-12-11 / Affiliate links / Images from Amazon Product Advertising API
A hair cutting session with your dog at home provides inexpensive bonding time for you to thoroughly clean your dog and notice any scars or tears suffered by your dog. Cutting your dog's hair at home shouldn't be a daunting task as it only requires a little practice and carefully, some good dog grooming shears and following the below steps;
Step 1: GET THE RIGHT EQUIPMENT
Before you begin to give your dog a haircut, you need to be fully equipped with some important tools such as;
Blankets and towels

Combs and brushes

Dog shampoo and conditioner

Dog treats
Dog grooming shears are recommended for full body haircuts as compared to clippers which can at times scare the dog. Shears come in different sizes and shapes with the best being made of stainless steel. Stainless steel is durable, needs little maintenance and doesn't require frequent sharpening of the blade.
The handles of the shears ought to be the right size to fit your hands in order to offer a firm and comfortable grip. The dog grooming shears can be sharp or blunt depending on the hairstyle you have chosen for your dog.
Sharp tips give you more control over the haircut whereas blunt blades reduce the risk of pinching your dog. Dog grooming shears with straight blades are easier to use of dog's hair while the curved blades are excellent for nail trimming.
Step 2: BATHE THE DOG
Most dogs don't fancy getting a haircut; therefore you need to make them very comfortable. Petting the dog will quickly calm the dog before a bath. Brush the dog's hair before dipping them into the water to keep off heavy dirt and debris.
Use high-quality shampoo for the bath as inexpensive brands can contain harsh ingredients that would harm your dog. Start the bath slowly with low-pressure warm water, massaging the shampoo to the coat.  Dry the dog and comb in order to place the appropriate length guide on the far before you start using your dog grooming shears.
Step 3: THE HAIRCUT PROCESS
First, begin the haircut process by taking up your best dog grooming shears and trimming it just a little in a quiet area free from distractions. It's best to start from the front and work gently towards the back. Make sure you move in clockwise motion within the grains of the hair to avoid the dog being uncomfortable.
Work in sections to easily manage the cut and take breaks in between if need be. Once the length is shortened enough, it's time to even out the hair by softly snipping the edges of hair.
Make sure to get under the chin, chest, and ears as these areas may be easily forgotten. Be careful as these areas are also sensitive and can cause the dog to behave erratically. Finish off by trimming any visible facial hair that can be seen. Clean the ears using ear powder and squeeze a puff into the dog's canal.
Popular Posts: