Top 10 American Pitbulls Breeders | Find Pitbull Puppies For Sale
Looking to adopt a puppy but wondering which breed to choose? Well, if you want a family-friendly, highly active, and affectionate dog that is great with kids, and are people pleasers, then look no further than an American Pitbull Terrier. Read on to discover some of the best pitbull breeders in the world.
Before we mention the top 10 pitbull breeders in the world, we first have to answer one big question;
Why Bring Home a Pitbull?
Many people are truly uneducated on the actual nature of the American Pitbull terrier breed. The common narrative is that Pitbulls are terrible and too aggressive to keep as pets.
But the truth is, a dog is only as good as its master. And an aggressive Pitbull is almost always the product of a bad owner.
The American Pitbull Terrier is one of the most popular dogs on earth. This is why this burly fellow finds his way into many homes with immature, inexperienced, or ill-advised owners.
But Pitbulls are one of the best family dogs. They are loyal and love companionship. A Pitbull's temperament is influenced by how they are bred, the environment they live in, and the way people treat them.
With love, affection, and good training, a pet Pitbull will give you years of joy and fun. They have lots of energy and drive. If you are a new pitbull owner, this big fellow might overwhelm you if you are ill-prepared to give him all the attention he needs.
5 Reasons Why You Should Own a Pitbull
1. Pitbull's are Naturally Healthy
Pitbulls are one of the healthiest and stable dogs in the world. Their active lifestyle keeps them in shape. Pitbulls have a great appetite too so eating healthy is not a problem for them. Compared to other large dog breeds, Pitbulls have a strong immune system and seldom get sick.
2. Pitbull's are easy to groom
Pitbulls have a short coat that sheds minimally. It takes less time to groom a Pitbull which saves you time and money. Living with a Pitbull means fewer pet hairs all over the house. Pitbulls are great if you are hypoallergenic.
3. Pitbull's are Family-friendly dogs
Pitbulls are compassionate, affectionate, and great with small kids. If you are a family person and want a pet that is good with young and old people, get yourself a Pitbull. Pitties love cuddling and snuggling with their humans. They form strong bonds with people and can tell if you are feeling low or depressed. Their goofy side is always there to cheer you up.
4. Training a Pitbull is easy
Pitbulls are intelligent and easy to train. They love to please their owners and will do everything to learn commands quicker. This is why they are used by law enforcement and security personnel. Also, Pitbulls adapt to their masters. If it is time to relax, they will relax and if it is time to work, they get right into working. This makes them one of the best dogs overall to own.
5. Pit Bulls are beautiful dogs
The American Pitbull Terrier generally has a beautiful appearance. Popular pitbull colors are Blue, Red, Chocolate, Champagne, and Black. Other unique pitbull colors are Brindle and even Tri-Color. Pitbulls are strong, burly, and very muscular with distinct head shapes. Although they would love to be walked often and played with, they also don't mind being an adventure buddy if you love the outdoors.
Top 10 Best American Pit Bull Terrier Breeders
When it comes to finding a pet, it is important to do your research. With a lot of online scammers prowling on unsuspecting buyers, it is important to know the breeder you are buying a dog from.
A good breeder is honest, professional, and very knowledgeable about the Pitbull breed. They will also ask you a few questions to find out if a Pitbull is the right dog breed for you.
Without further ado,
Here are the Top 10 best pitbull breeders in the world that are professional and have great reviews:
Top 10 Best Pitbull Breeders in the World
Our team of Dog Breeds Experts takes great care in selecting Pitbull breeders for our website. We want to make sure our readers stay safe and find the perfect new pet, so we put in a lot of effort to feature only the most reliable breeders. Our dedicated team works diligently and has conducted thorough research, including checking both the breeder and their dogs, to ensure that the breeders showcased on our site are truly reputable and dependable.
We also take into account feedback from Google and Facebook before adding them to our list of breeders, aiming for the highest standards possible. We hope this gives you a better understanding of how we choose breeders for our website.
1. ManMade Kennels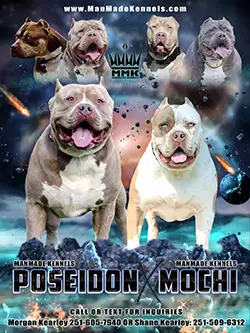 Based on their customer reviews, they hold the top rank on our chart. ManMade Kennel's Pitbull puppies for sale have been a presence for over a decade. They specialize in breeding XXL American Pit Bull Terriers tailored for families. Their customers express immense satisfaction with their purchases and appear to share a close bond with the proprietors.
ManMade Kennels has gained recognition in the realm of social media by sharing educational videos. The commentary on their videos underscores that they transcend the role of mere breeders; they are ardent enthusiasts of all canines. Many comments highlight that their videos have played a vital role in saving numerous puppies' lives. You can locate their YouTube Channel by searching "MANMADE KENNELS" on YouTube.
They proudly own one of the world's most renowned Champagne Pitbulls, "King Leonidas," and an imposing 165lb Bluenose Pit Bull named "Shadow." Another distinguishing feature is their practice of personally delivering their pitbull puppies to owners, regardless of their location around the globe.
Contact:
Located in USA / Shipping World Wide
Location: Delaware, California, Mississippi, Texas, and the Netherlands
Email: [email protected]
Phone: 408-417-5263 (San Jose California)
Get in Touch: Manmade Kennels Delaware
2. Dark Dynasty K9s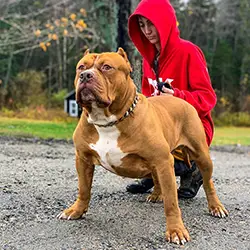 Welcome to Dark Dynasty Kennels, home to the world's most famous Pit Bull, "Hulk." Dark Dynasty Kennels stands as the most well-known Pit Bull Kennel globally. In 2004, Marlon Grennan founded DDK9S, specializing in breeding and protecting Pitbulls.
With millions of followers across their social media platforms, DDK9S has gained recognition not just for their Owner Training Programs, but also for their massive poster dog, "DDK's Hulk." Hulk's weight reached an impressive 175 pounds at just 17 months old, making headlines and captivating online audiences.
Hulk's fame extends beyond music videos and TV shows; his offspring fetch tens of thousands of dollars, propelling DDK9S to overnight stardom. While excelling in producing excellent family dogs, they shine brightest in athletic dog training, yielding some of the world's finest guard dogs.
For those seeking the largest-bred Pitbulls globally, Dark Dynasty Kennels is a go-to breeder. They also offer fully trained Pitbull puppies, although it comes with a price.
Their mission is to instill in their Pitbulls (and their future owners!) that humans must be the pack leaders to ensure well-behaved dogs. DDK9S-Gear provides collars, leads, and harnesses for dog training, and even stylish dog clothes are available.
Experience their informative website for the latest on Pitbull puppies and adults. You'll find captivating images of past litters, giving you a glimpse into the world of these remarkable dogs.
CONTACT:
New Hampshire
Mailing Address:
PO Box 24 Whitefield NH 03598 Telephone:
(603) 991-9723 (please text first
Emails:
Email1: [email protected]
Email 2: [email protected]
Web: https://www.darkdynastyk9s.com/
3. Bossy Kennels – Pitbull Breeders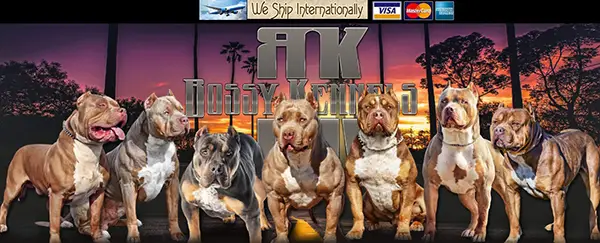 When you're seeking a kennel that delivers top-notch puppies, Bossy Kennels stands out. Their Pitbulls are favorites among celebrity clients, and they've earned a reputation as California's finest Pitbull Breeders, especially on the West Coast. Within their kennel, they boast one of the all-time best female Pitbulls, "Victoria." With an immense following, it's highly probable that if you've encountered a stunning tri-colored Pit Bull, it hails from Bossy Kennels.
At Bossy Kennels, they specialize in breeding extra-large Pitbulls, ranging from tall to short or medium-sized. Every puppy originates from champion bloodlines, ensuring top-notch quality. All puppies from Bossy Kennels are officially registered by both the American Kennel Club (AKC) and the United Kennel Club (UKC). Bossy Kennels is committed to providing their customers with the finest Pitbull puppies. To guarantee this, they prioritize the well-being of their full-grown Pitbulls, providing necessary veterinary care and health screenings. This safeguards against any genetic conditions or health concerns before the puppies are sold. Regardless of your location, Bossy Kennels offers puppy shipping services. While orders beyond California include an additional $550 shipping fee, the breeder is open to international shipping as well.
CONTACT:
Murrieta, CA, United States, California
Call: +1 530-521-6246
Email: [email protected]
Website: bossykennels.com
Facebook: bossykennels15
4. XXL Designer Pitbulls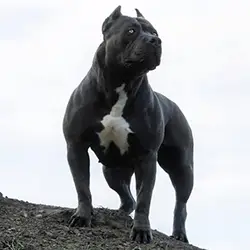 Another amazing Pitbull breeder is XXL Designer Pitbulls. They are extremely knowledgeable about Pitbulls and enjoy global popularity. They have been in the business for a long time and own one of the largest Pit Bulls in the world, named Azore. They have amassed a huge following on Instagram and have a high demand base. However, be sure to contact them early, as their dogs sell out quickly.
Azore is a fantastic dog, weighing 196 lbs and known to be one of the toughest Bullies around. If you want a big, strong Pitbull, this kennel is the place to go.
XDP is the perfect spot if you want big, friendly Pitbulls that are also smart, calm, and loving. They're one of the few breeders in the U.S. that do health checks on their dogs and puppies. This shows they're serious about making sure their dogs are healthy and happy.
They want all their puppies to be as healthy as they can be. That's why they do health checks on the parent dogs and the puppies. This helps them know what genes the puppies might get. Sometimes, parent dogs can pass on health problems to their puppies. By doing these health checks, they can make sure their puppies are less likely to have these problems.
Some people think that breeders who make the best dogs don't have to worry about teaching them to be social or adaptable, but that's not true. Actually, these breeders spend a lot of money to make sure their Pitbull puppies start learning these things early.
Not only do the XXL Bullies get exercise and walks every day, but they also learn obedience, carting, weight pull, bite-work, and agility. These dogs can do it all. Whether you need them to protect your home or just be a good friend, these dogs have got it covered!
XXL Designer Pitbull Breeder Contact:
Location: Coventry, Rhode islands
Email: [email protected]
Website: XXL Designer Pitbulls
Facebook: https://www.facebook.com/XXLDESIGNERPITBULLS/
Youtube: https://www.youtube.com/@XXLDESIGNERPITBLLS/featured
5. Big Gemini Kennels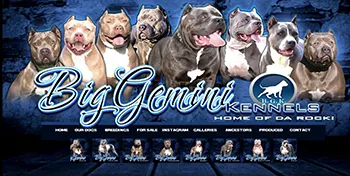 Big Gemini Kennels, also known as BGK, is a well-known place that has been around since the early 2000s. They are famous for their extra-large Bluenose Pit Bulls. Lots of people have watched their videos on YouTube, especially those featuring their huge dog named "The Rock." You can spot their dogs easily because they have really big heads and chests. Like many popular kennels, they have a lot of followers on Instagram. If you're thinking about getting a big Blue Nose Pitbull, you should check out Big Gemini Kennel's website.
Contact:
Location: Hollywood, California
Email: [email protected]
Website: biggeminikennels.com
Instagram: https://www.instagram.com/largestpitbulls/
6. Topdog Bullies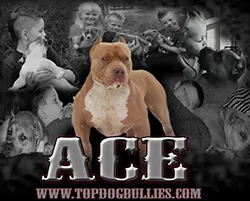 Topdog Bullies is a great place that specializes in Champagne and Tri Pitbulls. They're known for their famous pitbull named "Ace." They've been breeding American Pit Bull Terriers for more than a decade and have a lot of happy customers. People really like their services – they're one of the best.
If you're looking for big pitbull dogs, "Topdogbullies" is the place to go. They have not just big dogs, but also small ones, and in all sorts of colors. They have a lot of good things said about them, showing they know a lot about pitbulls.
They make sure their puppies get their shots when they're still young. This helps keep the puppies healthy and strong at every stage of their lives. Their special training methods help the puppies to be smart and mentally strong.
When it comes to cleanliness, they're on top of it. They make sure every puppy gets a bath every week, gets their nails trimmed, and their fur cut. They do everything they can to keep their puppies clean.
Contact:
Location: Canton, Georgia
Email: [email protected]
Phone: 678-333-8193
Website: Topdog Bullies Georgia
7. Delaware Red Pitbulls – Delaware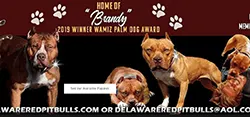 They love breeding Pitbull dogs – it's their passion and it's what sets them apart from other breeders. They believe a dog's health and happiness is tied to its genetics, and they make sure their dogs have a great life.
The owners have been breeding American Pit Bull Terriers and Working Red Dogs for seven generations – that's over 20 years! They use only the best dogs from the past and present for their breeding.
But, it's not just about breeding healthy dogs for them. Their dogs are part of their family. They keep things small scale and focus on quality. The dogs at this place get to play with the kids, go boating, swimming, and even travel with the family. They're allowed in the house just like any family member.
They also aim to educate people and help them choose the right dog for their home. Sometimes, this might even mean suggesting a different breed or a rescue group.
Contact:
Location: Delaware
Email: [email protected]
Phone: 302-750-4882
Website: Delaware Red Pitbulls
8. Unleashed Kennels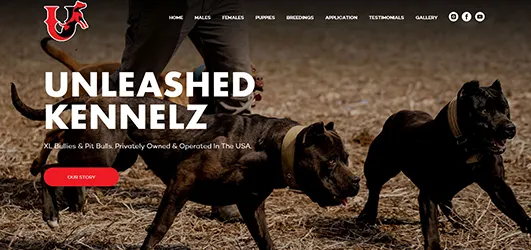 Unleashed Kennelz, run by a family, is known for breeding top-notch XL Pit bulls and Bullies. They started in 2003 with a mission to breed dogs that are healthy, have a good structure, are highly athletic, and have a calm personality.
Their dogs are muscular, very active, and have a nice temperament. These qualities have made them one of the top 10 American Pit Bull Terrier Breeders. You can check out their dogs on their social media pages by looking up Unleashed Kennels. We'd love to hear what you think about their dogs.
They take good care of their dogs' health with regular check-ups and guarantee the health of all their puppies. You can see their commitment to a safe, fun, and clean space for their dogs on their big 38-acre farm.
What makes Unleashed Kennelz special is how they treat their customers. They help you with every step when you're getting a puppy. They help you pick the right breed, show you helpful videos, and even help you get your new pet home. They want to make sure you have the best experience when you're looking for and getting your perfect dog.
To sum it up, Unleashed Kennelz is more than just a breeder. When you get a puppy from them, you become part of their family.
Contact:
Location: Los Angeles, CA, United States, California
Call: +1 616-970-5697
Email: [email protected]
Website: unleashedkennelz.com
Price Range · $$$
Rating · 4.8 (91 Reviews)
9. Finest Pitbulls Made Kennels (FPM)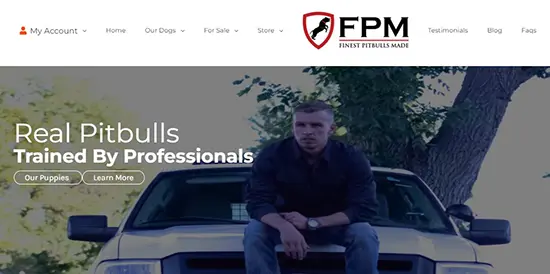 Finest Pitbulls Made (FPM) stands out in the canine industry as a unique entity. Besides raising Pitbulls, this breeder also takes pride in raising both European and American Rottweilers. They are particularly known for breeding large, high-quality Pitbulls. Their respected breeding techniques and professional dog training skills give them a special place in the dog breeding field.
Unlike other websites, FPM operates its own store filled with products that are meticulously crafted for their dogs and unavailable for purchase elsewhere. FPM's breeding program is centered around the creation of a family-friendly pitbull, trained to cater to specific client needs. They uphold simplicity and professionalism in their buying process, ensuring a smooth experience for prospective dog owners. FPM's journey began in 2008, driven by an unwavering love for the pitbull breed. Over the years, they identified a significant gap in the market – the absence of well-trained pitbulls coupled with adequate knowledge and tools from the breeder for optimal training and handling. FPM fills this gap by prioritizing safety, ensuring their pitbulls and their new families are well-equipped for their future together.
The breeder dedicates a lot of time and care to ensure their dogs are well-balanced. This includes registering them, training them regularly, and keeping up with their vet visits. This way, they can assure potential dog owners that their new pet will be healthy and content.
Their kennel, based in Milan, Tennessee, spreads across a vast 30 acres of land. It even has its own private lake and indoor areas for training. If you're considering a trip to see the kennel, that's where you'll find it.
Contact:
Location: Memphis, TN, United States, Tennessee
Email: [email protected]
Website: finestpitbullsmade.com
Call: 731-343-9916
10. Anderson Pitbulls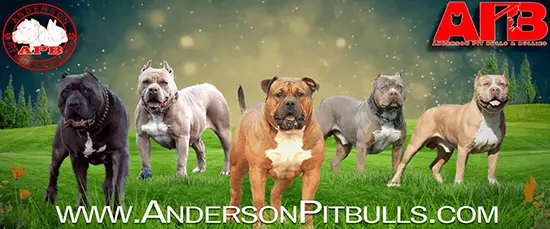 Anderson Pitbulls is a family-based kennel located in Northern California. They pride themselves on breeding some of the best bullies in the world. All of their dogs are bred and raised to be the perfect addition to your family. They work with their customers to make sure that they find exactly the kind of puppy they need. Whether you're looking for a show dog, athletic running partner, couch potato, or a service dog, they put in the extra work to make sure it happens. You're not just purchasing a puppy from them, you're becoming part of the APB family.
Their motto as bully & pit bull breeders is quality over quantity. They aim to produce the best XL American bully and pit bull puppies that money can buy. They carefully plan their breedings based on some of the best bloodlines that exhibit health, excellent temperament, function, structure, and of course beauty. They aim to produce the total package – puppies that will exceed your expectations.
At Anderson Pitbull Kennels, they have puppies of every color of the rainbow that can be produced. If you are interested in a specific color puppy, please speak with them and they will get you set up on a breeding that will more than likely produce that color. Some of their breedings will produce "tri" pit bull puppies, while others will strictly produce "rednose" pit puppies or "blue nose" pitbull puppies. Additionally, if you are interested in one of their available puppies for sale, please speak with them and they can get you some information on how to reserve your puppy.
Their kennel aims to produce the best and highest quality XL & XXL pitbulls & American bullies. They are able to succeed at this by only choosing the highest quality bloodlines and dogs for their kennel. Their bully breedings are never just thrown together in a rush. They are planned out for some time. This is their way, and they will stand by this practice as all reputable breeders should.
The health of their puppies for sale is just as important as the quality of their pitbull puppies. Never will a puppy leave their kennel without age appropriate vaccinations and certifications of health and well being. It is their responsibility as a breeder to guarantee (with accompanying documentation) you receive your puppy in good health, parasite-free, and of appropriate age (as required by California). Unless sold as a companion only, your puppy will also have their UKC and/or ABKC paperwork available.
Contact:
Location: Bonsall, CA
Email: [email protected]
Website: andersonpitbulls.com
Call: +1 916-439-7295
How to find and pick a pitbull breeder?
As mentioned above, there are so many pitbull breeders out there. Choosing the right breeder is the most important part of selecting a new family member. This list of Top 10 American Pitbull Breeders should help pin down the right breeder for you. It is very important to remember; you get what you pay for. These Kennels seem to understand that.
Some of the things that should be checked before picking the best pitbull breeders are:
Check the place: before buying pitbull puppies from a breeder, make sure the breeder is willing to show you around. Ask to see the puppies and where they are located. Ask to video chat, and for the location that the sire and dame are housed. Ask for references and proof that the kennel is an actual kennel.
Check the pups: it is better to meet the puppies in person. If this is not possible, make sure the Kennel offers health certificates for their puppies. Ask if there are any health guarantees before paying for a puppy. Pay attention to their skin and coat; they should appear clean and healthy.
Meet the parents: before choosing the pup, try to find some details about the sire and dame as well. Ask for videos of the sire and dam, and questions about their temperament and history of their bloodline. Remember, no dog is perfect, ask for the risks involved with owning one of their puppies.
Socialization techniques: Pitbulls need to be socialized. Ask if they are involved with the puppies at an early age. Are they potty trained before they arrive? What are some of their behavioral issues? Each puppy will have its personality, let the breeder know exactly the type of personality you're looking for.
Summary
Finding a good puppy can be exhausting but should not be rushed. Beware of puppy scammers and find a reputable kennel before sending anything of monetary value. Pitbull's are great family dogs, as are many other breeds. It's important to research the kennel you plan to get your puppy from and be sure to visually see the dog before purchase. This list of the Top 10 American Pit Bull Breeders could easily be randomly assigned, this is the list we developed, now you can go and develop your own.
Read More: