PetDogPlanet.com is an Amazon Associate, and we earn from qualifying purchases.
Several brands make specialized dog food, taking into account different breeds, sizes, nutritional needs, stomach conditions, and ages. As a result, people are often confused when choosing dog food.
We've got a team of dog food reviewers who are dedicated to finding the highest quality and most popular dog food. We evaluate the ingredients of dog foods and the customer reviews of the most popular brands regularly and rate them. Our dog food reviews will help you make the right choice.
Dog food varies significantly depending on a dog's age and size, so we've organized our reviews accordingly. Check out the table of contents below and choose the link that fits your dog's size and age.
Table of Content
Which is the Best Dog Food for Small Breeds?
Dogs of small breeds have a faster metabolism, so they burn calories quickly, often in a few hours, but their stomachs are smaller.
Last update on 2023-12-08 / Affiliate links / Images from Amazon Product Advertising API
That's why experts think the best dog food for small dogs is the one that's high in nutrients.
Big dogs can eat a lot, but small dogs can't. So, small breed dogs need enough nutrition from each little kibble in their food to meet their nutritional needs. Each kibbe must have a decent amount of protein, fat, and minerals.
Nutritional Requirements of Small Breed Dogs
Ideally, small breed dogs should eat three or four small, calorie-dense meals daily with more high-quality proteins and fats. Otherwise, they can show signs of Low blood glucose: fatigue, weakness, muscle tremors, and even seizures.
Dogs of small breeds grow exponentially and reach maturity more rapidly than larger dogs. Feeding a diet appropriate for puppy life stages is crucial because these foods are specially formulated to ensure proper nutrition for growth.
Because of this, a lot of people give their dogs commercial food. Most commercial dog foods are affordable, convenient, and contain all the nutrients your dog needs.
Royal Canin, Hill's Science Diet, and Purina Pro Plan are the food brands veterinarians recommend the most because their diets have been formulated by veterinary nutritionists and are specifically designed to meet specific nutritional needs.
Each breed has its own nutritional needs. Get your vet's advice about whether your dog has any dietary risks based on its breed, age, or existing health issues.
Hope now you know a little more about what food is appropriate for your small dog. We have compiled a list of great food options you can purchase.
Dog Food for Small Breed Dog ( Adult )
Review: Best Dog Food for Small Breeds
(1) Taste of the Wild Appalachian Valley Small Breeds Grain-Free Dry Dog Food
The prebiotics and probiotics in Taste of the Wild Appalachian Valley Dog Food help your dog digest. Additionally, it contains amino acids from ocean fish, ducks, eggs, lamb, and venison.
Venison is the first ingredient, whereas real fruits and vegetables in the kibbles provide an adequate supply of minerals and vitamins. This food contains omega-3 and omega-6 fatty acids that keep your dog's skin and coat beautiful.
The product doesn't contain grain, wheat, corn, artificial flavors, fillers, artificial colors, or preservatives. It's, therefore, safe to feed dogs with sensitive stomachs.
Wild Appalachian Valley Flavor is recommended by many dog food advisors, especially for dogs with chicken allergies. So you can pick it for your dogs.
Pros
Available in three sizes.

Contains prebiotics and K9 strain probiotics.

Rich in omega fatty acids.

Grain-free.

Small kibbles.
Cons
Some dogs may not like the taste.

Expensive.
(2) Merrick Classic Small Breeds Recipe Adult Dry Dog Food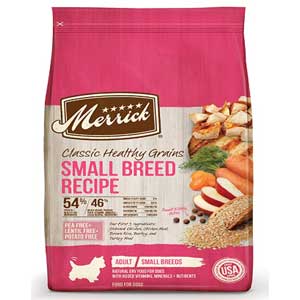 The Merrick Classic Healthy Grains Small Breed Dry Dog Food looks good on paper, but we think it's overpriced, and most dogs didn't like it.
Only a few dogs eat it, and the rest show no interest. When the dogs ate it, they got horrible gas and stank up the whole house! They looked uncomfortable, too; not a good sign for expensive food.
However, we liked the multiple sources of protein, starting with deboned chicken. Adding nutrients like glucosamine and chondroitin can also help keep your dog's joints healthy as they age. However, our dogs would not eat this, and for this price, we would prefer something that is easy to digest and that will benefit our dogs.
Pros:
Protein from multiple sources
Nutrients to boost health
Cons:
Not for picky eaters
Overpriced
Gave our dogs gas
(3) Nulo FreeStyle Grain-Free Small Breeds Salmon & Red Lentils Recipe Dry Dog Food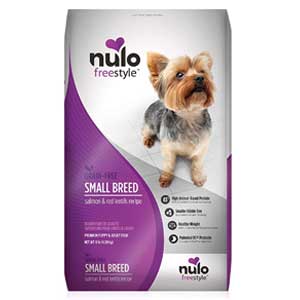 In spite of their small size, small breed dogs are full of energy! It's important for them to get the right nutrition. This health-conscious Small Breed recipe is formulated to support a small breed dog's higher metabolism.
Your small dog will get the nutrition he or she needs, with 84% of protein coming from real meat. Your small dog will love the taste and texture of this extra small kibble.
The FreeStyle Small Breed Salmon & Red Lentils Recipe meets the nutritional levels established by AAFCO for all life stages except for large breed dogs (70 lb. or more).
Recommended For: Small Breed Adult
Pros:
Available in two sizes.
Grain-free.
Best for athletic dogs.
80 to 84% of animal protein.
Prevents diabetes and obesity.
Cons:
Some dogs may not like the smell.
(4) Instinct by Nature's Variety Original Small Breeds Grain-Free Recipe with Real Chicken Dry Dog Food
Each cup of the new formula of Instinct by Nature's Variety Original small breeds dog food provides 476 kcal of calories, whereas the original formula provides about 463 kcal of calories.
The main ingredient of this dog food is wholesome, cage-free chicken. Each kibble contains a healthy dose of calories, fat and protein. To improve your dog's joint health, the manufacturers have included glucosamine and chondroitin in the mix.
Other elements in the product are phosphorus and calcium for strong bones, antioxidants, omega fatty acids and probiotics for digestion, good skin and immune system.
Rest assured, the product doesn't contain any artificial colors, flavors and preservatives. It's free of soy, wheat, corn, potato and grain.
Recommended For: All Stages, Puppy, Young Adult, Adult, Senior
Pros:
70% animal-based and 30% plant-based diet
Grain-free
No artificial ingredients
Available in two sizes
Heals skin problems
Cons:
(5) CANIDAE Grain-Free PURE Small Breed Real Chicken, Potato & Whole Egg Recipe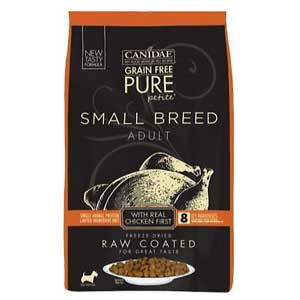 Made of only nine ingredients, CANIDAE Grain-Free Dry Dog Food is everybody's favorite! The protein content in the food is mainly chicken.
The product is perfect for dogs with sensitive stomachs, and picky eaters. It excludes anything not natural and wholesome. The food is immersed in yummy broth, which your dog will appreciate.
Each cup contains about 520 k/cal of calories. It contains no harmful ingredients, but an adequate amount of probiotics, minerals and vitamins.
Recommended For: Small Breed Adult
Pros :
Available in two sizes.
Mouthwatering flavor.
No soy, corn, or wheat.
Gluten-free, grain-free.
No hormones, no antibiotics.
High calorie.
Cons :
The kibbles are not small enough.
(6) Wellness CORE Grain-Free Small Breed Turkey & Chicken Recipe Dry Dog Food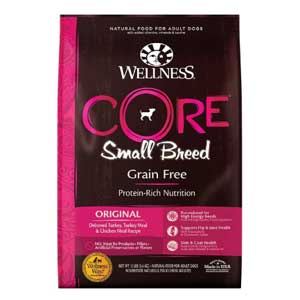 The product has a caloric content of 396 kcal per cup of kibbles. The food is high in protein derived mainly from meat. Salmon oil in the menu contains omega fatty acids to improve your dog's skin and coat.
A complete and balanced diet consisting of chondroitin, glucosamine, probiotics, antioxidants, and botanicals helps your pooch maintain good health. You can breathe a sigh of relief as this product contains no fillers, meat by-products, preservatives, or artificial flavorings.
Broccoli, spinach, carrots, kale, apples, and flaxseed are among the wholesome ingredients used in the product. Rich in vitamins and minerals, Wellness CORE Small Breed Dry Dog Food is one of the best dog foods for small breeds.
Recommended For: Small Breed Adult
Pros:
Available in two sizes.
No wheat, corn, or soy.
Gluten-free, grain-free.
Improves health and attitude.
Cons:
It is quite expensive.
Kibbles may not be small enough.
(7) Halo Turkey & Duck Recipe Grain-Free Small Breed Canned Dog Food
Halo has been in business, making delicious, healthy meals for dogs for over 30 years. They don't compromise or use shortcuts when it comes to preparing the perfect meal for your small breed pooch.
Their food contains no soy, wheat, corn, wheat gluten, rice, rendered meat, growth hormones, artificial fillers, or animal by-products. They believe in using more bioavailable sources of nutrition, such as naturally-raised animals and holistic ingredients.
Each kibble consists of holistic whole meat from chicken and duck. It also contains non-GMO products that were not grown using pesticides and chemical fertilizers.
Recommended For: Small Breed Adult puppy, young adult, adult, senior
Pros:
No GMO fruits and vegetables.
No antibiotics.
No "meat meal" like fish meal or chicken meal.
No artificial colors, flavors, or preservatives.
Affordable.
Cons:
Some dogs may not like the taste.
8. Holistic Select Adult Health Anchovy, Sardine & Salmon Recipe
Holistic Select has been operating for ten years, making healthy, holistic food for dogs. They are committed to producing nutritious, high-quality, and easy-to-digest recipes to improve and maintain your dog's overall health.
The company only uses natural ingredients, like cranberries, papaya, pumpkin, cinnamon, flaxseed, and dried beet pulp to produce the best-rated dog food for small dogs. The product contains botanicals and digestive enzymes for easy digestion and clearing of the bowel.
Prebiotics and probiotics in the food grow healthy bacteria in the stomach, helps absorb nutrients quickly, and halt free radicals from affecting the bloodstream. On the whole, the product is high in calories, containing 425 kcal per cup of kibbles.
Recommended For: Small Breed Adult
Pros
Affordable.
Grain-free.
Suitable for dogs with sensitive stomachs.
Easy to chew.
Perfectly-sized kibbles.
Cons
Only available in a 4-pound bag.
9. Blue Buffalo Homestyle Recipe Small Breed Lamb Dinner Canned Dog Food Review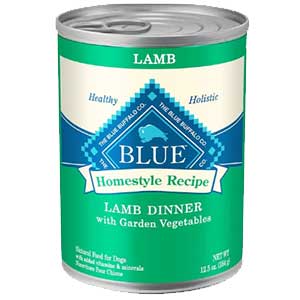 Made with unconditional love, Blue Buffalo Homestyle Canned Dog Food is made without wheat, which is often used as a thickening agent in some dog food. You can even prepare homestyle recipes using this particular dog food.
Although a cup contains only about 219 kcal of calories, wholesome whole grains in the product are made of high energy complex carbohydrates. Cranberries in the product prevent acid urine development and other bacterial diseases.
Vitamin B12 maintains gastrointestinal health, biotin keeps the coat and skin healthy, and chelated minerals nurture the immune system. Therefore, Blue Buffalo can be considered as one of the best dog food brands for small dogs.
Recommended For: Small Breed Adult
Pros
Meets higher energy demands of small dogs.
Made without wheat, soy, or corn.
No by-product meals.
Suitable for dogs that like wet food.
Ideal for the aging digestive system.
Cons
10. Now Fresh Grain-Free Small Breed Adult Recipe Dry Dog Food Review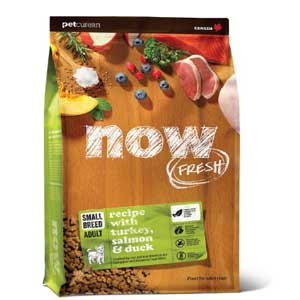 Now Fresh Grain-Free Small Breed Adult Recipe Dry dog food has a high caloric content of 430 kcal per cup, which is perfect for small dogs. The food contains fresh salmon, duck and turkey as sources of protein.
Omega-3 and 6 fatty acids are derived from canola and coconut oil. The oils assist in keeping your pooch's coat and skin in good health. Besides, the dog food is filled with rich, natural food, such as alfalfa sprouts, kelp, blackberries, lentils, pumpkin, cranberries, carrots, spinach and peas.
The manufacturers are not a fan of grains, gluten, beef, soy, corn, wheat, rendered meat, artificial preservatives and meat by-products. Hence, you can have peace of mind when you're feeding this meal to your dog.
Recommended For: Small Breed Adult
Pros
Available in three sizes.
GMO-free.
Grain-free, gluten-free.
Easy to chew kibbles.
Reasonable price.
Cons
Consider your dog's preference.
11. Blue Buffalo Wilderness Small Breed Chicken Recipe Grain-Free Dry Dog Food Review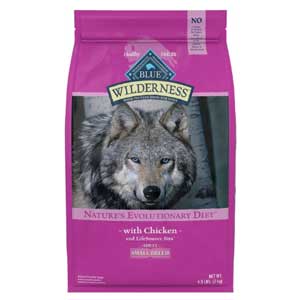 Big Buffalo Wilderness Small Breed Dry Dog Food is a formula that all small breed dogs thrive on. Real chicken builds strong muscles. Vitamins, phosphorus and calcium promote healthy bones and teeth.
The kibbles are designed to remove tartar, maintaining your dog's dental health. Minerals and antioxidants keep its immune system functioning harmoniously. Skin and coat improve due to the presence of fatty acids in the dog food.
Pumpkin, blueberries, peas, potatoes, cranberries, spinach, carrots and apples are few of the ingredients present in the product. An overall caloric constitution per cup is 425 kcal, which is considered beneficial.
Recommended For: Small Breed Adult
Pros
Available in two sizes.
Grain-free, high protein.
Cold-formed to preserve potency.
Selected by animal nutritionists.
No poultry by-products.
Cons
12. Diamond Naturals Small Breed Adult Chicken & Rice Formula Dry Dog Food Review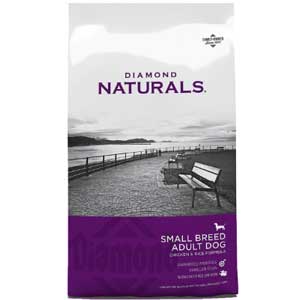 14. Wellness Small Breed Complete Health Adult Turkey & Oatmeal Recipe Dry Dog Food Review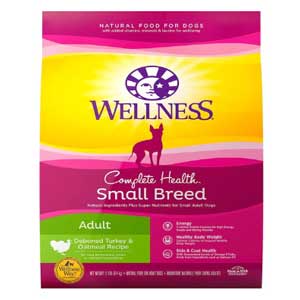 Wellness Small Breed Dry Dog Food is a product created by animal lovers, nutritionists and veterinarians. Each bag contains fresh and wholesome food, such as carrots, sweet potatoes, blueberries, spinach, tomatoes, oatmeal, ground flaxseed and apples.
It contains prebiotics and probiotics for the proper digestion of food. Phosphorus and calcium keep your dog's teeth and gums healthy.
Vitamin A and C protect its immune system, and protein from turkey keeps it going all day long. The product is high in calories, containing calories of about 420 kcal per cup.
Recommended For: Small Breed Adult
Pros
Available in two sizes.
No corn, wheat or soy.
Fresh whole food ingredients.
High protein content.
Cons
In Brief
It may be challenging to find out which dog food is the best for your dog. You have to know its preference, health condition, level of activity, age, breed, and few trials and errors to find the right product.
In this article, we have listed fourteen of the best-rated dog foods for small dogs. Make your pick from any of them, and you won't regret it.
However, we want to remind you that your dog may not like the taste and smell of the one you pick. In that case, you have to try with a few different products to see what it wants best.
---
Like humans, our dogs also deserve healthy food. As we uphold our end of the bargain, we've got many options in what and how we feed our furry friends, just as we have choices for ourselves.
Our lifestyles, budgets, health awareness, and culinary aspirations all affect what we put into the food bowls and onto our plates.
What our pet food advisor has done on this site is to provide a carefully researched and tested group of canine foods and guidelines for people who love healthy dogs or puppies.
---
Best Dog Food for Large Breeds (Adult)
Here are the top 5 best large breed dog foods for 2021 – Recommended by our dog food advisor
1. Purina Pro Plan Large Breed Adult Dry Dog Food Review
Purina Pro Plan Large Breed dog food is one of the best dog foods for large breed dogs. Because it contains 26% protein and 12% fat and made with real chicken as the very first ingredient. It contains Glucosamine and EPA, an omega-3 fatty acid that supports your dog's joint health and mobility. It has also Glucosamine and EPA, an omega-3 fatty acid that will help your dog getting healthy skin and a lustrous coat.
It has been produced for large breed adult dog to provide optimal nutrient absorption and 100% complete and balanced nutrition.
Best for: Large breed adult dog
Highly recommended by our dog food advisor
Animal's Weight – Daily Amount
51 to 75 lb. – 3 to 4 cups
76 to 100 lb. – 4 to 5 cups
Over 100 lb. – 5 cups plus 1/2 cup for each 10 lb. of body weight over100 lbs.
---
2. Blue Buffalo Life Protection Formula Natural Adult Large Breed Dry Dog Food Review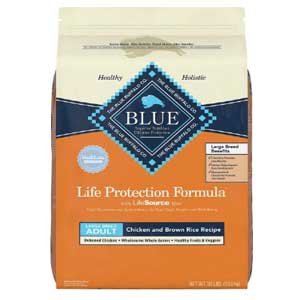 Blue Buffalo Life Protection Formula Natural Adult Large Breed Dry Dog Food is created to be the best large breed dog food. Its most important ingredient is real high-quality chicken meat. This will help your dog maintain his strong, flexible muscles, as well as recover from any exercise you might give it. Bigger dogs exert more force on their joints. This can hurt their mobility. That is why this product comes with both glucosamine and chondroitin to help your pet dog's joints.
Best for: Large breed adult dog
---
3. Wellness Complete Health Natural Dry Large Breed Dog Food Review
Wellness Complete Health Natural Dry Large Breed Dog Food, Chicken and Brown Rice brings a balance and complete daily meal to your dear canine. Every ingredient is made from natural food. Not a single part of this product is artificial. This is made so to ensure that your dog will grow big, strong and most of all healthy.
---
Best for: Large breed adult dog (Recommended by Dog Food Advisor)
4. Petcurean Now Fresh Large Breed Adult Dog Food
Fresh Grain Free Large Dog Breed Food is designed or those more active dogs. It brings healthy and balanced nutrition based on two macronutrients. protein and fats. The fats will give your canine the ideal amount of omega 3 and omega 6 oils, to improve the health of its skin and coat. In addition to the protein and fats, this dog food also contains a fair amount of anti-oxidants. They will ensure that the immunity of your dog keeps getting stronger.
Best for: Large breed adult dog
5. Eagle Pack Natural Dry Dog Food Large Breed Dog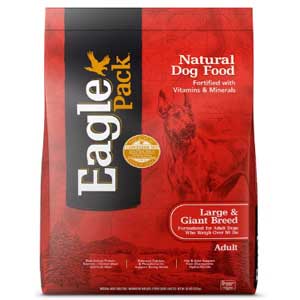 Eagle Pack Natural Dry Dog Food Large Bread Dog Chicken and Pork offers a flawless, balanced daily nutrition for your dog. The much-needed protein comes from chicken and pork of the highest quality. Both the chicken and pork were raised all-natural, so you do not need to worry about hormonal disbalance affecting your puppy. The rest of the ingredients are also all-natural. There aren't any artificial sweeteners, colors of flavors. This dog food will fill every daily food need your dog has. It also comes with calory instructions so you do not have to worry about your dog getting overweight.
Best for: Large breed adult dog
---
5 Best Dog Food For a Large Breed Puppy
Here are the top 5 best dog food for a large breed puppy – Recommended by our Pet Food Advisor
1. Wellness Complete Health Natural – best puppy food for a large breed
Definitely one of the best large breed puppy food in the market. It is endorsed with a balanced daily balanced diet. Your large puppy will be served with all the necessary nutrients. This best puppy food is made with deboned chicken. Calories have been regulated for the benefit of your puppy. Adha has been added to initiate eye, bone and brain development.
Main ingredients:chicken meat,grounded peas,barley,chicken fat,tomato pomace,carrots,spinach and rice.
Proteins:40%, Fats:20%, Carbohydrates: 30%, Vitamins and minerals: 10%
All the ingredients are purely natural deprived of preservatives, artificial flavors, soy, wheat, and corn. Besides, this Breed puppy food contains fatty sides that offer great and healthy skin. It is just perfect for your growing puppy.
Recommended by petfoodadvisor.org: Buy now
2. Blue Buffalo Wilderness High Protein Grain Free Food
It contains real meat. This puppy food is manufactured from chicken meal, deboned chicken, Egg and fish meal. It contains L-Carnitine that enhances lean muscles. Your puppy will grow up very strong.
Main ingredients: Fish meal, chicken meat, fruits, veggies, and fats
Proteins:50%, Fats:30%, Vitamins, and minerals: 20%
ARA and DHA are present to initiate retinal functions and cognitive learning. It is endorsed with high protein content, along with minerals and vitamins. Most importantly, there are antioxidants that kill any toxins in your puppy. This food is nutritious and will enhance the growth and development of your dog. Consider purchasing it when you go out shopping.
3. Hill's Science Diet Dry Dog Food
This is arguably the best large breed puppy food. Ideal for puppies that are about 1 year old and are expected to attain at least 55 lbs when they grow.
Main ingredients: whole grain meat, chicken meat, sorghum, fish oil, chicken liver, pork fat, and corn gluten meal.
Proteins:40%, Fats:30%, Carbohydrates:20%, Vitamins and minerals:10%
It consists of calcium that enhances the growth of bones. This food enhances the body immune system of your puppy. It has antioxidants along with not only Vitamin C but also E.Hill's Science Diet Dry Dog Food comes with easily digestible ingredients besides amino acids, minerals, and vitamins. It lacks artificial colors and flavors. The caloric content in this puppy food is up to the required standard.
4. Holistic Select Natural Dry Dog Food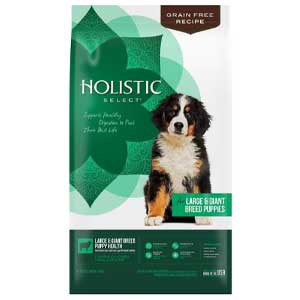 It is based on Digestive enzymes and botanicals, natural fibers, probiotics, and prebiotics. This is one of the best large puppy foods.
Main ingredients:natural fibers,meat,phosphorus.fats and vitamins
Proteins:40%, Fats:25%, Fibers:20%, Vitamins and minerals:15%
It is well balanced to supply your puppy with all the needed nutrients. It is made from natural ingredients with zero side effects. Make a point of purchasing this large breed puppy food for your small puppy. The ingredients will ensure your puppy grows strong and healthy.
5. Eukanuba Puppy Dry Puppy Food
Eukanuba Puppy food contains great levels of DHA extracted from Natural Fish Oil. This ingredient supports the right growth and development of your puppy. It has a reasonable fiber system that comes from natural Prebiotic Fos and Beet Pulp to enhance digestion and absorption of nutrients.
Main ingredients: Chicken meat, corn, chicken fat, dried egg, vitamins, calcium, and Salt.
Protein:50%, Fats:30%, Vitamins and minerals:20%
It is made with quality animal proteins that build strong lean muscles in your puppy. This food will serve your puppy with a glowing coat and healthy skin. Thanks to the right levels of fatty acids and omega 6.
Before you purchase any puppy foods, you have to look at its ingredients. Your aim should be getting the food that is balanced. The puppy will enjoy a rich supply of nutrients that will enhance growth and development. You can consider the puppy foods discussed above. They all have the right ingredients that will benefit your puppy.
---
How to Choose the Best Dog Food for An Adult Large Breed Dog
Compared to smaller dogs, large breeds need to have diets that could prevent them from developing orthopedic diseases, and also obesity or bloating. Most store-bought dog food should contain everything that's needed for a balanced regimen. That makes it easier for everyone, even though some owners might consider it expensive. If you want to give home-cooked food to your dog, make sure it still covers all the necessary proteins, carbohydrates, fats and vitamins he or she needs.
When choosing the best food for a large breed dog, it's quite essential for it to have glucosamine. These doggies can develop major joint issues, so glucosamine is the solution for keeping cartilage and bones healthy. Animal protein should be included for muscle health, while fats, in a moderate amount, shouldn't cause excessive weight gain.
Of course, carbohydrates are going to be a part of your dog's meal, as energy is required to keep active all day. Fiber should help with digestion and nutrient absorption, while vitamins are necessary for preventing various health concerns.
While checking food labels, for your cute pet, make sure they specify at least two sources of protein, such as chicken, fish or beef. Fats can also come from fish oil or chicken, but vegetable oil is alright too. Fiber sources are varied and you can pick beets, rice, barley, oats, while trying to avoid soy or corn. Also, we recommend pushing aside anything containing excessive added sugar, preservatives, and artificial colors and flavors.
One of the most common health issues for large breed dogs is related to orthopedic diseases. This can be caused by growing up extremely fast in just a few months. So, make sure to buy food that contains proper amounts of glucosamine, chondroitin, and minerals.
Another issue is obesity, which later on can have consequences such as kidney disease or high blood pressure. Being overweight could lead to straining the joints and bones. Fats and carbohydrates should be kept in check, at healthy levels, while a nutrient called L-carnitine will help reduce excessive weight.
Bloating appears as a serious condition, which can put your dog's life in danger in just a few hours. The first thing you can do is avoid foods with very high amounts of fat, and pick those coming in larger pellets. Don't encourage exercises for a couple of hours after a meal and feed your dog smaller amounts of food throughout the day.
---
How to Choose the Best Dog Food for Large Breed Puppy
When it comes to puppies, you need to keep in mind they will grow from tiny to huge in a bit over a year. That's why it's very easy for them to start suffering from developmental orthopedic disease. There's a need to take very good care in monitoring their food and calories, so deficiency or overeating issues don't come around.
If possible, try to lower the amount of phosphorus, calcium and vitamin D in your puppy food. These only increase the speed of bone development, which is already too high. Also, don't let them overeat. A bowl which is constantly filled up during the day isn't a good idea. Try to measure smaller portions three times a day, and leave the bowl out for about an hour and a half, to have control over the growth process.
The best large breed puppy food will contain about 30% protein for muscle development and 9% fat. Excess of either macronutrient can lead to fast weight gain. Usually, dog food labels should mention the age they're appropriate for, as a guidance. A veterinarian can also advise when to switch from puppy food to an adult version.
---
Unpacking the Controversies Surrounding Dog Food Advisor's Reliability and Credibility
As a dog owner and a passionate advocate for the health and well-being of my furry friends, I have always been interested in researching dog food brands to ensure that my canines receive the best possible nutrition. In my quest for reliable information, I came across the Dog Food Advisor website, a popular source for dog food reviews and analysis. As someone who regularly consults this website, I felt it was important to share my thoughts and experiences in this Dog Food Advisor review. Before we dive into the specifics, however, I want to emphasize that this review represents my personal opinions, and I am not affiliated with the DFA website or its founders and writers. As with any online resource, it is important to approach it with a critical eye and an open mind.
What is Dog Food Advisor?
Dog Food Advisor is a popular online resource that provides reviews and analysis of dog food brands. Founded in 2008 by Mike Sagman, the website has grown in popularity over the years and has become a go-to source for many dog owners looking for information on the best dog food options. The website evaluates over 950 dog food brands based on their ingredients and guaranteed analyses, and rates them on a five-star scale. The website also provides useful information on dog nutrition, dog food recalls, and other relevant topics. However, despite its apparent usefulness, there have been controversies surrounding the credibility and reliability of the website, which we will explore in more detail below.
Unpacking the Risks: Why Blindly Trusting Dog Food Advisor May Compromise Your Dog's Nutrition
The background of the creator of Dog Food Advisor, Mike Sagman, raises concerns about the reliability of the website's ratings and reviews. Despite being a retired dental surgeon with a background in chemistry and biology, Dr. Sagman lacks any formal qualifications in animal or human nutrition. While he claims to have done "professional studies" in human nutrition and to have an interest in canine nutrition, this is not the same as having completed rigorous training and education in the field. It is important to note that Dr. Sagman would be well within his rights to create a website citing credible academic sources and peer-reviewed research to back up his ratings and reviews, even without formal qualifications. However, the issue arises with the way he conducts his reviews and ratings, which do not align with credible scientific research.
The Controversy Surrounding Dog Food Advisor and Its Disregard for Veterinary Nutritionists
Some people who follow websites like Dog Food Advisor believe that veterinarians don't know much about animal nutrition. They then turn to other websites and blogs they find on Google, like Dog Food Advisor, even though the writers have no background in veterinary medicine or animal nutrition.
It is even more concerning that DFA ignores the advice of board-certified veterinary nutritionists who are the most qualified experts in animal nutrition. You might expect people who criticize those with little nutrition education to value their input. However, these experts are often discredited, with their opinions dismissed as lies or manipulations controlled by a "Big Pharma" or "Big Pet Food" entity. Instead, people with no training in animal nutrition are sometimes given more attention. The claims that Dog Food Advisor confidently promotes are vehemently disagreed with by very few, if any, board-certified veterinary nutritionists.
---
Final Tips on Food for Large Dogs
When picking up dog food, you won't know exactly how qualitative it is, and prices are not always the best guidance. Labels will tell you where protein, fat, and carbohydrates come from and the percentage for each macronutrient.
Go for those which have been clinically tested and promise balanced diets, while avoiding those which have a source of fat as one of the first four ingredients on the list. Other than that, adapt choices to your own lovely dog's needs, and the vet's advice.
I have a couple of question for you. Do you think your dog is one of the most trainable dogs on the block? What are you feeding your dogs?
Related posts:
Most Trainable Dogs 2020
Canidae Dog Food Review
How to Get Your Dog to Stop Barking
What You Need to Know about Silver Labrador Retriever
Is Your Dog a Velcro Dog?
A Complete Guide: Teddy Bear Dog Breeds
Audience rating summary:
0
5.0
Was this article helpful? Please rate your experience!