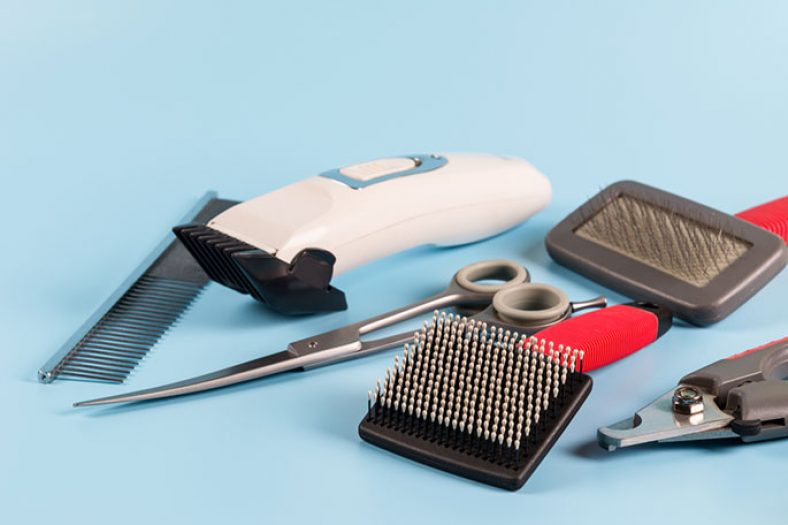 PetDogPlanet.com is an Amazon Associate, and we earn from qualifying purchases.
Need to groom your pet but can't decide on what you need? Read on for a comprehensive review of the best pet grooming tools you can buy for your pet.
It's no secret that your pet needs occasional grooming and pampering from time to time. Most of you would have taken the services of professional pet groomers in the past. But the lockdown has shut many of the pet grooming salons and you are stuck with your furry companion at home. So you need a list of the best grooming products that will allow you to keep your furry friends comfortable and happy.
According to experts, the best way to take care of your pet grooming needs is to take it slow. Rushing into dog grooming can only lead to the feeling of getting overwhelmed. That's when you need to take a break from the cat grooming and speak to your pet in a soothing voice to reassure it. For pet grooming, there are multiple products available, such as pet brushes, pet combs, pet nail clippers, pet grooming dryer, pet clipper, clipper kit. We will discuss in this article how you should choose the best one for your pet.
1. Andis Pro Animal 2 Speed Dog & Cat Grooming Kit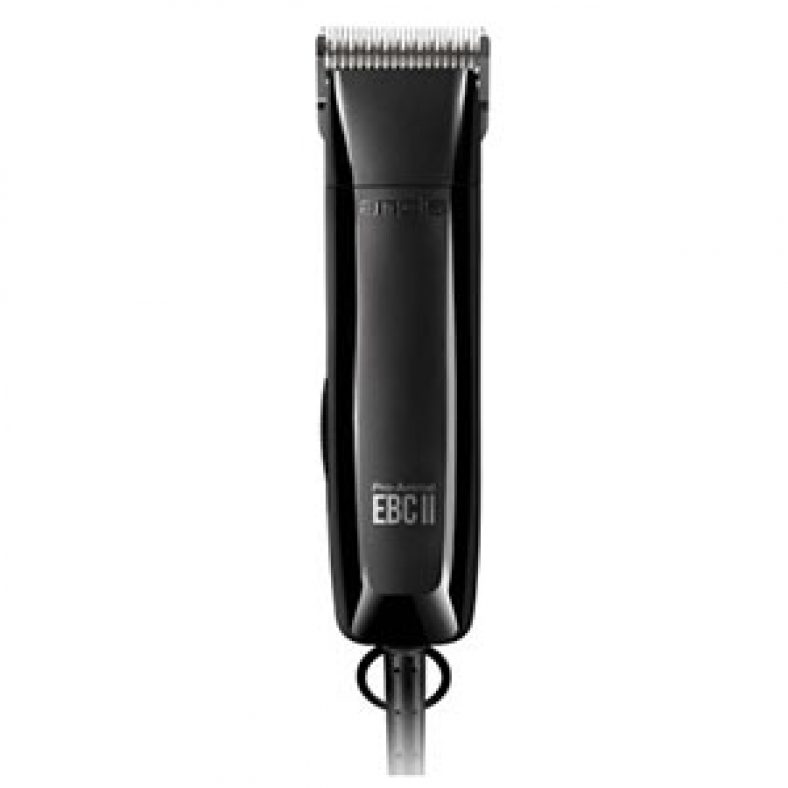 Product Description
You want your furry friend always to look its best. Pro Animal 2 Speed Dog & Cat Grooming Kit enables you to do just that. With this, you will get a pet nail clipper, a durable storage case, four attachment pet combs, a 14-inch power cord, and oil for the blade. There is a blade lock design in this clipper that ensures that during grooming, the blade won't come loose. This kit is best for grooming the curls of long-hair and double-coated breeds, ensuring that your furry friend gets the right cut.
Last update on 2023-12-08 / Affiliate links / Images from Amazon Product Advertising API
Main Benefits
The blade is detachable, allowing you to choose the right one to give the perfect cut.
It's perfect to be used for long hair, double-coated curly breeds.
It runs very quietly, allowing your pet to remain calm.
It comes with a 14-inch power cord and blade oil.
Comes with attachment combs allowing you to pick your required one.
Cons
The price is pretty high
Primarily designed for professionals
Price: $140.62
2. Babyliss Pro Pet Professional Metal Pet Trimmer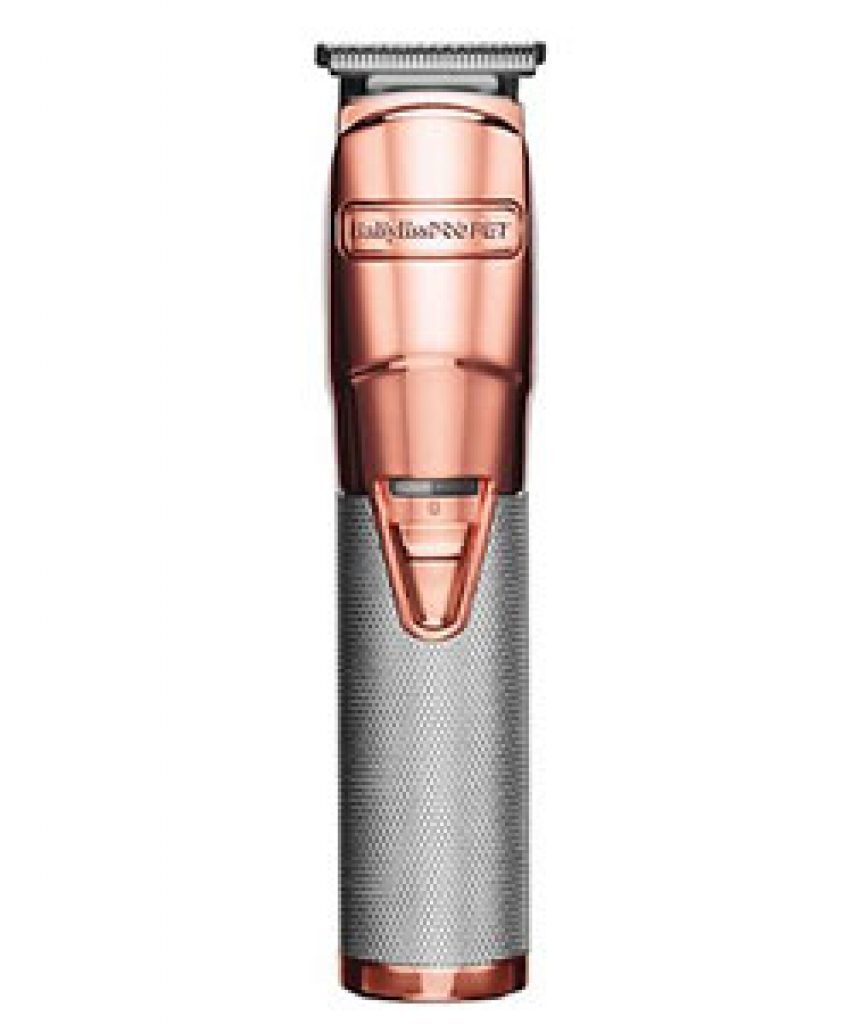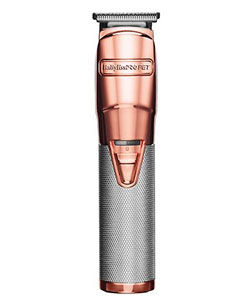 Product Description
The Babyliss Pro Pet Professional Metal Pet Trimmer allows you to transform your furry little friend from drab to fab in the easiest possible way. The modern and sleek design is very comfortable and stylish with its all-metal barbell grip. This trimmer is cordless and offers up to three hours of pretty quiet runtime due to its high torque brushless motor. Trimming the paws, stomach area, and face of your cat or dog is a breeze with this trimmer. It's also super easy to store as you can just place it into the zipper case after you are done for the day.
Main Benefits
Massive 3 hours of power is ensured with the rechargeable lithium-ion battery.
This trimmer is cordless and lightweight, making it a very precise tool.
It comes with 2 comb attachments letting you choose your style.
The attached carrying case makes it very easy to store.
It comes with lubricating oil and a cleaning brush making it easy to maintain.
A charging stand is included making it convenient to charge quickly.
The motor is very high-torque and brushless, allowing you to complete your job with precision quietly.
Price: $179.99
Cons
The price is pretty high
Primarily designed for professionals
3. Flying Pig Dog Grooming Table with Arm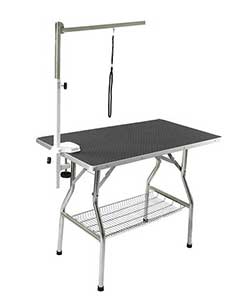 Product Description
There is no alternative to a sturdy grooming table when you have pets in your home. The Flying Pig Grooming Heavy Duty Dog & Cat Grooming Table comes with a steel frame that easily supports pets who weigh up to 330 pounds. It is conveniently portable due to being light enough, although it can totally take heavy-duty use. It has a grooming arm equipped with a loop and the surface is rubber-textured making it non-slippy.
The surface rubber texture is shaped like a doggie bone making it easier for you to hold your dog steady while you work on him. The build of the table is sturdy, with non-skid feet for stability. The table comes with a useful storage basket which is roomy enough for you to store all your grooming essentials.
Main Benefits
The rubber surface is non-slip giving you a firm grip on your pet while you clean him.
The rubber texture of the surface makes it easy to clean.
The table comes with a grooming arm that is foldable and it has a loop and a noose, allowing you to place your pet securely on the table.
The table comes in different sizes and colors, allowing you to pick according to your style and requirements.
The steel frame is durable and is made from rust-free stainless steel that can support up to 330 pounds in weight.
The design is very light, making it a perfect on the go table, yet it is built very durably allowing heavy-duty use.
Cons
Clip not safe to hold big strong dogs.
There is some debate over the durability of folding arms lock of the table.
The rubber footing comes off very easily.
Price: $139.00
4. Oster A6 Slim 3-speed Pet Clipper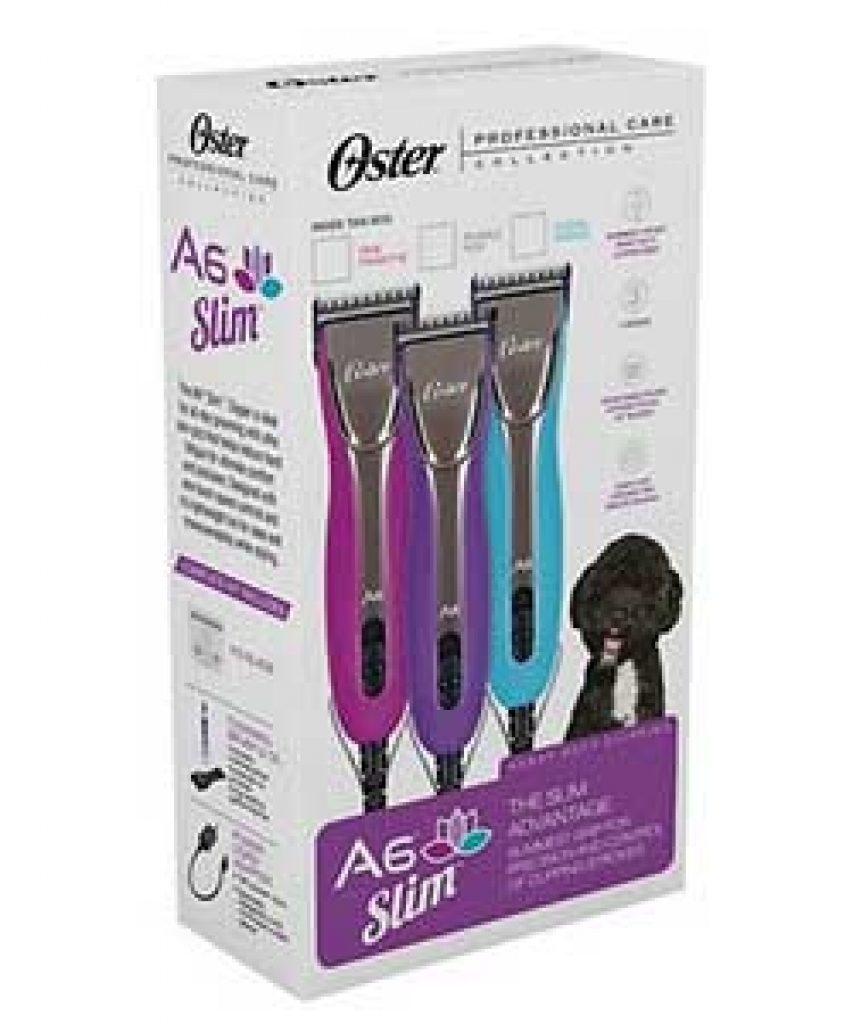 Product Description
The Oster A6 Slim 3-Speed Clipper is Oster's lightest clipper as it weighs only 0.81 lbs. Now we all know clipping your pet can take a toll on your hands, this is where the Oster A6 clipper is most useful. Its design is very compact and ergonomic so it minimizes fatigue for your hands. Rest assured your grooming experience is going to be very pleasant due to the clipper's patent-pending vibration isolators.
Main Benefits
The Oster A6 has a very slim and compact ergonomic design that makes it very easy on your hands.
The motor at over 4000 spins per minute is very precision-tuned and heavy-duty delivering a high-efficiency job while clipping your pet's fur.
You can groom with this clipper all day as it has patent-pending vibration isolators that are centered around the motor. This absorbs the vibration and noise giving you a comfortable experience.
The clipper is built with zinc alloy technology that is combined with an ergonomic, lightweight feel making it very durable in the long run.
The clipper is equipped with three-speed settings allowing you to choose your desired speed.
The motor is angled precisely with the help of an angled eccentric drive system which results in an efficient and ultra-smooth cutting experience.
Cons
Plastic is not strong at the place of the screw
It gets hot quickly.
It doesn't come with a comb
Bundle Price: $160.98
5. Wahl Arco Cordless Pet Clipper Kit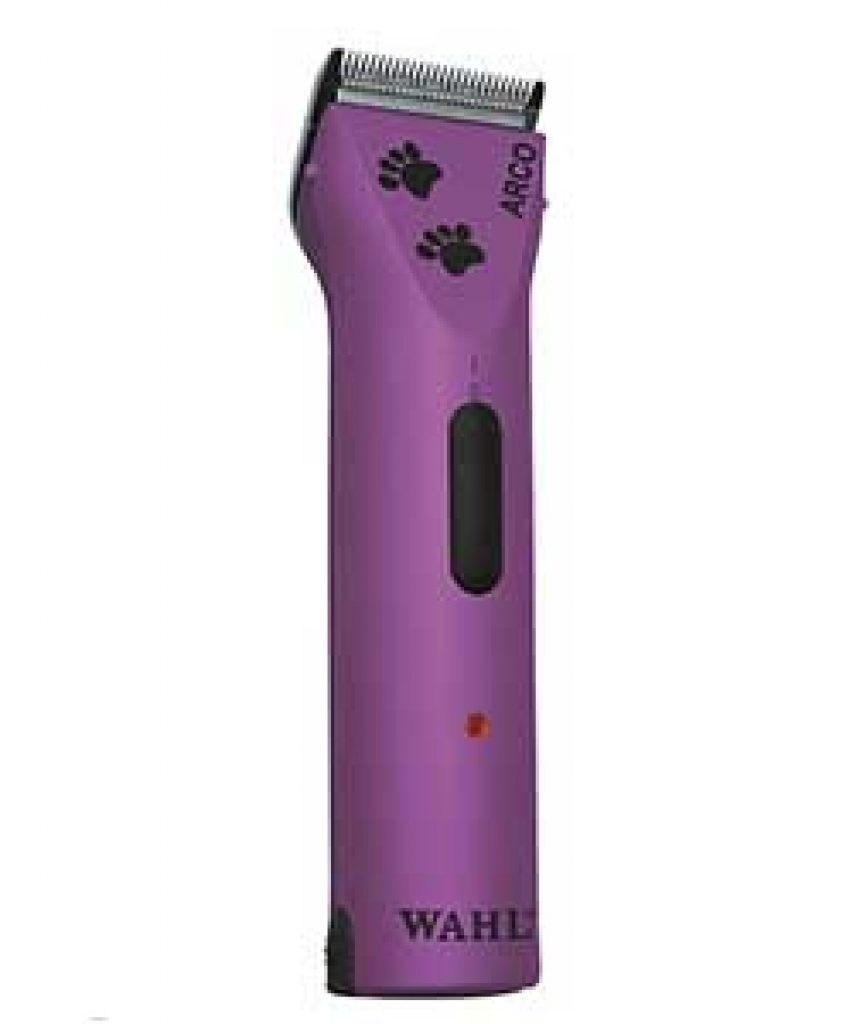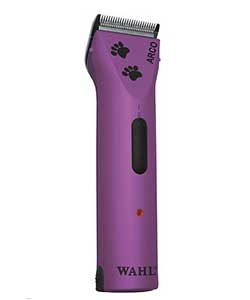 Product Description
If you are looking for a reliable and versatile way to groom your pet, Wahl Arco Cordless Pet Clipper Kit might just be the right choice for you. You will be able to cut through most coat types with this 5-in-1 clipper kit. It is very lightweight and cordless allowing you a comfortable and convenient experience. This clipper kit is ideal when you are looking to work on the face, feet, and all bodywork for all the dog breeds due to its five-position blade.
You can also use this kit to clip ears, fetlocks, and mussels on horses. Show cuts and trimming on cattle, pigs, and goats have never been easier. With this kit, you will get the clipper, a storage case, four snap-on guide combs, blade oi, two rechargeable battery packs, a charging base, and a cleaning brush.
Main Benefits
This clipper glides through coats efficiently and smoothly making it an excellent choice for clipping feet, face, and the entire body.
The blade has a 5-in-1 functionality making it easy to adjust between different sizes from #9 to #40.
This clipper is lightweight and cordless making it very convenient to use. And it comes in a variety of colors.
Each of the two batteries can run for 80 minutes and they can be fully charged within 75 minutes.
It comes with 2 rechargeable batteries as while you are using one the other one can be charging.
You can easily clean this clipper as the motor is absolutely no-maintenance.
Cons
The clipper kit is a little costly compared to other models.
Bundle Price: $124.75
6. Andis Premium Curved Shear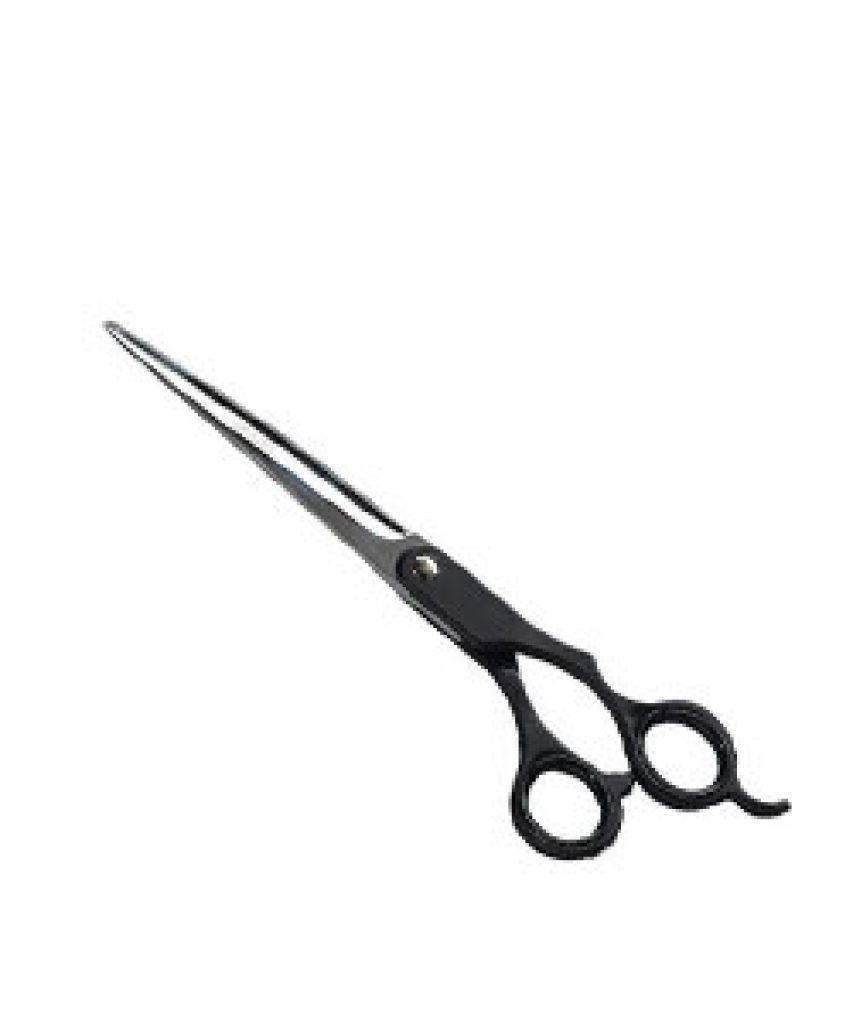 Product Description
Andis Premium Curved Shears helps you to make your pet look the best. It's a nightmare for most of us as we have to clip around curved surfaces such as a poodle's head or around the ears. This professional-grade tool makes it easy for you to do just that. These shears are also perfect for cleaning up the rib cage or the chest due to its design that facilitates superior precision.
For those of you who are left-handed, these shears come in both right-hand and left-hand versions. Unmatched control and a comfortable grip are ensured with the 8-inch shears.
Main Benefits
The -inch shears are curved in professional-grade to ensure a firm grip.
You will get superior control as the offset handles are easy to use and ergonomic.
This shear is perfect to clean up your pet's curved areas such as around the ears and the poodle's head.
The shear is designed for super-precision so it's perfect to clean your pet's rib cage or chest.
Left-handed owners can also use it with ease as it is available in both right and left-hand versions.
Cons
This is for professional growers only.
Bundle Price: $108.15
7. Andis ProClip Excel 5-Speed Detachable Blade Pet Clipper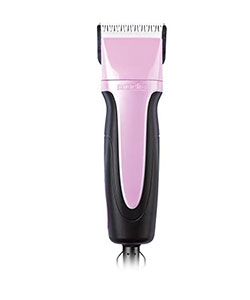 Product Description
Andis Excel 5-Speed Detachable Blade Clipper lets you personalize your clipper as they come in a variety of colors for you to choose from. This clipper enables you to completely groom your pet with maximum ease due to its powerful rotary motor.
The various speeds let you complete different tasks with total ease. For giving a prettier finish to the coats you can use a higher speed, and to clip around more sensitive areas you can run at a cooler and slower speed.
This clipper comes equipped with a 4×4 blade drive that gives you about 25% more blade torque. You can clean this clipper very easily as the blade is detachable to allow convenient changing of the blade.
Main Benefits
This clipper is made in the USA and is 10 faster than the AGC Super 2-Speed.
You can easily clip through a variety of breeds and coats with this 5-speed lightweight rotary motor that provides up to 4500 spins per minute.
You can conveniently grip this clipper for a confident grooming session due to its new soft anti-slip grip housing that is contoured to fit right into your hand with comfort.
This clipper has increased durability with an edge that is long-lasting with its CeramicEdge blade. This blade state cooler up to 75% more than steel.
The blade is detachable and hence is much easier to clean and provides a more versatile styling option.
You can easily avoid confusion in busy shops and also get your preferred color as this clipper comes in 5 different popular colors.
Cons
The price is a little high
May heat up after a few minutes of use.
Price: $234.95
8. Flying Pig Grooming High-Velocity Dog & Cat Grooming Dryer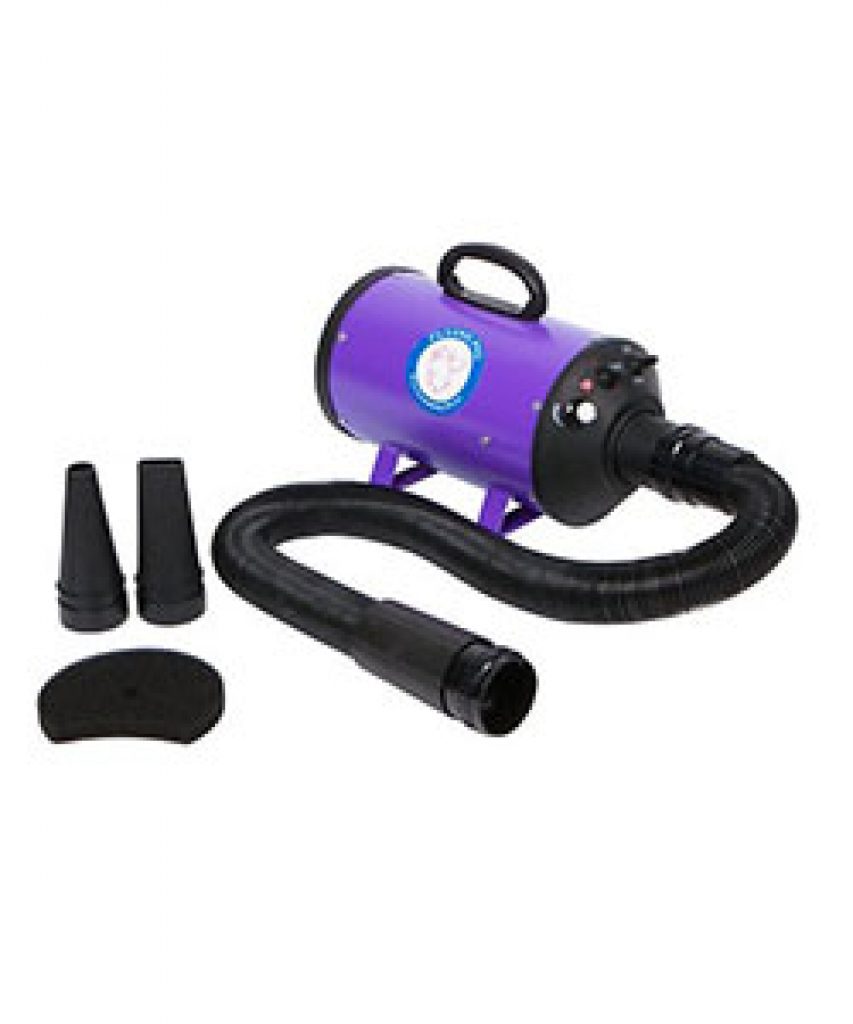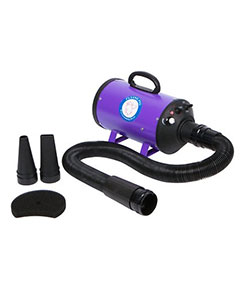 Product Description
Pig Grooming High-Velocity Dog & Cat Grooming Dryer gives you a speedy pet grooming experience. You can slash your drying time by up to 60% when you groom with this portable high-performance dryer. You can now spend less time to dry your furry friend, leaving fewer damp spots or knots on even the double-coated breeds.
This pet dryer has two heat settings and has multiple air speeds making it very easy to use. You can clean this dryer very easily as it comes with a removable filter. The steel frame is ultra-quiet and durable allowing it to stand up to very heavy-duty use.
This dryer offers you amazing flexibility to work your magic anyway you want with its grooming hose that can be stretched freely and it has included nozzle heads that can be interchanged.
Main Benefits
You can comfortably maneuver with this slim grooming hose as it is 10 feet long and flexible.
It comes equipped with nozzle heads that are interchangeable.
Cleaning this dryer is super easy as you can conveniently remove the filter while cleaning.
You can customize the dryer settings according to your preference as it has multiple airspeeds that are adjustable with a one-switch option and also has two heat settings.
Best for fussy pets that don't like being dried as the professional-grade dryer allows stress-free and fast drying with its four-horsepower motor.
Cons
It is not very durable.
Its hoses can befall of easily.
Price: $172.00
9. Oster Power Max 2-speed Pet Clipper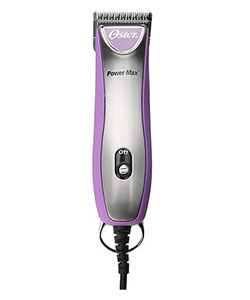 Product Description
With the Oster Power Max 2-speed Pet Clipper you can perform the trendiest pup-do and cut the toughest coat of any pet with complete ease. The lightweight, ergonomic design gives you complete comfort, and the 2-speed option gives you total control. The contoured shape is very comfy to handle, giving you complete freedom to move comfortably and smoothly no matter what breed or cut your pet has.
The grip has a soft rubberized texture allowing it to stay calm and the blade has a detachable system letting you complete any style and maneuvers very quickly. The clipper comes equipped with a CryogenX blade inside a complete accessory kit. This blade has an antibacterial coating enabling you to have the cleanest and smoothest clipping experience every time. The motor is ultra-quiet helping to keep your pet stress-free while grooming.
Main Benefits
The blade is detachable, making it super easy and quick to change.
Grooming your pet is considerably easier and less stressful due to the ultra-quiet motor of this clipper
The clipper comes with a complete accessory kit, containing a blade guard, a cleaning brush, two extra drive tips, blade oil, and an antibacterial-coated CyogenX blade.
The grooming solution is Pro-inspired and hence is perfect for all types of dogs, no matter what the breed, coat type, or size is.
All pet-do, cut, and trim can be performed with ease with the two precise and powerful speeds.
Cons
It is not very durable.
A little more noise.
Price: $149.99
10. Wahl KM10 Brushless 2-Speed Professional Dog & Cat Clipper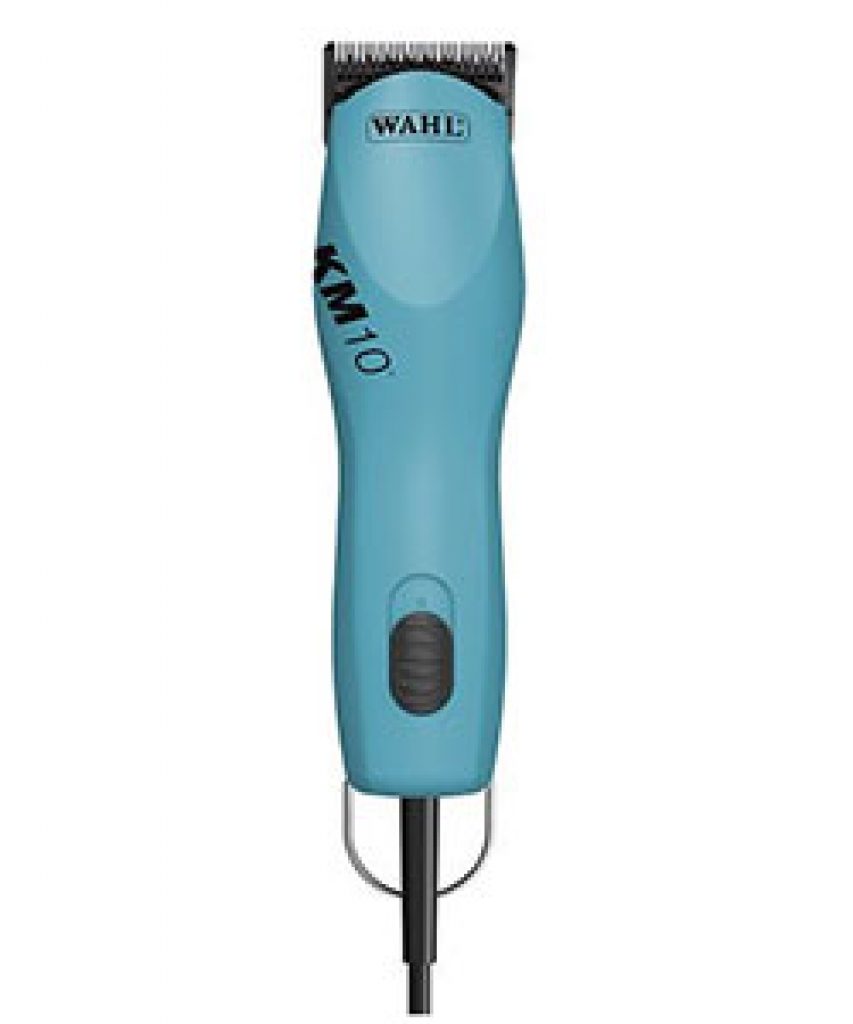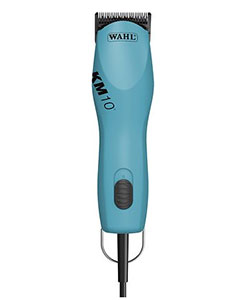 Taking care of your furry friends at home becomes much easier with KM10 Brushless 2-Speed Professional Dog & Cat Clipper. This german engineered 2-speed professional clipper provides truly revolutionary performance. The motor life lasts up to a whopping 10,000 hours.
You will be able to cut through mats and thick coats with this clipper set as it offers maximum torque and power with great speed control. It has an amazing ergonomic lightweight design that offers superior control and comfort. The proportionate and low-vibration design is great to reduce wrist fatigue.
Main Benefits
You can perform all-over grooming and complete shave downs including mats with this clipper.
More power is guaranteed when required with the automatic constant speed control.
Blades stay securely attached and can be detached easily when required.
A better clipping performance is ensured with the #10 Ultimate Competition Series Blade.
Has an extended motor life that guarantees a revolutionary performance that is perfect for all animal coats including dogs, horses, cats, and livestock.
Wrist fatigue is considerably reduced owing to the low-vibration design.
Cons
Some buyer is not happy about the Power cord. It's not durable.
Read verified buyer reviews now.
Price: $225.98
Finally
You have to keep in mind that the importance of grooming your pet isn't confined just to keeping them clean or making them look great. Regular grooming is an essential part of keeping your dog healthy as well by maintaining hygiene. It's also a great way to bond with your pet by spending time with them. So make the grooming experience hassle and stress-free and fill it with joy by using the grooming supplies that are of the highest quality and are favored by the professionals. Have an effective and quick grooming session with your pet!
Related posts: