Are you spending thousands of dollars every year for Dog grooming? Do you want to Groom your beloved dog in your own hand? If your answer is "yes" then you might like to check the information of this post.
Friend Dog Grooming is not so hard that you seems. If you learn properly you can do it in your home.
What will you get from this post?
Step by step DIY dog grooming.
How to handle your dog during the grooming time?
When and how to brush your dog?
When and how to bathe a dog?
Dog nail trimming.
Dog ear cleaning and teeth cleaning.
Part-1
Step one- Gather Grooming Materials
Gather all the grooming materials and supplies before starting grooming. Because it will not a good thing for you to move around for your tools once you begin grooming your dog. Here is the list that you will need to groom your dog.
One dog grooming table
Slicker brush/pin brush/medium and coarse tined metal comb (Greyhound style)
Dog nail clipper
Ear cleaner
Dog shampoo
Bath Tab
Towel and hair dryer
Dog hair clipper
Nice treat for your dog
Step Two – Comb out/brushing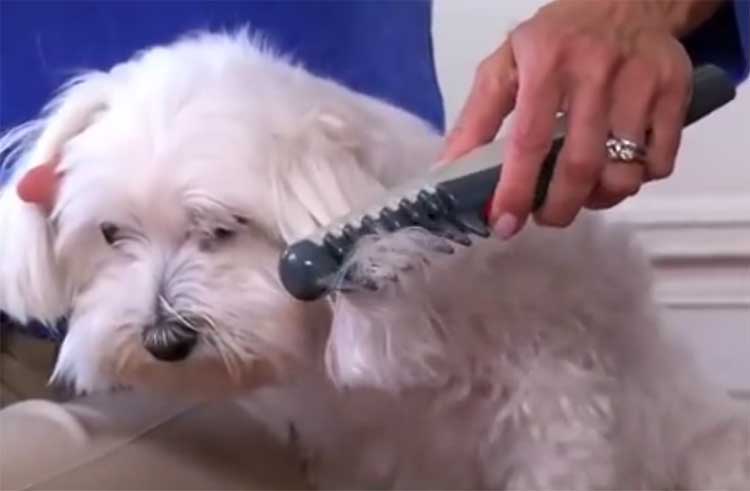 If your dog has long coat and you don't comb your dog's coat daily then I want to tell you, please do it regularly. Combing is the first steps of dog grooming process. Comb out your dog before the bath. If combing is not possible for angles of mat then use dog brush, because it will easily pass over at angles that a comb will get stuck on. If brushing is not possible then clip the mat maintaining the hairstyle.
Step Three – Brushing
Some dogs might not feel comfortable with the brushing. If that then you need to become more tactful. Praise your dog when you brushing him. You should talk to your dog quietly to encourage him to get more of it. You can also offer a good treat to your dog.
Step four – Essential Breaks
If your dog is not comfortable with the process then give him a break. You should not overwhelm your dog to get brushing or combing. If you do that then grooming can be harder in the future. You have to finish all the process by making fun with the dog. So give him a break if needed.
Step five – Cut out the mats that difficult to brush out
If your dog has thick mat then cut the mat with a scissor. Because most of the time brushing thick mat is quite difficult and the dog's skin pull out with the mat and the dog starts moving. Because it is painful. If you cannot safely clip the mat without hurting your dog, take him a professional groomer. If you notice that the dog has a bacterial infection under the mat, take your dog to the veterinarian as soon as possible.
Step six – Clear the eyes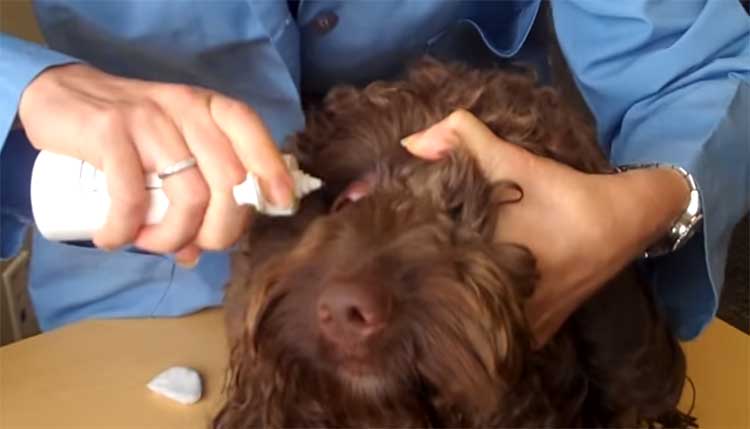 Clean the eye corner with the warm damp or soft warm washcloth. If the dog eyes have redness, cloudiness, inflammation or you notice any bleeding in the eye, visit your veterinarian as soon as possible. If everything is ok then let's go the next steps.
Step Seven – Clear the ears
Normally dog's ears have some wax, even in the clean ears. But there should not be a bad smell. You can clean your dog's ears with an ear-cleaner, and a cotton wool. Wipe dirt and wax away gently and don't rub vigorously. The inner ear is very sensitive so don't push the cleaner too far into the ear. You clean only those wax and dirt that you can see. You might also need some good treats for your dog.
Cleaning steps:
Praise your dog and give him a good treat for sitting and show him the ear cleaner.
Upright the flap of the ear and fill the ear canal with ear cleaner. Turn the tube vertically downwards.
Hold the root of the ear and move your hand down.
Now you have to mix the ear cleaner around within the ear canal. You can do it by massaging at the base of the ear.
Massage the ear only for 20 seconds and stand back to let it go into the ear.
Most probably your dog will shake his head vigorously.
Now take a cotton wool and wipe out the folds at the opening of the canal until it looks clean.
Now it's time to give a treat and praise your dog. After that repeat this process with the other ear.
Step eight – Call the vet for ear problem
If you notice that your dog's ears look red, swollen, irritated, dark or blackened or any kind of ear infection, call your vet immediately.
Step nine – Brush the teeth
Brush your dog's teeth regularly. But if your dog's mouth is healthy weekly three-time brushing can be ok. But brushing every day is the best practice. If you don't brush your dog's teeth regularly, plaque can build up and your dog may face bad breath, gum disease, and tooth decay.
Step 1: Gather the tools you need
Sometimes people you toothbrush that is originally made for the human being. But that is really a foolish activity. Please don't use a human toothbrush for brushing dog's teeth.  Here is the list that you need for brushing your dog's teeth-
Toothbrush that is originally made for the dog. You should use these brush because these are softer and specially angled for the dog mouth.
Dog toothpaste. Don't use human toothpaste because it contains ingredients that may hurt your dog's stomach. Rather dog's toothpaste contains dog-friendly flavors or peanut butter that will attract your dog and the dog will not bother at all.
Step 3- Assume the position and time
Pick the right place where your dog feels comfortable. Sit in front or to the side of your dog and test her willingness by touching and rubbing along her upper gums and teeth with your finger.  This way your dog will get used to the feel of something against her teeth. Use light pressure and repeat this whole process couple of time.
As dog toothpaste has good taste dog will like it. So let the dog taste some toothpaste putting on your fingertip. This way she will use to the texture and taste. After that start using the toothpaste and toothbrush together.
There are issues that you should avoid.
Don't stand above your dog's head.
Don't hold your dog's head down.
Don't stay behind the dog.
Try to gauge your dog's anxiety level, if she seems upset don't try to brush her teeth. It will better you try again another day.
Change the toothpaste if the dog refuses to take that.
Step Ten – Clip the nails
Clip your dog's nails with the dog nail clipper. If the nails of the dog are too long and you can hear his nails on the ground when he walks then you must clip those nails.
Use the perfect nail clipper which is easy to use. You can use guillotine-style nail clipper for small breeds, pliers-style nail clipper and scissors-type nail clipper for larger breeds as those are easy to use for particular breeds.
You have to clip that part where the blood vessels are not located (pink part ).
Take your time and clip the nails with extra care, especially with the dark nails.
In the case of an accident where you have cut too short and there's bleeding use styptic powder, baking soda, or baking flour with a bit of pressure to stop any bleeding.
PART-2
Bathing Your Dog
Just like human being bathing plays an important role in the health of your dog's skin, helping to keep your dog clean and free of dirt and parasites.
Step One – Gather your essential supplies
Would you like to run for cleaning product with your wet dog? If not please gather all the necessary items like dog shampoo, towels and may be a treat if your dog has the habit from before.
Step Two – Find a non-slip surface on the bottom of the tub
If your bath tab is not slippy that's ok. But sometimes bath tab get slippery once it gets soapy. In that case use a towel or a bath mat on the tab.
Step three – Pre-fill the tub with Luke-warm water
The dog does not like cold water and hot water can harm your dog's skin, especially your short-coated dog. So you need luke-warm water that will help you make a better experience.
Some dogs do not like bath and make a run during the bath-time. Again some dogs like to bath and they also like running and jumping during the bath-time. In that case, you can use a dog bath lead that you can collect from a pet supply store.
Step five – Apply Shampoo
You should use the dog shampoo that is originally made for the dog because it's different from people shampoo and less drying their skin. Wet your dog completely before you star applying shampoo. Apply the dog shampoo and massage it all over your dog's body excepting the eyes. You should talk to your dog in a calm and reassuring voice during the shampoo time. Rinse your dog's coat carefully that there have no soap or shampoo left because it can irritate your dog's skin once she's dry.
Step six – Dry your dog
Take a towel and place it over your dog's back allow him to shake the water off from his body. Sometimes dogs started shaking his body before placing a towel. So be careful. If your dog has short coat then you can do it with a towel. But if your dog has a medium or long coat then you will be needed a blow dryer. You should use a blow-dryer that is designed for dogs; because its lower temperatures won't cause itching or dandruff.
Part-3
Clip Your Dog Fur
Don't start clipping before the dog become completely dried. Some dog breeds are really short coated and that may not be needed clipping. But if your dog has shaggy hair then you should clip her fur regularly. Step to follow-
If you are a new groomer, I recommend some video tutorial to get some idea. Here is a link to dog clipping video that may helpful for you.
Watch the video carefully to get an idea of how to achieve the desired result. After that, you may start.
Safety first: To ensure the safety you need a dog grooming table, a sharp dog clipper, a Slicker brush and a long leash to tie him up with the dog grooming table stand. Your clipper blades should be sharp and well lubricated. A dull blade can pull on the hair that is painful. Please don't try a scissor when you are a new groomer. you may hurt the dog.
Start clipping from the back of the neck and be very methodical. Don't push the clipper too fast and clip with the growth of hair. Clip two side one by one, after that two back legs. Don't forget to use the slicker brush, it will help you to find out where have missed clipping. When you clip the hair of the chest and belly fur, hold his two front legs up with your body. So that the dog could not move around.
Frequently stop clipping and check your clipper blades to make sure they're not too hot. If you find it become too warm, simply spray on the coolant or switch the blades and let the hot ones cool down.
 Praise your dog and don't forget to give him a nice treat to make easier grooming in future.
Live Training
I hope you can groom your dog now. If you have any confusion you can watch videos on youtube. Here are some video links-
https://www.youtube.com/watch?v=RNAUncQEASo
https://www.youtube.com/watch?v=G5UfBnkilc0
https://www.youtube.com/watch?v=K0D4oTQa3oc
I recommend live training from a professional dog groomer because this is the best practice to learn dog grooming. Thanks for reading. If you have any quarry or suggestions please let me know by commenting below on the comment section. If you like this post please share it with your friends, family, and neighbors who might also need this information.
Important Tags
Dry dog food |Amazing Dog Costumes| Different Dog Breeds Dog food advisor |Greenies Pill Pockets |sensitive dog breeds |neighbors dog won't stop barking|hypoallergenic dog treats recipes|most trainable dogs |dog kennel ideas|