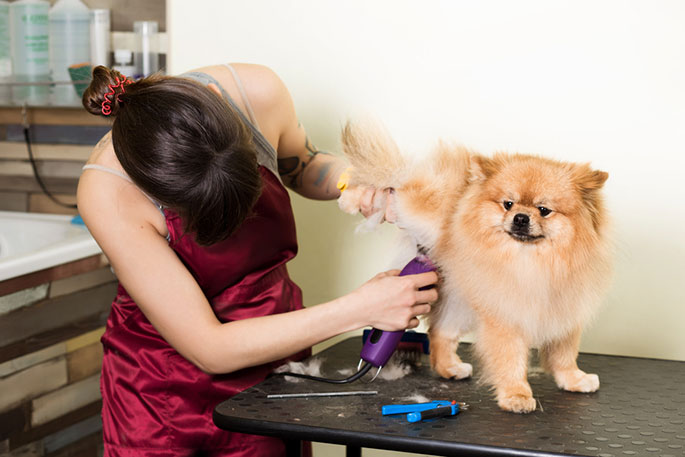 PetDogPlanet.com is an Amazon Associate, and we earn from qualifying purchases.
Dogs come in different sizes and shapes, with multiple types of coats, and plenty of personality. Because of this, there are varieties of dog clippers out there for purchase. However, owning a pet comes with responsibilities; one of them is taking good care of its coat. Giving your dog a haircut at home can be simple.
If your dog requires a regular trim, you can do this by taking your dog to the groomers regularly, or you do it yourself and consider using dog clippers at home which will save you time and money too. In order to achieve this, it is an investment well worth making if you purchase a good quality pair of dog grooming clippers. And because usually, dog's fur is very thick, you want to find the best dog grooming clippers with a powerful motor on the market.
Are Dog Clippers Different From Human Clippers?
Yes, they are! At a glimpse, a dog groomer's clippers might appear like the ones used by the barber to trim hair. However, when you give them a closer look; you'll notice some visible differences.
Using a standard human clipper driven by a robust motor can overheat the device due to prolonged use, while dog grooming clippers are designed for more prolonged use without getting heated up on the hand of the groomer or overheating.
Last update on 2023-12-11 / Affiliate links / Images from Amazon Product Advertising API
Dog clippers are said to be sharper, and more potent than human hair clippers.
Dog clippers provide variable speed settings with a max speed of up to 5000 strokes per minute while human clippers do not usually offer such speed.
Human hair clippers are generally cheaper compared to dog clippers. The price of the dog's clippers can be nearly 1.5 times as high as human hair clippers.
The human clipper blades are designed with narrower teeth and come with a standard blade in size No. 000, which usually clips hair 0.2 millimeters – 0.008 inches, from the scalp. A blade of this nature will get tangled up in the air of a dog and pulling it out. Therefore, a majority of dog grooming clippers are packed with No. 10 blade size, which removes the dog's hair 1/16-inches from the body.
Related Post: The 10 Best Dog Hair Dryers
What to Consider When Purchasing Dog Clippers
Power of the Motor
An important feature is how powerful the motor is. A more powerful motor provides a smooth cut through tangled and rough coats, making the grooming faster and much easier. However, power comes as a trade-off with vibration and noise. Working with a highly powerful motor at full speed will produce a lot of heat and noise, which may be unbearable for your dog.
Weight and Size
Small and light dog clippers are very comfortable; they will make it easier and faster to trim around the body with minimal tiredness. However, you will experience a lot of vibration, especially if you go for the light and powerful clipper.
Price
Dog's clippers come in various brands, all offering different prices. The goal is to invest in a good set that will last a long time and is a good quality brand. Shop around and compare the features and prices offered at different stores and land the clippers that meet all your requirements at the best deal.
Rotary Speed per Minute (RPM)
High RPM clippers are fit for cutting a variety of fur types such as thick coats and coats with a lot of covers quickly, easily and painlessly. It doesn't matter if you are a beginner or an experienced groomer; the speed will help trim through the fur without harming the dog.
Intended Use
Blades come in various sizes and types depending on the type of coat you are working on and the kind of cut you intend to achieve. If your dog has a longer coat, you may require using various blades to achieve the cut you want. Many brands can use multiple blades universally while others only use a specific blade, so it is vital to select the correct blade.
Conclusion
Head to your local pet store before you go about choosing the best dog grooming clippers. It's crucial to check up on information on these pet grooming tools through the internet. As with anything else, there is plenty of information, testimonials, and blogs over just about anything you could be looking for on the internet. Shop around and find out more about each brand's features and the price ranges. This is to ensure that you're working within a budget and you're getting the right clipper according to your needs.