Safest Way to Transport Your Dog in Your Car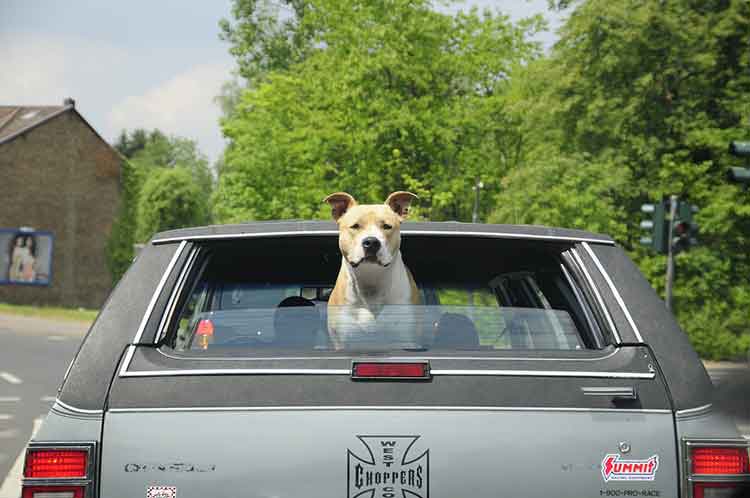 Pet ownership has become very popular across the globe. Our dogs are part of the family and we tend to take them everywhere we go. Their safety and comfort is very crucial and investing in a safe way to bring them with us are very important.
We have all carried a dog in our cars on our laps or the front seat without really minding their safety and regulations on how to transport pets. In fact, in some states, you will get fined for incorrectly transporting your pet. There are some things you can do to ensure you and your dog take a comfortable bride when on a road trip.
» Feed your dog some hours prior to the trip to ensure he doesn't get hungry. This will allow for digestion and greatly reduce motion sickness.
» Take you dog on a walk an hour before starting the trip to acquaint it to motion that is involved when traveling.
» Leave the dog leash on. This will come in handy if you need to stop along the way ensuring your dog stays with you all the time.
» Put your dog in a safe and tested dog carrier that is well ventilated and is being enough to accommodate the dog size.
Why You Should Restrain Your Dog When Travelling
If your dog is used to hopping in the car for a short drive to go grocery shopping, he may sit still for a certain duration of time. On long journeys, this may different. Most dogs will get excited or fidgety and easily bolt out of a moving car on the road.
Spare yourself the worry of having to watch every move your pet makes. These distractions can cause an accident to you and the dog. A well-restrained dog will be comfortable and safe should the unfortunate accident occur.
Different Options for Keeping Your Dog Safe  
As a rule, dogs should always ride in the back seat. Airbags are a security feature that protects adults but will easily crash even a big dog. You should never put your dog on the lap even in the back seat. A little agitation can cause the dog to bolt and will take you a lot of time to find him.
Tere are a few ways you can use to make sure your dog is securely restrained. Whichever way you choose, comfort and safety should be paramount. The type of car, the size of the dog will influence the choice of restraint.
Dog Crates
For a dog that is quite happy to stay still when traveling, consider getting a crate for your pet. The crate should be large enough to allow the dog to stand up and move around comfortably. Choose a crate that is safety certified and crash tested like these ones bestdogcrates.net. Just like you make your safety seriously, so does the dogs.
Aluminum and plastic reinforced with fiberglass are preferable because these are more durable materials. The design is also important. Make sure your selected model allows for good air circulation and is well insulated for all seasons.
Dog Guards
If you frequently travel with your dogs, dog guards can be fitted in the rear of your car between the back of the seats and the boot area, to provide a restricted area of space for your dog to be contained within.
This works like a crate but is a fixed feature in the car and can't be carried out of the car. In this case, always make sure you leave the leash on for the times you stop to take the dog to relief itself as you journey.
Dog harnesses are worn around the neck and chest of your dog and fasten securely to your car's existing seat belt fittings. They come in different shapes and sizes for different dogs. They are padded and snuggly fit around the neck and chest of the dog for comfort and safety. If you have a small dog, consider getting a fitted harness and invest in a seat booster to provide your furry friend comfort when on long rides. The harness works great for dogs that are not fidgety and can sit still for longer periods of time
The choice of restraint you choose will be determined by the type of dog you own. There some dogs that don't like the confinement in a crate and will make a lot of noise to get out while other will seat still. Others prefer riding on the seat as they watch their surroundings. To determine what works, use both the crate and the harness on different occasions to see how the dog reacts. You can also train your pet on the choice of restraint you best like.
Tips to Apply for a Fussy Free Ride
Traveling with a dog is the same as with a small kid. Long rides will bring discomfort and lead to a lot of barking and be howling if they are uncomfortable. To make sure your trip goes well, invest in comfort. Bring dog food and water with you to make your pet happy. A doggy toy will come in handy too.
Make stops along the way and give your pet time to stretch and relieve themselves. Some pets have motion sickness so be on the lookout for signs of discomfort. Always hold the dog leash whenever you get out of the car. Exit from the pavement size of the road to make sure you and your pet are safe from the traffic.
Open windows to allow for ventilation. Fresh air can make all the difference when traveling. If your pet loves to get his head out of the window, make sure to open the windows to the point they can crawl out. Also, disengage automatic locks because a paw can easily pry the door open and cause an incident.
Bottom Line
While traveling with our pets can be problematic, taking the above measures will eliminate any discomfort and make the journey enjoyable for both of you. Investing in the right restraint can save you a lot of headaches when on the road.
Whether taking the dog on a short drive to the pet or taking a family trip, make sure your pet is well protected and is comfortable
Important Tags
Dry dog food |Amazing Dog Costumes| Different Dog Breeds Dog food advisor |Greenies Pill Pockets |sensitive dog breeds |neighbors dog won't stop barking|hypoallergenic dog treats recipes|most trainable dogs |dog kennel ideas|