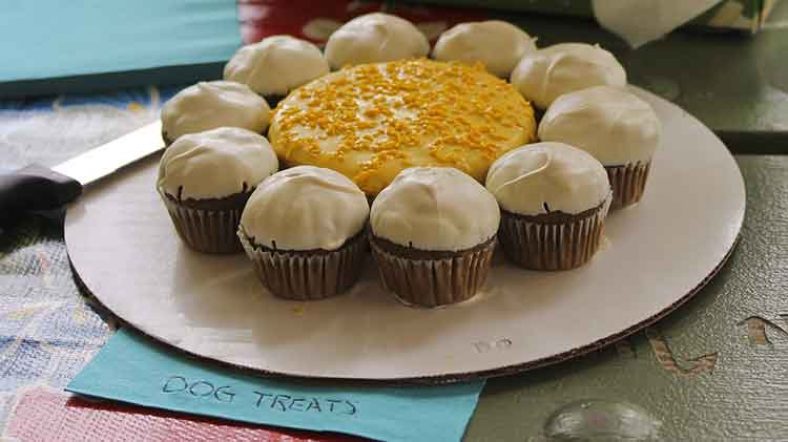 PetDogPlanet.com is an Amazon Associate, and we earn from qualifying purchases.
In today's world so many of us have allergies, often due to a poor immune system but also we have to contend with so much unnatural and often poisonous air quality. It doesn't stop there. Our dogs can be affected too and if you have a dog you want to make sure his nutrition is top class and also grain free and made with good whole ingredients.




The dog food industry offers us a whole range of branded food that is holistic with natural ingredients but they are often expensive, especially the treats. You will find a few hypoallergenic dog treats recipes that you can make for your four legged friends.
Organic Rice And Turkey Treats
⊕ 1/2 lb ground turkey
Last update on 2023-12-10 / Affiliate links / Images from Amazon Product Advertising API
⊕ 1/2 cup cooked brown rice
⊕ 1/8 cup grated carrots
⊕ 1/4 cup tomato sauce without salt
⊕ 1/2 Teaspoon dried basil
⊕ 1/2 teaspoon dried oregano
⊕ 1 teaspoon parsley
All the above ingredients should be organic.
Preheat the oven to 350 degrees F. Mix all the ingredients together – using your hands is best. Spoon the mixture into a 4 x 8-inch loaf pan and press down lightly. Bake for 40 minutes and cool before cutting. You can store them in the refrigerator for seven days or in the freezer for around three months.
Simple Sweet Potato Chews
All you need is one large yam, washed and dried. Preheat the oven to 250 degrees F. Cut the yam into slices about 1/3 or 1/2 inch thick and bake for 3 hours turning them over after 90 minutes. Cool completely and then store them in the refrigerator for three weeks or four months in your freezer.
Organic Gluten Free Cheese Treats
3 cups of gluten free flour – chickpea flour works well
1 cup of grated cheddar
1/2 cup milk
1/4 cup beef stock
1 tablespoon of olive oil
All the ingredients should be organic.




If you don't want to give your dog dairy, substitute 1/2 cup nutritional yeast for the cheese and use water instead of milk (the beef stock will give enough flavor).
Preheat the oven to 300 degrees F. Mix flour and cheese and add the wet ingredients. Mix well until dough is just a little bit stick and roll out. You can cut the mixture into squares or use a cookie cutter. Bake for 10-15 minutes and leave them to cool. You can store them in the fridge for up to three weeks or you can freeze them for up to three months.
As you can see, these hypoallergenic dog treats recipes are simple to make and are done in next to no time. Your dog will love them and they are much cheaper than the expensive dog treats at your local pet store. You also know exactly what is in these treats and that you are giving your dog quality ingredients.
When you next go to the dog park, take some hypoallergenic dog treats recipes and share with your dog lover friends and you can tell them how easy they are to make and also how cheap they are in comparison with store bought dog treats. They will be impressed.
Hypoallergenic Dog Food
If your dog suffers from an ailment caused by food allergies, making the switch to hypoallergenic dog food may be the right choice for you and your pet. After your dog has been diagnosed with symptoms of a food allergy, it can often be difficult to locate which ingredients are causing the allergy and what dietary changes should be made. It is always a good idea to discuss the issue with your veterinarian, and switching to a high-quality hypoallergenic product is usually the first step that should be taken to stop the allergy from affecting your dog.
The most common symptoms of a food allergy in dogs is dry, flaky, and itchy skin, which should become noticeable to you through increased scratching, licking, and hair loss. Other signs and symptoms include ear infections and digestive problems like gas or diarrhea (types of dog diarrhea). If you suspect a food allergy, exchanging your dog's normal food for a brand of hypoallergenic dog food will let you see if the symptoms go away when the potential allergen is eliminated. Dogs can be allergic to a number of ingredients that are found in most major dog foods including preservatives, coloring, flavorings, chemicals, and more. Even some of the food's primary ingredients like chicken, corn, or wheat could be what is causing your dog trouble.
The only true way to pinpoint the allergen that is troubling your dog is through a series of diet changes and trial and error. Most hypoallergenic dog foods will be free of foreign substances like artificial flavor and colorings, so if these are the problem you should notice a difference soon. Pick one or two primary ingredients to eliminate first, such as chicken or wheat, and begin your dog on a hypoallergenic option that is free of these foods. If you can't see a noticeable difference in three or four weeks, try a new type of dog food and eliminate different ingredients. Keep track of which ingredients you are eliminating and save the labels from food packages so that you can identify any similarities between them that may be helping or hurting your dog's health. Also, during this time make sure to not feed your dog any table scraps or treats outside the diet plan.
Purina, Royal Canin, and Fromm's all make high-quality hypoallergenic dog food options that can be found at most pet stores. It is usually best to consult your doctor and do more research about your dog's breed and health standing before making any serious diet changes.
Hypo-allergenic Totally Natural Shampoo
Related posts: