7 Best Pill Pockets For Dogs – Pill-Masker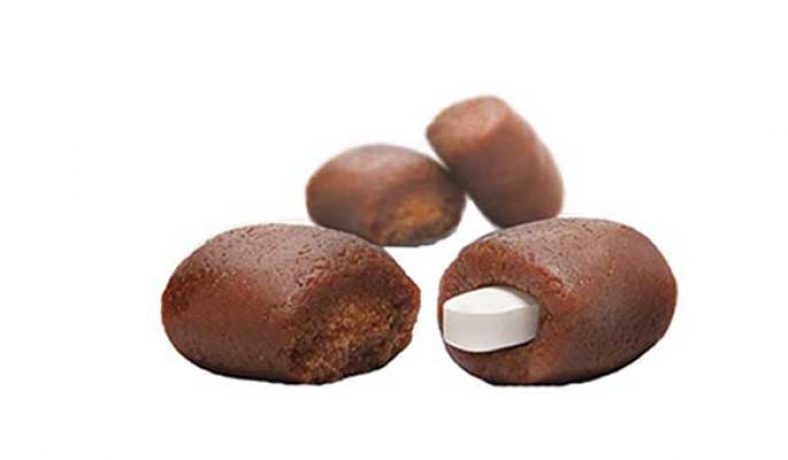 A big part of caring for your dog is giving them medicine when they fall sick. Now, most Dog Owners know that getting your dog to take the pill is easier said than done.
Pill pockets make this task easier by hiding the pill inside small treats that are shaped like a little pocket. These pill pockets smell great and are tasty to even the most finicky pets.
These pockets come in a variety of shapes and sizes, making it easier for you to conceal the medication.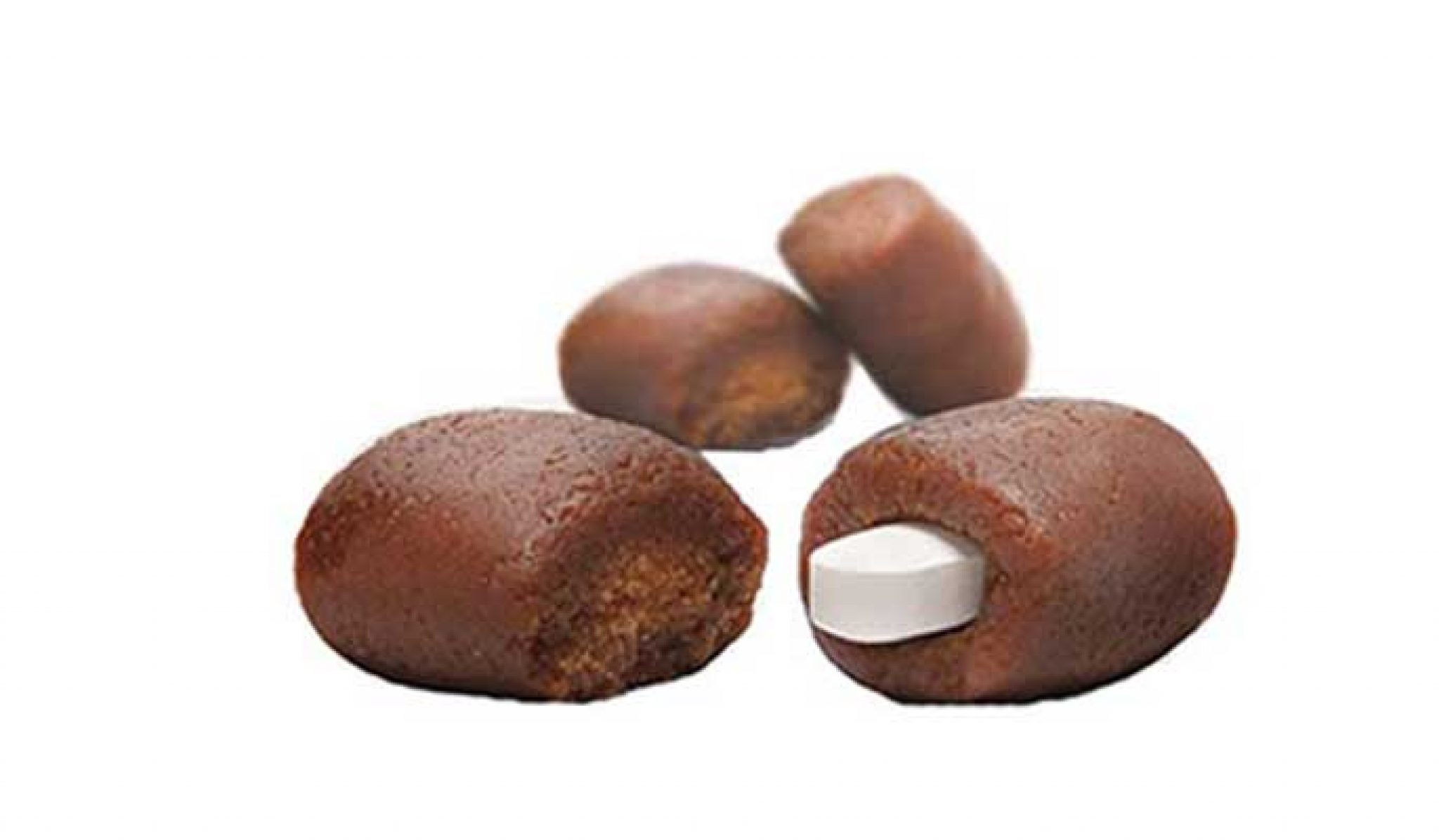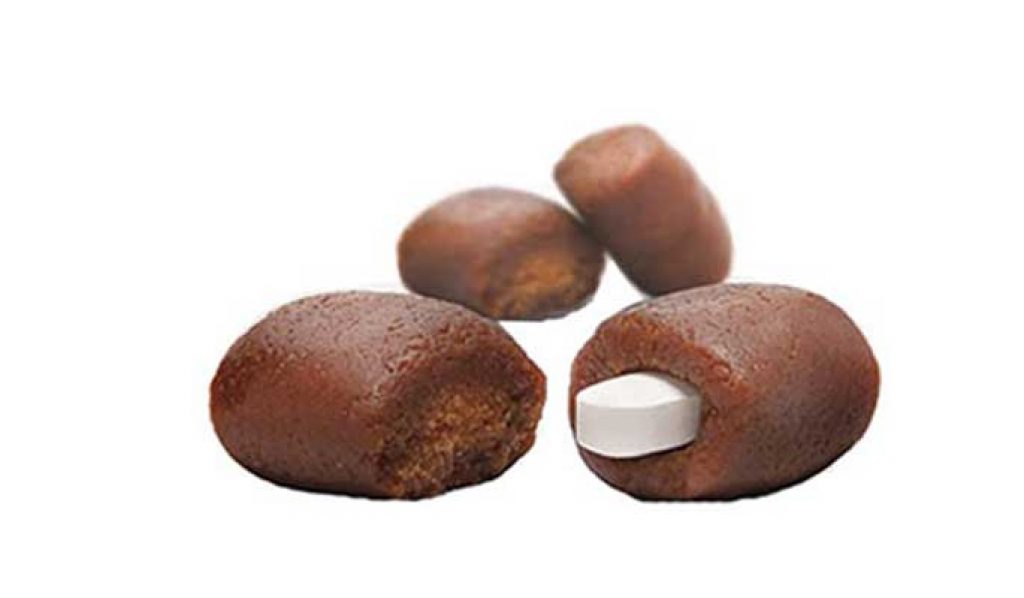 You need to be careful when choosing the right pill pocket for your dog as they are all not the same quality. You must choose one that has some nutritional value and is healthy with low calories. In this article, we will help you choose the right pill pocket treats for your dog by reviewing some of the best pill pockets for dog treats out there.
Read More:
1.GREENIES Pill Pockets Natural Dog Treats, Tablet Size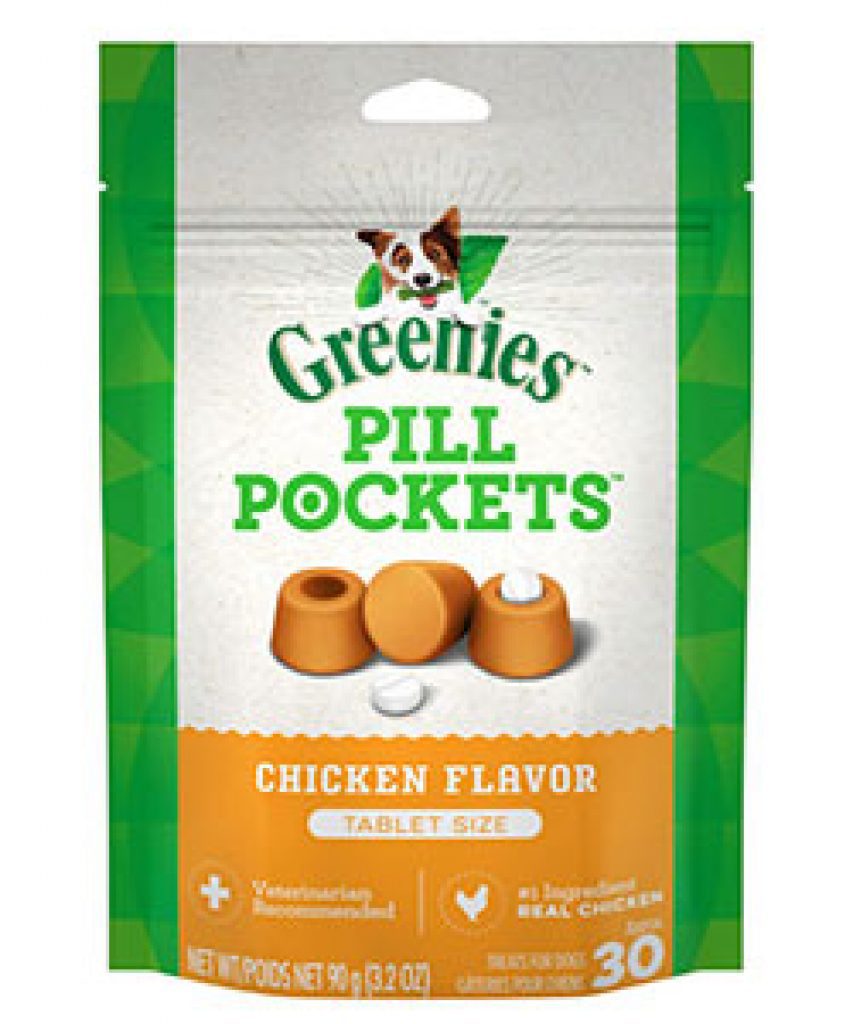 Greenies Pill Pocket Natural Dog Treats is easily one of the most popular brands in the market right now due to its all-natural ingredients. It's very easy to disguise the smell and taste of liquid medicine, capsules, and med tablets in this pill pocket. This pill pocket is very low-calorie as well.
The treats are very appealing to the pet owners as well as the pets because they are met with a lot less resistance every time your dog needs medicine. This is largely due to the fact these treats are available in Peanut Butter, Chicken Hickory Smoke, and Duck & Pea flavors, and dogs just love them.
This treat is available in a 15.8-oz pack and it contains 60 counts of pill pockets that are in capsule size. The whole experience has become very peaceful for the dog-owners as they don't have to deal with the stress and mess of every dose.
Greenies Pill Pocket Natural Dog Treats have a very simple formulation and are low-calorie as well. This means your dog is less likely to face complications from diabetes, kidney problems, and other health issues if you choose this treat.
PROS
Made in the USA
Made with ingredients that are all-natural and are very easy to use.
Is easily available as a trusted and popular brand in 4 flavors.
CONS
It has 29 calories per treat.
Little more expensive than other brands.
2.Milk-Bone Pill Pouches Dog Treats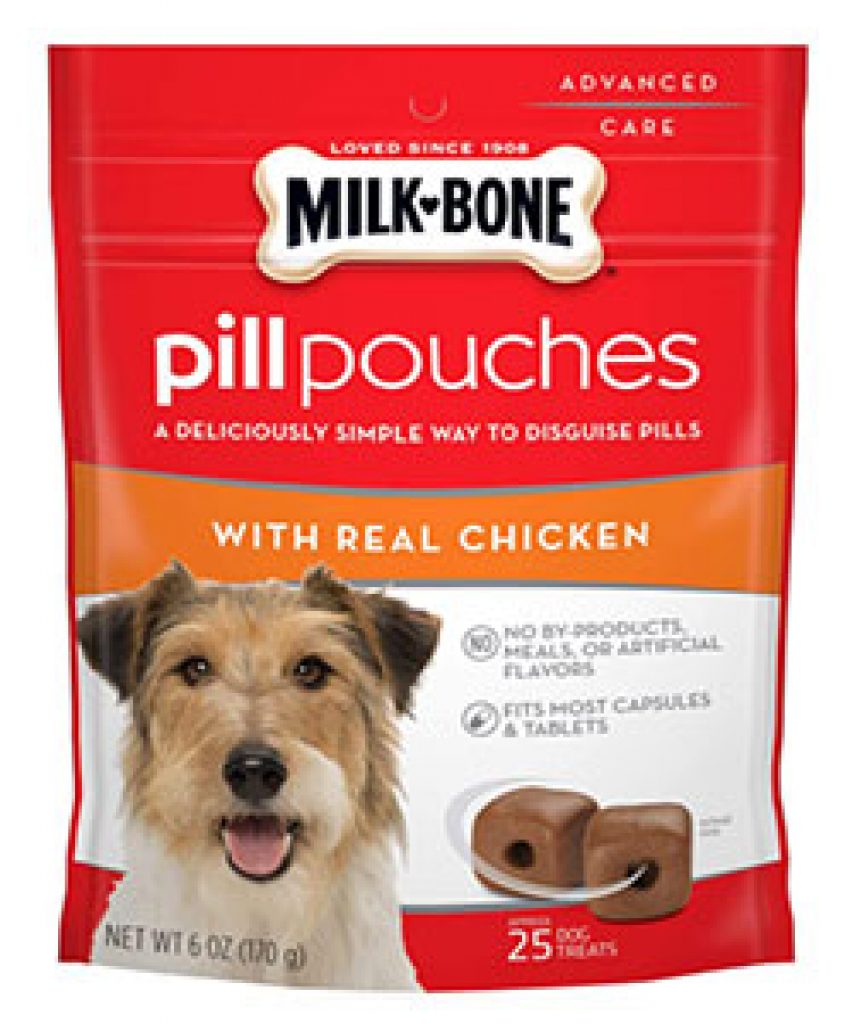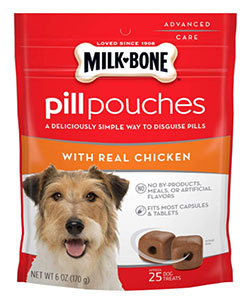 Milk-Bone Pill Pouches Dog Treats are a simple, delicious, effective, and straightforward way of dispensing medication to your dog. Dogs find this treat really tasty as they come in Hickory Smoked Bacon and Real Chicken Flavors.
You can put in a few pills or large capsules in a single pouch as this pocket is deep enough. The treats have only 19 calories per pouch and the ingredients are purely organic. The pill pouch does not flake off or crumble as it has a non-greasy and soft texture.
These treats can be broken into smaller portions or as you require so that your supplies can last longer. This makes them affordable and economical. This treat makes the whole process of giving medication to your dog very stress-free and simple. Dog owners are hence very happy that their dog's medical needs are being addressed accurately.
PROS
There are 10 calories per treat.
Capsules or tablets can be fitted easily as this treat is large.
Pure organic ingredients have been used to produce these treats.
CONS
Some dogs don't like the smell of these treats.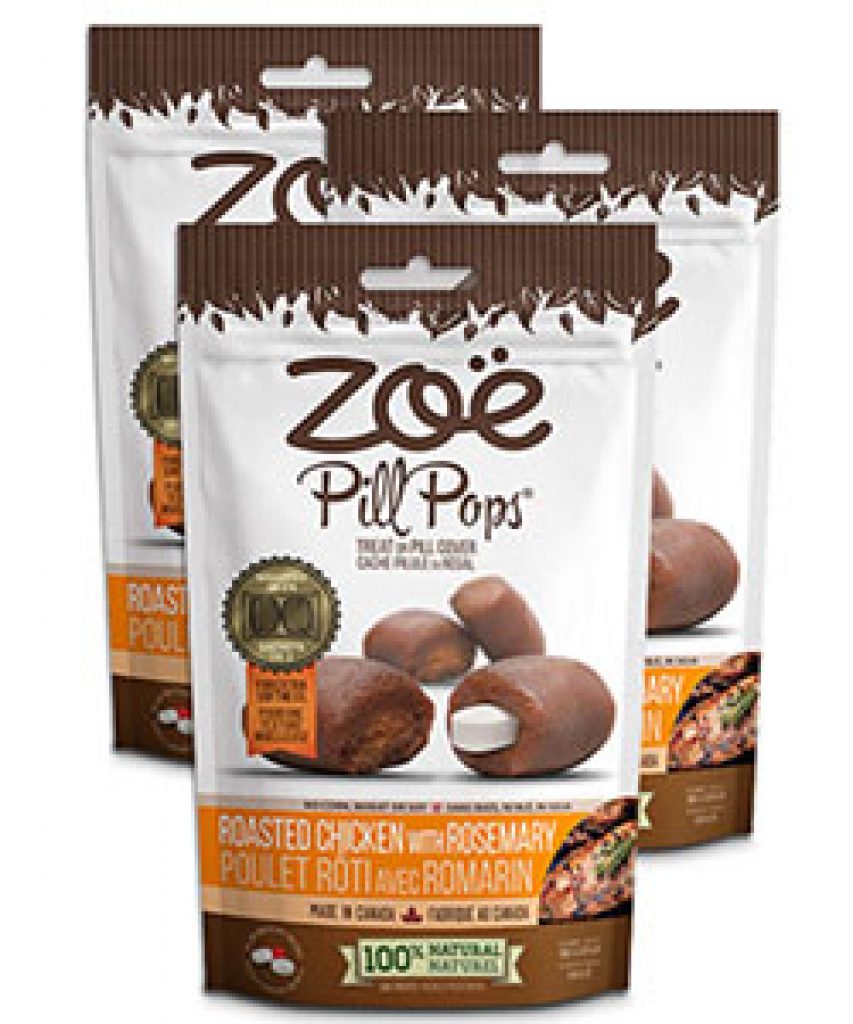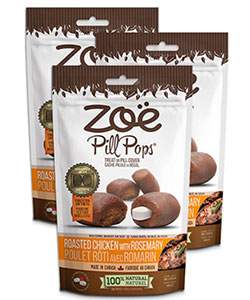 3. Zoe Pill Pops Dog Treats
Zoe Pill Pops make your job of giving medicine to your dog an easy and hassle-free affair. These treats are fresh as they come individually wrapped in two's. It can also be halved in two or broken in smaller bits to hold more pills at a time. These treats are fully safe as they don't have any artificial flavors or preservatives.
Zoe Pill Pops is made from 100% natural ingredients and comes in Grilled Cheese & Bacon, Peanut Butter with Honey, Grilled Beef with Ginger, Roasted Chicken with Honey, and many more. This treat does a great job of disguising the medicine with its irresistible flavor and smell, making it very popular with dog owners.
The treat is very supple and easy to mold and it doesn't crumble when reshaping it into smaller bits to accommodate smaller pills. The double-pill packing system is helpful for many dog owners. This allows the treats to be fresh for a longer period as the entire bunch isn't opened at once. This also increases the shelf life of the pill pockets.
PROS
100% Natural ingredients used to formulate this treat.
They are wrapped in two's individually.
This treat is packaged and available in over 10 flavors.
CONS
To many, the individual wrapping might be a little inconvenient.
4. Tomlyn Pill-Masker Paste for Dogs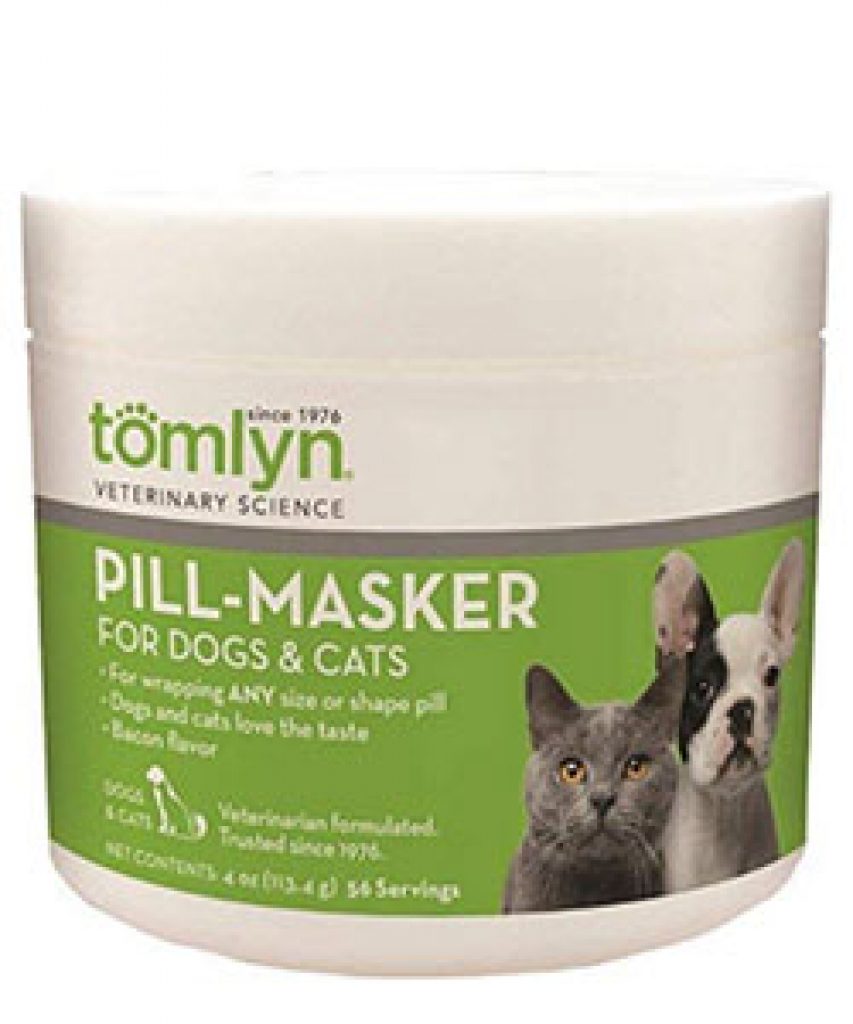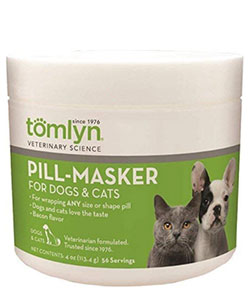 This is the only pill pocket treat that we are going to review that doesn't come in a pouch or pocket form. It's actually a paste-like formulation. This paste-like treat can mask any size or shape of the pill as it is easily moldable. This tasty and moist treat is available in bacon flavor.
Tomlyn's Pill-Masker Paste for Dogs allows you to coat the pill according to your required thickness or amount as it is free to mold in any desired shape. Since this treat can be made to a thin coat that the dogs prefer, you can assure that the supplies can go a long way. This is best for dogs that prefer to swallow their treats without chewing much.
Most owners approve this treat even though the smell comes a bit strong for a few. The pet readily accepts this product, along with its efficacy and affordability makes it more popular with the owners. Washing their hands with soap can easily get rid of the smell.
PROS
Each container has over 50 servings.
Can be used for dogs and cats alike.
Has a very enticing bacon flavor.
Has a paste form so any size or shaped pill can be masked.
CONS
Some dogs may find the odor to be too strong.
5.Vet Works Bacon Flavored Pill Treats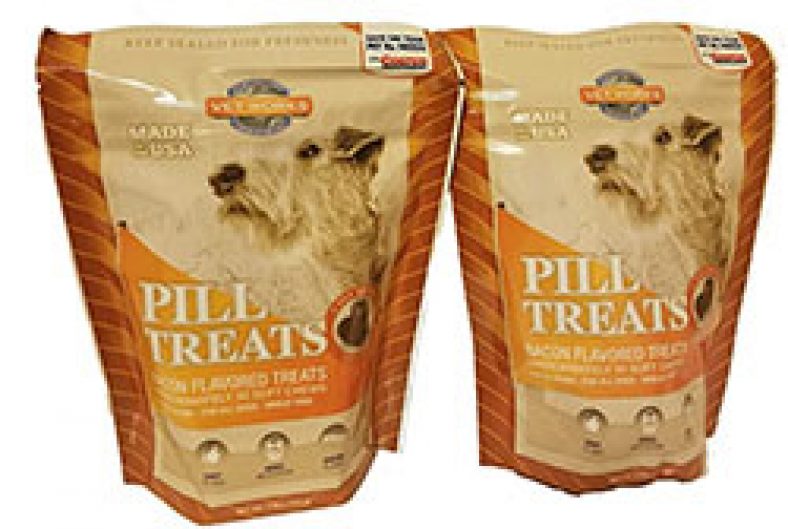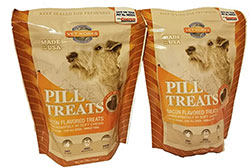 These pill treats are bacon-flavored and are available in a double-pack, having 30 pills per pack. This product is made in the USA and is made up of Poultry Liver, Tapioca, Corn Syrup Molasses, and Whey.
This treat stays fresh longer as the air inside is removed by making the bag vacuum-packed. This treat can be wrapped around any pill after it is allowed to soften at room temperature. It's great for pet owners as any size of the pill is concealed by this treat.
Pets find the bacon-flavored smell of this treat to be irresistible. According to dog-owners, their dogs did not experience any health issues or adverse side effects after they had these treats. This pill pocket treat can go a long way as it can be broken down into smaller pieces or can be split into halves.
The pet owners have recommended exposing a pocket in the open air for a few minutes. This is required as the pockets might feel stiff from the pack. Being in the open air will turn the treats into a squishy wrap, making it easy to mold completely around whatever shape and size the dog's medicine is. The double-pack also increases the product's shelf life.
PROS
Made in the USA will all-natural ingredients.
The treat is conveniently large to fit most tablets or capsules.
The treat comes in a vacuum-packed bag that ensures freshness.
CONS
You need to soften the treats at room temperature before you prepare it for your dog.
6. Vetoquinol Pill Wrap Treats for Dogs
This flavor-filled treat is made with natural ingredients. It is moist and can be easily molded into any shape to conceal all sizes and shapes of the pill. All you need to do is pinch off the size you require to conceal the medicine and cover the pill completely.
Dogs love this treat and it makes their med time enjoyable. If you are giving liquid meds then all you need to do is make a small pocket with the paste. Then drop the liquid medicine in the center and shut off the ends by pinching the paste. Many dog owners find this wrapping technique to be very convenient.
Vetoquinol Pill Wrap is loaded with proprietary flavor-flakes and is made with ingredients that are food-grade only. Hence it is completely safe for your dog. Your dog will love this moldable pill masker as the smell and taste of the pill is entirely masked, and it is very easy to swallow.
PROS
Made in the USA with food-grade ingredients.
Each container has approximately 56 pills.
Easily moldable to conceal all shapes and sizes of pills.
CONS
Some owners might find the pinching of the paste to be messy.
7.Greenies Pill Pockets Natural Dog Treats, Capsule Size, Hickory Smoke Flavor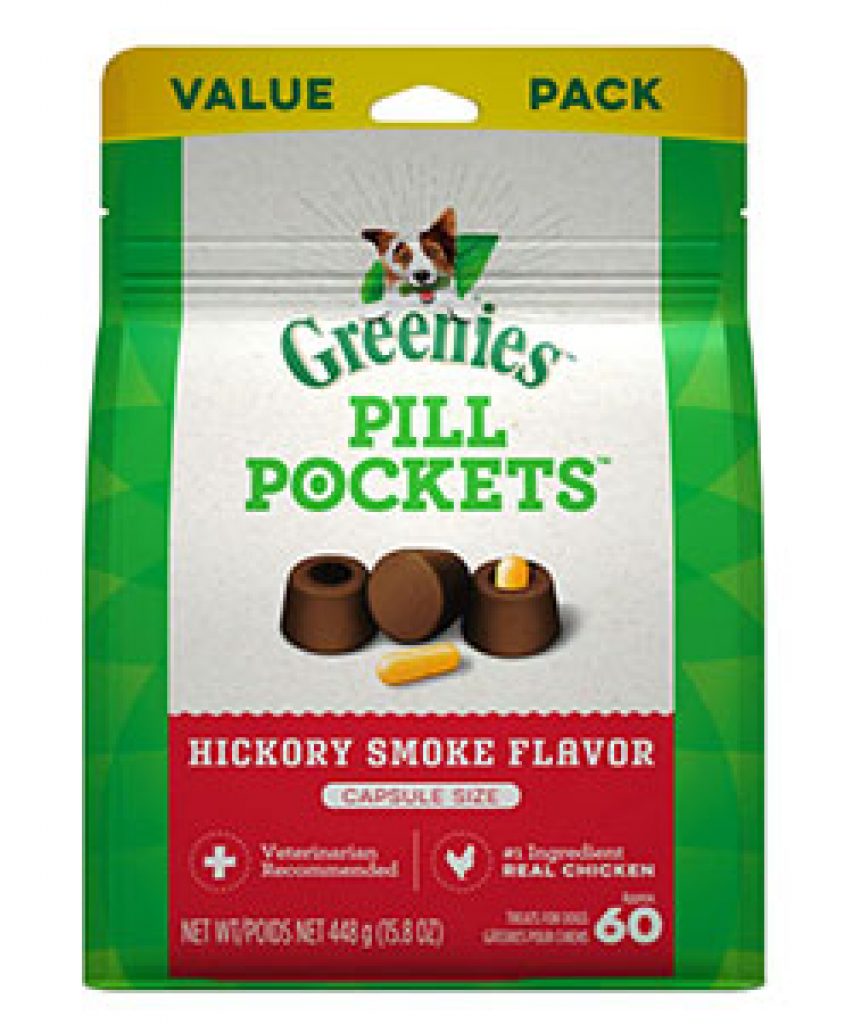 This treat is made of natural ingredients and comes in Hickory Smoke Flavor. It also includes trace nutrients and makes it much easier to give your dog the medicine. You don't have to hide the pill in messy human food anymore. The dogs love this tasty pill pocket.
The hickory smoke flavor makes the pill pocket irresistible to dogs as they are not able to sniff out the medicine. The pill pocket effectively masks the smell and taste of the medicine making it a mess-free and stress-free experience for you.
These pill pockets are vet-recommended and all you need to do is put the pill or tablet inside the pocket and simply pinch the sides closed, concealing the pill or tablet. Your furry friend will take the medicine thinking it's a tasty snack. This makes GREENIES Pill Pockets a smart choice when you are getting pill pockets for dogs.
PROS
Made in the USA with trace nutrients and all-natural ingredients.
Contains a 60-count value pack that is 15.8 oz.
Comes in a tasty hickory smoke flavor.
CONS
All dogs might not like the hickory smoke flavor.
Making your own pill pockets
Apart from buying pill pockets for dogs from the market, you can also make your own pill pocket for dogs at home. Doing it yourself will not only make it easier for you to medicate your dog but it will cut down your costs as well.
Making pill pockets on your own will also allow you to customize the size and flavor according to your needs. You just 3 ingredients to get started, water or milk, flour, and peanut butter. The peanut butter can be substituted for cheese or ground meat if your dog prefers that more. Be sure to consult the vet before you whip up these treats in case your dog's stomach is more sensitive.
The milk or water, peanut butter, and flour needs to be mixed up together in a bowl using a 2:1:1 ratio. You need to use a spoon to scoop out a small amount, use your finger to make an indentation after rolling it into a ball. You can then drop the pill inside the indentation and make sure that the mixture covers the pill.
The best part about making pill pockets for dogs yourself is that you can make them in batches and store them in the fridge. If you are using peanut butter then you can store it for up to a week. If you are storing them in the freezer then you can store for up to 3 months.
Conclusion
Pill pockets are the best way to give your dog the medicine it requires. Dogs love food so much that they will gobble up the pill pockets without even realizing that there is a pill masked in it. Be sure to pick the right pill pocket for your dog, check if it is low in calories and made from healthy nutritious ingredients. Hope this article gave you all the information on pill pockets for dogs and helped you in choosing the best one for your dog. Have a mess-free loveable time with your furry companion.
Popular Post: