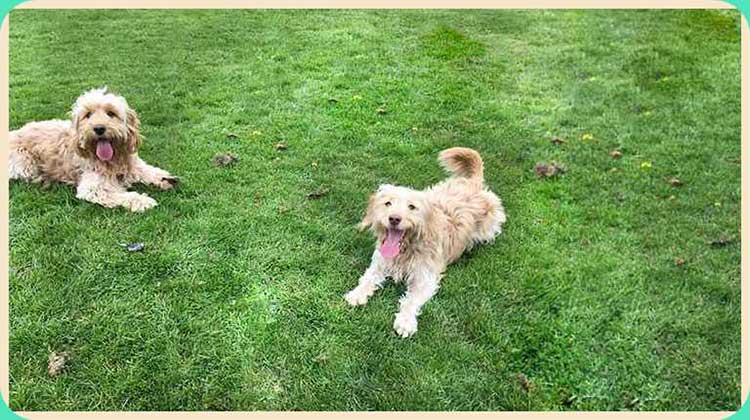 PetDogPlanet.com is an Amazon Associate, and we earn from qualifying purchases.
It is easy to think that the most important matter when choosing a puppy is how he will suit the family. Yet, shouldn't it really be a case of whether the family suits him or not?
These adorable pooches make a terrific addition to the right family home but taking one in when you aren't right for him is a terrible idea all round. So, how can you be sure that you are making a good decision for his future happiness as well as for yours?
The following are a few of the key points to take into account in order to make a smart decision that leads to a brighter future for you and your dog.
A Family That Is At Home a Lot
Last update on 2023-12-11 / Affiliate links / Images from Amazon Product Advertising API
One of the defining characteristics of this type of dog is that they love to be around people. Cockapoos love company and they will be delighted to join a family where there is always someone around to talk to them and play with them.
Yet, what if you are out at work all day long but really want to get a Cockapoo that waits patiently for you at home? It isn't impossible to find a solution but you really need to go the extra mile to ensure his happiness, as these dogs don't like being alone and get bored easily in this situation.
For example, could you ask a friend or relative to pop in and see him during the day? Alternatively, you might want to pay a dog walker to drop by and talk him out for a stroll.
Some dog owners rush home at lunch time to spend some time with their pet, which is far from ideal but can make life that bit more enjoyable for everyone concerned. In the end, it is down to each person to find the right way to be there to give their dog the company that he craves.
One That Is Reasonably Active
Some dogs are bundles of energy that never tire, while others take a far more laidback approach to life. In truth, Cockapoos are normally somewhere in between these two extremes; they enjoy getting some exercise but they aren't as demanding as some breeds.
This means that they tend to fit in well with a family that is reasonably active. If you like going to the park or the beach now and then he will probably be delighted to join you as often as you want him to.
Some Cockapoo owners take their dogs out on long hikes or to walk up mountains together, which is usually fine as long as you take all of the necessary precautions to ensure his safety. However, this isn't a dog that you should push too hard.
On the other hand, you don't want to leave him sitting around the house, bored and listless, for too long either. The right balance of activity and rest periods will tend to come naturally if you are right for each other.
A Family with Young Kids
If there is one thing that Cockapoos seem to love above all else it is spending time with young children. This is especially true if he is still a playful puppy who can enjoy discovering the world with a human companion by his side.
There is something undeniably special about watching a youngster play with his Cockapoo at home. Let's not forget that they can both get a lot of special moments out of this relationship, as well as learning something new with each day that passes.
This doesn't mean that a house without young children isn't suitable for this kind of dog. However, he will almost certainly feel more at home right away if there are young kids to play with.
Of course, the young at heart can also get a great amount of joy out of welcoming a Cockapoo into their home. Some older people prefer to get a more mature dog rather than one that is young and wants to play constantly.
A Family That Looks After Him
Looking after a Cockapoo isn't the most difficult thing in the world but it does require some time and effort put into it. For a start, you will need to groom him and also train him on the basics of being a well-behaved, sociable dog.
The good news is that neither of these issues is usually much of a problem with this breed. They are generally regarded as being well-behaved, intelligent pooches that are relatively easy to train.
They also don't require a huge amount of grooming, as most Cockapoos have cute, curly hair that is pretty easy to look after. However, none of this good news means that you don't have to spend time looking after him.
Making sure that he always has healthy food available and someone to look after him is a big commitment that not everyone is willing to take. Bringing a Cockapoo into your home is a life-changing decision that shouldn't be taken lightly.
Having a few people around to look after him is a good idea, but there should usually always be one person who has the overall responsibility of ensuring his well-being.
Lots of Love at Home
Finally, every Cockapoo just wants to find a loving, caring family home more than anything else. These cute dogs love to be looked after and to feel part of the group.
If you have space in your home and your heart for a pet then this breed is a tremendous choice. Cockapoos are lovely dogs that add to the feeling of it being a real family home where everyone is happy.
This isn't a dog that you should take home to leave outside in the rain as a guard dog or to just ignore most of the time. You will see the very best aspects of this breed if you give him a chance to enjoy life with your family.
If you think that your family is right for a Cockapoo then taking one home is a decision that you are unlikely to ever regret.
This post was written by Mike over at CockapooHq.com
Important Tags
Dry dog food |Amazing Dog Costumes| Different Dog Breeds Dog food advisor |Greenies Pill Pockets |sensitive dog breeds |neighbors dog won't stop barking|hypoallergenic dog treats recipes|most trainable dogs |dog kennel ideas|