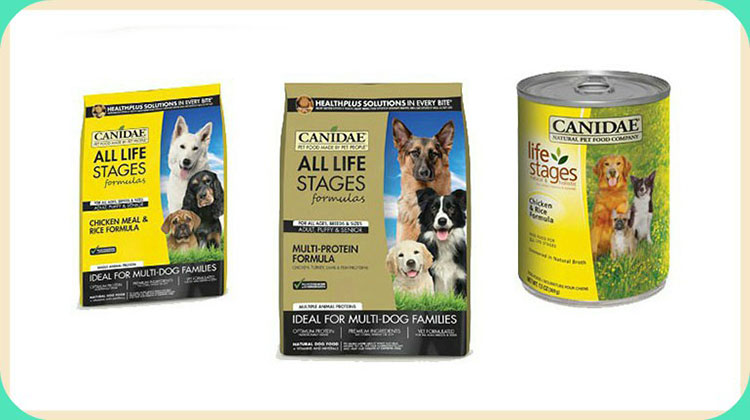 PetDogPlanet.com is an Amazon Associate, and we earn from qualifying purchases.
We are the dog food adviser who is helping people without any kind of fees. We are helping people to find out the best food, nutrition, and vitamins for there dogs. There are a lot of team for pet food advice but they are paid and not the specialist. We are the specialist team who are well qualified and working on only dog food. Today will are writing a review of Canidae Dog Food.
So let's start-
Product Feature:
Flavor Name: Chicken, Turkey, Lamb & Fish
» Optimum protein from chicken, turkey, lamb & fish meals for a nutritionally dense formula
Last update on 2023-12-01 / Affiliate links / Images from Amazon Product Advertising API
» Premium ingredients: no corn, wheat, or soy
» Vet formulated for all ages, breeds & sizes
» Packaging may vary
» Multi-Protein Formula
» Formulated for dogs of all ages, breeds, and sizes.
» 1,661+ customer review
Ingredients
Chicken meal, turkey meal, lamb meal, brown rice, white rice, rice bran, peas, potatoes, oatmeal, cracked pearled barley, chicken fat (preserved with mixed tocopherols), millet, tomato pomace, natural flavor, flaxseed meal, ocean fish meal, choline chloride, sun-cured alfalfa meal, inulin (from chicory root), lecithin, sage extract, cranberries, beta-carotene, rosemary extract, sunflower oil, yucca
Canidae Dog Food Review
Canidae Dog Food is made by the Canidae Pet Food company and was begun in 1993. The word "Canidae" is the biological term for the animal family that includes both omnivorous and carnivorous mammals. This company is currently located in San Luis Obispo, California.
Canidae Dog Food manufactures dog food using only ingredients that are the best and most natural that allows your dog to enjoy as well as help him thrive. All life stages of a dog are addressed and there's a dog food made for each stage. The people at Canidae know that each stage of a dog's life has different needs that have to be met. That's why each life stage dog food group uses ingredients particular to meeting those needs. Canidae Dog Food also offers treats made just as healthy as the food. You won't find any department store dog food that will offer your dog this much quality.
The motto of the Canidae Dog Food company is "All Natural, High-Quality Holistic Pet Food." Their formulas do not include wheat, corn, soy or grain. All of the dry food formulas come in 5, 15, 30, and 35-pound bags. The Canidae All Life Stages can be bought in a 45-pound bag.
The All Life Stages boasts lamb, fish, chicken, and turkey. Other ingredients are millet, potatoes, oatmeal and tomato pomace. There is 24 percent protein and 14 percent fat in this dog food.
There is also Lamb and Rice Dog Food that gets its protein from lamb. The 5 main ingredients are lamb meal, barley, brown rice, peas, and rice bran. It also includes canola oil, millet, alfalfa meal and flaxseed meal. This type contains 21 percent protein and 12.5 percent fat.
Chicken meal is the only protein source used in the making of the Chicken and Rice Dog Food. Other ingredients are brown and white rice, barley, and rice bran. A bag of this type of Canidae Dog Food promises 26 percent protein and 15 percent fat.
Other types of Canidae Dog Food include Platinum for older and overweight dogs, grain free, and fish and beef. Dog owners who offer their pets the Canidae Dog Food experience are quite satisfied with the way their pets thrive by eating this food that's all natural and quite good for them. It keeps them healthy from the inside out which makes for a happy dog.
Important Tags
Dry dog food |Amazing Dog Costumes| Different Dog Breeds Dog food advisor |Greenies Pill Pockets |sensitive dog breeds |neighbors dog won't stop barking|hypoallergenic dog treats recipes|most trainable dogs |dog kennel ideas|