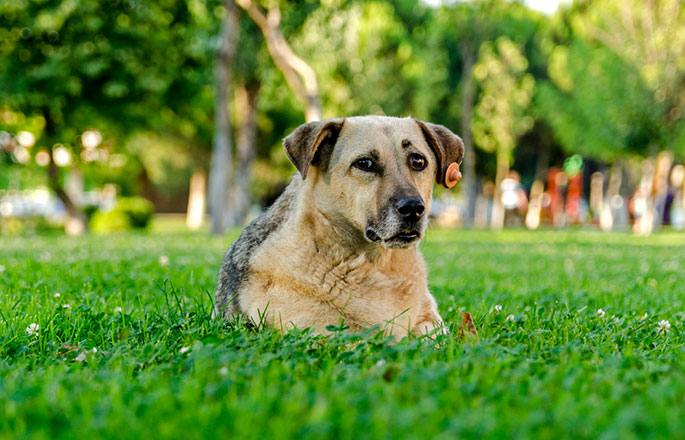 PetDogPlanet.com is an Amazon Associate, and we earn from qualifying purchases.
Keeping a great lawn when you have a dog can be difficult. Dogs have a tendency of chewing, tearing things apart and digging your patch of grass. The dog's urine also turns the green grass color to yellow.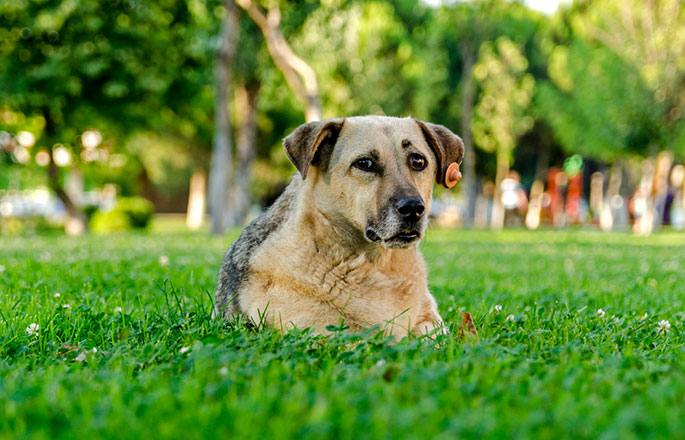 When you are selecting the best grasses for dogs, you should look for something that lasts long, which is able to withstand the harshest dog activities. You should also settle for something soft which can work as the play space for your dog with its active nature.
Read More:
This article will highlight the best grasses for dogs, and they all have a lot of protein content and are healthy since dogs are known to eat grass sometimes.
Last update on 2023-12-08 / Affiliate links / Images from Amazon Product Advertising API
Kentucky Bluegrass
This grass type can grow in almost all places. A lot of people like the Kentucky Bluegrass since it can repair and recover damage with time. It also has the ability to drain and absorb your dog's urine. Furthermore, it will spread all over your lawn with time. If you live in an area with a lot of traffic, then this grass will be most suitable.
This grass from the northern climate is exceptionally durable and has a high speed of growth. The Kentucky Bluegrass will maintain the great look of your lawns and withstand dog activities. This hardy nature grass is also attractive.
Bermuda
If you live in a warm climate area, Bermuda is perfect. This grass requires supplemental irrigation and is usually the ideal option for areas with high traffic because they can withstand the paws of your dog. Nonetheless, it will repair and recover the open spaces with time.
You also have to keep in mind that this type of grass grows dormant and becomes brown during winter when the temperatures go beyond 55 degrees. It will grow back after the return of warm weather. This Bermuda grass requires little to no maintenance since it survives on the summer rains alone.
Ryegrasses
Although Ryegrasses may not be efficient on their own, however a merger with Bermuda grasses will function as an additional protection layer against canines. A combination of these two types of grass requires patience and time to grow and spread thoroughly.
One of the Ryegrasses is the Perennial Ryegrass which is among the most robust grass for cool weathers. It does well in coastal places and can withstand your dog's activity. The Perennial Ryegrass develops a robust root system, and it grows fast.
Tall Fescue Kentucky 31 Grass
The Tall Fescue (Festuca arundinacea) grows best in the areas with cool weather. It thickly grows and does well in the 2-7 USDA zones. Because if its tolerance to warmer temperatures and maintenance of the bright green shade in the cooler months, Fescue is broadly used in California.
Tall Fescue requires little to zero maintenance and has a better reaction to urine than the Kentucky Bluegrass or other cool-season grasses. It also grows faster than other types of grass, and you might have to mow your lawn more often than usual. This type of grass will not cost a lot and will ensure that your lawn maintains its green look during all seasons.
Kikuyugrass (Pennisetum Clandestinum)
This warm-season type of grass is a fast-growing grass that originates from East Africa, but it is grown in most parts of California. Kikuyugrass develops as thick mats and is strong enough to withstand tear and wear. It does well in warm and cool temperatures and also in moist locations.
This perennial grass is thick in texture and recovers from urine damage faster and is sturdier enough to withstand the running and rolling of dogs than any other type of grass.
Zoysia
This grass is also among the luxurious grasses for your dog's and pup's paws. Zoysia can tolerate drought and becomes hardy once it has established itself fully. It may require about five years to grow, but once it's fully formed, it can withstand damage from dogs.
Verdict
The above types of grass are the best grasses for dogs. And to ensure that your grass stays healthy, it is prudent to perform regular cleaning. For instance, take routine patrols and remove the dog waste since it could pose health complications to your family and dog. You should also motivate your dog to use the entire yard; this action will spread the impact of the dog's activities and improve the recovery of the grass.
Popular Posts: