PetDogPlanet.com is an Amazon Associate, and we earn from qualifying purchases.
Working from home has become the new normal for millions of people.
Many of them are pet owners who've to juggle working and manage their new 'coworkers' constantly.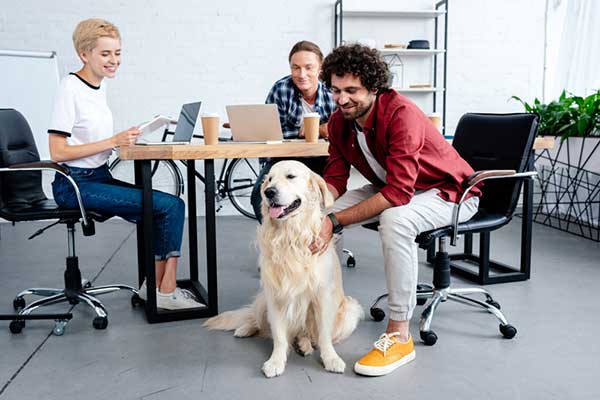 We all have laughed at social media posts of pets trying to 'help' their busy owners during the quarantine, from cats strutting across keyboards to dogs throwing a tantrum amid a web conference.
While some of these remote workers are used to sharing their life with a furry companion, some of them are new pet parents.
Last update on 2023-12-01 / Affiliate links / Images from Amazon Product Advertising API
Since last year, the adoption of dogs, cats, and other animal companions has gone up. Before the pandemic, many people, owing to long work hours and daily commutes, didn't have the time to take care of pets.
Thanks to remote working, they are now spending much of their time at home.
The new pet parents are having a tough time managing their furry companions as they are new to living with their pets, let alone sharing their workspace.
Many people are also adopting pets to cope with new norms that have emerged in the wake of the COVID-19 crisis.
While pets can ease the pandemic blues, adopting a pet to get through stressful times may not be the best idea. A pet is a life-long commitment.
However, people who are not sure can volunteer to foster a pet.
That way, they can get an idea about how life with a pet is like during whelping animals and shelters and. Later they can decide if they can commit to pet ownership.
Read more:
Working with Fur-workers
Even after everything is back to normal, the work from the home option will be continuing.
However, the idea of pets in the workplace is nothing new.
Any companies, including Uber, Airbnb, and Etsy, used to allow pets in the office due to their positive influence on health and productivity.
But, what is the reality of sharing your workspace with pets if you're working from home? 
Let's go through the advantages and disadvantages and some facts regarding pet ownership when you're a remote worker. 
Benefits of Pet Ownership for Remote Workers
Remote working has its shares of pros and cons. One major downside is the lack of social connection.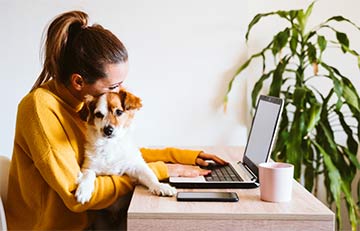 Many people are finding it difficult to work long hours with nothing but a computer screen and phone.
They miss the face-to-face interaction and communication with their team members or chatting with their colleagues during lunch breaks.
Working from home has made many people stressed out and lonelier in times of social distancing. 
Pets can provide much-needed companionship to remote workers, especially those who live alone.
Besides immediately easing loneliness, pets can aid the owner's overall well-being in the long run. 
Numerous studies have shown that:
Pet owners live longer than those who are without pets. A Swedish study followed the health records of 3.4 million men and women between the ages of 40 and 80 for about a dozen years. They found that owning a dog lowers the risk of death by 33% and the risk of cardiovascular-related death by 36% for people who live alone. Another 2019 review with almost 70 years of research revealed that dog ownership lowers the risk of death from any cause by 24%.
Pets boost activity levels and fitness quotient. A National Institutes of Health study found that people who regularly walk their dogs get more exercise than others. So, they grow more weight than those without a dog.
Regular interaction with pets lowers lowering anxiety and depression by reducing stress hormones and heart rate, while playtime can elevate levels of happy hormones such as oxytocin and serotonin.
According to a study on pet-friendly workplaces, pets support their owners by forming deep bonds with them and encouraging their owners to have more social interactions and engage with the local community.
According to the Human-Animal Bond Research Initiative (HABRI), pet ownership results in fewer visits to physician's clinics and is responsible for saving $11.7 billion per annum. About 132.8 million pet owners yearly save $11.37 billion on physician office visits. On the other hand, 20 million owners, who walk their pets five times a week, end up saving $419 million in healthcare.
Besides the apparent health benefits that all pet owners enjoy, people working from home tend to enjoy extra benefits in productivity and mental health.
A short walk or a little playtime allows for a mental break from a work project and increases the level of physical activities. 
A survey by Banfield Pet Hospital reported that remote working employees with a pet felt happier and more optimistic and got the chance to foster a strong bond with their pets.
The survey showed that 20% of employees prefer working alongside their furry companions over their human coworkers.
However, it's not just humans who feel happier when they work from home. More than one-third of the survey employees reported that their pets appeared more comfortable (38%) and more playful (35%).
About 65% percent of remote workers said that they are showing more affection to their pets.
Challenges of Sharing Your Workspace with Your Pet
With the line between home and work life getting blurred, remote working can be challenging.
However, this becomes especially difficult for pet owners, who have their pets as a source of distraction, among other things.
They often find themselves torn between doing their work and responding to their pet's bid for attention.
Without clear boundaries, pets can keep owners from focusing and being their most productive.
Here're few tips for managing your furry companions while working from home:
It's essential to have a structured routine with clear boundaries that your pets can learn and remember—schedule breaks for walks or playtime. For example, if your pet knows when you're going to take him for a walk or play fetch with him, he won't distract you by asking every five minutes.
If it's possible, keep your work and personal space separate. When you're working, keep your pet nearby but not in your workspace. If your pet isn't too much of a distraction, you can keep their bed near your desk to help them feel close to you. It's essential to separate yourself periodically to ensure that they can be comfortable with not having constant access to you. If you return to the office in the future, then the transition will be easier for them.
On the other hand, some pets, especially cats, do not enjoy the constant company. With us at home, it's essential to make sure they get their personal space when they want to retreat from humans or other pets.
Both dogs and cats are notorious for getting into mischief when they are bored. If you don't have a pet sitter, it's necessary to keep them occupied when you can't give them one-on-one attention. This will not only keep them from getting bored but also encourage them to be physically active. You can use puzzle feeders and favorite toys to keep them engaged for a long time. However, only use them at times particularly busy for you. And regularly change up the toys to keep them fun and exciting to your pets.
Keep track of your pet treats. If you spend more time with your pet, you may end up indulging them with more treats than what is healthy for them, causing them to overeat and gain weight.
Remote working with pets can be both rewarding and challenging for pet owners, old or new.
However, for most people, the advantages of working with a pet greatly outweigh the disadvantages, especially if they're living alone.
Moreover, with healthy treats, fun toys, and a routine in place, you can get your work done and spend quality time with your furry friend when it's time to unwind and relax. 
Articles on the subject of pet possession or telecommuting with pets talk about the benefits for pet owners, which are very useful because of their connection with their buddies.
These also help right from the time you decide to adopt a furry friend through the journey and also the positive effects of pets on children and other family members.
We can incorporate positive results, for example, lower levels of melancholy, dejection, better emotional prosperity, and satisfaction, and instruct children to be more mindful and empathetic, etc.
COVID-19 changed our social landscape from multiple points of view, in any event, for a long time to come.
Specifically, social separation will probably still be noticed for a period (in spite of the fact that less significantly), and fashioners and designers are working diligently to make the workplace of things to come more secure and cleaner.
Regardless of whether a few organizations will decide to move their workforce to a work-from-home game plan forever remains not yet clear; however, meanwhile, work environments that have urged representatives to carry their pets with them should rethink their arrangements during these evolving times.
You will encounter your day as coming up short on the ordinary constructions that you typically have. Individuals may struggle to manage it.
So something that we found in our attempt to get isolation is that time spent alone is better if it's organized."
Working with your pets is worrying you about how to care for them during the pandemic. Here is the blog to refer How Can I Help Animals and Shelters During The Current Crisis?.