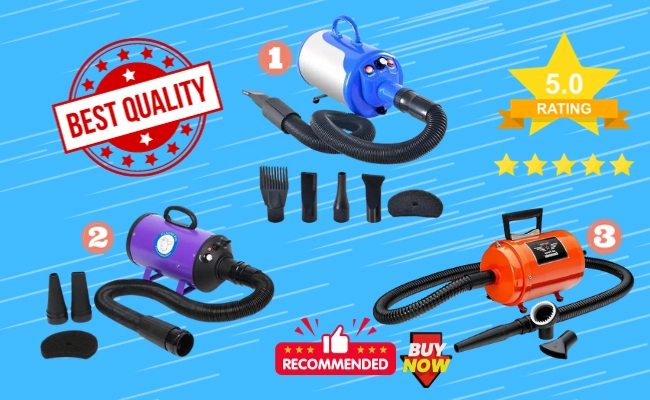 Our furry friends often end up all wet, whether from a rainy walk, a swim, or a bath. Some pups seem to be wet more than they're dry. We've all seen how a wet dog can turn your home into a sort of indoor waterpark after a bath or a romp in the yard. That's where dog hair dryers come to the rescue, making the drying process quick and easy.
These special tools are made with your pet's safety in mind, ensuring a gentle and stress-free grooming experience. Unlike regular hair dryers, they're quieter and gentler and can handle even the thickest dog fur.
Whether you have a water-loving Labrador or a fluffy Pomeranian, there's a dog blow dryer for every kind of dog and coat. In this guide, we'll show you the "best dog hair dryers" to keep your pup dry and comfy after every grooming session.
Our Top Picks
Best Blow Dryers for Dogs
1. Shelandy- The Best Dog Hair Dryer
The SHELANDY Pet Hair Force Dryer Dog is a powerful solution for efficiently drying your beloved pet. Its robust motor generates an impressive 3.8 horsepower of airflow, effortlessly handling even the densest dog coats. What makes this dog dryer stand out is its adaptability, featuring four grooming nozzles that allow you to choose the perfect fit for your dog's fur length and type.
The flexible hose extends up to 6 feet, providing you with the freedom to work comfortably around your pet, whether they're on the floor or a grooming table. While it may not be as silent as a library, it's quieter than your standard handheld human hair dryer and less intrusive than the noise of a vacuum cleaner. Additionally, the extended hose lets you maintain a comfortable distance from your furry friend during the drying process.
The SHELANDY Pet Hair Force Dryer Dog offers a choice between warm and cold airflow, providing easy temperature control. More impressively, it grants you substantial control over the airflow's intensity, ranging from a gentle breeze at 65 mph to a powerful 135 mph blast. It's a versatile tool designed with both your needs and your pet's comfort in mind.
For those who value aesthetics, this dryer comes in stylish blue and pink options and features a user-friendly pop-out filter that's a breeze to clean. According to the manufacturer's claim, you can fully dry a 60-pound poodle in about 20-30 minutes with this handy device, making it a practical choice for all your dog grooming needs.
2. Flying Pig Grooming High Velocity Dog & Cat Grooming Dryer
The Flying Pig High Velocity Dog Dryer is a standout in the world of pet grooming, and it's easy to understand why. This high-powered, high-speed dryer is designed to efficiently and quickly dry even the fluffiest dogs. The secret to its remarkable efficiency lies in a powerful motor that propels air at extraordinary speeds, swiftly removing moisture and dirt from your pup's fur. Encased in a durable steel shell, this dryer is built to last, ensuring years of dependable performance.
But the Flying Pig High Velocity Dog Dryer offers even more to adore. It elevates user convenience to new heights. With two temperature options, providing a gentle 81°F or a cozy 160°F, and a simple dial for adjusting airflow during the drying process, it delivers a personalized experience for your furry friend. Additionally, it comes with two interchangeable nozzles: a round one for handling thicker coat areas and a flat nozzle perfect for delicate regions like the head, neck, and belly.
To simplify your life, a 10-foot flexible hose extends when needed and retracts when not in use, staying out of your way. This dynamic dryer is available in eye-catching shades of pink, purple, and green, adding a pop of color to your grooming routine. It also features a removable filter, making cleanup a breeze.
While it's true that this dryer isn't exactly library-quiet, especially when the hose isn't fully extended, its impressive drying speed more than compensates for any noise. According to the manufacturer, it can reduce drying time by a remarkable 60 percent, making it a valuable addition to your pet grooming tools.
#3. Go Pet Club Pet Grooming Hair Dryer for Dogs
The Go Pet Club Pet Grooming Hair Dryer is your go-to choice for effortlessly and reliably drying your furry friend after a bath. No matter how thick your dog's fur is, this dryer has you covered. With two adjustable speed settings and two temperature options, you're in control of the drying process. Choose between warm and hot air, tailoring the experience to your dog's preferences. Adding to its appeal are the various nozzle attachments included, giving you the flexibility to experiment with different drying techniques to meet your pet's unique needs.
What truly sets this dryer apart is its flexible and durable hose, built to withstand punctures. It allows you to reach those tricky, hard-to-dry spots in your dog's coat with ease. The Go Pet Club Pet Grooming Hair Dryer excels in both convenience and efficiency, ensuring your pet stays cozy and dry in no time.
#4. MetroVac Air Force Commander Two-Speed Pet Dryer
The MetroVac Air Force Commander Two-Speed Pet Dryer strikes an ideal balance between power and portability, making it a top choice for pet owners seeking efficient grooming. Its robust motor is renowned for its ability to reduce drying time by an impressive 75%. For over three decades, MetroVac has remained the trusted brand for professional groomers, consistently delivering on their commitment to quality. While it may come with a slightly higher price tag compared to typical home groomers, this professional-grade dryer is an investment that can significantly cut your drying time, making it a wise choice for pet owners.
One of its standout features is the perfect equilibrium it maintains between power and portability, weighing in at just around 8 pounds. The MetroVac Air Force Commander package includes three essential grooming nozzles: an air concentrator, air flare tool, and groomer rake, ensuring you have the right tools for various grooming needs. With a flexible 6-foot hose and a robust 12-foot cord, you have the freedom to move around comfortably.
What sets this dryer apart is its use of cool air, which gently and effectively dries your pet's coat while blowing away loose undercoat hair. It offers two speeds, catering to both large and small, long- or short-haired pets. Proudly crafted in the United States, it stands as a testament to American craftsmanship and quality.
Available in a variety of vibrant colors, this dryer adds a touch of personality to your grooming routine. It's important to note that, like most dryers, it can be a bit noisy. So, while you appreciate the efficiency and power of the MetroVac Air Force Commander, be prepared for the accompanying sound.
5. Shernbao Dog Dryer High-Velocity Professional Hair Dryer
The Shernbao High Velocity Professional Dog Hair Dryer is an essential tool in the realm of pet grooming, delivering a potent and efficient solution. With two adjustable speed settings, you're in control, ensuring your dog's comfort and the perfect drying temperature. What truly distinguishes this dryer is its internal heating element, which not only speeds up the drying process but also adds volume and fluffiness to your pet's coat, leaving them looking their absolute best.
Flexibility is a key advantage here, thanks to highly adjustable airspeed, making it suitable for dogs of all sizes and fur lengths. The inclusion of three distinct blower nozzles empowers you to precisely control the breadth and focus of the airflow, providing a personalized drying experience. Keeping the dryer in tip-top shape is a breeze, as the air filters are easy to remove and clean whenever necessary.
For those moments when a standard Shernbao Cyclone dryer just won't suffice, the Shernbao SHD-2600P Super Cyclone steps in, offering an extra 30% boost in power, all within the same compact size. Its upgraded 2200 W motor ensures efficiency, and the variable power setting allows you to fine-tune airspeed and force for dogs of any size or coat density. This versatility isn't limited to professional breeders and grooming salons; it shines in dog-show competitions, where speed and precision are of utmost importance.
6. Ownpets 2-in-1 Grooming Cat & Dog Hair Dryer with Slicker Brush
The Ownpets 2-in-1 Grooming Cat & Dog Hair Dryer with Slicker Brush is the ultimate grooming companion for pet owners looking to simplify their furry friend's post-bath routine. This lightweight wonder combines a slicker brush with a dryer, allowing you to handle both tasks with ease. Weighing in at less than a pound and measuring under 10 inches, it's exceptionally user-friendly and portable.
The dryer offers two heat settings, providing versatility for various coat types. You can choose gentle warmth at 104 degrees Fahrenheit or higher heat at 140°F. To expedite the drying process, it even includes a quick-drying towel, saving you valuable time and effort.
The stainless-steel slicker brush is designed for maximum efficiency, adeptly removing tangles and debris from your pet's fur and undercoat as they dry. The brush's wire pins feature soft nubs on the ends to ensure your pet's comfort. It's compatible with nearly all coat types, making it a versatile choice.
Cleanup is a breeze, thanks to the detachable filter located at the bottom of the dryer. Whether you're a pet parent in search of an effective home grooming solution or a professional groomer looking for a versatile tool for your salon, the Ownpets 2-in-1 Grooming Cat & Dog Hair Dryer with Slicker Brush is the perfect choice to ensure your furry friend looks and feels fresh and fabulous.
7. Metro Air Force Steel Quick Draw Dog Dryer
The Metro Air Force dog dryer is a grooming powerhouse, expertly designed to meet the specific needs of drying your furry companions after a refreshing bath or a thorough grooming session. Crafted with quality in mind, this dryer features robust steel construction that ensures long-lasting durability. Its impressive capabilities are complemented by a compact and lightweight design, making it incredibly user-friendly and easy to store.
At its core, this dryer boasts a powerful 1.3-horsepower motor that delivers a maximum airflow of 85 CFM. It offers a dual temperature setting, prioritizing your dog's comfort during the drying process. The flexible hose allows you to precisely direct the airflow where it's needed most, ensuring a thorough and efficient drying experience.
For those seeking a more compact and efficient option, the MetroVac Air Force Quick Draw Pet Dryer steps up with its 1.3-HP motor, delivering an impressive airflow of 18,000 feet per minute. Equipped with practical attachments like an air concentrator and an air flare tool, it's your ticket to achieving professional grooming results in less time. The standard size includes a heavy-duty 12-foot cord, a shoulder strap, a 6-foot hose, a table mounting hook, and more for added convenience.
This dryer is a game-changer for pet parents dealing with thick coats and long-haired dogs, as it can significantly reduce drying time by up to 70%. Crafted with durable all-steel construction, it's not only long-lasting but also safer and more effective for pets than human hair dryers, ensuring your furry friend's coat remains healthy and shiny.
To further underline its quality, MetroVac provides a 5-year limited warranty on all "full-size" dryers, covering the dryer unit and motor (excluding carbon brushes/carbon brush wear). Additionally, there's a 1-year limited warranty on parts, switches, cords, and more. Proudly crafted in the USA, the Metro Air Force dog dryer is a trustworthy and professional-grade tool dedicated to keeping your pet clean, comfortable, and well-groomed.
8. XPOWER B-24 Dog & Cat Grooming Dryer
The XPOWER B-24 Dog & Cat Grooming Dryer is your key to achieving professional grooming results right in the comfort of your home. Designed with user-friendliness in mind, it offers variable speed and two temperature options, providing precise control throughout the drying process. This ensures your pet's comfort and consistently delivers a perfect finish.
What sets this dryer apart is its robust 3-horsepower motor, which generates an impressive 150 CFM of airflow while operating quietly. It features a unique three-filter system that's easy to clean, ensuring both efficiency and hygiene.
The dryer includes convenient screw-on nozzles and a long thermal hose. Lightweight and durable, it's easy to use and maneuver, allowing you to groom your furry friend from every angle.
Whether you're a professional groomer or a dedicated pet owner, you can rely on this dryer to help your pet look their best, ready for any show.
Cheapest Dog Hair Dryer
#9. Mollie Dog Grooming Vacuum & Hair Blower & Electric Clippers
Discover the ultimate in pet grooming convenience with the Mollie Dog Grooming Vacuum, Hair Blower, and Electric Clippers – a versatile 3-in-1 professional grooming solution that brings efficiency to both you and your pet.
This innovative device seamlessly combines three essential functions: a powerful pet blower for gentle drying, a range of grooming tools, and an integrated vacuum system for easy cleanup. With a generous 4-liter canister, interruptions are minimized, and the vacuum quietly and efficiently collects trimmed hair.
The Mollie Dog Grooming Kit is thoughtfully designed with your pet's comfort in mind, operating at a quiet 65dB. Make grooming a breeze with this comprehensive and efficient solution, perfect for pet owners who want the best for their furry friends.
#10. XPOWER Airrow Pro B-53 Multipurpose Cat & Dog Dryer
Treat your beloved pet to a spa day right at home and save on professional grooming expenses with the XPOWER Airrow Pro B-53 Multipurpose Pet Dryer. This unit packs over 500 watts of power, offering triple the air volume and velocity of regular human hair dryers. It's incredibly efficient at drying even the thickest double coat. What sets it apart is its pet-safe design, ensuring no harmful heated air, thus safeguarding your pet's coat and skin.
Yet, this dryer isn't limited to pet grooming; it's a versatile multi-purpose device that finds utility around your home or office. Use it as an electric duster to tackle those hard-to-reach spaces, or employ it as an air pump for various applications.
The XPOWER Airrow Pro B-53 is compact, lightweight, and durable, making it easy to handle and store. Its powerful and energy-efficient brush motor guarantees efficient operation. With eight nozzle attachments included, you have the right tool for various tasks.
You can rest easy knowing that this dryer features thermal protection to keep your furry friend safe and is safety certified for added peace of mind. The XPOWER Airrow Pro B-53 is the versatile, powerful, and safe choice for both pet owners and professionals, a tool you'll reach for time and time again.
Factors to Consider When Choosing a Dog Hair Dryer
When it comes to picking the right dog hair dryer, it can feel overwhelming with so many options out there. Choosing the perfect dryer is crucial for grooming your furry friend. To ensure your pet's safety, comfort, and the efficiency of the grooming process, here are some important things to think about:
1. Power
The power of the dryer is crucial. It decides how quickly your dog's coat dries. Look for a dryer with at least 1500 watts of power, especially if you have a large dog with a thick coat.
2. Noise Level
Dogs can get anxious with loud noises during grooming. Choose a dryer with a low noise level or one made to be quiet. This ensures a more pleasant grooming experience for your pet.
3. Heat and Speed Settings
A good dog hair dryer should let you adjust the heat and speed. This allows you to customize the drying experience for your dog. Higher settings are for big dogs with thick fur, while lower settings work better for smaller or more sensitive pets.
4. Attachments
Consider dryers that come with different attachments like diffusers, concentrators, and brush-like nozzles. These attachments help you achieve different drying styles and are handy when dealing with dogs that have longer or thicker coats.
5. Durability
Choose a dog hair dryer made from sturdy materials that can handle regular use. It should last, and check for the warranty from the manufacturer.
6. Safety
Your pet's safety is vital. Look for features like overheating protection and automatic shut-off. These features prevent problems and make sure the dryer is safe to use on your dog.
7. Air Volume
Though not always easy to find, knowing the airflow volume (measured in CFM – cubic feet per minute) can be helpful. Higher CFM means more air moves faster, which speeds up the drying process.
8. Heat Control
Check if the dryer offers heat control. Some dryers blow cool air only, while others let you adjust the temperature. Keep in mind that even cool air dryers can warm up during use.
9. Nozzle Attachments
Most dryers come with nozzle attachments, such as cone and flat nozzles, each serving different functions. The cone nozzle gets under the coat, helping to remove loose undercoat but can cause tangles in long hair. The flat nozzle sends out air in a straight line, ideal for drying and straightening coats, especially those prone to knots.
By considering these factors carefully, you can choose a dog hair dryer that ensures a comfortable, efficient, and safe grooming experience for your furry friend. Whether you're a professional groomer or a pet owner, picking the right dryer can make a big difference in your dog's grooming routine.
FAQs:
Q: Can I use a human hair dryer on my dog?
A: While you can use a human hair dryer on your dog, it's not recommended. Human hair dryers can get too hot for a dog's sensitive skin and may not have the necessary settings for pet grooming. It's safer and more effective to invest in a dog-specific hair dryer designed with your pet's needs in mind.
Q: Why are adjustable heat settings important in dog hair dryers?
A: Adjustable heat settings in dog hair dryers are crucial for tailoring the drying process to your dog's specific needs. High heat and speed settings are suitable for larger dogs with thick coats, while lower settings are ideal for smaller or more sensitive pets. This customization ensures a comfortable and safe grooming experience for your furry friend.
Q: Why should I consider a dog hair dryer with nozzle attachments?
A: Nozzle attachments, like diffusers and concentrators, are essential for directing the airflow precisely in dog grooming. They make it easier to achieve different drying styles and manage your dog's coat effectively, which is especially useful for dogs with longer or thicker fur.
Q: Is a high CFM (cubic feet per minute) airflow volume important in a dog hair dryer?
A: Yes, a high CFM airflow volume is beneficial for faster and more efficient drying. The higher the CFM, the more air moves quickly, expediting the drying process. This is a helpful factor to consider when choosing a dryer for your dog's grooming needs.
Q: Can I use a dog hair dryer on my cat?
A: Certainly, blow dryers can be a helpful grooming tool for cats, provided your feline friend is comfortable with it. Many cats can be wary of the noise, so introducing them to the dryer gradually and starting with the quietest setting is advisable.
Q: Are dog hair dryers worth it?
A: For many dog owners, investing in a dog hair dryer can be a practical choice, offering a range of benefits. They save time and enable you to groom your pet at home. However, it's essential to consider whether your dog dries quickly on their own, which may affect the need for a dryer.
In conclusion, using a dog hair dryer can be a time-saving and cost-effective grooming solution, provided you choose the right equipment and use it safely. Gradually introducing your pet to the dryer and using low heat settings can make the experience more comfortable for your furry friend.
Please share this post in your twitter, facebook and other social platfroms; #best dog hair dryers