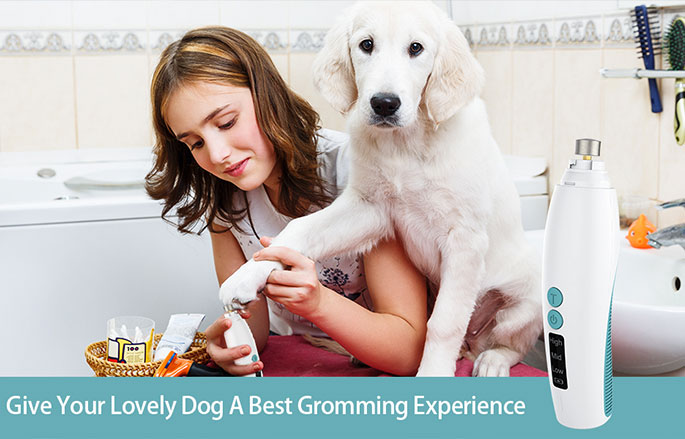 PetDogPlanet.com is an Amazon Associate, and we earn from qualifying purchases.
Every dog owner should know about dog nail grinders! This is a great grooming tool that works as an alternative nail-cutting solution for dogs that are scared of clippers. How does it work? Simple: this tool will grind away at the nail with a high-speed, rounded grinder. it will not cut away anything! If you are on the lookout for the best dog nail grinder on the market, stick around to learn more.
Read More:
Advantages Of Using A Dog Nail Grinder
There are many advantages to using this magnificent tool:
The best tool for fearful dogs: it is not unusual to find some dogs that have had some bad experiences with nail clippers. Grinders are easier to use plus these protect the nail more as it prevents you from cutting too quick.
Better edges: when you use a grinder, your dog will get smoother edges that look better and can also prevent them from snagging their nail on their surroundings.
Less cracking and/or pinching: as you may know, most clippers pinch down on your dog's cuticle while cutting and this can be disastrous if not properly done. The pressure can even cause your dog's nails to crack.
Disadvantages Of Using A Dog Nail Grinder
There are still some disadvantages that should be taken into consideration:
Last update on 2023-12-01 / Affiliate links / Images from Amazon Product Advertising API
You can still get to the quick: if you don't keep a close watch on where your dog's quick is as you grind, you might hit it!
It makes some noise: grinders make some humming noise which can startle or frighten dogs.
It can smell weird: grinding a dog's nails can produce a very undesirable odor. If done indoors it can be quite uncomfortable
Best Dog Nail Grinder On The Market Right Now!
1. Dremel Pet Nail Grooming Tool
This is a popular nail grinding device made by Dremel brand.
Specs:
Two speeds to select from.
It is very lightweight.
It has a 7300-PT 4.8V Rotary Tool which is ideal for a 3-Hour Battery Charge.
Buy on Amazon
2 Speeds. Uses two rotation speed settings (6,500 and 13,000 RPM), allowing you to safely grind your dog's nails in stages.
This grinder is cordless and rechargeable.
2. Urpower Pet Nail Grinder
The UrPower Pet Nail Grinder is a very slim and ergonomically-friendly nail grinder that is quieter than most grinders.
Specs:
It has a diamond bit grinder which is safer and very effective.
Excellent for small-sized and medium-sized pets.
Very quiet tool ideal for fearful dogs.
It has multiple grinding areas which makes it possible to grind several animal pets like hamsters, rabbits, cats, and dogs.
It is rechargeable by USB. Its battery will last up to 3 hours.
3. Furminator Nail Grinder
The FURminator is a great dog nail grinder with several speeds and an LED light for better visuals.
Specs:
It provides top performance and yet it is lightweight.
It is very dog-friendly so no pain.
This grinder has an automatic LED light that ensures safety and control
You can select 2 Speeds.
It uses 4 AA Batteries.
You get a nail guard that helps prevent the dog's fur from getting caught in the grinder.
Last Thoughts
So this is it! Consider using a dog grinder for your dog. It is safer and dog-friendly. Choose from the list provided above and get started!