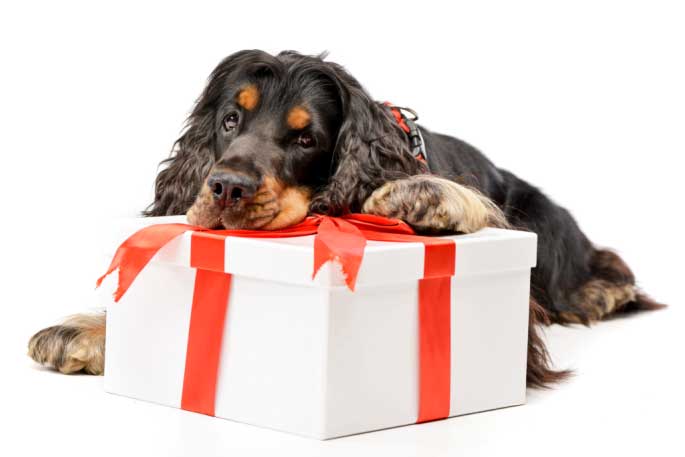 PetDogPlanet.com is an Amazon Associate, and we earn from qualifying purchases.
Who doesn't love a gift basket? It's full of goodies and treats, all specifically chosen for you. The charm of a gift basket is not lost on dogs. Just as much as we love the surprises they have in store, so do our pups. These would all be wonderful gifts for dog lovers!
Did you just bring home a dog? Is your dog having a birthday? Did a loved one bring a new canine companion into the family? Celebrate with these dog gift basket ideas.
Read More:
For New Dog Owners
Bringing home a puppy is an exciting, exhausting, wonderful, and overwhelming experience. It requires a whole new array of supplies and gear to properly care for the new baby as they quickly mature. To welcome them to the family, put together a dog gift basket with everything they'll need to live their best puppy life.
Last update on 2023-12-08 / Affiliate links / Images from Amazon Product Advertising API
First, include a puppy blanket for those difficult sleep-training nights. Something soft to cuddle up with will make it that much easier. And don't forget the basics, like an adorable identification tag.
If you're looking to get an upgrade from the typical ID tag, opt for a noiseless sliding ID tag. You'll be able to include all the necessary information without jingling in the middle of the night.
Next, you'll need all the supplies to keep the puppy looking and feeling their best.
A pet hair glove is an excellent option for getting rid of that shedding puppy coat in the coming months. And since puppies love a field trip outside, make sure you pick up some puppy shampoo and conditioner to keep them sparkling clean.
Finally, make sure you grab a storage basket for their collection of toys that will quickly expand. You might even use that to hold the gift basket items.
Another idea is to pick up a food storage bin. Puppies love to snack, and a locking container is a perfect way to keep curious noses out of the food.
For the Dog Who Has Everything
Is the dog in your life spoiled? Do they have their own iPad? Is their wardrobe as big as yours? Here are some dog gift basket ideas for the pampered pooches.
An interactive dog camera is the first step. Consider the Furbo Dog Cam. Owners will not only see their pet, but they can reward them with a treat, as well, even remotely.
Another tech option for the dog who can't get enough exercise but who might have an owner who's away during the day is the iFetch Ball Launcher.
It's a lifesaver that lets your dog be in control of when it's time for fetch. For the perfect plushie, get Pete the Frankly Fantastic Unicorn for your frankly fantastic furry friend.
To help your dog friend look their best, you can upgrade their old collar and leash with a higher-end leather option.
Some can even be personalized with their identification and information. These leather options will last longer and often won't matt their hair nearly as much.
For a more personalized gift, try a customized dog bed or pet food station. Having these monograms is the epitome of finery for your four-legged buddy.
For the Dog Who Is Having a Birthday
Whether it's an actual birthday or a gotcha day, celebrating when a dog came into your life is a unique way to show how much you love and appreciate them.
To really go all out, put together a few things that scream "party."
Obviously, any good party needs tasty treats. To get fancy, you can get dog biscuits with customized messages.
Add the dog's name on the treat or a message meant especially for them.
They may not know what it means, but their dog parent will—most importantly, it'll look great in the gift basket!
For some variety, pick up some dog chews and their favorite store-bought treats.
And no birthday party is complete without a birthday cake. You can buy bake-at-home doggy cake mixes that make for a safe-to-eat and easy-to-make addition to the day.
Another great way to include treats on their special day is getting them a brand new food dispensing toy, like a puzzle ball or snuffle mat.
To spruce up their doggy corner, get a custom family portrait painted.
While your dog may not realize how sweet this gesture is, it's something you can also enjoy. What they'll really want are some new toys.
Even if they destroy it, a new plush toy can provide minutes of fun. To keep them busier for longer, opt for a puzzle or hide-and-seek toy. If your pup just tugs at your heartstrings, a rope toy for games of tug-of-war is the way to go. 
To top off their birthday surprise, get a few new snazzy bandanas or a cute bow. They have to look their best for their birthday pictures!
For the Dog Whose Parent Is Obsessed
Need dog gift basket ideas for someone who simply can't get over how great their pup is? Customize their gift basket with a few things they can both enjoy.
First, matching outfits is a must. Many vendors now sell matching shirts for dogs and owners alike. They'll both love looking fresh in their new outfit, and they'll love matching even more.
You can also get them a matching keychain and ID tag, so everyone knows just how deep their bond goes.
For the pet parent, order them a custom pet photo bracelet. Etsy has many options for sellers who offer this, and it's something the pet parent will cherish forever.
For a bit of humor, go with a personalized dog sock, either showcasing their breed or their exact pup. It's a fun way for them to show off their favorite furry friend. For the dog of an obsessed owner, you can't go wrong with some new clothes or jammies.
Getting a dog gift basket can be such a fun experience, and putting one together is so rewarding. But if you get stuck, check out these 11 dog gift basket ideas.