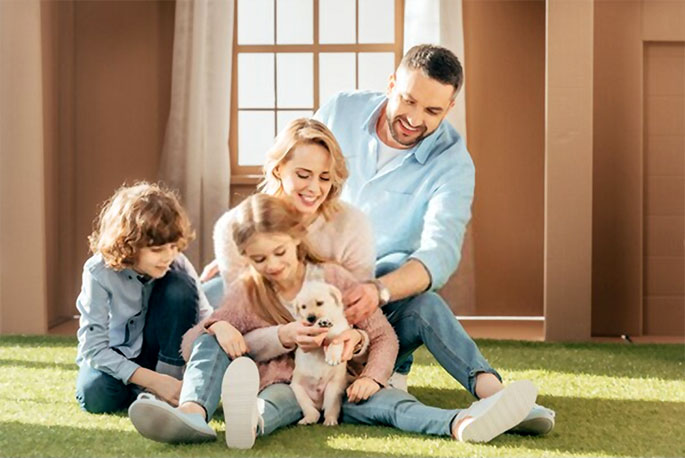 PetDogPlanet.com is an Amazon Associate, and we earn from qualifying purchases.
All animal lovers look forward to the day they get to bring home a new furry friend. Likely you've been counting down the days until you can enjoy Sunday afternoon walks, trips to the dog park, and sofa snuggles with your canine companion.
Here are some essential things you should do before your new pooch's paws even cross your doorstep.
Read More:
#1: Research Food Options
Some dogs turn their noses up at wet food, while others will eat nothing else. It may take some time to find the best fit for your dog, but it's wise to do some research in advance. Consider buying a small supply of a few varieties of food. You can buy in bulk once you figure out what your four-legged friend prefers.
Last update on 2023-12-11 / Affiliate links / Images from Amazon Product Advertising API
#2: Get the Right Collar
Collars can be cute personalized accessories, but they are also a valuable training tool. There is a wide variety of collars on the market, from pinch collars to bark collars.
It can be a challenge to find the best option, but it's a good idea to give collar choice some thought before you bring your pup home. A dog collar from dogtelligent.com is a safe bet if you want to start to teach your dog good habits from day one but shop around and find what works for you.
#3: Choose Your Veterinarian
Depending on where you live, you may have a lot of options for veterinary services, or maybe just one or two. Either way, it's a good idea to do some research in advance of bringing your dog home. Give your local veterinarian's office a call or visit their website. Find out their hours of operation and their payment options.
No new pet owner wants to think of their pet getting sick, but it is always better to be prepared.
#4: Make a Schedule
In all the excitement of welcoming a new pet to the family, you can forget to create a routine. Avoid letting your dog fall into bad habits by deciding on a schedule in advance. Plan out times for feeding and walks so your pup gets used to eating and going out around the same time each day.
Every dog is different, so you'll need to be flexible to minor adjustments, but having a structured routine in place is essential for a happy and well-trained pup.
#5: Research Local Parks or Nature Trails
Maybe you're an urban pet owner who already knows that you'll need to put in extra effort to get your dog the exercise they'll need. Or maybe you have a big fenced in yard that's perfect for playing fetch. Either way, it's a good idea to find some local pet-friendly spots to give your beloved pup a change of scene.
Some towns even have dog parks, which can give your furry friend a chance to socialize. Wherever you venture, remember to always carry a waste bag for picking up after your dog.
#6: Puppy Proof Your Home
Just like expecting parents, new dog owners need to prepare their space for the new arrival by being aware of potential household hazards. Be sure that any harmful items such as medications or cleaning supplies are safely locked away and out of reach. Put some thought into how you store your food. If you tend to leave bowls of chocolate candies sitting on your coffee table, you'll need to make a change.
Read More: Puppy Proof Your Home
The calm before the storm that is a new dog is a great time to stow away any items you leave lying around that a puppy might want to chew on-think shoes, wires, and just about everything else!
Whether you're a first-time dog owner or just adding another pooch to a growing pet family, you won't regret planning.