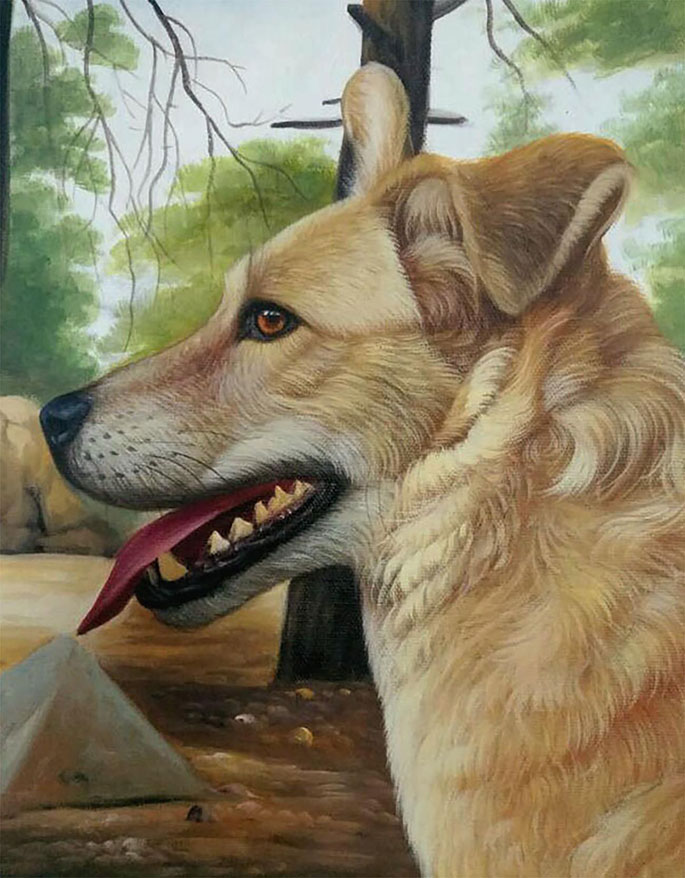 PetDogPlanet.com is an Amazon Associate, and we earn from qualifying purchases.
A simple look around at the people in your life who own dogs, it's easy to agree that this old adage is extremely accurate. Animals touch our hearts and souls in ways that no other creatures on earth can. They become family and we share our highs as well as our lows with them, making them an integral part of our lives. Many people love to have pictures of their pets around the house, so why not take this idea to the next level and gift the dog-lover in your life with a customized portrait of their four-legged companion? Paint Your Life makes turning this idea into a reality astonishingly simple.
Let's Get Inspired
The idea of having a great deal of artistic liberty during the process of gift selection may be daunting at first, but Paint Your Life goes the extra mile to make it an easy and fun experience. In order to get an idea of what sort of painting you might like oil, charcoal, pencil, watercolor, acrylic, or pastel, are all options – the
page with paintings from photos
allows you to find the artists who specialize in the method of your choosing. Once you've decided on the painting method you feel would suit the picture you've picked, you are then given the chance to upload the picture you want to be transferred onto canvas. Have no fear if the photo of your chosen pet is not exactly as you'd like it to be. You'll be able to ask for removal of any unwanted objects and will be given the chance to submit other detailed requests. Selecting your desired sizing for the painting is completed at this stage as well.
Working With a Professional
After browsing the artwork in the gallery and contacting the artist whose style is perfect for your custom painting, the fun part begins. The artist will receive the photo you want painted along with any requests. You will then be sent an edited version of the photo which will show you exactly how the painting will appear on canvas. At this stage, you are allowed to request any changes so that it looks just right. Once you are completely satisfied, the artist will begin working. Regular updates will be sent to you so that you remain in the loop throughout the painting's creation and the artist can make alterations along the way so that you are sure to be happy with the end product.
Proper Presentation Matters
So you're thrilled to have this gorgeous painting in your hands. Every detail has been seen to according to your specifications and the life-like nature of the painting is uncanny. But what about framing? The hassle of hunting down your own framing arrangements is eliminated by the fact that it is included in the entire customization process. You are given the choice to select a frame at the start when you decide on sizing or you can wait until the picture is finished and pick one then. It's never been easier! If you want to do something a little extra in order to tie in the whole "celebrate your dog" gift idea even after framing, take a look at
Pet Dog Planet
. This website, which is dedicated solely to the celebration of man's best friend, is a great place to look for additional items the dog-loving recipient of the portrait will love. Does your friend's furry companion love going on walks? Check out the hottest
leashes
on the market and treat both pet and owner to a spanking new one! Maybe your friend's beloved canine is getting older and takes medication. Throw in a bag of
Pill Pockets
that his pet will love!
Giving a Timeless Gift
The fantastic thing about capturing the personality and love a person shares with his or her pet on canvas is that it is a timeless gift: it will never get old or go out of style. Take a look at the video of a satisfied recipient unboxing the custom painting of her beloved dog, Jack. Does the dog-lover in your life have a birthday coming up? Or perhaps it's an anniversary you're planning for? No matter the occasion, you can't miss with a personalized dog portrait. It's guaranteed to touch the recipient's heart and last for a lifetime. Can't wait to get going? All that's left is to jump on the website and take a look at the details in order to set the creation of your 
customized painting
 into motion.