GREENIES PILL POCKETS – Best Treats for Dogs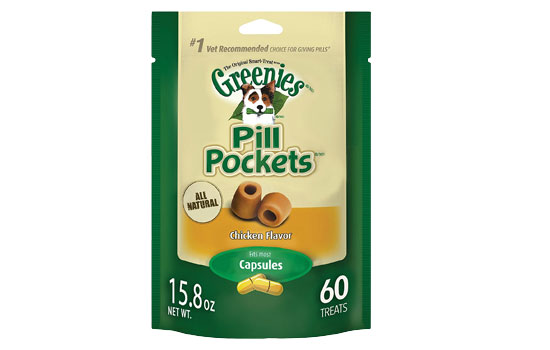 Are you facing difficulties in feeding a pill to your dog?
Here is the best pill treat that will mask the pill nicely and make it easy to give your dog medicine.
Actually, the dog is not that type of animal who refuses to eat any food. But they don't like any pill, tablet or capsules. Infect it is a very difficult job to feed a pill to a dog. Greenies Pill Pockets is the most recommended treats that mask the taste and smell of tablets with a delicious Chicken flavor.
Why you need this treats?
When it comes to the time to take medicine, dogs may take anything you give them – except tablet, capsule or any kind of pills. Because they are smart about avoiding these medicines. You cannot give them any meds until you become smarter than your dog. In this case, most of the vet recommend Greenies Pill Pockets treats that can help you to make the whole medication process easy.




Sometimes people hide meds in human foods, such as peanut butter or cheese instead of giving a healthy treat which has law-calories, Rehydrated Chicken, Glycerin, Wheat Flour, Vegetable Oil, and much more.
Delicious Favors
GREENIES PILL POCKETS comes in a variety of-of delicious flavors, including chicken, real
peanut butter, and hickory smoke. So your dog can enjoy a tasty snack that masks the bad smell of meds. This easy-to-use pouches mask the smell and taste of medicine and deliver a delicious chicken flavor. So your dog will love it.
A Healthy Way to Hide Medicine
Greenies Pill Pocket has very low calories and many healthy ingredients like vegetable oil, dried corn syrup, dried cultured skim milk, Wheat Gluten etc. So Greenies Pill Pocket is better than much human foods and a healthier alternative to table scraps.
Designed by Vets to Meet Your Dog's Needs
Administer medication to a dog is very difficult. So vets are designing many Pill Pockets treats to make the whole process easy. Greenies Pill is the most recommended pill by the vets so it should be your first choice.
Two Convenient Sizes
Greenies Pill Pocket comes in two sizes; a larger size that fits most of the capsules and a smaller size for the tablets. You can choose the best solution that fits your dog's medicine properly.
Ingredients
Rehydrated Chicken
Glycerin
Wheat Flour
Vegetable Oil
Wheat Gluten
Dried Corn Syrup
Dried Cultured Skim Milk
Natural Chicken Bouillon Flavor
Sodium Bisulfate
Xanthan Gum
Preserved With Mixed Tocopherols
Directions
Greenies Pill Pocket Feeding Guidelines Feed as a treat.
FILL: Hold PILL POCKETS Treat with your thumb and forefinger; insert medicine.

PINCH: Using the same hand to hold the PILL POCKETS Treat, squeeze the top half closed.

GIVE: The PILL POCKETS Treat is now sealed, and you can feed it to your dog.

ATTENTION: To prevent the transfer of the medicine's smell and taste, do not touch the PILL POCKETS Treat with the hand that held the medicine. Choose the Right Size for Your Dog Tablet: A smaller size that fits most tablets Capsule: A larger size that fits most capsules
FAQ:
Where are these made?
Ans: These treats are made in the USA they may have imported some ingredients from China.
Important Tags
Dry dog food |Amazing Dog Costumes| Different Dog Breeds Dog food advisor |Greenies Pill Pockets |sensitive dog breeds |neighbors dog won't stop barking|hypoallergenic dog treats recipes|most trainable dogs |dog kennel ideas|