PetDogPlanet.com is an Amazon Associate, and we earn from qualifying purchases.
86% of dog owners in the US admit to regularly driving with their dog unrestrained in their car.
Although having your dog injured in a car accident may seem like a remote possibility, their size, weight, and inability to anticipate collisions and when you will brake suddenly mean that they are as vulnerable in a car accident as a small child – perhaps more so if they are standing on a passenger seat.
Fatal injuries to both a dog and their owner due to being hit by their dog are not unheard of as a result of car accidents. However, many of these instances could have been mitigated if the dog in question was adequately restrained or if the car was being driven on their optimal tires.
Read more:
Last update on 2023-12-10 / Affiliate links / Images from Amazon Product Advertising API
With this in mind, here are the options that you have when it comes to keeping your pet safely restrained during car journeys.
1. A harness attached to a seatbelt
If you want to drive with your dog in one of the back passenger seats, the best way to keep them restrained is in a dog harness that you attach to a seatbelt.
If you do not have a dog harness already, you can buy them for under $25. You will also want to buy a carabiner (these cost under $5) to attach the harness to the seatbelt.
To attach the harness to the seatbelt, fasten the seatbelt in the usual way, and then attach your dog's harness to the seatbelt at the point where the belt would go across a human passenger's chest (as opposed to over their lap).
The seatbelt should have enough given that your dog can move around freely, but it should go taught in there is a need to suddenly brake or a collision, protecting your dog much like it would a human passenger.
Please note that a seatbelt will only reliably go taught with a dog that weighs over 20lbs. A seatbelt may also not go taught quickly enough to prevent your dog from being jolted into the footwell of your car if you brake suddenly.
Therefore, with smaller, lighter dogs who do not meet the weight requirements or are small enough to fall into a car's footwell potentially, you should consider other options. These options will be explained below.
2. A kennel in the trunk of your car
We would never condone putting your dog in a small enclosed trunk. However, if you drive an SUV or a large hatchback where the trunk is accessible, then keeping your dog in a kennel in the trunk can be one of the safest options for them.
The most significant hazard for your dog when they are in the trunk of a moving vehicle is that a collision may throw them into the back seat or side of a car. This is particularly hazardous if you break suddenly while your dog is standing up or moving around.
If you wedge the kennel into the back corner of the trunk, so it is flush with the back of the seats in front of it and the side of the car, then the risk of collision is mitigated. If you are keeping your dog in a kennel during your car journey, make sure that they are let out at least once every half an hour to stretch their legs and have some water.
3. A plush car seat box
A plush car seat box is essentially a dog bed that attaches to a car seat. The "sides" of the seat box are slightly higher than a standard dog bed, giving your dog protection in the case of an accident.
These are suitable for smaller, lighter dogs that will not be held securely by a seatbelt.
Just remember that a dog will not necessarily be completely secured in a seat box, so it's worth securing them further by keeping them on a leash and tying the leash handle to the headrest of the seat that they are in.
If your dog is particularly restless, as is often the case in younger puppies, then plush car seat boxes may not be the best option. As your dog will ride in this box in the front passenger seat, there is the risk that they can become a distraction to the driver if they start barking or try to jump out of their seat.
4. A "dog hammock" between your two passenger seats
If your dog is too large to fit into a kennel and prefers to lie down rather than sit, the best option for them may be a dog hammock on the back passenger seats of your car.
Dog hammocks are a large piece of material suspended between the headrests of the front and back seats of your car. Although it is called a hammock, it is not suspended in the air but rather rests on the backseat of your car.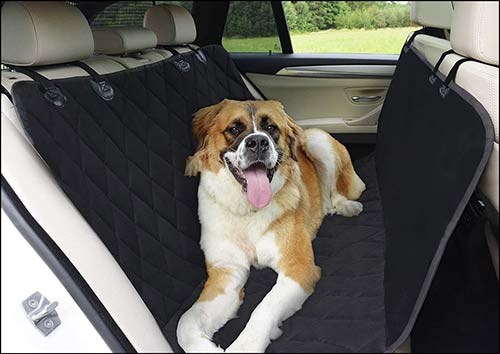 As well as protecting your dog in the case of a collision, a dog hammock can also protect your car seats from dog hair and other dirt. It may not offer the same level of protection as a seatbelt hammock or a kennel, but it is almost certainly the most comfortable option for your dog, and therefore is best for longer car journeys where you might not be able to take regular breaks for your dog's comfort.
Other tips to keep your dog safe in a car
As well as the danger from collisions, a big hazard when driving with your dog in a car is overheating and dehydration. The best ways to mitigate this are to keep your windows cracked open when your dog is in your car, and to let your dog out for breaks to get some fresh air and water at least once an hour.