CBD for Pets: How To Pick the Best Options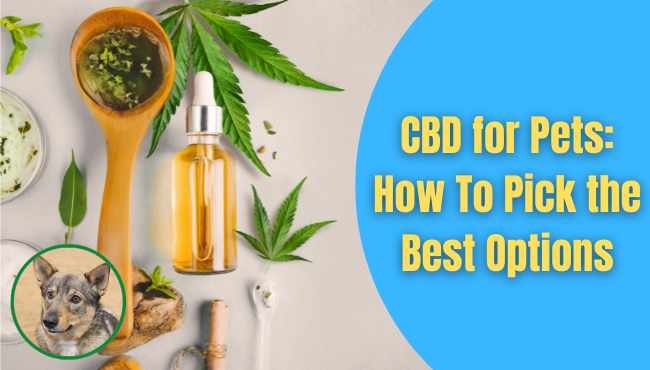 Did you know that a recent survey showed that around 50% of pet owners had given their animals CBD?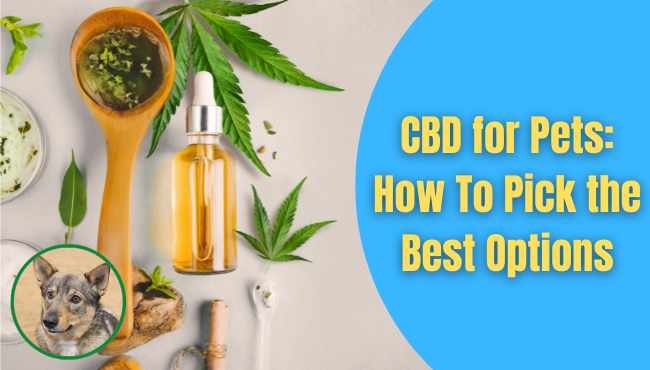 Vets frequently recommend CBD for treating anxiety and ailments since it has minimal side effects. If you notice that your furry loved one isn't as comfortable as they once were, you should consider CBD oil for pets.
Read More:
Read more if you want to learn about the most important factors when buying CBD for pets to keep them healthy!
Know What CBD Does
Cannabidiol (CBD) oil is becoming a more popular solution for making humans and animals happier and healthier.
Before buying CBD for pets, you need to understand what it is and how it impacts their health. CBD comes from the cannabis plant and has such low amounts of THC that it often can't get traced. Since there isn't a high concentration of THC, users don't experience a head-high.
CBD works with natural receptors in the brain to inhibit pain and anxiety signals from transferring. CBD products for pets have also been proven to reduce the frequency and severity of seizures.
Although more research still needs to be done, CBD has shown to be an effective form of treatment.
Understand Your Pet's Needs
If you want to find the best CBD products for pets, you need to understand that they aren't created equally.
Some products are made for calming your pet, relieving pain, and reducing anxiety. Think about the reasons why you are considering getting your pet CBD. Typically, people make the decision when their dogs suffer from hip and joint pain or anxiety.
If your cat or dog is on medications, you should consult with the vet before giving them CBD. The CBD is often safe but, in some cases, could result in negative reactions.
The additional ingredients will also impact the purpose of each treat.
Check the Dose
Getting CBD for animals can be beneficial, but you need to get your doses right.
A lot of people make the mistake of not following the dose and instructions. Typically, 1-5 mg of CBD oil are given for every 10 pounds that the animal weighs. CBD for dogs comes in a container that specifies the dose; follow each product's instructions.
If you aren't seeing any results or notice that your pet is extra-drowsy, you might want to make some adjustments. The vet should help you find the safest and most effective amount.
Find High-Quality CBD
When you are buying CBD products for your pets, only buy the oils and treats that are organic.
Organic hemp is free from pesticides and is much safer for humans and pets. You want to ensure that the oil is pure and free of contaminants or additives that aren't safe.
Be cautious when buying CBD, however, since the labels can be misleading. Certain products will say that they're natural but aren't organic. Read the nutrition labels on the treats or oils that you are considering to ensure it's safe.
You should avoid the cheapest options for CBD treats, but you don't have to spend hundreds of dollars to relieve the discomfort.
Look at Online Reviews
Online reviews are a wonderful resource for finding the best CBD oil for pets.
Retailers and search engines often have a place for customers to leave reviews about products. Although the pets aren't the ones sharing their experiences, the owners can still provide insight. While looking at reviews, pay attention to health concerns or issues with the products.
Keep in mind that management and policies change over time. If you see a negative review, take it with a grain of salt and ask the company if they've addressed it.
Ask Your Vet
Although there aren't any major concerns about giving CBD to your pets, you should always consult with the vet.
Health conditions, medications, and other factors could get impacted by CBD in the system. In most cases, CBD is completely safe for pets, and vets are frequently making recommendations to use it.
When you ask your vet, they can provide you with details about the most reliable and effective brands. This is helpful since you don't want to waste money on a cheap product.
Depending on your vet, some are beginning to carry CBD products within the building. Check with your state to determine is CBD sales are legal and where.
Pick the Best Flavor
If you know what flavors your cat or dog is typically drawn to, try to find them with CBD.
Many people recommend ordering from Bailey Dog, especially the soft chews. These CBD treats come in chicken, beef, and peanut butter. Other popular flavors of treats that you can find come in bacon or cheese.
Finding a flavor that they like is essential so that your pet gets every bit of the benefits. If they skip half of the treat, they'll miss out on the pain relief. If you aren't sure which flavor is best, try getting a combination box to try a few options.
Have You Tried CBD for Pets?
Most people don't realize it, but CBD for pets is typically a safer alternative to other medications. If your cat or dog suffers from an ailment or anxiety, CBD is likely to help get them comfortable. You don't have to sneak prescriptions in their food, especially with these delicious and flavorful treats.
Take your time to consider your pet's needs and what products will help them the most. Don't be afraid to get help from your vet if you have any concerns.
Check out our page for more articles about taking care of pets and improving their health!