PetDogPlanet.com is an Amazon Associate, and we earn from qualifying purchases.
Dogs have very alert brains and can sense any oncoming danger even when they are fully asleep. Some even have anxiety or other disorders, keeping them from a good night's sleep.
Calming dog beds come into play when you have these sleeping issues. They are used to help your dog's restless nights become much more tolerable with some more added benefits to boot.
What are calming beds?
Calming beds for pets are made to be of utmost comfort and cause of serenity for dogs. Outside of medications, these beds help your dog to sleep like a puppy, without any worries in the world. The extra warmth each bed has helps it even further.
The effects of calming beds
The beds are designed in a way that it looks like a doughnut or a dumpling with a hole on top. They give your dog the feeling of being snuggled in sleep, making them feel safe and sound.
Last update on 2023-12-08 / Affiliate links / Images from Amazon Product Advertising API
10 best calming bed for dogs
Now we know the basics about calming beds. Here is a list of our top picks for calming beds in no particular order.
1. Slowtron calming bed for dogs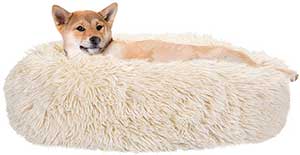 Starting our list with budget calming beds Slowtron dog calming. This bed has a fantastic price to quality ratio.
This dog bed is very durable and very comfortable. The softness of this bed is out of the world, and your dog will probably snuggle on it all day.
The bed is made for smaller and medium-sized dogs. And its oval shape helps it to keep your dog stretched out and lets them have ample room to comfortably sit without feeling claustrophobic.
The filling in the bed is made from PP cotton and other quality materials. The cover is synthetic fur.
Pros
The PP cotton is a very soft and durable filling.
Edges are fortified and raised to help your dog rest on them.
Washing machine-friendly bed.
Anti-skid and water-resistant properties.
Cons
The fibers that make up the inner covers start to deteriorate as it gets washed a few times.
2. The Dog's Bed Sound Sleep Donut Bed
This dog bed is made from Vegan fur, with a fantastic durability and comfortability rating. The bed comes in multiple sizes to accommodate all dogs. The quality of this dog bed is very high and is somewhat chew-resistant.
The bed is for all sizes of dogs, but in general, it's recommended for puppies. There are generally more filling-in beds specifically made for large dogs. As such, some people have had issues with large dogs not finding enough.
Pros
Has a base pad that reinforces the bed.
Multiple sizes and eight different color variations to choose from.
Vegan fur gives it a top-quality feel.
Removable and washer friendly cover for easy cleaning
Raised headrests to help the dog sleep comfortably.
Cons
No antislip base to keep the bed from sliding around.
Not that much filling to fulfill larger dogs needs
It can be chewed through by larger dogs.
3. The Best Friends by Sheri Original Calming Donut Dog Bed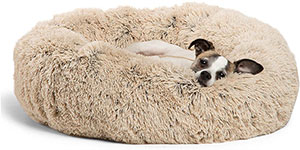 This dog bed is the best-rated bed, quality-wise and satisfaction-wise. But the price is a bit steeper for apparent reasons.
Comes with an additional blanket if you choose to buy it, this dog bed is the epitome of a luxury dog bed for the price. The bed can easily support a dog with 150 pounds of weight.
The materials inside can last longer than three times as many other beds is the market. The bed is so popular, and this bed is sold in the millions since its inception. Designed for absolute comfort and to keeps the joints and other body parts from getting sore.
Pros
Smaller sizes of the bed are fully washable, while the large-sized beds have removable covers that can be washed.
Multiple sizes and four colors available
Neck support around the rims.
A heavy base to stop the bed from slipping.
The fibers are well durable even after plenty of washes.
Cons
Has a lack of filling in the middle in some cases.
4. SAVFOX calming bed for dogs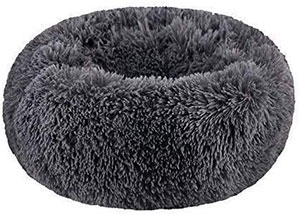 SAVFOX is a medical bed specially made to keep your dog and cats comfortable. It is one of the more expensive beds on this list. Yet, it is highly rated due to its comfort and durability.
The bed is engineered to calm your dog's nerves while sleeping and has a great softness to its building materials. Faux fur, cotton filler, water-resistant, splash resistant, and dust resistant. The base is also antislip to keep it in place.
Pros
Highly durable anti-weathering material.
Comes in various colors and sizes.
Cotton filler of high quality.
Material that traps heat for extra warmth in the colder months.
5. MFOX calming bed for dogs
MFox is the dog bed that gives you the most flexibility in choosing the sizes and colors.
This is especially favorable for people who like to match their decoration with everything else and the colors too.
Dirt-resistant and antislip make the bed very desirable for anxious dogs. Faux fur and nylon make it one of the higher quality beds found. Doughnut-shaped and a pit in the middle that is deep enough to contain large dogs.
Pros
Over 11 colors to choose from and multiple sizes.
Oval and doughnut shape to accommodate far larger dogs
Machine washable and weathering resistant.
Cons
The whole bed needs to be washed.
Some of the size mentioned by the bedding site has slight false information in it.
6. PetCraftSupply calming bed for dogs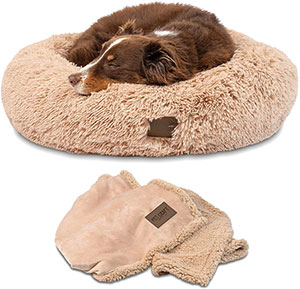 PetCraftSupply bed is one of those beds that you must try for your pets. This bed comes in three sizes but boasts quite a bit of portability. Vegan Faux fur to keep your dog comfy.
Doughnut-shaped and has neck support to help your dog snuggle in and rest up nicely.
Pros
Very light, helps it to be carried in travel.
Vegan Faux fur and orthopedic filling for the best comfort.
Extra fleece-type blanket with the matching color included.
Slip-resistant and removable cover for washing.
Cons
Fragile and succumbs to chewy dogs.
Cream color is the only available color for this bed.
7. PetFusion's calming bed for dogs
PetFusion's Calming Cuddler Dog Bed is a unique bed that has a box shape for a calming bed.
But it's very effective for dogs who want to feel at hope in the bed with an extra comfy blanket and memory foam. Making it one of the most expensive Calming beds on this list.
Skidproof and water-resistant. And has a raised rest for resting necks and head.
Pros
Has a unique box shape.
Weatherproof and water-resistant.
Washable cover
Cons
Limited size and color choice
8. Nononfish Soothing calming bed for dogs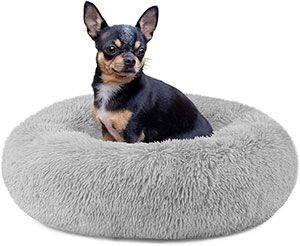 Nononfish brings this dog bed for our little dogs that love comfort and peaceful sleep. This includes a cooling mat for your lively dog.
Faux Fur makes the dog feel at home. The Raised support in the rim makes sleeping much nicer and the doughnut dip in the middle.
Pros
The cooling mat keeps the dog cool and calm.
PP cotton filler.
Water-resistant and slip-proof.
Washing friendly.
Neck and head support.
Multiple colors and sizes are available.
Cons
The bed is smaller than expected
The cover is not removable.
9. MIXJOY calming bed for dogs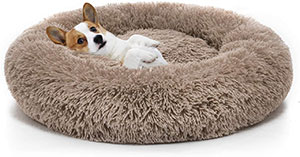 MIXJOY brings you a medical Orthopedic dog bed for your anxious and sleepless large dog. This dog bed available is larger than most other beds of the same size.
Especially good for older dogs with joint and muscle discomfort and jittery small dogs. Not being as sturdy, it does come in a variety of colors and sizes. Washer friendly, although not as durable. But it gives peek comfortability for your distraught dog.
Pros
Comes with a warranty in case it gets damaged within a period of time after purchase.
Washing machine friendly.
Very portable and light for its size.
Soft PP cotton filling.
Waterproof and Slip-proof.
Has head and neck rest on the rim.
Cons
The whole bed needs to be washed at once.
The padding on the bed is quite thin.
10. Nononfish Anxiety calming bed for dogs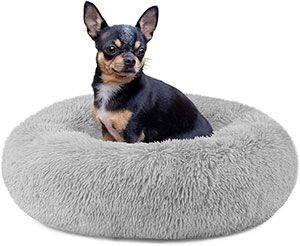 Nonofish comes with another great calming bed with a blanket as a set. This helps your anxious dog feel calm and soothed.
Extremely flexible with color choices and sizes available. Weathering-resistant, waterproof and slip-proof. Doughnut shaped with head and neck support for optimum sleeping comfort.
Cotton filler on the inside, faux fur to give it familiarity with the bed. Is washer-friendly and easy to clean.
Pros
Washer-friendly and Weathering proof.
Soft cotton filling and comfortable faux fur with a blanket.
Multiple sizes and 11 colors to choose from.
Cons
The filling is thinner than advertised and needs to be washed whole.
To Conclude
There are plenty of Calming dog beds for you to choose from. Don't hesitate and get your dog the comfort it deserves.