11 Must-Have Dog Accessories for the Modern Pet Parent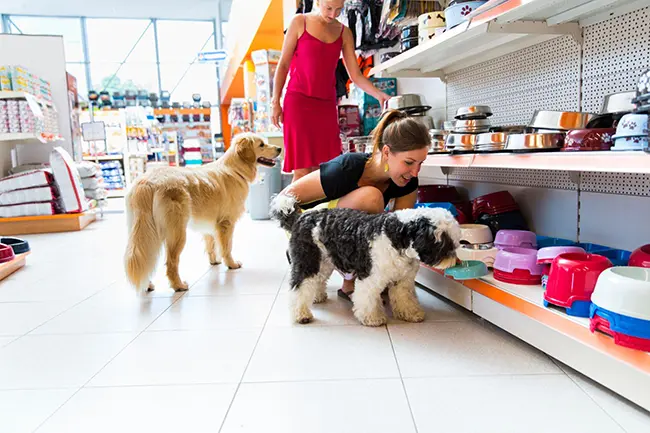 If you're shopping for dog accessories, whether it's toys for a new pup or an upgrade for your trusty leash, we've got you covered. Our recommendations come from extensive product testing, including lab trials and real-life use over months, with feedback from our testers.
We also have some enjoyable optional accessories to consider, like snuffle mats and stylish jackets because spoiling your furry friend a bit is all part of the fun of being a dog parent. So, whether you need a practical item for walks or a fun gift for your pup, here are our top picks for various types of dog accessories.
1. Best Car Seat Cover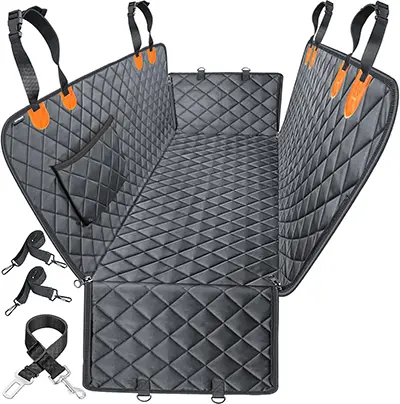 In our search for the best dog car seats available, we found URPOWER's multi-purpose cover to be a standout choice. It's versatile and can be set up in three different ways to suit your pup's needs and the type of car you have, whether it's an SUV or a sedan. Not only is it super secure and comfy for your furry friend, but it's also designed not to harm your vehicle. Plus, it's completely waterproof and easy to clean, even though it can't go in the washing machine.
Dimensions: 54 x 58 inches for Standard | Weight: 2.3 pounds | Coverage Style: Car bench, backseat hammock, cargo liner
What we appreciate about this product:
It's waterproof and built to last.
Provides full coverage for your backseat.
Comes in a range of colors to choose from.
Features a non-slip backing for extra safety.
Allows easy access to seat belts.
What We Don't Like
It might shift when car windows are down due to the wind.
Unfortunately, it's not machine-washable.
2. Best Food Storage Container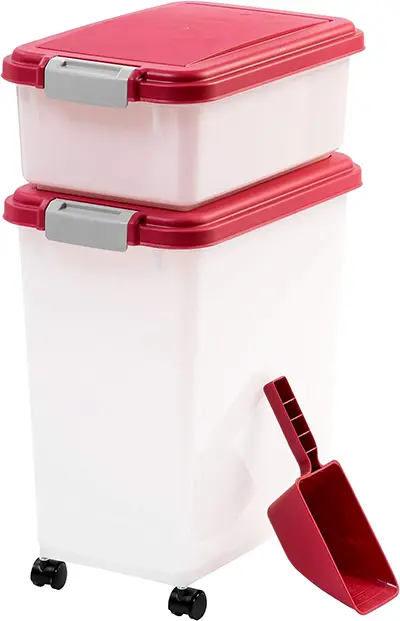 Our top pick for food storage for your furry friend is the IRIS Airtight Pet Food Storage Container & Scoop Combo. What sets it apart is its fantastic airtight design – you can give it a good shake or even accidentally knock it over, and there won't be any spills. This plastic container is not only sturdy but also highly secure, and it's easy to move around. Unlike many other containers, it comes with a handy scoop, and the measurement marks make it a breeze to ensure you're serving your dog the right portion size.
Capacity: The 33-quart container can hold up to 25 pounds; the 12-quart container can store up to 10 pounds | Dimensions: 16.5 x 10.83 x 18.63 inches (33-quart) and 16.5 x 10.83 x 6.5 (12-quart) | Material: Made from food-grade, BPA-free plastic.
3. Best Collar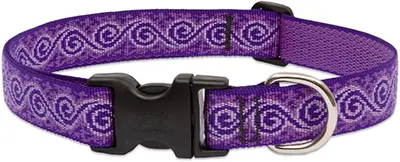 With a multitude of choices available, we've done our homework to find the perfect dog collar, taking into consideration factors like affordability, comfort, safety, and more. Our top pick from the selection is the Lupine Original Designs collar, which offers an impressive array of over 80 designs, including eco-friendly options crafted from recycled materials. This collar strikes a great balance between flexibility and durability, ensuring your pup stays both controlled and comfortable. Our testers found it to be exceptionally gentle, causing minimal discomfort or harm. When it comes to durability, the Lupine collar outshines competitors in its price range, thanks to a rust-proof ring and a dependable YKK buckle.
Sizes: Available in nine sizes, suitable for necks measuring from 6 to 31 inches | Colors: Dozens of patterns and eight solid colors | Materials: Made from durable nylon.
What we appreciate about this product:
It offers an extensive selection of colors and patterns.
Comes with an "even if chewed" guarantee, which is reassuring.
Provides a wide range of fitting options to suit your dog's size.
What We Don't Like
During the first few weeks of use, it may stretch a bit.
4. Best Nail Trimmers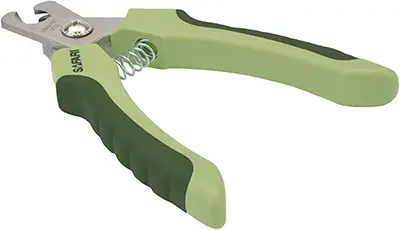 For keeping your pup's nails well-groomed, we highly recommend the Safari Professional Stainless Steel Nail Trimmer, which earned the top spot on our Best Nail Clippers list. Its outstanding sharpness is the standout feature of this double-bladed cutter. Additionally, it boasts a non-slip grip and a tension spring that make grooming your dog both safe and precise. Our tests confirmed that these clippers trim nails quickly and smoothly without snagging. What's more, at just $11.99, this Safari Professional model is one of the most budget-friendly dog clippers available.
Style: Scissor | Breed Size: Available for Small/Medium or Medium/Large dogs | Life Stage: Suitable for all dog stages | Material: Made from durable stainless steel | Dimensions: Measures 0.5 x 2.55 x 10.5 inches | Blade Type: Features angled blades for efficient trimming.
What we appreciate about this product:
It's budget-friendly.
The blades are sturdy and sharp.
It has an easy-to-grip handle.
Available in different sizes to suit your needs.
Can also be used for cats.
What We Don't Like
Safety stops might not be the perfect fit for every dog.
5. Best Clippers
For most dog sizes, the Wahl Deluxe Pro battery-powered clippers are an excellent choice, earning them the top spot on our list of the best dog clippers. These clippers come equipped with a long-lasting battery and deliver a powerful 6,000 strokes per minute. This means they can handle a thorough trim for dogs with various hair types and thicknesses. Plus, they include all the essential accessories you'll need for a successful grooming session: a blade guard, charger, clipper combs, styling comb, cleaning brush, scissors, and blade oil.
About this item:
Weight: 1.6 pounds
Blade Material: Made from high carbon steel
Battery Life: Lasts up to 2 hours
Accessories: Includes a cord wrap, 4 color-coded blades, finishing comb, blade guard, blade brush and oil, storage case, scissors, and power cord.
What we appreciate about this product:

Can be used with or without a cord.
It's rechargeable for convenience.
The blades are color-coded and labeled, making them easy to identify.
Proudly made in the USA.
Comes at a reasonable price.
What We Don't Like
It may not be suitable for larger breeds.
It might not be sturdy enough for heavily matted coats.
Finding replacement blades could be challenging.
6. Best Dog ToyKONG Puppy Dog Toy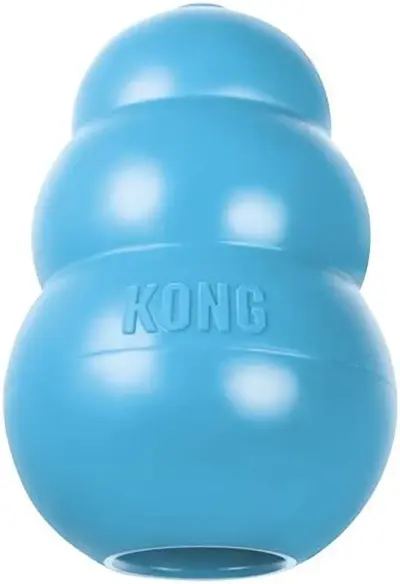 Our top choice among puppy chew toys is this KONG dog toy. Its robust rubber design makes it ideal for energetic play, teething, and chewing. You can even fill it with treats and freeze it to make it extra enticing for your pup. When filled, your dog will have a blast trying to get the treats out. Plus, it comes in various sizes to suit both large and small dogs, ensuring all pups can enjoy the snacks inside.
Dimensions: Measures 1.75 x 1.75 x 3 inches
Material: Made from durable rubber
Colors: Available in pink and blue
What we appreciate about this product:
It has an unpredictable bounce and wobble, making playtime exciting.
The rubber is gentle on teething puppies.
Available in four sizes and two colors.
You can easily clean it in the dishwasher for convenience.
What We Don't Like
Can be destroyed by tough chewers
7. Best Leash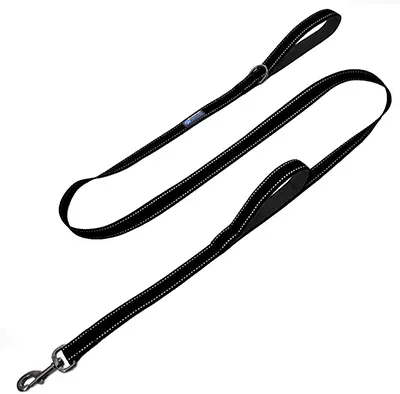 In the crowded world of dog leashes, Max and Neo's Dog Gear model stands out as a clear winner in terms of safety and durability. It quickly became our top choice among the many excellent leashes we explored during our research. This leash features two robust rubber handles, including a "traffic handle" positioned a foot and a half from your dog, designed for emergency situations or when you need close control. You can select either the 4- or 6-foot version of the leash in one of seven vibrant colors.
Material: Made from durable nylon
Colors: Available in black, blue, pink, red, purple, teal, and orange.
What we appreciate about this product:
It comes with two padded handles for added comfort and control.
Known for its robust and long-lasting build.
Offers a wide range of color options to choose from.
What We Don't Like
8. Best Pet Camera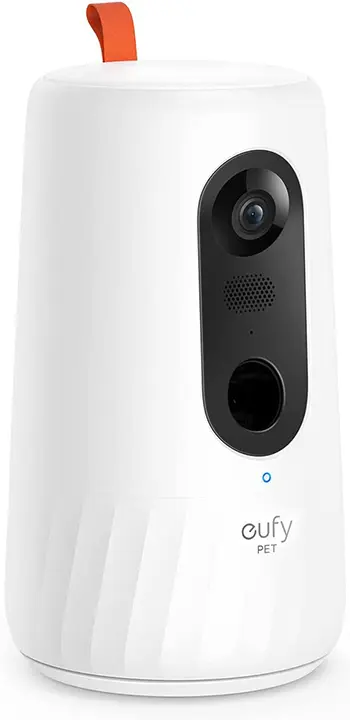 When it comes to top-notch pet cameras, the Eufy Pet Dog Camera D605 is as state-of-the-art as it gets. It boasts impressive technical specs, including a 170-degree wide-angle lens, 1080p resolution, and a 4x zoom function. Whether it's daytime or nighttime, this camera performs exceptionally well. With a 270-degree rotation capability, it seamlessly integrates with the app's voice, treat, and motion controls. Like many modern cameras, it can dispense treats, but what sets it apart is its ability to shoot treats in any direction, turning snacktime into an engaging game for your pet, even when you can't be there to play.
Dimensions: Measures 5.7 x 5.7 x 12.44 inches
Subscription Required: No
Treat Dispensing: Yes
Motion Alerts: Yes
Night Vision: Yes
What we appreciate about this product:
It turns treat dispensing into an interactive game.
You can pre-record messages for your pet.
The treat compartment is a breeze to clean.
It sports a great design.
What We Don't Like
It lacks mounting options.
Comes with a relatively high price tag.
9. Best Brush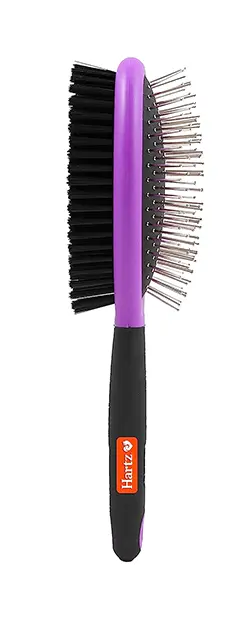 The standout on our "Best Of" dog brush list is this budget-friendly double-sided brush by Hartz. It's expertly crafted to handle all kinds of canine fur. You can use the stainless steel side for curly, knotty, or long hair, and simply flip it over to use the nylon bristles for your short-haired pup. Our testers found that dogs of all sizes and breeds seemed to enjoy their brushings, thanks to the gentle rounded tips on the brush's pins. Plus, the Combo Dog Brush offers a comfortable grip for dog owners, thanks to its soft rubber handle, which comes in handy during long or vigorous brushing sessions.
Dimensions: Measures 3.25 x 2.62 x 12.25 inches and weighs 4.8 ounces.
Color: Available in a lovely shade of purple.
Hair Type: Suitable for all hair types, especially long, curly, or wiry fur.
What we appreciate about this product:
It's gentle and not harsh on your pup's skin.
Comes with an ergonomic handle for comfortable use.
It's budget-friendly, costing less than many alternatives.
What We Don't Like
The nylon bristle side can be a bit challenging to clean.
It may not be as effective on short-haired dogs.
10. Best Tags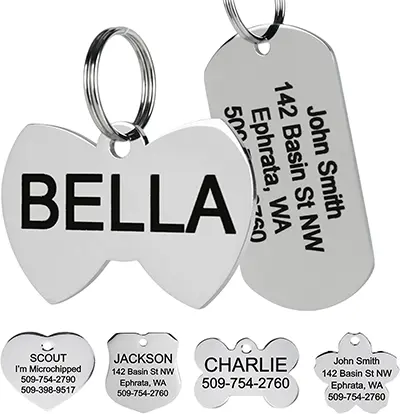 Taking the top spot in our Best ID Tags list, GoTag's stainless steel tags are impressively robust and long-lasting. With a range of sizes and shapes to choose from, you can easily find the perfect fit for your dog. These tags can accommodate up to four lines of text on each side, allowing owners to provide as much information as needed.
Color: Clear
Size: Varies between 1 and 1.3 inches in diameter, depending on the design.
Material: Made from durable stainless steel.
What we appreciate about this product:
They're made of durable stainless steel.
The mirrored surface adds a touch of style.
You can engrave both sides for extra information.
They offer space for up to eight lines of text.
There are nine different shapes and two sizes to choose from.
What We Don't Like
Relatively small, so they may look best on smaller dog breeds.
11. Best Dog Necklaces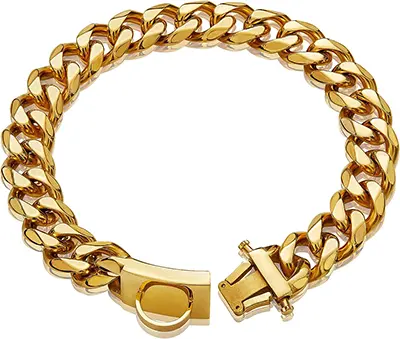 The gold chain necklace from W/W Lifetime is the complete package. Not only does it sport a stylish design, but it also boasts a strong and durable buckle, ensuring security. Its "18K Cuban link" chain is heavy-duty and chew-resistant, guaranteeing your dog won't damage it. Plus, it provides the versatility to attach a leash or a name tag.
The collar is also lightweight and comfortable for dogs, making it ideal for walks and outdoor activities. It's available in various lengths and sizes, ensuring a perfect fit for your pup. The attention to detail in craftsmanship shines through in the high-quality materials and the seamless fit between the links. In summary, we highly recommend this golden gift to any pet owner seeking reliable and fashionable neckwear for their stylish canine companion.
What we appreciate about this product:
Stylish design
Secure buckle
Chew proof
Heavy duty
Available in numerous sizes
What We Don't Like
Not very adjustable, so you have to choose the size carefully
Conclusion
In the world of pet ownership, dog accessories play a crucial role in enhancing the lives of our furry friends. From comfortable collars to durable leashes, interactive toys, and even high-tech pet cameras, these accessories enrich the experiences we share with our dogs. They not only add convenience to our daily routines but also ensure the safety, happiness, and well-being of our beloved canine companions. Whether it's a simple tag to keep them identifiable or a state-of-the-art grooming tool, dog accessories are more than just functional tools; they're a reflection of the love and care we have for our loyal companions. So, when it comes to pampering and looking out for our dogs, investing in the right dog accessories is a choice that every pet owner makes to make their dog's life even more special.