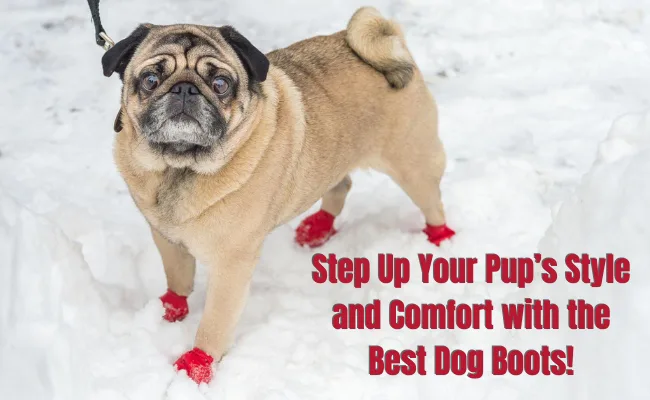 PetDogPlanet.com is an Amazon Associate, and we earn from qualifying purchases.
Our pets rely on us to keep them safe from the weather. In cold times, some dogs need jackets or sweaters to stay warm, and on hot days, a cooling bed or bandana can help them cool down.
But dog paws should be kept safe in every season because the ground can be too hot in the summer, potentially burning their paw pads. In the winter, icy sidewalks can hurt their feet. Moreover, there's another concern to watch out for: some substances used on sidewalks to melt ice and snow can be harmful to dogs. So, in this article, we're here to help you explore the world of dog boots. We'll guide you to find the perfect pair to ensure your furry friend's paws are comfortable and protected, no matter the weather or the ground they walk on.
Best Dog Boots for Any Weather
1. Kurgo Blaze Cross Dog Boots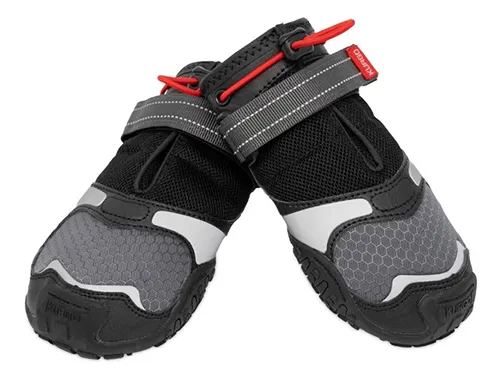 Introducing the Kurgo Blaze Cross Dog Boots, the ultimate paw-wear for your furry friend's adventures!
Crafted with precision and care, these boots are designed with your dog's comfort and safety in mind. They boast an innovative ankle double-closure system, ensuring unparalleled support and stability. Whether your pup is strolling down hot pavement in the scorching sun or frolicking in an icy snowbank, these boots have got them covered.
One of the standout features of the Kurgo Blaze Cross Dog Boots is their lightweight and breathable design. Your dog won't feel weighed down, allowing them to move freely and comfortably. The sole of these boots is ingeniously crafted to mimic your canine companion's own paws, ensuring a natural and easy stride.
Last update on 2023-12-01 / Affiliate links / Images from Amazon Product Advertising API
But that's not all – these boots are not just stylish; they are highly functional too. The water-resistant nylon mesh keeps your dog's paws dry, making these boots suitable for any weather conditions. Even in low-light situations, you can trust that your dog is visible and safe, thanks to the built-in reflective accents.
Before you embark on your next adventure, remember to measure your pet for the paw-fect fit. Don't let your furry friend miss out on the fun – give them the boot, the stylishly fun boot, from Kurgo Blaze Cross Dog Boots! Your pup will thank you for the comfort, support, and style these boots bring to their outdoor escapades.
2. QUMY Dog Boots & Paw Protectors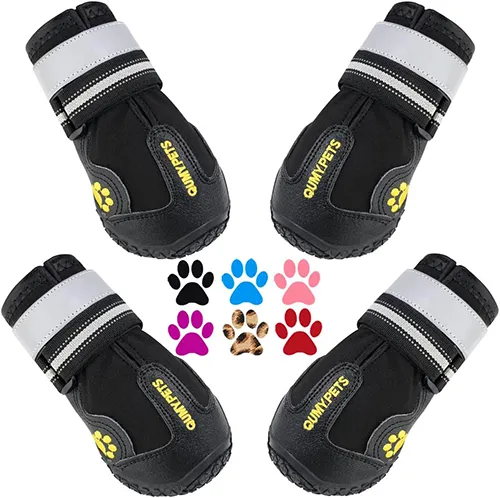 The QUMY Dog Boots & Paw Protectors offer both style and security for your furry companion. These boots are designed for ease, featuring a wide split seam opening and two adjustable, reflective straps, ensuring a snug fit and improved visibility during nighttime walks.
Their rugged construction includes a durable anti-slip sole, protecting your pet from sharp thorns and hot pavement while providing stability on various terrains. Crafted with quality and durability in mind, these boots are sewn together using high-quality fabrics and a rugged sole.
Not only do these boots deliver on safety and durability, but they also add a stylish touch to your dog's attire with their cute pet paw embroidery. Plus, the soft and hand-washable material ensures easy maintenance.
With over 1,000 4- and 5-star reviews, dog owners worldwide have praised these boots as the best they've ever purchased. Give your dog the gift of comfort, fashion, and safety – choose QUMY Dog Boots & Paw Protectors for your loyal companion.
3. Ultra Paws Durable Dog Boots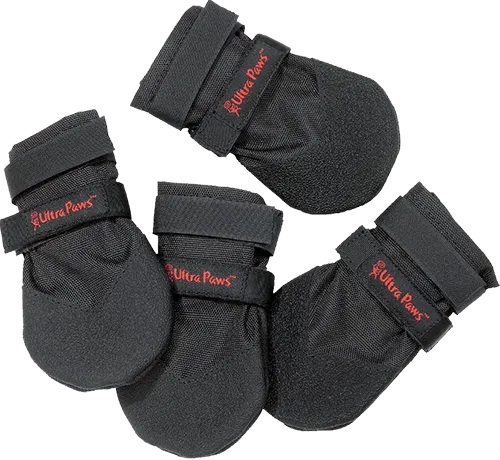 Protect your furry friend's sensitive paws with Ultra Paws Durable Dog Boots. These boots offer flexibility, durability, and comfort for a wide range of conditions.
These boots are designed with a highly flexible PVC sole, making them a comfortable choice for dogs with sensitive paws. They provide traction while safeguarding their feet.
Ideal for both wet and dry, hot and cold conditions, these boots feature water-resistant nylon with a grippy, flexible thermoplastic coating on the toe and sole, ensuring they last.
They are a perfect solution for senior dogs and those with hip issues, helping them maintain traction on slippery surfaces.
Dual fuzzy fastener closures and foam ankle pads ensure a secure and comfortable fit, protecting both the front and back of your dog's ankles.
Available in two colors and six sizes, these boots are designed to fit most canine companions.
Before your next adventure, measure your pet for the perfect fit. Ultra Paws Durable Dog Boots, made from water-resistant nylon and ToughTek-coated soles, are crafted to keep your dog's feet comfortable and safe. Their easy on-off design and secure fit make them a top choice for paw protection. Choose Ultra Paws Durable Dog Boots for your loyal companion, providing the comfort and safety they deserve.
4. Pawz Waterproof Dog Boots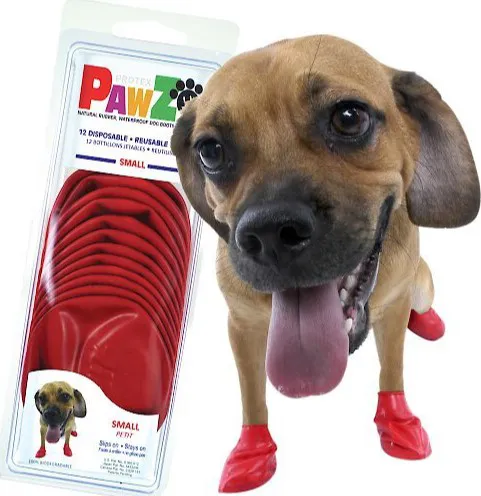 Pawz Waterproof Dog Boots are the practical choice for dog owners on the move. These slip-ons offer both disposable and reusable options, making them convenient for those who are constantly on the go.
These boots are designed with a secure fit in mind, eliminating the need for velcro, straps, or zippers. With their natural rubber construction, they stay on your dog's paws without hassle.
Not only are these boots functional, but they also bring a touch of style to your pup's attire. Available in various fun colors and sizes, they combine fashion with durability.
Pawz boots provide a natural feel, allowing your dog to experience the ground beneath their paws. This lack of padding offers a needed sense of security and maximum comfort. Like a sock, they move with your dog, ensuring unrestricted paw motion.
What sets Pawz apart is their eco-friendly nature. Made from natural rubber, these booties are 100% biodegradable, making them a responsible choice for environmentally conscious pet owners.
These boots serve a variety of purposes, from protecting your dog's paws from harsh elements like ice, snow, salt, and hot surfaces to helping with traction control and preventing licking and biting due to allergies.
With each package containing 12 booties, Pawz offers a cost-effective solution. You'll no longer need to worry about losing expensive dog boots.
Pawz Waterproof Dog Boots combine practicality, style, and eco-consciousness to provide the utmost comfort and protection for your loyal companion. Choose Pawz for the ultimate paw-wear solution.
5. Ruffwear, Grip Trex Dog Boots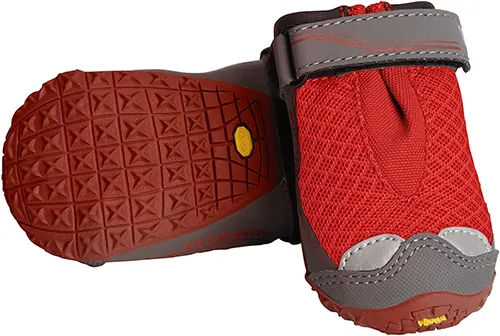 Get ready for adventure with Ruffwear Grip Trex Dog Boots! 🐾
These boots may come at a slightly higher price point, but they are an essential addition to any outdoor-loving dog's gear collection. Known for their exceptional durability, Ruffwear Grip Trex Dog Boots are built to withstand the rigors of multiple seasons.
Designed for the trail, these boots offer unbeatable protection during backpacking, hiking, mountain biking, and trail running. They are your dog's trusted companions for conquering the great outdoors.
Equipped with Vibram non-marking outsoles and a rugged lug design, these boots provide excellent traction and flexibility. Your dog can confidently explore various terrains without interruption.
The boots feature tightly woven air mesh, ensuring optimal ventilation and keeping dirt and debris out. Your dog can enjoy comfort throughout the day, no matter the adventure.
Putting these boots on is a breeze, thanks to the wide opening and a secure hook-and-loop cinch closure system that guarantees a snug fit.
Safety is paramount, and these boots come with reflective trim for enhanced visibility during early mornings and evenings. For extra peace of mind, consider pairing them with reflective Ruffwear collars, leashes, and the Beacon light.
Ruffwear Grip Trex Dog Boots are the top choice for durability, comfort, and safety, ensuring that your loyal companion can explore the outdoors with confidence and style.
How to Choose the Best Dog Boots?
Choosing the best dog boots involves considering several important factors to ensure your furry friend's comfort and safety. Here's a step-by-step guide based on the provided information:
Sole Material with Good Traction: Look for dog boots with soles that have a textured surface for excellent traction. This is crucial to prevent slipping, especially on slippery surfaces.
Waterproof or Water-Resistant Material: Opt for boots made from waterproof or water-resistant materials. These will keep your dog's paws dry and comfortable in wet conditions, whether it's rain or snow.
Flexible Sole for Natural Walking: Ensure the boots have a flexible sole, allowing your dog to walk naturally. The boots should not hinder their movement, making it easier for them to adapt to wearing them.
Adjustable Velcro Straps: Choose boots with adjustable Velcro straps. These provide a secure fit and make it easier to put the boots on and take them off. Adjustability is key to ensuring a snug fit for your dog.
Gradual Introduction: Most dogs aren't used to wearing shoes or boots. To help your dog adapt, try putting the boots on for short periods inside the house. Praise and reward your dog for getting used to them, making the experience positive.
Size Matters: Always follow the manufacturer's size guidelines and measure your dog's paws before ordering. An improper fit can cause discomfort and may not provide the desired protection.
Consider Dog Socks: If your dog is ultra-sensitive or needs extra warmth, consider starting with dog socks. These can be worn underneath booties for added protection and comfort.
Paw Balm for Protection and Comfort: Invest in a good paw balm. This can be applied to your dog's paws before and after wearing boots. It helps protect against harsh weather conditions and soothes cracked paws.
Explore Different Styles and Features: The market offers a variety of dog boots with different styles and features. Consider your dog's specific needs and activity level when selecting the best boots for them.
By following these guidelines, you can confidently choose the best dog boots that will keep your pet's paws safe, comfortable, and ready for any adventure.
Dog Boots FAQ
Q. Do dogs really need boots?
A: Dogs may need boots for protection, safety, and paw health in various situations such as extreme weather, slippery surfaces, injury prevention, medical conditions, and to shield paws from harmful substances. Choosing the right boots and ensuring a proper fit is essential. Consult with a veterinarian or dog trainer for guidance.
Q. Do dog feet get cold in the winter?
Ans: Yes, dog's feet can get cold in the winter, especially in cold and snowy conditions. Dogs are susceptible to frostbite and discomfort from walking on cold surfaces, which is why protective measures like boots can be beneficial in extreme cold weather to keep their paws warm and safe.
Q. Can snow hurt a dog's paws?
Ans: Yes, snow can potentially hurt a dog's paws due to various factors. Prolonged exposure to cold and snowy conditions can lead to frostbite, discomfort from ice and snow accumulation between paw pads, irritation from chemicals and salt, and dry, cracked paw pads. Protective measures like dog boots can help prevent these issues and keep your dog's paws safe and comfortable in the snow.
Q. Why would dogs need boots in the summer?
Ans: During summer, dogs may require boots for several reasons. Hot pavement can burn their paws, and boots offer protection. On rough terrain, boots shield against sharp objects and rough surfaces. Some dogs have allergies, and boots prevent contact with allergens. Boots also safeguard against chemicals used on sidewalks. For dogs with injuries or medical conditions, boots help maintain paw health in the summer heat. Overall, boots provide essential protection and comfort during warmer months.