Best Wireless Dog Fence | Review & Buying Guide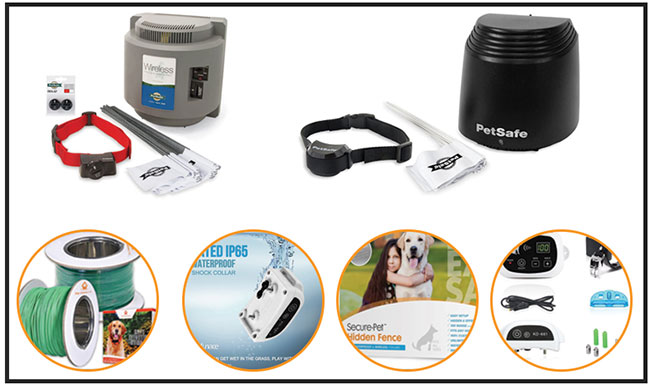 Say goodbye to traditional boundaries! Explore the best wireless dog fence options and give your canine companion the freedom to roam safely. Discover the best solutions today.
No matter your pet is a dog, a cat, or any animal, you love them. Animals tend to ramble. While talking about dogs, they usually have the propensity to move here and there but that is not an issue. But when they exceed their limits of wandering, several concerns arise with it. They may get lost somewhere and it poses a serious threat to many pet owners when having difficulty finding them in such scenarios.
Fortunately, there are a few solutions: You could construct a fence in your yard, or you could opt for one of the leading wireless dog fences available in the market. Our recommendation? Sidestep the expenses of building a traditional fence and opt for the "invisible" security, offering protection for your cherished companion.
But the question arises is that what dog fence you should buy that is best for your dog. In this article, we'll introduce you to the best wireless dog fences available on the market, their pros, cons, and every related detail.
Our Top Picks
Best Wireless Dog Fence Reviews
So now, after discussing some related things, let's talk about the top 10 models that you could consider choosing.
#1. PetSafe Wireless Pet Containment System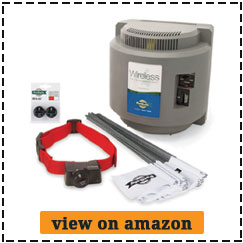 We put Petsafe at the top of our list because it's a really popular choice in the wireless pet fence industry, and lots of pet owners love their containment system. This device can cover up to half an acre in a circle from where you set up the transmitter. If you buy an extra transmitter, you can extend this coverage even more.
The system is also portable, which means you can bring it along on family trips. The battery in the waterproof collar will keep working for about two months before you get a handy reminder to change it. You can switch between five different settings to find the one that suits your dog best.
The package includes a collar that is waterproof and has built-in 5 levels of correction. The flags that come with the product can be used for training purposes as they create a visual boundary line.
The wireless system ensures that your beloved pet can return home without experiencing any corrections if they happen to wander beyond the designated boundary. This feature has its advantages for pet owners who prefer a more lenient approach to training. However, it may also raise concerns for those who believe in stricter boundaries. Rest assured, this system provides flexibility and enables you to tailor the training experience to suit your pet's needs. Additionally, if you have multiple furry friends, you have the option to purchase additional compatible collars to keep all of them safely within the wireless boundary.
Package Includes:
Test light
50 boundary flags
Operating and training guide
Receiver collar with RFA-67D battery
Wireless transmitter with power adaptor
Long contact points for long-haired dogs
Pros:
You have a choice of static or tone
Unlimited number of pets on one system
5 levels of correction
Adjustable waterproof collar from 6-28 inches
Waterproof collar
Test light
No digging required
Training guide
Cons:
A size restriction of a minimum of 8 pounds
Only covers half acres of land
#2. PetSafe Stay + Play Wireless Fence
This wireless fence system has gathered the attention of many pet owners. PetSafe Stay + Play Wireless Fence is portable and can be used anywhere no matter you use it at home or anywhere but the place should have access to power.
The circular boundary's radius can be extended up to 105 feet, allowing your pets to roam around with more freedom. The package includes only a single collar that has a rechargeable battery. You don't have to worry about the battery draining as it can last up to 3 weeks with a single charge.
The collar comes with 5 levels of correction and also has a tone-only mode for owners that feel the other levels might hurt their pets (which isn't true). Also, you can add multiple collars with the system if you have more than one dog.
Package Includes:
50 marker flags
2 long contact points
Test light
Wireless transmitter with power adapter
Receiver collar with the rechargeable battery
Contact point wrench
Operating and training guide
Pros:
Adjustable correction levels and borders
Waterproof fence with long battery life
3-years of warranty
Built-in rechargeable batteries
Compact design for portability
Cons:
Fluctuating boundary line
#3. Best Portable Wireless Dog Fence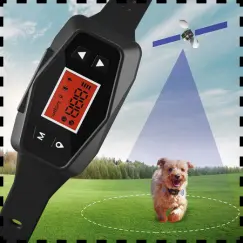 Lots of folks enjoy bringing their furry friends along on trips. Keeping your pet safe is just as critical when you're out and about. The GroovyPets GPS wireless fence system helps you create a virtual barrier wherever you're camping, vacationing, or traveling. It's smart enough to remember your settings and automatically form borders based on your past selections. The system employs GPS to establish these unseen boundaries and issues a growing warning as your dog nears the edge. It also offers the option to choose from six vibration and shock levels to suit your pet's needs. A great bonus is that the sensor works with various collars, possibly even one you already own. And don't worry about carrying extra batteries – the collar recharges itself.
0-1 level beep mode
0-6 level vibration mode
0-6 levels shock mode
Features Includes:
Pros:
Easy to set up.
Travel friendly
Effective for quick pet training.
Cost-effective alternative to continuous fence repairs.
Helps in reducing pet reactivity.
Ideal for homes without fences.
Rechargeable collar
Works with several collars
Cons:
Large collar
Not suitable for small dogs
#4. Pet Control Wireless Electric Pet Containment System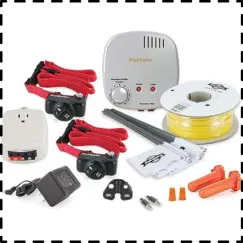 This model offered by Pet Control HQ is a customizable yet simple model best for multiple dogs. There are two collars attached and both are rechargeable. There are 5 levels of correction levels that the transmitter sends out to both collars and these corrections can be adjusted as per needs.
This 2 dog system is designed to fit best for families that are planning or have moved recently to new premises where their dogs need to get used to the new place.
Package Includes:
4 sets of contact points
50 training flags included
2 collars with rechargeable batteries
A step by step easy to understand guide
Pros:
Settings are adjustable
Intensity control using the simple knob on the transmitter
Waterproof collars and LED indicators
A secure system of correction
Cons:
Short battery life
Sharp contact points
#5. PetSafe Wireless (PIF-300) 2-Dog Fence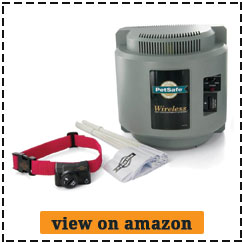 As the name suggests, it helps two dogs to get trained with boundaries with Petsafe Wireless (PIF-300) wireless fence kit. The transmitter has a range of half an acre and this kit has two training collars that are both waterproof for longevity.
The collars are not rechargeable but come with a replaceable 6 volts battery. Also, the correction is done with help of light electric shocks that only make them uncomfortable and not hurt them.
Package Includes:
Operating and setup guide.
75 white training flags are included
Heart-shaped collar tester.
Waterproof collar.
2 probes for long-haired dogs.
2 probes for short-haired dogs.
Two rechargeable batteries with charger.
AC adaptor with power cord.
Screws/wall anchors.
Removable wall mount strips.
Pros:
Comfortable receiver collar
Reliable and strong signal
Automatic safety shut-off
Low battery indicator
Adjustable correction
Best for Long-haired dogs
Cons:
Support only 2 dogs training at a time
Installation is not easy for roadside and narrow properties.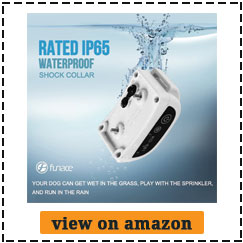 Above mentioned all of the products have a similar issue that is the general issue of a circular area. While talking about this product, this can expand up to 17 acres with 500 feet of cord.
The boundaries can be incrementally adjusted and you can get a maximum radius of 500 feet. The collars come with have rechargeable batteries. Also, the collars are waterproof that additionally provides security and lessens concerns about your dog being shocked too much.
Package Includes:
Water-resistant collars and receivers
Mounting system.
Rechargeable Collar.
Setup and start guide.
Screwdriver and a spare fuse.
Power adaptor and transmitter.
Adjustable dog collar and wireless receiver.
Pros:
Adjustable waterproof collars and wireless receiver
Multiple dogs can be trained
Easy to understand manual
Very long-range removes issues regarding circular areas
Cons:
Installation is difficult
Battery issues faced by users
#7. Perimeter Technologies WirelessWi-Fi Dog Fence.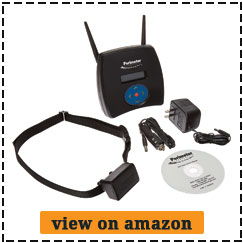 This is another model that claims to be smarter and a bit less rigid as compared to others. Perimeter Technologies model has a highly integrated chip that allows a steady connection between the collar and the smart station. Waterproof collars are in the package for the safety of your pets. Collars have rechargeable lithium-ion batteries.
Package Includes:
50 boundary flags.
Waterproof collar transceiver.
Comport contact probes.
Advance wire-free base station.
Long-hair steel contact probes.
High-Quality nylon collar.
Instruction/Basic training manual.
2 rechargeable/replacement lithium-ion batteries.
Pros:
Best for long-haired dogs.
A lightweight, waterproof and durable collar.
Settings for multiple dogs.
In addition to this, it also has more levels of corrective static than other models.
Cons:
Not suitable for areas where metal objects are placed or the area is filled with dense trees
Expensive
#8. Funace 100% Rechargeable Wire-free Dog Fence System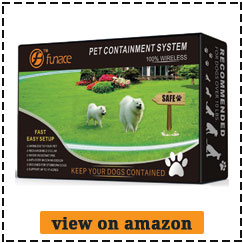 This system is on our list for several different reasons and has great offers to appeal to cautious dog owners. Security is the main concern for any dog lover, this system claims to be 100% safe and harmless and it proves its point as you can access and adjust every control according to your preference.
The package includes a rechargeable transmitter and collar. The collars are adjustable according to your dog's neck size i.e. 0-24 inches.
Package Includes:
Rechargeable Transmitter and Collar.
The Waterproof collar.
The adjustable neck size of 0-24 inches.
A safety system to prevent over-shocking.
Pros:
You can adjust radius size easily
Suitable for both small and large yards
The safe and secure correction system
Cons:
Inconsistency in performance
Battery drains quickly
#9. PetPi Wireless Dog Fence Containment System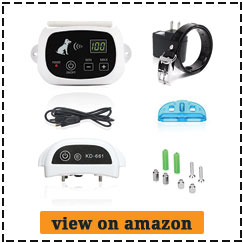 While looking at the photos you may think that this is a complex system. PitPi Wireless Dog Fence shares some of the pros with other products in the list but it has many unique features like 500 meters of range, a transmitter digital display that can be used to adjust intensity, radius, and other settings.
The collars that come with this system are adjustable with rechargeable batteries. Also, this system can be used to train three dogs, and this what makes it unique from any other in the list.
Package Includes:
A range of between 20 and 500 meters
100 levels of static
Adjustable, "waterproof" collars
Different contact points for different coats.
Pros:
Different range and settings of the device
Warranty included, you can replace faulty products
A wide range up to 500 meters
100 levels of static to choose from
Cons:
Some users say that the collars aren't fully waterproof
Cannot be used near metal objects or areas with dense trees
How Does A Wireless Dog Fence Work?
Before diving into details about what kind or which dog fence you should choose, it is vital to understand that how a wireless dog fence work and its anatomy to clear the image of how they can protect your canine.
At first, a transmitter is located centrally that is responsible to send radio signals to come up with a circular boundary. The circle is the safe area of the dog.
You can personalize the safe area according to the type of fence you have. Then a collar is put on your tyke which has a receiver that picks signals from the transmitter. The safe area is the area where your dog can roam but when the pet tries or gets closer to the correction zone, the collar produces a beep sound that alerts the dog to return.
In cases where your dog is stubborn and doesn't turn, then the collar will produce a very small amount of electric stimulation. This electric stimulation is never harmful though it keeps them uncomfortable just to remind them that they are in the wrong place and they have to turn.
How to Install a Wireless Dog Fence
Places where You Cannot Use Wireless Dog Fence
Invisible wireless dog fences are gaining influence, more and more people are using them for their pet's security and other concerns but still, there are some places where you cannot use these. So before buying one for your yard, it is better to know whether you have the right place or not.
Following are some places where you cannot install a wireless dog fence:
Not suitable for odd-shaped yards as they give circular boundary
Not ideal for yards where there are a lot of trees or have steep slopes
Not suitable at the place where car driveways are near because they affect signals
If you have a metal shed or sliding then you cannot install it because the transmitter doesn't transmit signals through metal
How to Choose the Best Wireless Dog Fence
If you are reading this, then you probably have read all the pros and cons of each model mentioned above. While at the moment some product might have caught your attention and you are thinking to grab it but wait! A product may seem fascinating because of the shape or some minor reasons but you may be sacrificing reliability and convenience.
It is better to look, gain knowledge about different products and then look for one that is the reliable circular model that has minimum installation issues and offers adjustable colors.
The above-mentioned products are all top quality and are listed after in-depth research and user reviews. Also, worth mentioning thing is that every model has interference issues, so don't just leave any product because of this reason.
Expert Recommended Tips to Consider When Utilizing a Wireless Dog Fence.
#1. Supervise
Just putting the collar on your dog and installing a transmitter somewhere doesn't mean that your work is finished. You should keep in mind that this is not a physical barrier but rather an invisible one. When your dog exceeds the limit, the static correction may confuse your dog and even they might fear and panic in such a situation. Some dogs may run here and there to avoid static correction and some in fear of moving may just sit. So it is crucial for you to be with your dog at times to help them accustomed to the correction and also command them or help them to get back into the safe zone.
#2. Use a Dog Leash
Boundary training is important and your dog must learn and behave properly, training is important when you are using a wireless fence system. In order to train them, simply walk him/her to the perimeter of your yard. When the dog crosses the boundary, he will get a statical reminder and when this happens, gently push or pull him back and command them to sit and stay. Reward them for doing good work. This way they will learn things quickly.
#3. Put the Collar on Your Dog a Week before
Putting the collar a week before means that you don't have to just buy and put the collar on your pup and activate the wireless fence. This isn't the ideal way, you should put the transmitter collar on your dog at least 3-7 days before you activate the fence. This way your canine companion will get used to the collar, and also allow your dog to associate with the corrections with the borders of the lawn, not just the collar itself.
#4. Consider Limiting the Collar Wearing Time
Another thing to keep in mind is that don't just put the collar on your dog for more than 12 consecutive hours as there are static prongs inside the collar that can cause skin irritation. So, remove the collar at night or at whatever time but don't leave it for long period.
Frequently Asked Questions
Choosing the invisible wireless system for your dog is a big decision and investment. You will have many questions in mind that need to be answered. Most of the pre-users have some common questions about this system. So here are some of the most common frequently asked questions about the best dog wireless fences on the market.
Do wireless dog fences really work?
Yes, of course, they work fine. This is one of the best ways to keep your dogs in the yard and not running off. Statistics suggest that they are not as effective as you might think. The invisible wireless electric fence is said to be only 70 percent effective.
How old does my dog have to be to start invisible fence training?
The answer to this question depends on several things like the size of your dog and its breed. However, experts say that a dog six months old can be trained using this wireless fence. Also, the weight matters too, before you start, check the individual system's weight requirements and make sure your dog is compatible with it.
Do static collars hurt dogs?
This concerns most of the dog owners. Static correction is proven safe. The shock it emits is very mild and causes no harm. All you need is to train them correctly and after training is complete, you can even turn off the electric stimulation.
How deep should an invisible fence be buried?
You can bury the wires in a trench between 1 and 3 inches deep. Burying the wires help inadequate transmission of signals and additionally protects them from any damage from lawnmowers and also from other activities.
Is this a bad way to train my dog?
The static correction is the main concern but that doesn't work as people imagine. It opt-out of an electric impulse that doesn't harm them or give them long-lasting pain or discomfort. Rather it is just a zap that is a warning sign and an alarm for them to go back to their safe place. Note that you should always stay with your pets and don't let them roam without your supervision when the collar is on.
Final Words
In this in-depth guide, you have learned about some of the best wireless dog fences present in the market for you to choose from.
There are multiple benefits of using a wireless dog fence system that can minimize your concerns about your dog's safety.
Choose one that matches your needs. Hope this article helped you find the system you were looking for. Good Luck.
Read More: