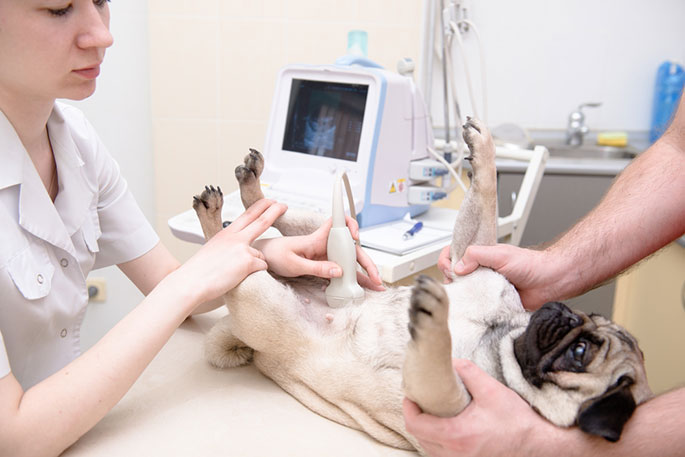 PetDogPlanet.com is an Amazon Associate, and we earn from qualifying purchases.
Ultrasonography is also used by veterinarians to assess the health conditions of pets. This ultrasound machine uses ultrasonic sound waves to observe the body structure of animals to find out different health issues that they may be suffering from. 
This ultrasound machine can see through organs in the body that the X-rays are not able to. The organs, tissues, muscles, and blood flow can be observed from different angles using the ultrasound equipment. 
However, this magical equipment can't see through bones, lungs, and spinal cords. With a view to understand how it works, the ultrasound machine uses sound waves of high frequency, which upon reflection creates an image on a monitor. Consequently, the veterinarians use that image as a guide to decipher the real physical problem with their animal patients. 
Preparation before an Ultrasound Examination
Your pet has to prepare in a certain way before going through an ultrasound examination. The rules are as follows –
Last update on 2023-12-11 / Affiliate links / Images from Amazon Product Advertising API
Before an abdominal scan, your pet may need to starve for a few hours, in order to get a clear picture of the condition of its stomach. 
On the other hand, if your little buddy is having a pelvic examination, it needs to clear bladder fully before proceeding with the investigation. 
Furthermore, for other types of physical examinations, your veterinarian will provide you with the necessary instructions. 
Top Features of a Veterinary Ultrasound Machine
The best veterinary ultrasound machine must include six essential features – specialized applications, needle guidance, on-board comprehensive reporting arrangement, easy usage, image optimization, and high-quality image resolution. 
Let us get a better look at the top features addressed above. 
The best ultrasound machine must comprise echocardiography, which allows the doctor to investigate the heart, and the valves of the pet. It checks the movement of the blood, and the heart rate of the patient. 
The ultrasound machine must include an ECG tracing system, continuous wave doppler, portable GE Vivid products, and special transducers. 
Moreover, for precise, easy, and fast imaging results, professional veterinarians prefer to use the LOGIQ® V Equine. It allows better visualization of tissues, organs, lesions, deep anatomy, and promotes fast image optimization. 
The needle tip of the ultrasound apparatus must be placed precisely on the target, which is why this feature is so important. This ensures that clear images are produced from the ultrasound. 
The best ultrasound equipment will incorporate the needle recognition system, which allows precision, and accuracy. 
Comprehensive Reporting Arrangement
The ideal ultrasound system should not only be able to get an exact, clear image of the organs, and tissues, but also be able to generate a comprehensive report that is going to guide the veterinarian into taking the next step. 
On top of that, this feature authorizes veterinarians to share the report with other vets all over the world by uploading it to a Cloud system, and also share it with owners of the pets. 
Although the equipment possess a number of advanced, but complex attributes, operating it completely easy. For a better outcome, get familiar with all the features before buying it, then you won't have too much trouble operating it in real-time afterward.
To begin, the tilting monitors of the veterinary ultrasound machine make using it more convenient for the user.  An ideal ultrasound apparatus will include the 'split screen' feature, previous diagnosis history, and also quick scanning. 
When you have become an advanced animal ultrasound apparatus operator, you can customize certain traits, such as lowering keystrokes and reducing examination time. 
Image optimization is an important feature of the veterinary ultrasound machine, as without the precise imaging results, it is impossible to comprehend the nature of the patient's problem. 
Into the bargain, a veterinarian can produce high-quality images with just the touch of a button. Additionally, he or she can also choose the 'auto-optimization' component of the instrument. 
High-Quality Image Resolution
The best ultrasound machine for pets must consist of these two resolution attributes, namely the spatial, and contrast resolution. The spatial resolution can disconnect two very closely connected objects, while the contrast resolution improves image quality for better investigation. 
Which Vendor Should You Buy the Veterinary Ultrasound Equipment from?
It is feasible to buy the veterinary ultrasound equipment from four types of vendors, particularly Original Equipment Manufacturers (OEMs), original equipment dealers, veterinary products distributors, and third-party vendors. 
Original Equipment Manufacturers (OEMs)
You should be aware of the big brands that sell veterinary ultrasound apparatus, such as Esaote, Toshiba, Siemens, Philips, and GE. These companies sell original products with warranty, and other benefits if you purchase the product from them. 
Additionally, the service they provide may exceed your expectation as compared to the services of other vendors. So, you don't want to miss out on that. Furthermore, you will be informed when new, and upgraded products are available by these brands. 
Original Equipment Dealers
Although the service is not so personal, the original equipment dealers will also provide you the best service, product description, usage, warranty, and maintenance service when required. 
However, the original dealers will be biased about the company they represent. Therefore, take your time to browse through different options before you make the final purchase. 
Veterinary Products Distributors
Some of the distributors of the veterinary product that you would like to know are Webster, PennVet, Schein, MidWest, MWI, and Animal Health International. 
On a good note, these distributors will let you browse through various options available in their stores, and therefore, you will be able to make a decent choice according to price, warranty, features, and other attributes. 
Third-Party Vendors
If you like variety, third party vendors will help you make purchasing decisions easier. These vendors not only have pet ultrasound equipment at their disposal, but also other machines, such as x-ray, monitors, and anesthesia.
Positively, the third part vendors specialize in medical equipment manufactured by various brands. Hence, they will be able to give you the best advice on which ultrasound equipment is right for your work.  
To Sum Up
Although there are on-going debates about whether veterinarians should use human ultrasound machines for animals or not, all ultrasound equipment are designed for the same purposes. 
However, possessing veterinary ultrasound equipment will definitely improve your professional image as a vet, and enhance the authenticity of your clinic. 
By way of contrast, there are veterinarians who use human ultrasound machines to diagnose health issues of animals. Either way, the choice is up to you. As commoners, we only wish that all animals are treated properly, and they find relief from any ailments that they are going through.