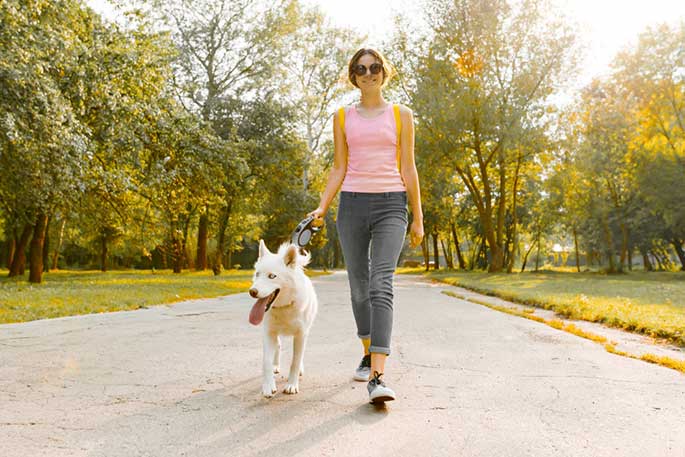 PetDogPlanet.com is an Amazon Associate, and we earn from qualifying purchases.
Owning a dog brings a lot of joy as well as challenges. Anyone who owns a dog can testify that it can become similar to raising a baby. Still, the complexity of living with a dog depends solely on your attitude. Of course, you can follow your pet and put all your efforts to help with every step it makes. Or vice versa – you may try to develop your pet's independence and make life easier for both you and your dog. The question is, how to do that? Here are some ideas that might be helpful:
A Dog Ramp Saves You A Huge Amount Of Time
What is it for? Actually, it is the perfect tool for raising small puppies and for those who have an old or handicapped dog. It is also a great help when a dog is injured. This way, your pet will be able to easily reach their favorite rest area, and you will feel at ease leaving your pet alone. In addition, it is a way to avoid unwanted pet injuries. After all, this is exactly what can happen if your dog jumps on a surface that is too high and will fail. Especially if your pet is injured or ill, therefore, it is worth buying a reliable dog ramp. Also, it doesn't take up much space and can become a great accent in your room. And by purchasing a ramp that is adjustable in size, you will have a universal aid that will allow your pet easy access to the desired destination. And because of the compactness and lightness of the ramp, you'll easily hide it under a couch or bed when it's unnecessary.
Smart Pet Doors Are An Idea Worth Considering
If you have your own garden, you probably won't be able to count the number of times your dog wants to go out. In this case, it is useful to install smart pet doors. You can choose the ones that are suitable for dogs of any size and breed. In addition, modern technology ensures that you will not find a dozen dogs with your pet when you return home. Such smart pet doors allow only your pet to go through the opening as a key fob attaches to your dog's collar is like a key triggering the door to open. So, smart pet doors could make the daily routine of both you and your dog much easier. You will save a lot of time, and your pet will be happy to be able to go outside or come back at any time it wants. As it is said, happy dog, happy owner!
A Tennis Ball Is Not Only For Having Fun
First of all, a tennis ball can also be helpful if your dog eats too fast. By placing a ball in the center of your dog's bowl, you will make your pet eat the food around it, and that will take noticeably more time. It is important that the dog does not eat as fast as he can in order to chew food properly, feel fuller faster, and avoid the various health implications associated with eating far too fast. Secondly, you may use tennis balls for a treat puzzle. You will need a muffin tin and the number of tennis balls depending on the size of the pan. Put some treats in the bottom of each cup and hide them with the balls. This way, your dog will not only eat slowly but will also have mental exercise. Thirdly, you can make a treat dispenser from a tennis ball. You will only need to cut a circle into one side of the ball. It should be small enough in order to keep the treats inside. When your dog smells the treats inside, it will have to figure out how to get them out!
Last update on 2023-12-10 / Affiliate links / Images from Amazon Product Advertising API
Buy The Best Dog Food You Can Afford
Quality food is one of the most important things about having a dog. Proper food will allow you to face fewer problems, including unexpected your pet's health problems. Meanwhile, improper food can have serious consequences for both your pet's health and your finances. Therefore, when choosing dog food, consult with professionals, and take into account your dog's age, breed, and physical activity. It is said that most dog diseases are caused by poor food. So there is a good chance that by choosing quality dog food with enough vitamins and other nutrients for your pet, you will be able to avoid them. 
Also, vitamins are a part of your dog's diet. It is necessary to provide the right amount of them in order to keep your dog's coat, skin, and bones healthy. If your dog runs around like crazy when you are eating carrots, corn, or broccoli, it could be a red flag that your dog is deficient in vitamins.
Make Sure That Your Dog Is Getting Enough Exercise 
The first question for complainants is that their dog creates real chaos every day at home. Is your dog getting enough exercise? Every dog needs daily movement. Depending on the variety, it may require from half an hour to two hours of exercise every day. If you live in a small apartment and your dog does not have the opportunity to run enough – your home suffers indeed. Therefore, it is necessary to pay enough attention to long walks and sometimes even longer hikes. In other words, it is necessary to meet the dog's need to move. 
If you don't have enough time to walk your dog, maybe your friend could do it from time to time? Or maybe your neighbor has a garden where your dog could spend some time every day? Try to look at the situation creatively and find the most convenient way out for both yourself and your pet. After ensuring proper exercise time for your dog, after a week, you will not even remember you have had such a problem as a messy home or hyperactive dog.