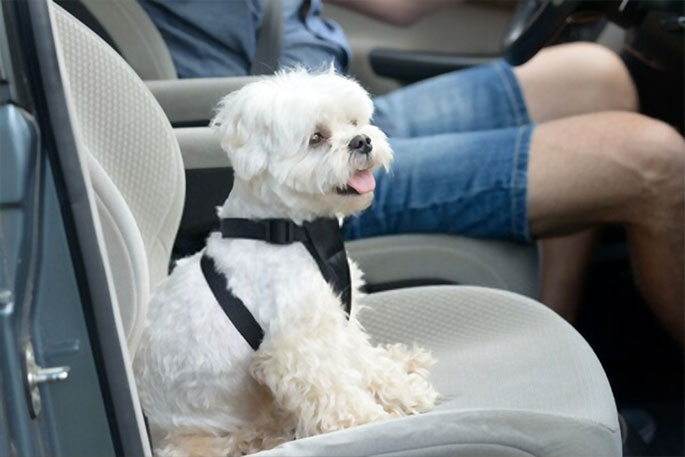 PetDogPlanet.com is an Amazon Associate, and we earn from qualifying purchases.
Air travel requires planning. And if you have a pet dog with you, the plan becomes much more complicated. Among all the other things, you need to buy a pet carrier to carry your dog while travelling.
Choosing a pet carrier is a matter of lots of research. All the carrier is not perfect for your dog. Based on your dog's height, weight, nature- the pattern of pet carriers will change. Of course, the same carrier won't be enough for a calm dong and a dog, which is prawn to clawing. The situation in which you are travelling, it will create some influence on the decision too.
So, which one will you choose as your pet carrier while flying with your pet dog? Let's find the top 7 picks for you!
Sleepypod Air in-Cabin Pet Carrier
If your dog's weight is up to 15 pounds, this is one of the best carriers that you can use. It comes with six different colors. So, you can choose your pet's favorite color too.
Last update on 2023-12-08 / Affiliate links / Images from Amazon Product Advertising API
The carrier is scratch resistant. To meet the airline's requirement, this bag can be folded, and while in the flight, it can make more space for your dog to move. To ensure your pet's comfort, this bag includes a foam padding and machine-washable bedding. It is easy to store in the house and comes with two pockets to hold dog food.
Paws & Pals Airline Approved Pet Carrier
Need a simple pet carrier for your little and cute dog? Paws & Pals Airline Approved Pet Carrier can easily hold your 7-pound dog.
It has enough storage and several color options. The incredible thing is, it is not pricey at all. Your pet can enjoy vinyl-wrapped board, a removable fleece, a cool window, and so many things with this one carrier.
Petmate SkyKennel Pet Carrier
Not the soft ones, if you want a cargo type pet carrier for your 125-pound heavy dong, you can easily choose Petmate SkyKennel Pet Carrier. With the extra sturdy steel and steel made door, it will protect your dog better. You will find a water bowl with the package free.
Snoozer-Roll Around Pet Carrier
If you don't want to carry the carrier and want to roll your dog all around- Snoozer-roll around carrier will serve you the best. It will provide enough space for your dog to stand, and there is a leash attached to the carrier, which will ensure that your dog hasn't left the bag.
SturdiBag Extra Large Pet Carrier
While combining ten color options and so many other things, this carrier is large enough to place your dog or cat (up to 50 pounds). And, you don't have to worry about the size. Airline permits that, and you can quickly put the carrier under your seat. It provides enough room for your pup to lay peacefully. Besides, the retractable privacy flaps on its mesh windows keep your dog calmer.
AmazonBasics Soft-Sided Pet Travel Carrier
Don't use carriers often? Then, you can easily buy this under $30 carrier. It can hold dogs weigh less than 60 pounds. Besides ensuring the proper airflow, this bag comes with a strap to keep it properly and a fleece lining to make your dog feel comfortable enough.
Premium Airline Approved Expandable Pet Carrier by Pet Peppy
Want to get something premium and stable for your little friend? This carrier is the perfect one to hold every one of them. It ensures enough airflow, space, and stability. Even in this bag, you can enjoy enough room to place toys, foods, and other things for your pet.
So, how much weight does your dog have? While keeping this in mind, consider the other features and find the best travel option for your pet.