Travel Crates and Carriers for Small Dogs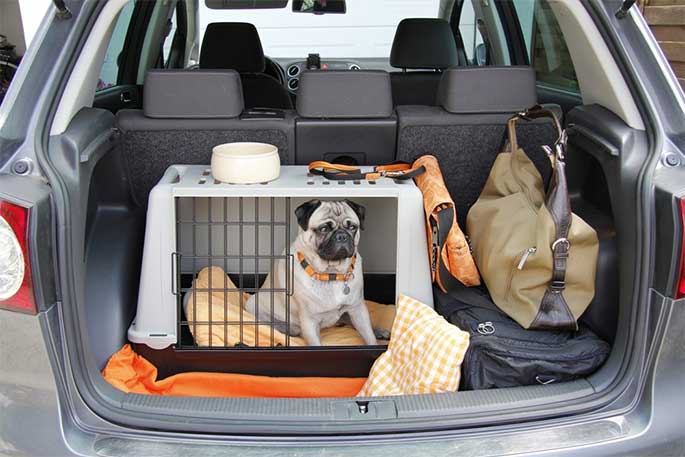 You don't like to leave your dog at home unless you have to, right? They're part of the family, and you want them along for the ride when you go on fun days out, walks etc. The majority of dogs enjoy being in the car too because they get to experience the sights, sounds and smells that come as part of riding in your car.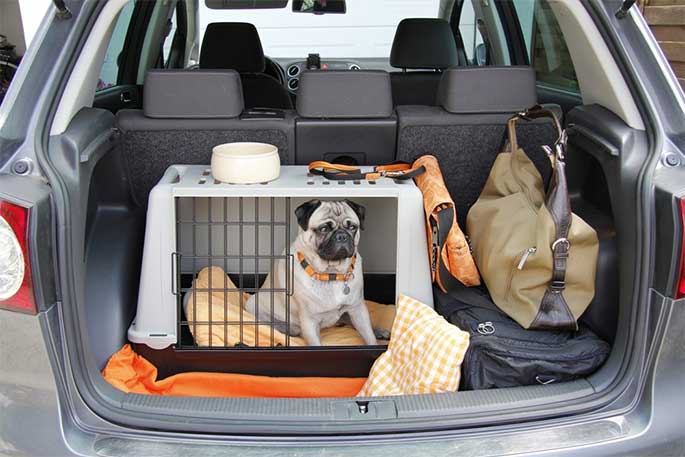 The only issue is, if you have a small dog, it can be tricky to ensure they are completely secure and safe while you are driving. this is where travel crates and carriers come in useful. They are on hand to provide maximum comfort for your pooch as well as total peace of mind for you so that you can focus on driving.
Read More:
We've picked out some of the best options to keep your pup perfectly in place during doggy road trips to save you the hassle of finding them.
Take a look and see which will best suit your needs:
K&H Pets Carrier
The great thing about our first option is that it does a wonderful job of keeping those dogs with lots of energy and over-exuberance under control. If your four-legged friend is keen on soaking up the surroundings while your drive, then the K&H Pets Carrier is ideal.
This carrier securely straps into your car's seatbelt. It also has another strap that attaches around the headrest, giving you added security that your pet isn't going to roll across the back seats!
The large mesh face offers your pup an unobstructed view, as well as superb ventilation for enjoyable trips in the car. Other features include its easy folding ability; you can pack it flat, giving it great storing and transporting appeal, along with a range of entries, allowing for flexible use.
If you have a mischievous hound on our hands, then you might want to add some toys from WoofDog.org to keep them quiet as this carrier might be a little bit lightweight. It isn't the most heavy-duty option, but it is a well-made, secure carrier for dogs who aren't too much of a rascal!
Sleepypod Mobile Pet Bed
If you have just bought a new member of the family into the home and you are looking for a soft, comfy and secure option, then the Sleepypod Mobile Pet Bed is a wise choice. This one is also really good for pets who suffer from nerves too, as it makes travel simple and fun for them.
This small crate comes complete with a convenient shoulder strap which means that you're then able to pick up your pooch and carry them still in the bed to and from your car without disturbing them.
The design's domed top has the option to be removed if you wish, and that gives you scope to turn the carrier into a bed once you're done with travelling. The beauty of this is that your pet will be familiar with the bed if they use it daily at home, so they will feel relaxed, meaning they can enjoy being in the car more.
The interior bedding is removable and washable, while the foam liner is water-resistant, so this carrier gives you longevity if until your puppy grows out of it, or a permanent accessory if you own a small dog.
Petmate Sky Kennel Portable Dog Crate
The Petmate Sky Kennel is an excellent choice for dogs who like to sleep in their carriers. It has plenty of ventilation and folds down easily when not being used, making it perfect if you need something portable or want more space inside your car! It can be a great choice for your small dog breeds.
The firm construction of this crate gives you the peace of mind that your dog is going to be secure and perfectly safe during transport. This model has been deemed the gold standard for pet travel, giving your pet the opportunity to feel perfectly at home even they are on the move.
Other features include the crate's dual food/water cup to keep them fed and watered. What's additionally quite appealing for many dog owners is the crate's eco-friendly quality as it's made using recycled materials.
A4Pet Soft Collapsible Dog Crate and Kennel with for Indoor or Travel Use
If you're in the market for a decent size soft-sided crates, then A4Pet have your back. This particular crate is one that will neatly fit into the back most cars so that you have space in the back seats for children, shopping, luggage, etc.
You can benefit from the popup, fold-out feature for ease of use, and the heavy-duty outside makes it a go-to preference for dogs who are joining their owners of camping trips for example. What's more, the tougher material used to make this crate helps safeguard against dogs who like to chew and wear things out.
You can also make the most of the convenient side and a top entrance available that come in handy when the carrier is placed on higher/lower levels.
Carlson Foldable Wire Crate
Offering owners of small dogs three great features; durability, stability and foldability, this versatile metal wire crate from Carlson brings you a totally secure space for your four-legged friend to rest easy in.
This is perfect for those who like to store things away when not in use, or for anyone who needs the room. This collapsible crate comes complete with a multi-point locking system with a single door located at the front to provide easy access as well as much-wanted peace of mind.
Thanks to its folding capabilities, the Carlson dog crate allows owners to travel with ease when they use this crate, both when in use and when it's not.
The collapsible dog crate can be swiftly set up, with little to no fuss whatsoever, allowing you to house your pup in there in no time at all.
Sleepypod Air
Your pooch will always travel in first class when you choose the Sleepypod Air. The carrier's superb design means your dog can stretch out with nothing but the utmost comfort during your trips.
Built with quality and durability in mind, using ballistic nylon and zipper pockets, traveling pet owners can transport everything they ease, while still ensuring that pups are happy and secure throughout.
The ultra cosy and comforting bedding gives your dog the ideal space to relax while in transit too. Extra features such as the top and side openings allow for simple access, should you want to reassure your pet, or smooth them down while they are inside. There's also a nicely padded shoulder strap for carrying your pooch between destinations.
The carrier can be used in conjunction with car seat straps so that you securely fastening them in with a seatbelt is available. The Sleepypod Air also doubles as a super-comfy bed so that you don't have to pack both with you on your travels too.