How to Choose a Bike for Traveling with a Dog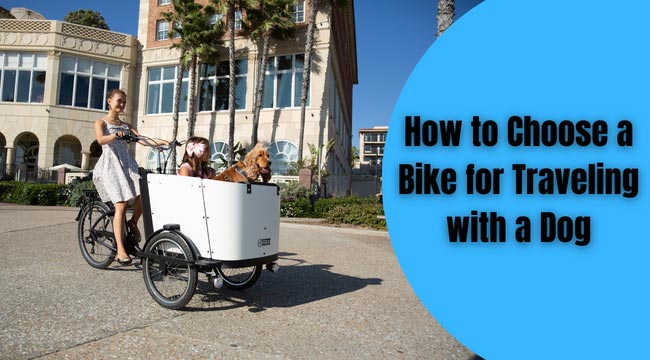 A dog's boundless energy makes them the perfect companion for lots of outdoor adventures. And if you do plenty of walking and running together, then you've probably considered taking them along on bike rides. But between the bike itself and your dog's personality, there's a lot to do before you get them involved.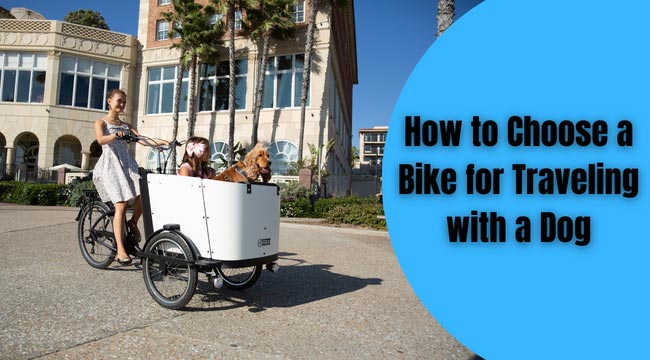 That's why we're here to help you choose the best option for riding around with your furry friend. We'll give you the rundown of everything from the different types of bikes for dogs to getting your pooch ready to ride. No matter how big or small they are, there's a bike out there that can fit them perfectly.
Read More:
Different Types of Bikes for Dogs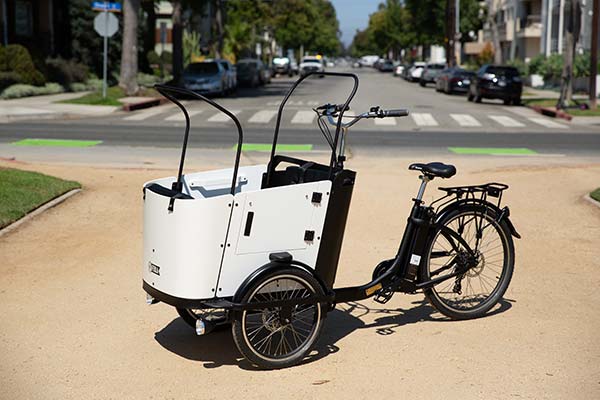 Bike With a Basket
When you think of biking with your dog, a standard bike with a dog basket up front might be the first model that comes to mind. This one is ideal if you have a smaller dog or even a cat if they enjoy riding with you. All you'll have to do is put them in the basket, secure them, and get on the bike yourself. Unfortunately, it's also not quite big enough to fit most dog breeds. And the added front weight makes this one the least stable option of the three.
Bike With a Trailer
If your dog is small to medium-sized, then consider getting a trailer for your bicycle. This setup works for most models, provides a decent amount of space, and can even be covered to protect them from the elements. Not to mention that it's also very stable and can protect your dog from on-coming traffic. Although, because they're behind you, you'll have a much harder time keeping an eye on them. And unless your bike has electric assist, you may have some trouble towing it.
Cargo Bike
Standard cargo bikes have large front compartments that can easily fit one or two small children, along with a wheel on either side. This reverse tricycle design works perfectly for dogs of all sizes, and is especially good for larger dogs. Its large front compartment features seats and seatbelts for added comfort and safety. And if you have a small child, they can ride in the front with the dog. It's also great if you have multiple dogs, as it can fit up to four smaller or two larger breeds. It's also the most expensive version of the three and also requires special maintenance. And there may be a slight learning curve if you're not used to riding one of these.
Things to Keep in Mind
The Size of Your Dog
As you can see, there are several different options that work for small, medium, and larger sized dogs. Furthermore, some bikes can fit even more sizes than others. Unlike a basket or trailer, a cargo bike can fit dogs of almost any size. And if your family has a mini poodle and a labrador who both love riding, then this is the best way to take them both along.
How Many Dogs Do You Have?
A bike with a dog carrier can only fit one small canine, so a trailer or cargo bike are your best choices. However, cargo bikes are especially handy if you have at least two dogs at home. Not only is its front compartment large enough for multiple sizes, but its inclusion of seatbelts means you can also attach safety gear for up to four smaller dogs.
Your Dog's Behavior
Although there's a bike out there for any size dog, they won't all be as excited about riding as you are. Some won't sit still, get too excited, and might risk injuring themselves or you during the ride. Others just don't like the sensation of being driven around and will cry or panic the whole time. Remember, this is supposed to be a fun experience for both of you. So don't force your dog to go on rides if they really don't enjoy them.
Your Environment
Your neighborhood and living situation also play a huge role in whether you ride with your pet. Consider how much storage space you have back at home. And pay attention to whether you live in an area where you can comfortably take your dog out for a ride all the time. Take a good look at your surroundings every time you take them for a walk. This way, you can determine how well they would react during bike rides around all these same areas.
Biking Accessories
Any good pet owner knows you can't just stick them in the compartment and call it a day. You need to really make sure that they stay safe and secure throughout the entire ride. A trailer or cargo bike usually comes with a canopy. Furthermore, some cargo bikes even have rolling cages to protect passengers in case of an accident.
Getting Your Dog Involved in Bike Riding
There's a lot to consider when getting your dog involved in a new activity, such as biking. So we wanted to leave you with a few things to keep in mind when purchasing a bike for the both of you.
Get to know your dog before you involve them in certain outdoor activities. Test the waters to see what they like and don't like, and don't force them to do something they won't enjoy.
Make sure you have all the necessary safety features to keep your dog secure throughout the ride. This includes a harness you can attach to the basket or seatbelt and a canopy or cover for when it starts to rain.
If possible, take your dog with you when going for a test run. See how they react when riding around, and go on very short trips at first, just to get them used to it.
It may take some time to figure out which of these bikes works best for the two of you. But once you finally figure it out, then the two of you can enjoy riding together whenever you want.