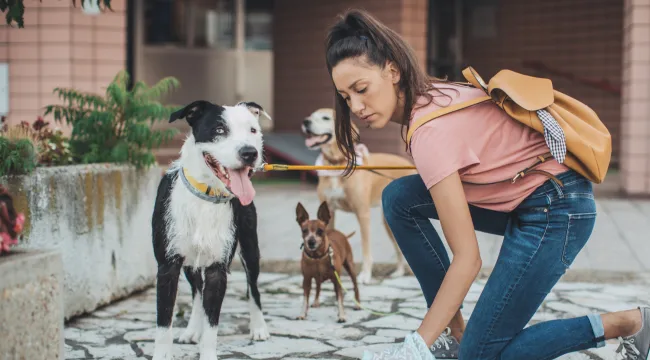 PetDogPlanet.com is an Amazon Associate, and we earn from qualifying purchases.
Dogs are beloved companions that bring joy and unconditional love into our lives. However, when we need to travel or leave home for extended periods of time, finding the right care for our furry friends can be a challenge. Traditional dog boarding facilities can be stressful for dogs, who may feel isolated and anxious in a new environment.
WoofConnect offers a unique solution to this problem by providing a platform for dog owners to connect and arrange dog-sitting exchanges with each other. This concept, often referred to as "dog home boarding," allows dogs to stay in a sitter's private home, where they can receive individualized attention and care in a familiar setting.
Why Should You Hire a Pet Sitter?
Opting for a dog sitter offers a range of benefits that contribute to the well-being of your canine companion. Unlike kennels, which might expose your pet to unfamiliar surroundings, a dog sitter provides care in the comfort of your home. This familiar environment can significantly reduce stress and anxiety for your furry friend.
One of the key advantages is the personalized attention your dog receives. A dog sitter can tailor their care to meet the specific needs and preferences of your pet. Whether it's a particular feeding schedule, favorite play activities, or specific training routines, a dog sitter can maintain consistency, promoting a sense of security for your furry friend.
Last update on 2023-12-01 / Affiliate links / Images from Amazon Product Advertising API
Professional dog sitters are often experienced in handling various breeds and temperaments. This expertise allows them to adapt to your dog's personality and provide the appropriate level of interaction, ensuring a positive and enjoyable experience. Additionally, a reliable dog sitter can recognize signs of distress or health issues early on, addressing them promptly and potentially preventing more serious problems.
Choosing a dog sitter also eliminates the risk of your pet being exposed to illnesses from other animals, as can happen in communal kennel settings. Your dog stays within the safe confines of its home, reducing the likelihood of contracting contagious diseases.
Furthermore, having a dog sitter offers the added benefit of home security. The presence of someone regularly coming and going can act as a deterrent to potential intruders, providing an extra layer of protection for your property.
How to Choose a Dog Sitter
When choosing a dog sitter, it is important to do your research and find someone who is trustworthy, experienced, and qualified. Here are a few tips:
Ask for recommendations from friends, family, or your veterinarian.
Read online reviews of dog sitters in your area.
Schedule a meet-and-greet with the dog sitter before you book their services. This will give you a chance to get to know the sitter and make sure that they are a good fit for your dog.
Tips for a Successful Dog-Sitting Exchange
Once you have found a dog sitter, there are a few things you can do to ensure a successful exchange:
Provide the sitter with as much information as possible about your dog, including their feeding schedule, exercise routine, medication needs, and any behavioral concerns.
Leave the sitter with a copy of your dog's vaccination records and emergency contact information.
Be sure to pack your dog's food, bedding, toys, and any other items they need.
Stay in touch with the sitter while you are away. They can send you updates and photos of your dog to give you peace of mind.
WoofConnect: Making Dog Home Boarding Easy
WoofConnect makes it easy to find and connect with dog sitters in your area. The platform allows you to create a profile for your dog and search for sitters who have experience with your breed. You can also read reviews of sitters and message them directly to ask questions and arrange a meet-and-greet.
Conclusion
Dog home boarding is a great option for dog owners who are looking for a more personalised and stress-free boarding experience for their furry friends. WoofConnect makes it easy to find and connect with dog sitters in your area, so you can rest assured that your dog will be well-cared for while you are away.
Here are some additional benefits of dog home boarding:
It's more affordable than traditional boarding facilities.
It's more convenient for dog owners. Many dog sitters offer to pick up and drop off dogs at their homes.
It's a more sustainable option. Dog boarding facilities often generate a lot of waste, while dog home boarding has a smaller environmental impact.