10 Best Dog Food for Dachshunds
Dachshunds are one of the most popular breeds for pets in North America.
Their little legs and their long Weiner shaped body has earned them their distinct reputation and name of "Weiner Dog".
Their personalities are friendly and loving, and their little legs make them irresistible for many pet owners.
While their small legs and long torso was bred specifically to hunt burrowed animals (like rabbits) to accompany hunters, they are now more of a source for aesthetics than function.
Their unique structure does pose some challenges with joint and bone health.
Their low-hanging bellies also make them specifically prone to underbelly skin irritations and infections.
This is why it is important to pick the best dog food for Dachshunds.
In this article, you can find our well-researched list of best-quality and specialized dog food for Dachshunds, along with our buying guide and FAQS.
So keep reading and find out the best of the best dog food for your little friend.
Read More:
1. Royal Canin Breed Health Nutrition Dachshund Adult Dry Dog Food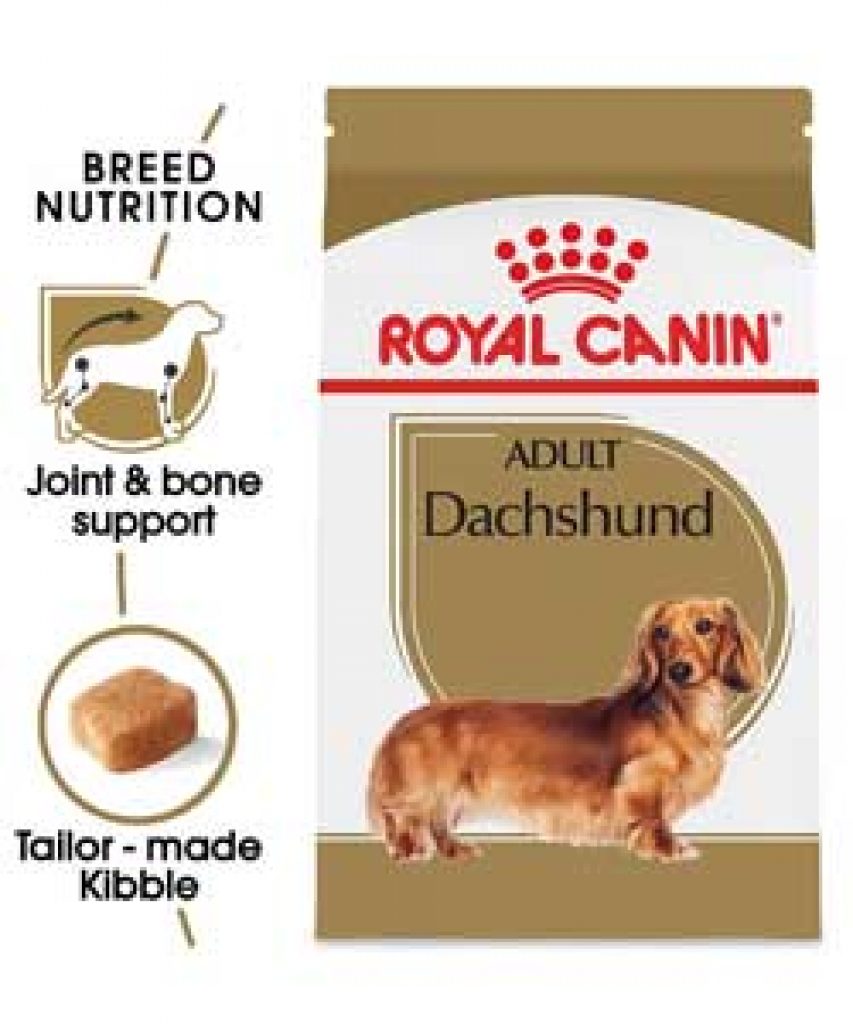 There is no better food for a Daschund than food specifically designed for them.
Royal Canin is a reputable brand known for its excellent quality and scientific approach to formulate their health nutrition dog foods.
It will come as no surprise they have formulated a dry dog food category specifically designed for Dachshunds.
They designed and produced this formula keeping the miniature Daschund's physical features in mind – their small legs and long torso and the special support they need for joint and bone health.
This balanced diet nutrition will have the carbohydrates, proteins, fiber, vitamins, minerals, and supplements that promote an adult Dachshund's overall health.
Each kibble provides all the nutrients required for joint and bone health and boosts immunity for Dachshunds.
PROS
Contains Calcium and Phosphorus for joint and bone health
Designed for adult Dachshunds for 8 months to 10 years old
Contains easily digestible proteins and fiber
Keeps stool size small and odor-free
Cons
This dog food might contain meat by-products.
What did we think of it?
This is likely the best food choice for Dachshunds as it is specifically formulated for them with their physical features and breed-specific special requirements in mind.
Their high-quality ingredients and formulation make Royal Canin Breed Health Nutrition Dachshund Adult Dry Dog Food one of the best Daschund dog food in the market.
2. Eukanuba Breed Specific Adult Dog Food – Dachshund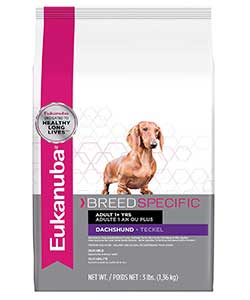 Eukanuba is another great brand of dog food known for its quality and reliability.
They have another specifically for Dachshund breed. They have carefully formulated the right nutrients and ingredients that support optimal health for our small legged little Dachshund furbabies.
Their unique 3D Dentadefense system was formulated keeping small dog breed oral health issues in mind.
Small dog breeds are prone to tartar build-up and oral health issues. This dental defense system promises to reduce tartar build-up in 28 days.
They also formulated a fiber system with the use of natural Beet pulp and Prebiotic Fos to aid with digestion and keep digestive health optimal for Dachshunds.
They also added L-Carnitine And Natural Taurine to their formula – this promotes heart health.
PROS
Prebiotic Fo's fiber system to aid with digestion for Dachshunds
3D Dentadefense system fights tartar and improves oral health
Calcium for bone health
L-Carnitine and Natural Taurine to promote heart health
Dachshund specific formulation
<Cons
This dog food is expensive.
What did we think of it?
Their 3D Ddentadefense system and the Prebiotic Fos digestive fiber system sets this product apart providing a holistic approach to support all aspects of Dachshund health.
This along with the heart-healthy ingredients offer long term health benefits that will become more apparent as your Dachshund ages.
Their formula also includes irresistible flavors that even the pickiest pup cannot resist.
3. Hill's Science Diet Perfect Weight Dry Dog Food – Small and Mini Adult Breeds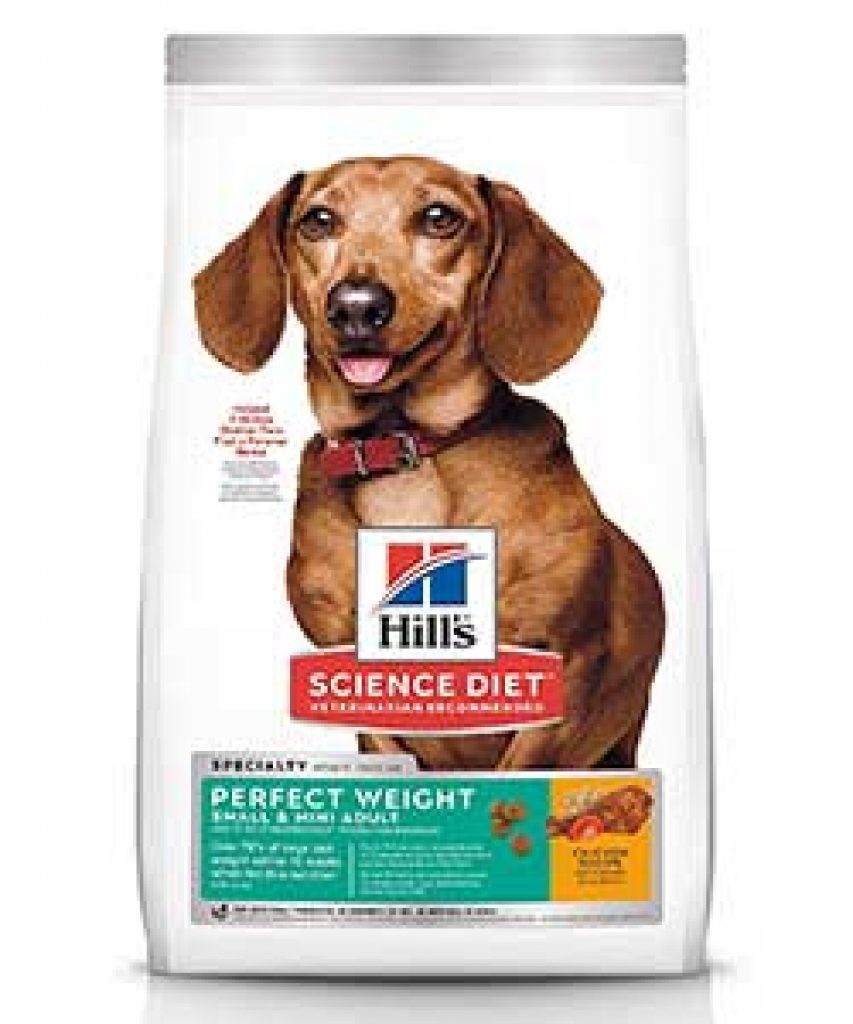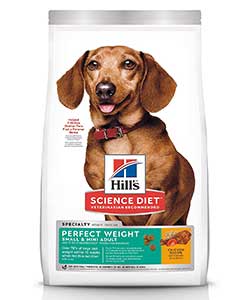 Dachshunds are prone to weight gain and carrying excessive weight in their torsos as they age.
Because of their tiny legs, excessive exercise is not always the right answer if you are attempting to reduce their weight.
This is where Hill's Science Diet Perfect Weight Dry Dog Food comes handy.
Hill's Science Diet is one of the top brands recommended by veterinarians.
This brand's claim to fame has been using only natural ingredients in formulating its products.
This specific formula uses regulated protein levels, and scientifically designed to help with weight loss. This diet plan has been effective for 70% of dogs for weight loss.
PROS:
Regulated protein formula to promote weight loss
Helps in promoting weight loss in 70% of dogs
Natural ingredient formulation
Ideal for small and mini breeds and works well with households with multiple small dogs of different breeds including Dachshunds
Cons
This food is not specifically designed for Dachshunds.
What did we think of it?
Although not specifically designed for Dachshunds, this formula is uniquely positioned to aid with weight loss plans for Dachshunds.
The formula feeding guidelines also fit perfectly for Dachshunds as they are meant for small or mini breeds.
This formula is ideal for households with multiple small and mini dogs of different breeds.
This product is ideal for achieving weight loss targets to keep your Dachshund healthy and happy well into their senior years.
4. Royal Canin Adult Dachshund Canned Dog Food
If your Dachshund is a fussy eater and wouldn't touch dry kibble food, there is some relieving news.
Royal Canin has also formulated a canned wet dog food formulated for adult Daschunds.
The formula is designed to promote joint and bone health.
Their EPA and DHA enriched ingredients support and strengthen the long backbone of Dachshund.
The L-Carnitine and lean protein compositions of the formula also help maintain strong muscles.
PROS
EPA & DHA to help the backbone
L-Carnitine and Lean protein to help muscle strength
Irresistible taste for Daschund and can be used to boost appetite or make dry kibble acceptable.
Cons
This dog food is more on the expensive side.
What did we think of it?
We liked that this provides a wet food alternative or add-on for a Dachshund.
The EPA/DHA fortification and the L-Carnitine additions promote bone and joint health and strengthen muscles – helping the body type of a Dachshund.
5. Royal Canin Breed Health Nutrition Dachshund Puppy Dry Dog Food
This is an excellent Dachshund puppy food option. Dachshunds are prone to developing joint and bone pain issues as they age.
This formula by Royal Canin is specifically designed to promote bone growth and joint fortification.
This formula is perfectly balanced for a small breed puppy aiding them in the growth of the puppy to give them a good start towards healthy adulthood.
The antioxidants and probiotics in this formula help with puppy development stages.
PROS
A puppy formula specifically designed for a Dachshund puppy
Enriched with Vitamins E & C
Exact levels of Calcium and Phosphorus required for puppy growth
Enriched with lutein, taurine, antioxidants, and probiotics
Cons
This food contains meat by-products ingredients.
What did we think of it?
We love that this product offers a formula specifically designed for a Dachshund puppy.
This is a perfect formula to start off a puppy in the first few months to help with the growth and development of a Dachshund dog.
The kibbles are also soft enough to be chewed with little puppy teeth.
6. Wellness Complete Health Natural Dry Small Breed Dog Food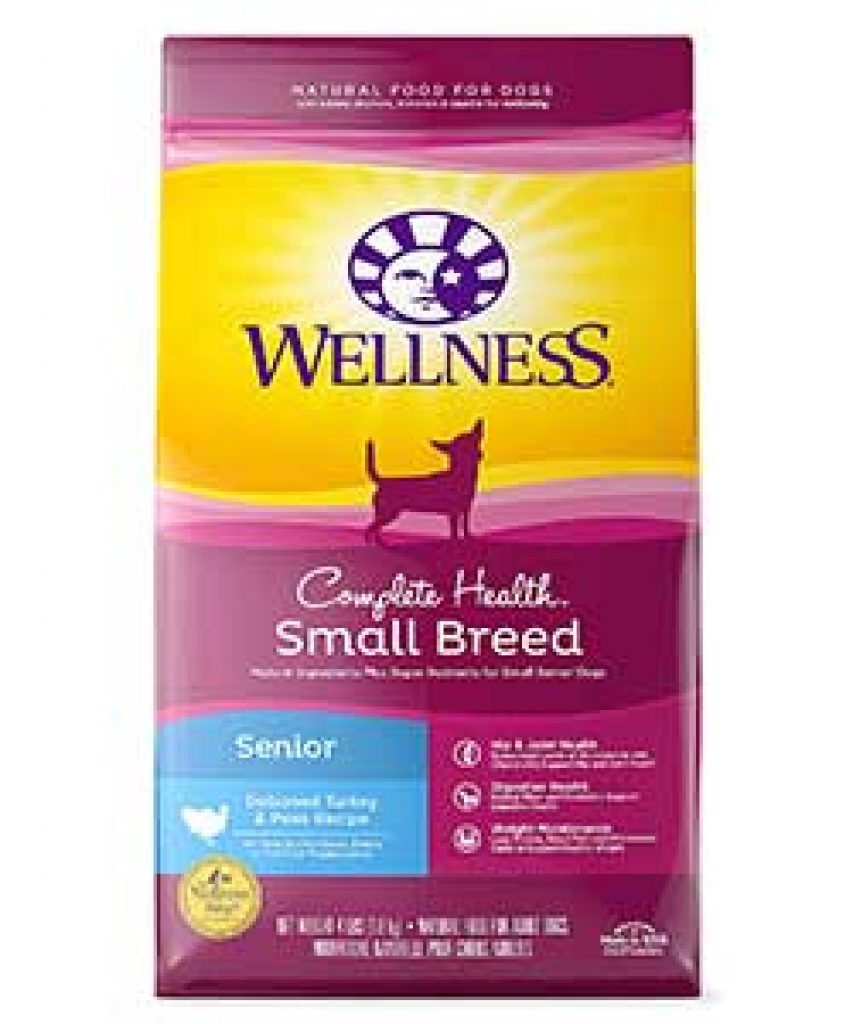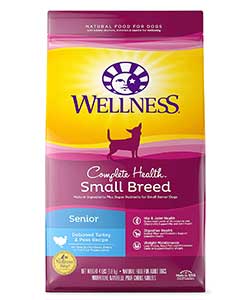 Wellness had to make it to our top 10 list. Wellness is known for its high-quality and strictly-natural ingredient formulation of dog food.
Wellness Complete Health Natural Dry – Small Breed Dog Food uses a deboned turkey and peas as natural sources of protein.
Turkey is gentle on sensitive stomachs and delicate digestive systems.
The formula also contains Glucosamine and Chondroitin that is excellent for bone health and the backbone.
Because of the long torso and short legs, Dachshunds require strong bones and joints to carry their little bodies.
PROS:
All-natural ingredients with no fillers
Deboned turkey meat and peas as primary sources of protein
Glucosamine and Chondroitin for bone and joints health
No animal by-products
Cons
Might cause some dogs to develop gassy issues, but it is likely to pass within a few days.
What did we think of it?
We love that this product offers an all-natural food option for Dachshunds.
The fact that they use turkey meat makes them ideal for dogs with sensitive stomachs.
Their small breed formulation makes them perfect for Dachshunds.
The absence of animal by-products and fillers definitely makes them one of the most healthful products out there for Dachshunds.
7. "I and love and you" Naked Essentials Grain-Free Dry Dog Food
If you are a pet parent who wants to keep your Dachshund's diet grain-free, this product offers you that option.
This manufacturer's formula is completely 100% free of grains, and fillers or artificial preservatives and chemicals.
Their product also only uses real meat products and not byproducts.
The formula includes fish oils and flaxseeds that provide Omega 6 that is essential for good skin and shiny coats.
It is also good for the skin that is prone to allergies and infections.
Dachshunds can be prone to skin conditions, so anything that boosts their skin and coat health is ideal.
Their products come in various flavor profiles: chicken, salmon, trout, duck.
They also offer a puppy formula so you can easily transition from puppy food to their adult formula. The flavors will keep your dog interested in the kibble.
PROS:
100% grain-free and free from artificial flavors, chemicals, or preservatives
Fish oils and flaxseeds in formula promotes healthy skin and coat
Different flavor profiles
Good for Daschunds with allergies
Cons
Not suitable for dogs allergic to meat.
What did we think of it?
We love that this product offers a grain-free all-natural alternative for small breeds like Dachshunds.
The focus on skin and coat health also is a huge positive.
The different flavor types keep the kibble interesting for fussy eaters.
8. Hill's Science Diet Adult Oral Care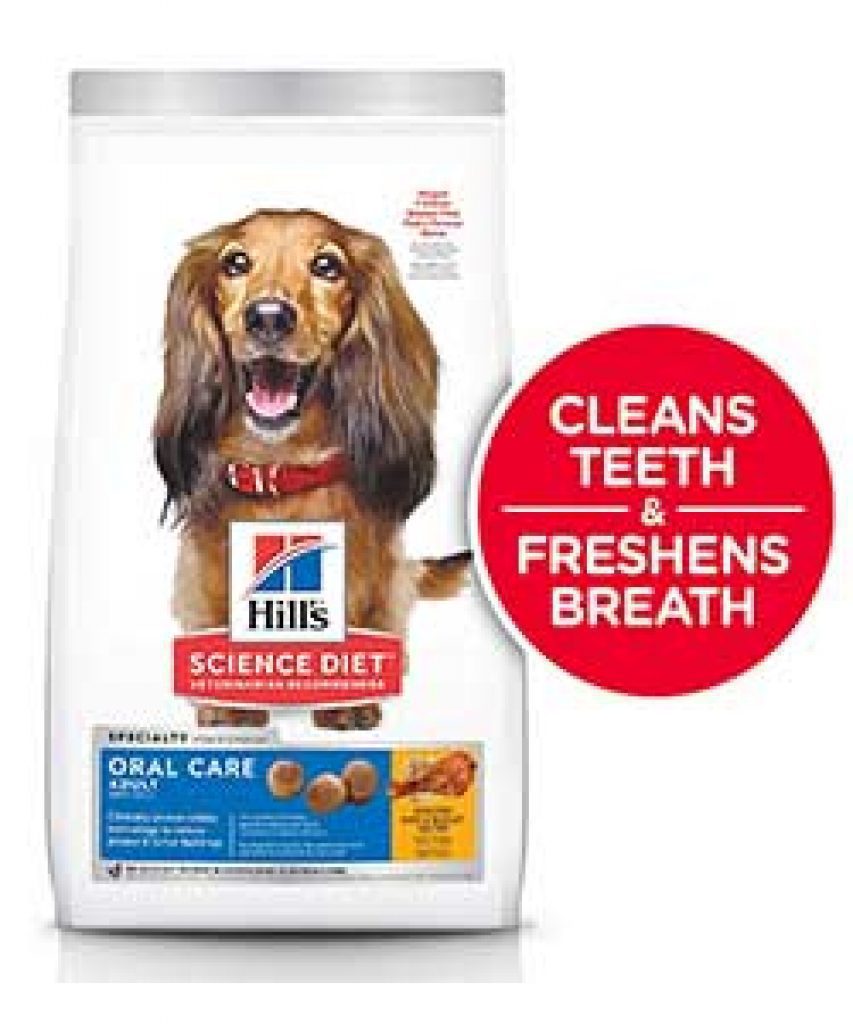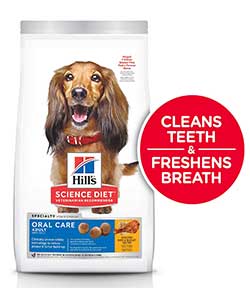 If your Dachshund happens to be prone to oral health issues like tartar, plaque, and bad breath, this product will be your favorite.
HIll's Science has used an interlocking fiber technology in designing the kibble so as the dog chews on the kibble it works in scrubbing off tartar and plaque from the dog's teeth. 
Each chewing motion also helps prevent plaque build-up – which goes a long way in maintaining good oral health.
The product is also comes packed with delicious chicken flavors and vitamin E and Omega 6 fatty acids which helps in maintaining healthy skin and a shiny coats.
PROS:
Interlocking fiber technology to prevent tartar and plaque build-up
Vitamin E & Omega 6 fatty acids essential for a shiny coat and good skin
Fights bad breath and cleans teeth
The formula includes real chicken
Cons
More expensive than other foods for dogs
What did we think of it?
We love that this product focuses on oral health care.  For pet parents with dogs with troubled teeth and breaths, this product would be ideal. 
You can rely on the high-quality ingredients of Hill's Science Nutrition while also addressing serious oral health issues.
Preventative measures for oral health will save you a ton of money down the road in vet bills.
9. Hill's Science Diet Small Paws for Small Breeds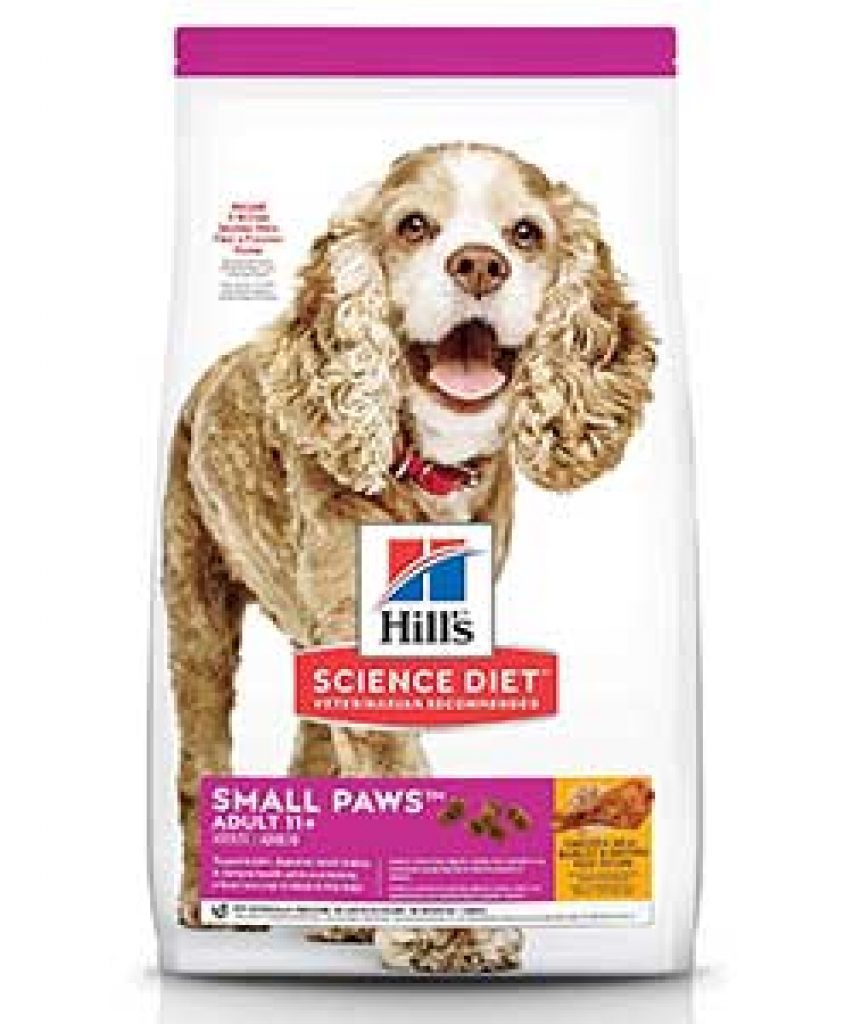 We have looked at dog food ideal for puppies and adults so far.
This formula is for the aging senior Dachshund. They have been such great dogs over the years providing unconditional love and joy to you and your family.
It is only fitting you get them dog food that helps them cope with the aging and live happy lives in their senior years.
This small breed senior dog formula contains ingredients good for cardiac health, kidney and bladder health, and maintains healthy skin and coat with Omega 6 fatty acids.
PROS
Chondroitin and Glucosamine supports bone and joint health
Provides support for cardiac, kidney and bladder health
Omega 6 maintains healthy skin and coast for senior dogs
Kibble sizes are well designed for senior dogs who have trouble chewing
Cons
This is a bit more expensive than the other dog foods
What did we think of it?
This is a perfect formula to help your aging senior Dachshund.
The formula contains ingredients and minerals that maintain good cardiac health, kidney and blatter functions, and supports the aching joints and bones of a senior dog.
10. Purina Bella Natural Bites for Small Dogs Adult Dry Dog Food
This product made it to the list for the budget-conscious Dachshund parents.
Purina is a brand that comes in at a lower price point but still packs in their formula with real ingredients like chicken, beef, sweet peas, and spinach.
Their formula has all the carbohydrates, protein, fiber that provides all the nutritional needs for small dog breeds.
The tartar fighting kibble is designed for easy chewing for tiny jaws of our small breed dogs.
This brand has proven that you don't need to spend a lot of money to buy quality ingredients that are free from artificial fillers and chemicals.
PROS
Budget-friendly price
Real ingredients like chicken, beef, sweet peas and spinach
The perfect nutritional formula for small dogs
Kibbles are designed for easy to chew for tiny dogs and still fight tartar
Cons
Not suitable for dogs who are allergic to meat.
What did we think of it?
We have put this formula on the top 10 list because of its budget-friendly price point.
Expensive dog foods are sometimes not affordable for many pet parents.
If you want to provide your Dachshund quality food but still keep the cost manageable you will love this product.
The real ingredients and lack of fillers or preservatives were ideal as well.
Conclusion
We have put together a list of the best dog food for Dachshunds.
We have provided an option for all life stages and sensitivities of Dachshunds and also for budget-conscious pet parents.
You cannot go wrong with any of these products. Aside from personal preference, the specific composition of your pup's health will help you pick which one goes best for you and your dog. Happy pooch parenting!