Best Food for Dogs With Sensitive Stomachs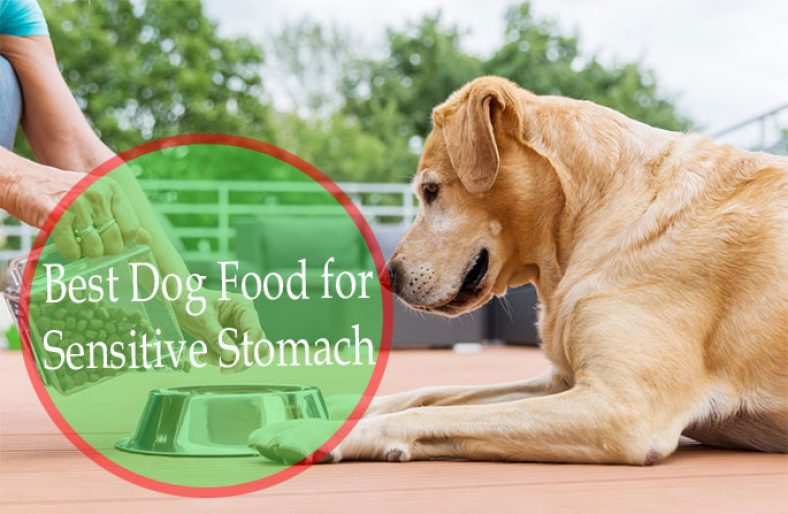 Food is the lifeline that we animals have that keeps us alive and give us the necessary energy to survive.
For development, growth, nurturing, for all of us that we need healthy and compatible food.
This same logic is also applied to our dogs and pups. But what happens if those common food are rendered harmful to them?
This is due to their stomachs being sensitive for one health reason or another. Causing them severe digestion issues, among other issues.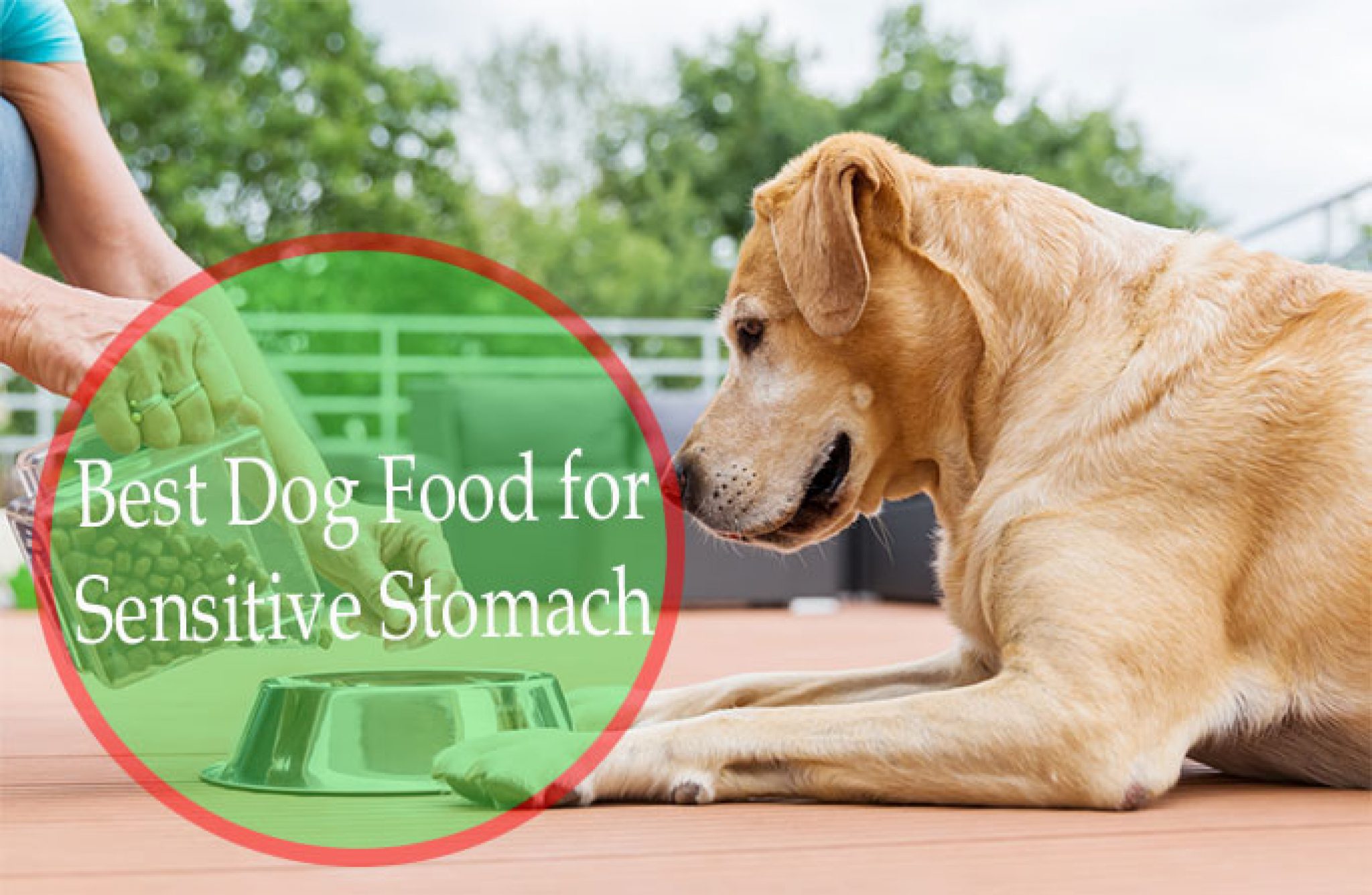 So our dogs end up trying their best to cope up with those restrictions in their bodies. The best way to control this situation is to give them an uncommon or special diet that won't affect their stomachs and keep them happy.
Does that mean you have to cook up some concoction in your home to keep your pup safe?
Well, that all depends on the proper diagnosis of your vet. And according to that, you can formulate your diet plans for your dog. And this plan starts with specially made dog food for sensitive stomachs.
Fear not! The dog food market has your back in this regard. There are many dog food products out there for dogs with special conditions, such as sensitive stomachs. And on top, they are healthy and delicious for your dog. And here is the best dog food for sensitive stomachs list recommended by us for your convenience.
Here are our top picks for the best dog food for a sensitive stomach:
Best Dry Dog Food for Sensitive Stomach
The most common type of dog food is dry dog food which is in kibble or other forms. These are, in general, better for adult or senior dogs, but dry puppy food is also available.
1. Purina Pro Plan Focus Adult Dog Food for Sensitive Stomach
"Purina Pro Plan Focus Adult Dog Food for Sensitive Stomach" is a highly digestible and nutrient-rich formula that does wonders for your dog's stomach and overall health.
Prebiotic fiber formula, rice, and oatmeal give the dog a super digestive intestinal wall by Enhancing the bacteria residing in it.
Salmon as the first ingredient gives it amazing nutritional properties, as well as omega-3 fatty acids.
It contains no soy, corn, wheat, peas. Containing almost no allergenic ingredient, it has 26% protein, 4% fiber, 16% fat, and 12 percent max water content or moisture.
So, this is overall a great product for adult dogs.
2. Hill's Science Diet Adult Dog Food for Sensitive Stomach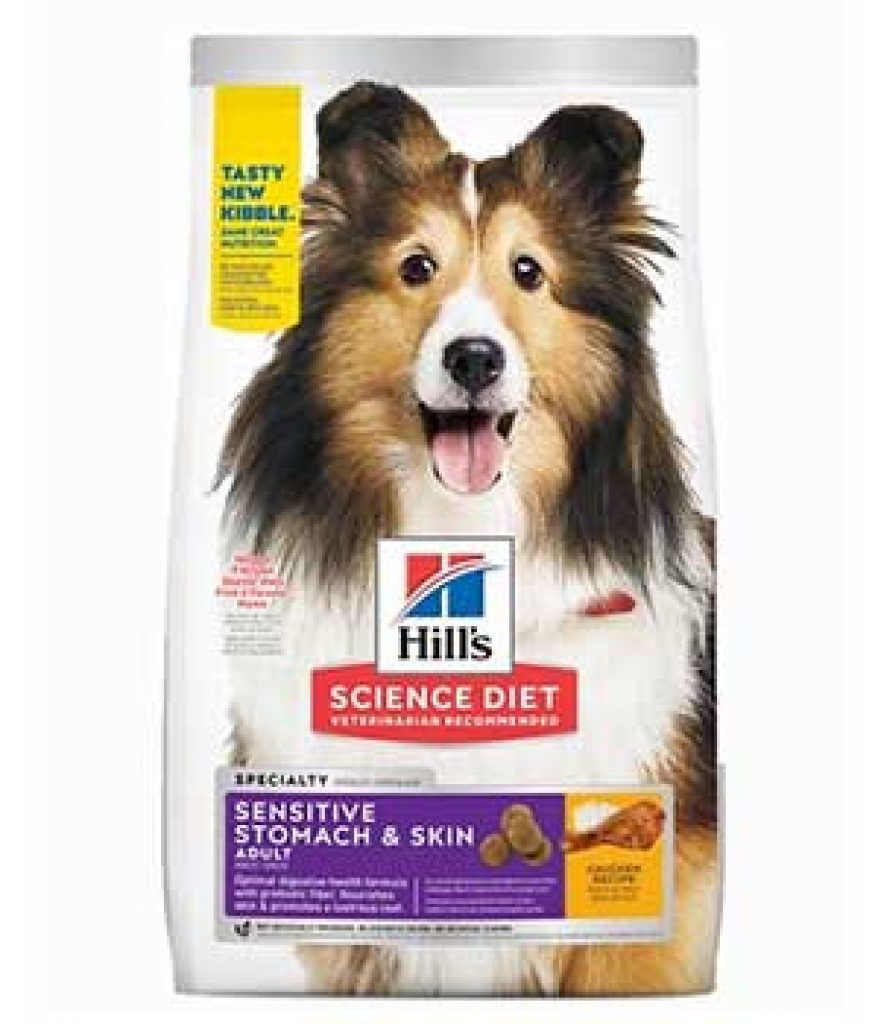 Hill's Science diet is for sensitive stomachs and also helps keep your dog's skin healthy.
Often simple formulas like these are best to keep it simple and effective. It has probiotic fibers to give the intestinal walls a digestive boost, which is great support for the microbiome/bacteria that digests food.
And to top it off, Real chicken is added to enhance flavor and give the much-needed proteins and nutrients for the dog's overall health.
This food is specifically made for adult dogs with 21% minimum protein, 12% minimum fat, 4% max fiber, and 10% water content/moisture. So it is highly recommended by vets.
3. Instinct Raw Boost Gut Health Grain-Free Dog Food for Sensitive Stomach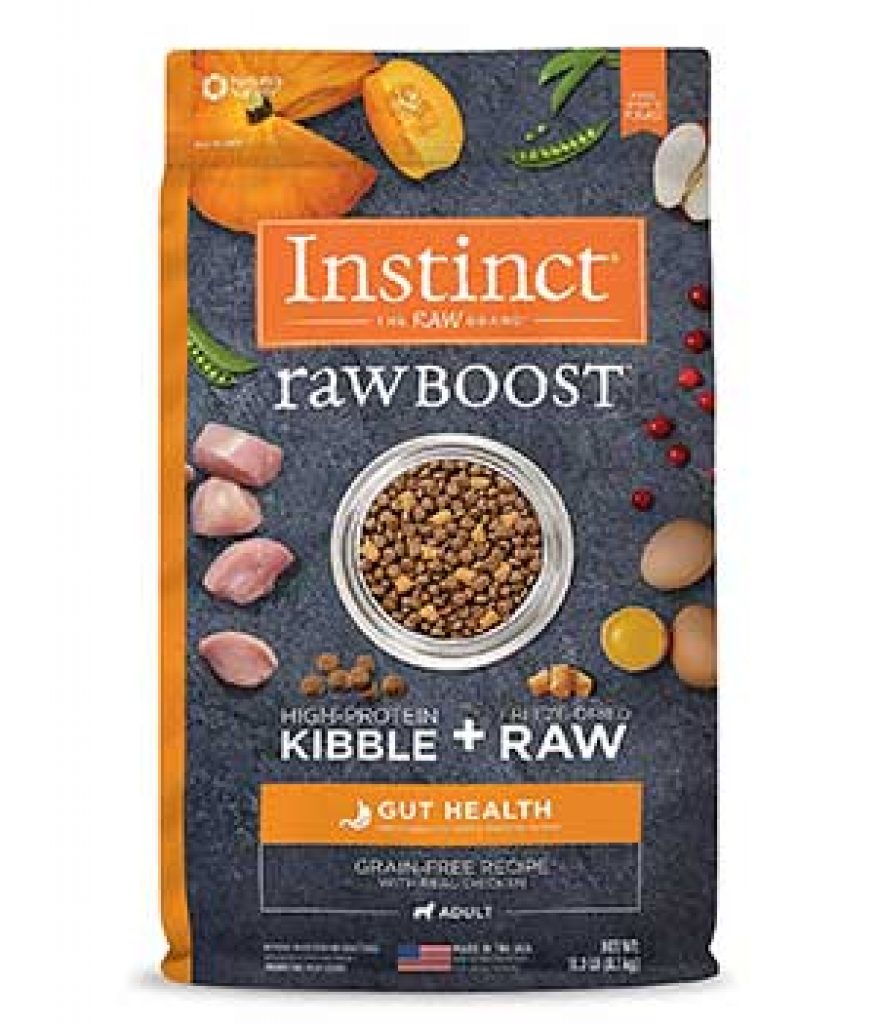 Instinct raw boost brings a high-protein diet with minimal processed whole food to keep the guts and body healthy. Its Freeze-dried raw chicken, fruits, and vegetables will make your dog healthy.
It contains a hefty combination of probiotics to enhance the growth of digestive bacteria in the intestinal walls.
"Instinct Raw Boost Gut Health" has no grains, corn, wheat, and soy, which is also good for allergic dogs.
Containing 31% minimum protein, 17% minimum fat, 4% max fiber, and 9% max water/moisture content. Solid dog food for stomach sensitivity.
4. CANIDAE All Life Stages Multi-Protein Formula Dog Food for Sensitive Stomach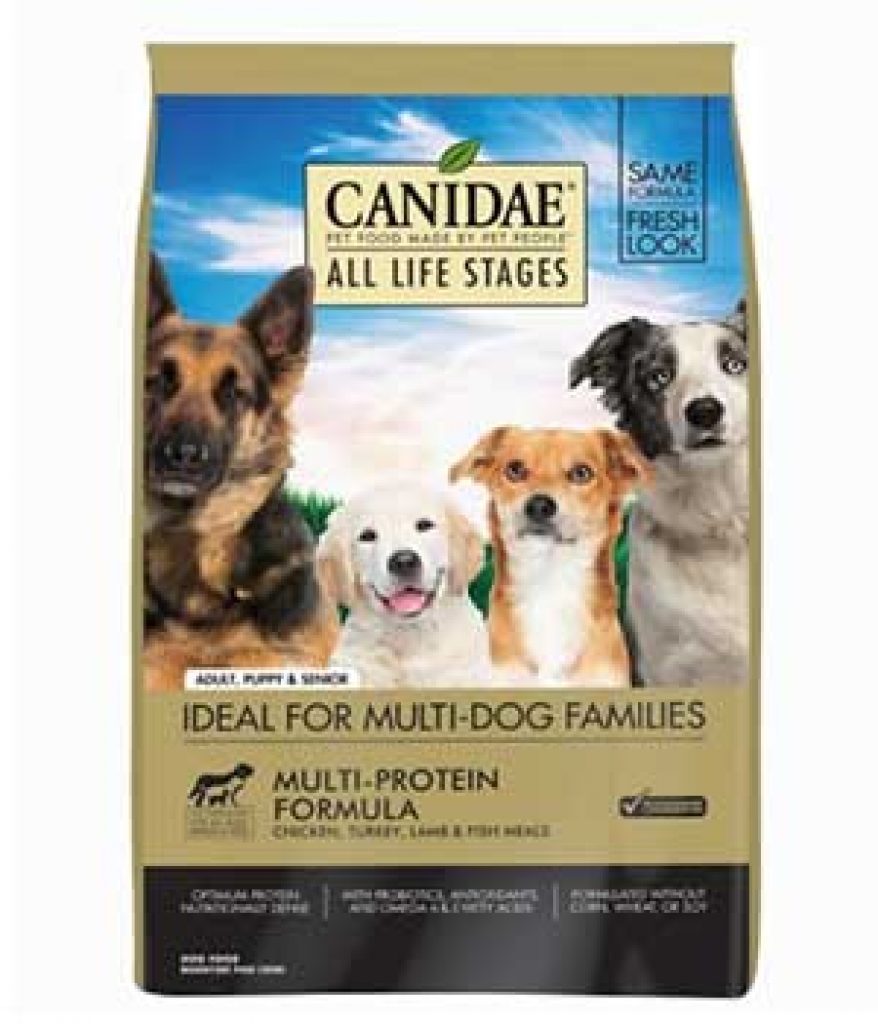 Canidae all life stages are versatile dog food that is suitable for senior dogs to puppies and all sizes. It has a concentrated form of proteins in the fish, lamb, chicken, and turkey for puppies as they are developing. It contains probiotics to keep the intestinal walls full of digestive bacteria. Antioxidants promote the overall health of your dog, especially for your senior dogs. It's convenient because you can avoid multiple different food products for your dogs if you have multiple.
It contains 24% minimum protein, 14.5% fat minimum, 4% fiber max, 10% max moisture/ water content. It is a great food if you have multiple dogs of different ages.
5. Halo Natural Supplements Dog Food for Sensitive Stomach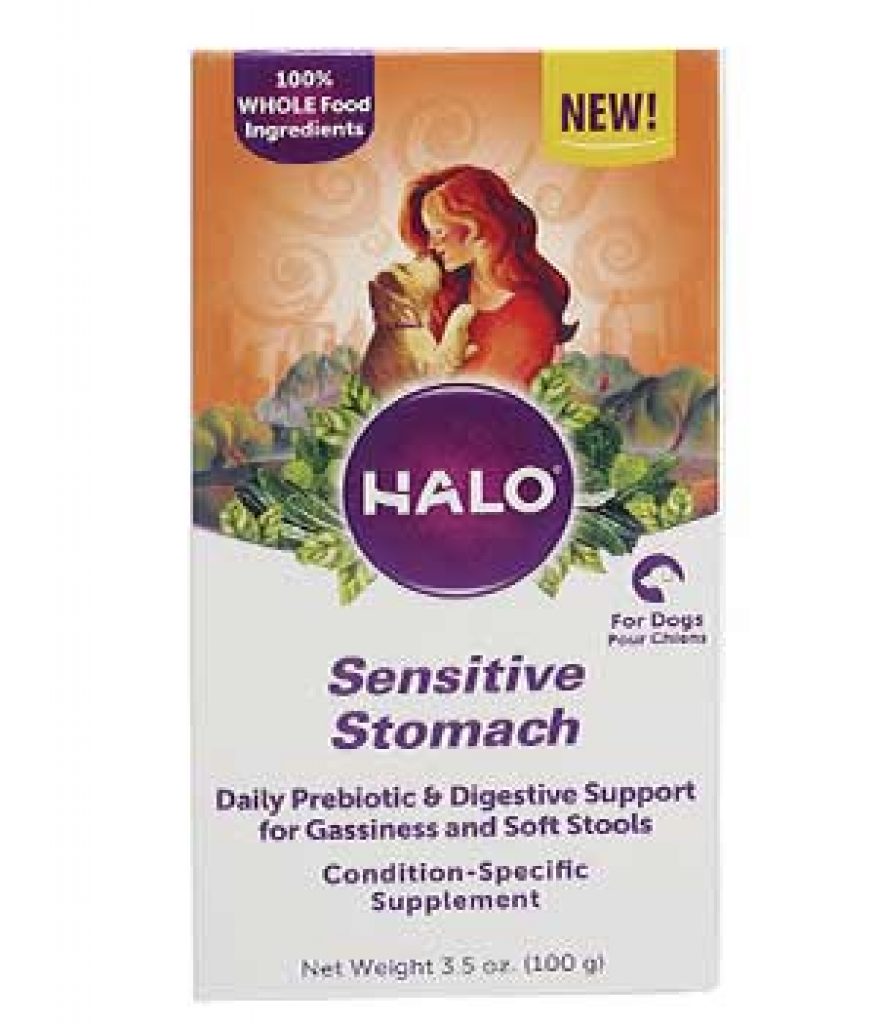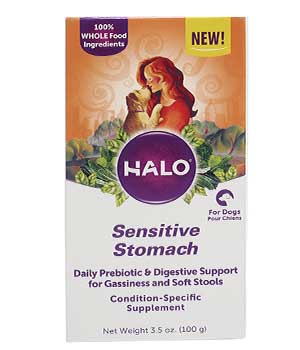 Halo holistic is a supplement based dog food. It has prebiotics for intestinal bacterial growth and a high concentration of fibers for softening the stool. Contains no sugar, fillers, and glycerin. Its well made to specifically promote the gastrointestinal health of dogs. Contains 8% minimum protein, 5% minimum fat, 25% max fiber, 5% max moisture/water content.
6. Diamond Care Sensitive Stomach Formula Adult Dog Food for Sensitive Stomach
Diamond care is specially made formula to keep the health of your dog and his stomach well. It's very digestible egg protein keeps any allergic reactions from happening and reacting badly with the stomach of your dog. Probiotics to keep the intestine healthy and promote the growth of the digestive bacteria for the sensitive stomach of your dog. This formula enhances the overall health of your dogs.
This contains no allergenic ingredients such as grain, soy, corn, pea, and wheat to keep your allergic dog safe. This contains 25% minimum protein, 13% minimum fat, 3% fiber max, 10% max water/ moisture content. It's recommended to give plenty of water with this formula. For more information read this article; HOW TO "RESET" YOUR DOG'S UPSET STOMACH.
7. Natural Balance L.I.D. Limited Ingredient Dog Food for Sensitive Stomach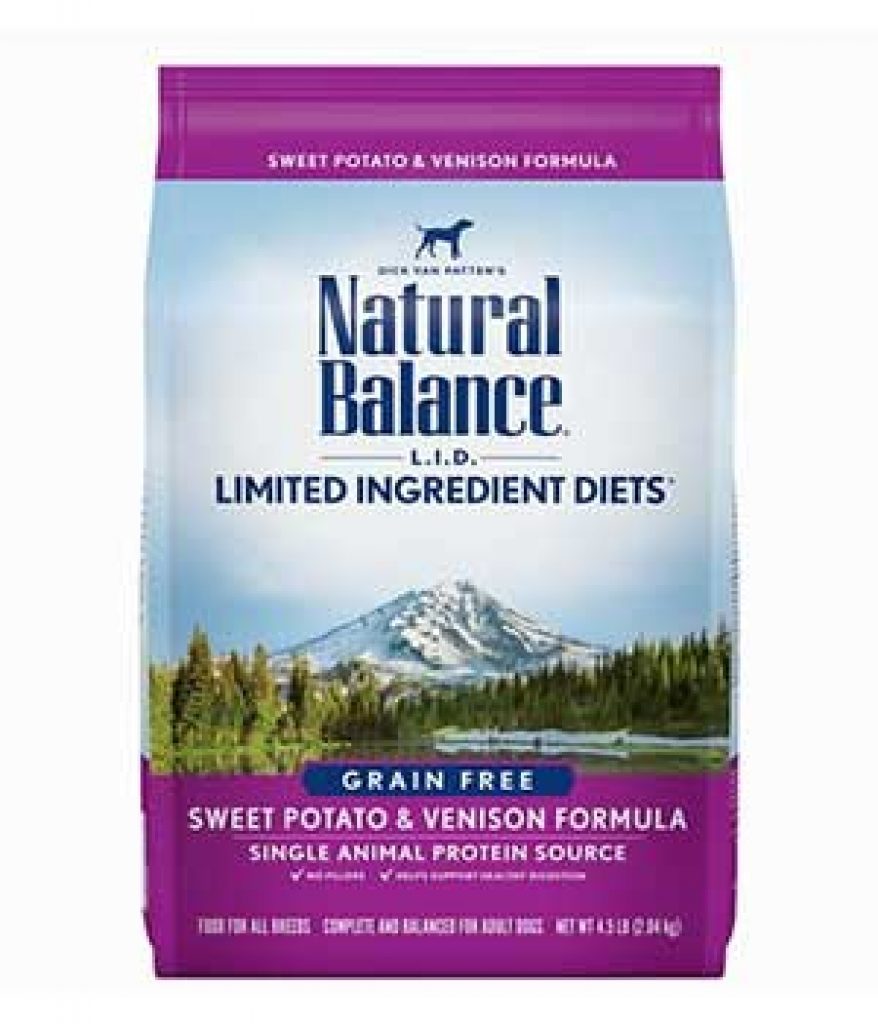 Natural Balance L.I.D. has sweet potato, venison dry as the main ingredients. It has a small number of selective carbohydrates and proteins to help the dogs digest easily. It has no grains, wheat, corn, or soy for allergic dogs.
Contains 20% minimum protein, 10% min fat, 5% fiber max, 10% max water content/ moisture. Vets advice recommended helping you choose the correct weight for the food intake.
8. Wellness Simple Limited Ingredient Dog Food for Sensitive Stomach
Wellness simple keeps it simple by limiting the proteins and carbohydrates to help your dog digest food easily. The limiting factor keeps the protein from a single source and super digestive carbohydrates. It has no grain, gluten, corn, wheat, soy, artificial preservatives and chicken. Prebiotics and probiotics added to aid the intestinal bacteria thrive.
Best Wet Dog Food for Sensitive Stomach
This is the second type of dog food that is wet and has more water content than dry food. It arrives in cans.
9. Royal Canin Veterinary Diet Gastrointestinal Low-Fat Canned Dog Food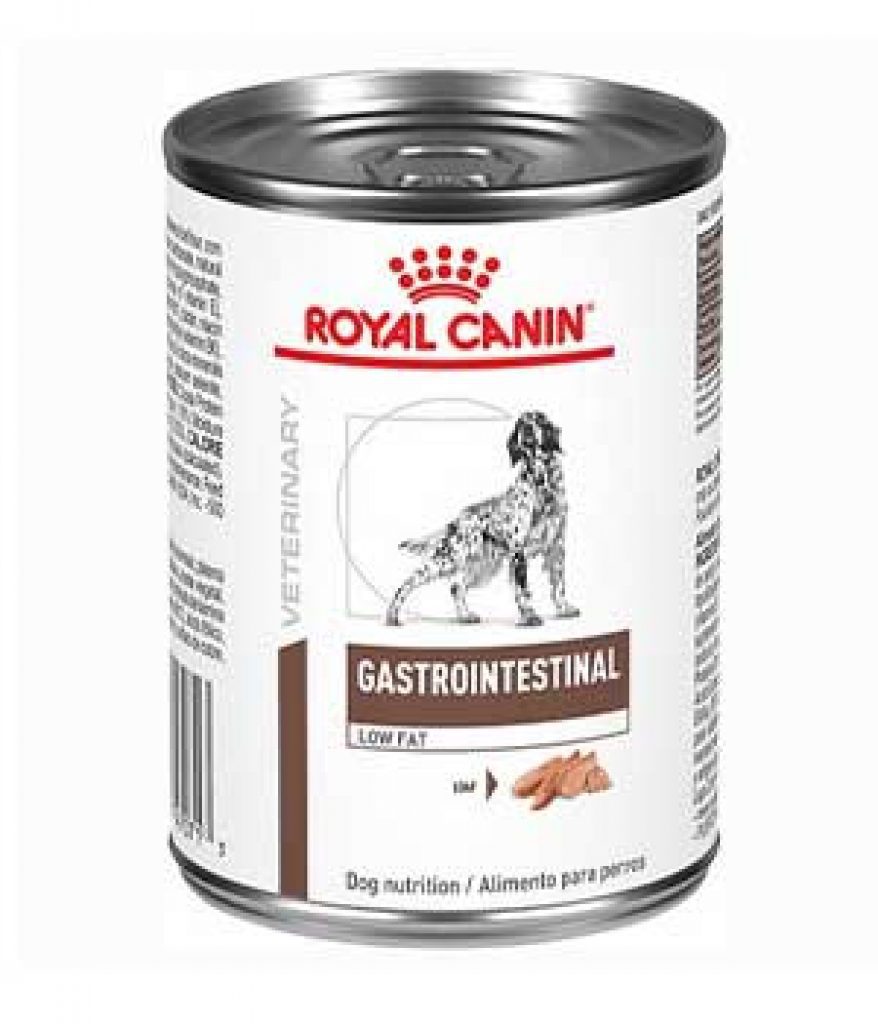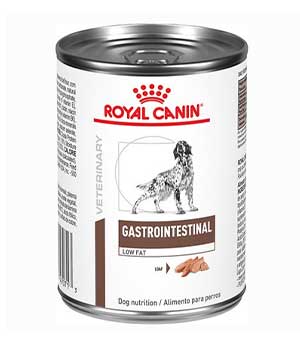 Royal Canin is a prescription based especially to help dogs have better and healthier digestion. It has a high level of probiotics and dietary fibers digest easily to proteins. Which lends it the ability to help keep the intestinal wall strong and thriving with microorganisms that help digestion. It also has very low-fat content to let dogs who have a hard time digesting fat to consume this food easily. And reduces the chance of crystals forming in the bladder.
It contains 6% minimum protein, 1.43% minimum fat, 3.75% max fat, 1.9% maximum fiber. It needs a professional veterinarian prescription to feed it to your dog.
10. Hill's Prescription Diet i/d Digestive Care with Turkey Canned Dog Food for Sensitive Stomach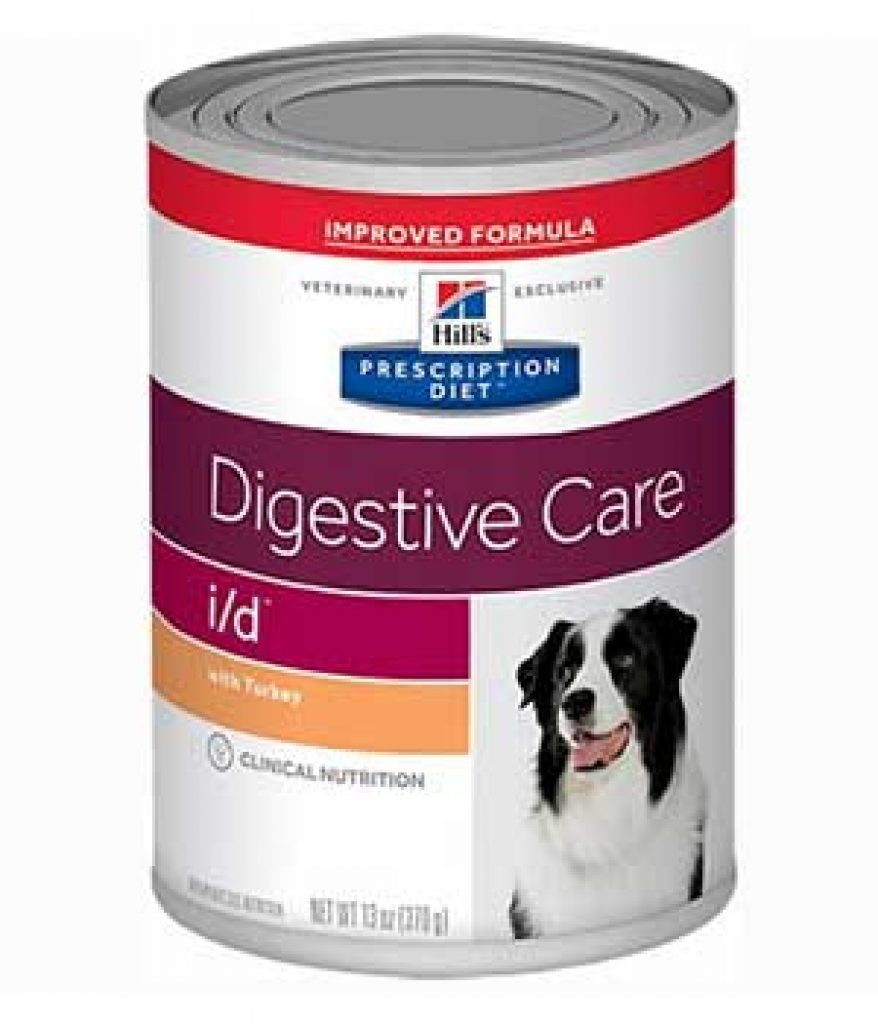 Hill's prescription diet is another prescription based canned dog food. It fulfills the lacking of any food allergies, dietary indiscretion or lack of digestive enzymes can increase the digestive powers of the dog's stomach and intestine. It is made with a clinical formula with digestible proteins to repair cells and tissues in the body. And the mixed form of fibers to keep the intestinal tract flourish and thrive with bacteria that digest foods. Pea free for allergenic
Contains 5,6% protein minimum, 2% fat minimum, and 1.2% fiber maximum. This has to be prescribed by a vet first for you to buy it for your dog.
Contains 25% minimum crude protein, 12% minimum fries, 5% fiber max, and 11% moisture/water content max.
To conclude
This list gives you a diverse set of dog food wet and dry for all sizes, ages, and breeds. There is plenty to choose from and a wide range of food for the sensitive dog tummy. The most important part is that you take your dog to the vet and check its health before recommending the food. Getting some dog food requires a prescription from your vet with a photo scan of the prescription paper itself.
Resource: