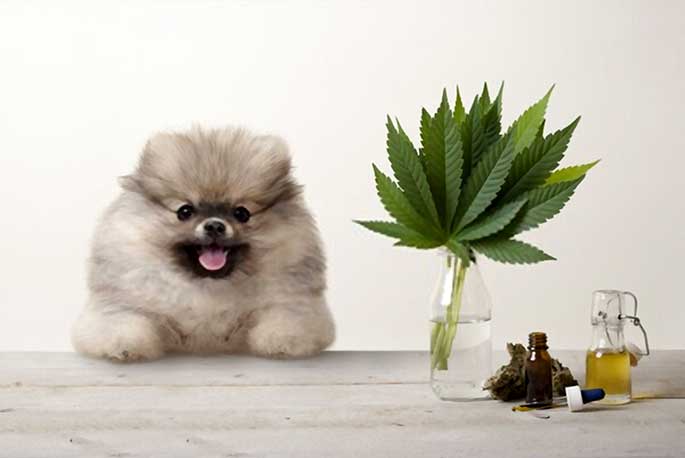 PetDogPlanet.com is an Amazon Associate, and we earn from qualifying purchases.
CBD oil is all around us nowadays, and apparently in almost everything. You have likely heard somebody bring up CBD, especially if you or someone you know is living with a chronic illness or anxiety. Today, as studies spring up, both pet owners and veterinarians discover that CBD oil for pets can provide real benefits for dogs and cats alike.
What Is CBD Oil?
When you hear cannabis oil, cannabidiol, CBD oil for pets or CBD pet treats, we can immediately imagine the uproar, even with the transition towards marijuana legalization. The effects of marijuana on companion animals still need to be further explored, but that does not automatically imply that we must categorize the use of CBD oil along with it. CBD oil is extracted from the cannabis plant, and there are multiple ways to derive oil, most of which eliminate all the THC content, which is the psychoactive substance in marijuana that induces a "high." The secret to the proper use of CBD oil, as with other medicines and supplements, for pet animals is to know the correct dosage.
What pet Health Problems can CBD oil Treat?
Elderly cats and dogs encounter anxiety and pain, particularly those suffering from joint problems and kidney issues due to old age. There are widely known medicines for all of this. However, they ultimately lose efficiency, which affects your pet's life.
Some reputable brands are producing cat treats CBD and dog treats that are delicious, nutritious, and Grain-free. CBD treats is an excellent way of promoting better health and wellness of your pet.
Last update on 2023-12-11 / Affiliate links / Images from Amazon Product Advertising API
According to Pacificsandiego.com, CBD oil minimizes anxiety in many animals, such as behavioral problems and irrational fear of loud noises. It could also function as an anti-inflammatory agent, making it a perfect calming component for pets with arthritis. We can even use CBD as an organic ingredient rather than phenobarbital, which can cause several side effects while CBD oil does not.
How is CBD Administered to Animals?
CBD animal care products are available in much of the same types that you're likely used to seeing for human beings. These goods can be edibles, including chewable dishes and caplets, oils that you can add to food or put underneath the tongue, and topical ointments or creams rubbed directly onto the skin. Unlike CBD products designed for people, each form of CBD pet care item seems to have a particular impact on the pet's body.
What is the Status of the CBD Market in Australia?
Throughout Australia, you can be a cultivator or a supplier of CBD. Because the legislation is strict, sellers and manufacturing companies must abide by certain limitations, including that the hemp should only be extracted from particular parts of the cannabis plant, excluding seeds and flowers. They should also not make any wellness claims about their CBD goods.
Australian legislators are strongly optimistic that if these cannabis goods do not make anybody high, then they would have no adverse health effects on anybody else. However, they are still hesitant about broadening the legal provisions to regulate the spread of possible malicious suppliers, vendors, and cultivators.
Your pet consuming marijuana can seem frightening, but this is only the case if you do not understand the difference between CBD oil and other marijuana products. Pet parents need to surmount a significant misunderstanding about CBD oil, and most people think CBD oil products are produced equally by suppliers. However, the agricultural and manufacturing methods vary due to a lack of supervision.
CBD oil for pets originates mostly from hemp plants, so the end product contains little to no trace of THC, providing your furry companion all the rewards with the least threat potential. With this in perspective, CBD oil is effective for pets in the right quantities and with the best products. However, it would be better if you discussed it with your veterinarian before giving any CBD product to your pet, as your vet can inform you about your animal and offer you further information on how to administer it properly.