Top 7 Adorable Ways to Include Your Pet in Your Wedding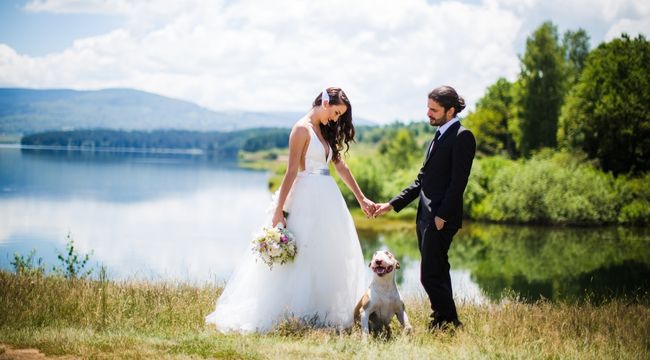 You and your spouse will likely invite your closest family members to join you in the celebrations on the day of your wedding. If your family includes a cute cat, a loving dog, or a horse, you might consider including them in the activity. But knowing how to include your pet in your wedding is not always simple. It's best to have a pet sitter because they can occasionally be a little cranky or boisterous.
#1. Let Them Wander
Giving your pet a role in your wedding can sometimes be tricky for the program flow and the venue setup if they are boisterous creatures. Allowing your pet to walk freely around the wedding site is one way to incorporate them into the celebration without running the danger of disrupting the flow of the ceremony. It will be best to have a dog friendly wedding venue and let your pet roam the grounds of your wedding location but make sure someone they trust is holding their leash. However, if you don't have anyone to help you with your pet, there are Pet Sitters for hire that may be your wedding pet attendant for the day. All your pet needs to do is pose for the camera while donning a bridal tutu or suit. Your visitors can take pictures with your pet when they are close enough. Always keep your pet's temperament in mind when choosing this option.
#2. To Make A Splendid Entry
Making a grand entrance at a wedding is every bride's dream. You may include a horse to make the grand entry. You can accomplish this by being led by a professional, riding a quiet horse if you are an experienced rider, or using a horse and coach. Whatever your ceremony, you have fantastic options, from whimsy carriages to more style-oriented themes. However, practicing riding before the big day is a good idea if you intend to ride into your ceremony. This includes practicing mounting and riding while wearing a dress the same weight and length as your bridal gown. It would be embarrassing if your horse spooked you on your special day. Therefore if you are using your own horse, it is a good idea to acclimate your horse to your attire. Ask your horse rental facility whether you can practice riding on a horse in a gown before the big day, even if you have never ridden before. Try to project a cheerful, cool, composed demeanor as you arrive.
#3. Bouquet Replacement
Although a little bit of a challenge, the satisfaction and reward of how lovely this comes out make it worth it. If you have a lot of pets at home and they're all friends around a lot of people, they can be a terrific alternative to flower bouquets. Instead of you holding them, your groomsmen or bridesmaids should because they can become unexpectedly angry in the middle of the ceremony and possibly disrupt the flow. Remember to prepare food packets and a water bottle to calm them down if the anticipated hunger spells occur more frequently than you expect. This only applies if your groomsmen or bridesmaids enjoy petting your animals. Have your pet's image printed on your seat assignments, table numbers, invitation, menu, or anything else you can think of if you cannot bring your pet to the ceremony or reception in person. Never restrict your imagination, and never let your pet's energy prevent you from thinking about them being present at the party.
#4. A Ring Bearer
The rings serve as a representation of the couple's unwavering love. Having your animal companion carry your wedding bands down the aisle is a beautiful idea. But not every animal can serve as a ring bearer. He is the ideal candidate for this position if he is not temperamental or unruly among a large group of people. The rings can be fastened to your pet in a variety of ways. The rings can be attached to their collar, embellished with a few flowers and ribbons, and voila! They can have the rings tied with a small cushion on their back. You have a ring bearer that is both adorable and special.
#5. Save the Date Posters
Although save-the-date postcards are perceived as an additional expense for wedding finances, their significance cannot be denied as it communicates essential details about your wedding before the official invitation arrives. You may give your guests some time to get ready for your wedding with save the date cards. Some couples incorporate their dogs to spice up and add intrigue to the save-the-date photo shoots. Some couples even dress their pets for the sake of adding creativity.
6. In Photo Shoots
Also, a great touch to your wedding photography is pets. This is a beautiful way to always remember your wedding, whether you brought your pet or managed to include them in your photos, regardless. If the stables allow you to visit the horse(s) and get acquainted with them before the event, it would be a terrific idea to hire horses for the occasion. In this manner, you gain a solid sense of their behavior and acclimatize them to you. Getting your horse(s) used to your clothing is a good idea. If you intend to sit on a horse for photos, practice wearing a big, heavy dress. Find a cheap dress to practice in; it doesn't need to be your wedding gown. On your big day, the last thing you want to happen is to lose your balance.
7. As a Flower Girl
Making a pet, the flower girl, is a wonderful way to include pets in a wedding. Although incorporating your pet in the ceremony may seem like the loveliest idea, it requires planning. To prevent aimless wandering as you exchange vows, ensure that someone is assigned to take your pet into their lap or another spot once they have walked down the aisle. The best action is to use your calmest pet and practice before the big event.
Including your pets in your wedding is adorably beautiful because they are part of your family. There are several ways in which you can include them, as mentioned above. You should consider a venue that allows pet inclusion. You may also hire pet sitters to ensure your pets are on their best behavior.