6 Pet Safety Tips For When Your Dog is Home Alone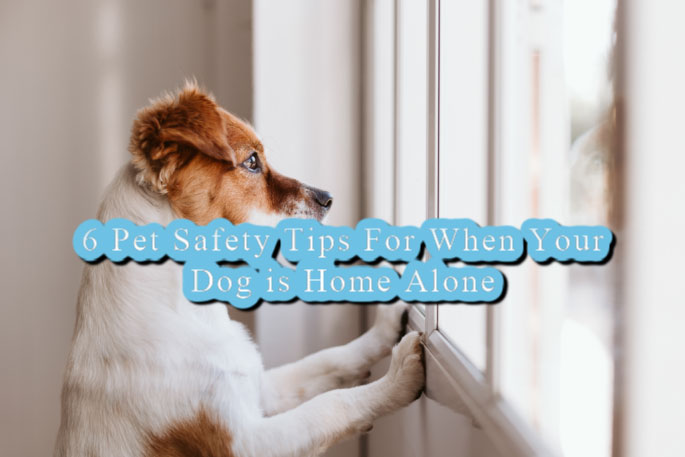 Whether you are a dog lover, a cat lover, or you have a house full of reptiles, our pets are a hugely important part of our lives. They provide us with unconditional love and companionship and help us to relax after a tough day. Going away on a trip or even just leaving your pet at home alone for the day can be very emotionally difficult. You may worry about your pet being lonely or whether it can look after itself while you're not there. Fortunately, there are various things you can do to look after your pet when you can't be there to look after them.
Here are our top 6 ways for how to easily make sure your pets are safe while you aren't at home.
1. Ask Someone to Check on Your Pets
If you are going to be away for a short time, or you have pets that don't need much attention, the first way you can make sure your pets are safe is to have someone check on them. This can be a friend, a relative, or a neighbor, but it has to be someone you trust to be in your house and who knows how to look after your pets. If you have a big dog or another pet which needs a lot of attention, this is not a great idea because your pet could become very lonely and distressed and could cause a lot of damage to your home. If you have pets that only need feeding, however, like fish, reptiles, or rodents, having someone pop in once a day until you come back from your short trip is the perfect solution for keeping your pets safe.
2. Install a Pet Camera
If you want to be able to check on your pets throughout the day while you are at work, or you want to make sure they are being looked after properly while you are away, you can install a pet camera in your home. Pet cameras work just like nanny cams, but instead of watching your babysitter, you can keep an eye on your dog or cat to check that they are okay. There are some really awesome modes of pet camera that you can program to dispense your pet's favorite treats and even some which come with a laser toy to keep your pet entertained while you are out of the house.
3. Make Sure Your Pets are Well Trained
Leaving your pet alone in the house is a lot safer and less distressing if they are well trained to cope on their own. Young puppies and kittens, for example, may have a hard time being left alone and could become very lonely or scared. This could result in them damaging your home or even hurting themselves by mistake. Older pets that have been well trained are far better candidates to leave by themselves but you should ease them into it. For example, if you are planning to leave your cat behind for a week while you go on vacation, then start preparing many months in advance. First, you can leave the cat for a day. Then for two days, with someone popping in to feed it. Then for three days, and so on. This will help your cat get used to your absence so when you finally go on vacation it won't be distressed.
4. Provide Enough Food and Water
If you do intend to leave your pet alone in your home for an extended period of time then it is absolutely crucial that you provide enough food and water. We have all heard the urban myths about people going away for two weeks and leaving their dog fourteen bowls of dog food only to come back and find their dog ate it all on the first day and was starving. Make sure that whoever is popping in to feed the dog has enough supplies for the whole time you are away to make their job super easy. If you have a turtle or another reptile that can be fed by an automatic dispenser, make sure that there is enough food in the device and that it is working properly before you go on your trip.
5. Put Your Pets in the Kennels or Cattery
If you are really worried about your pets or they are just not suitable to be left alone in your house, the best thing to do is to put them in a kennel or cattery. Putting your pet in a crate for the first time can be a little distressing for both pet and owner but if you are a frequent traveler, your pet will soon get used to it and will kick up less of a fuss each time. Many pets cry all the way to the kennels but then when you come to pick them up again they don't want to leave. Just make sure that you check the credentials of all the options in your local area so you can choose the best one for your pet.
6. Take Your Pets With You
The last thing you can do to ensure your pets are safe while you are out of your home is to simply take them with you. Many people are reluctant to go away on vacation without their pets, but with an RV or a tent, you will be able to bring your pets with you. With Covid-19 still making international travel practically impossible, it is a great opportunity to take a trip with your dog or cat so that they can enjoy the time with you. Just make sure that your pet is comfortable on long journeys and they will love the adventure of experiencing a new place.
Our pets bring so much happiness to our lives that they deserve the best at all times. When you aren't at home, you need to make sure that your pets are still kept safe and happy. Follow these six easy tips and you can ensure your pet's well-being even when you can't be there to look after them yourself.