Pee Pads For Dogs And Puppies – Features Of Choice And Use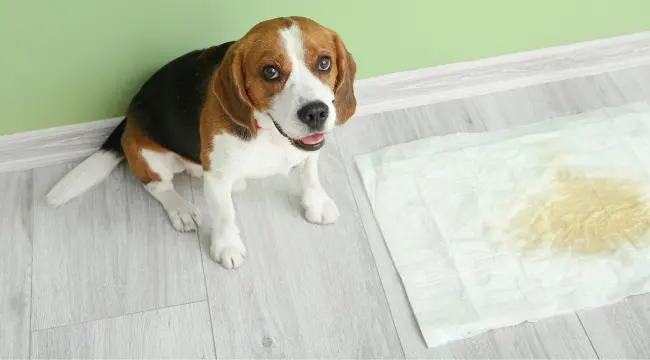 A new addition of a four-legged pet into the household is usually a joyous occasion! However, the impression could change dramatically in the first months, and experts encourage getting potty pads for dogs to avoid overshadowing the enjoyment from talking with a newly-made family member. Dog potty pads are designed in such a way that they perfectly absorb not only moisture, but also unpleasant odors. It is quite simple to train a puppy to use a pee pad, and you will save yourself from having to continuously wipe up small puddles after your pet, thereby not spoiling the impression of a new dog in the house.
Dog potty pads come in a variety of types. They can be divided, first of all, into disposable and reusable. Also, potty pads differ in size, manufacturer, various fillings and a number of other characteristics. But, let's talk about everything in order.
What are Dog Potty Pads Used For?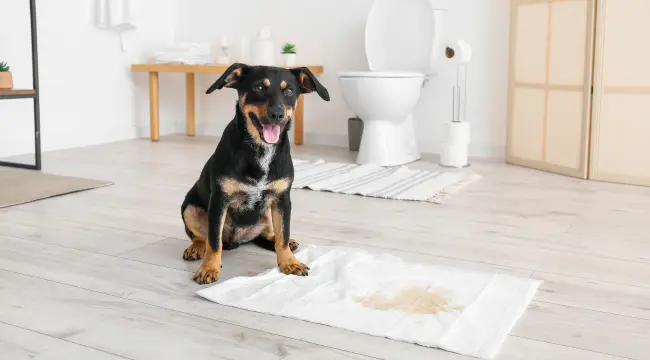 1. For toilet training puppies.
This is often the real challenge for many breeders. Puppies are often distributed by kennels around the age of 3-4 months, and the dog begins to "deliberately" perceive and learn at an older age. Thus, at home you get a cute creature without the ability to control the "toilet issue" process. It is in this situation that potty pads for dogs will help you out. The idea is that manufacturers add a specific impregnation to the potty pads, which stirs the puppy's interest and, as a result, the dog eventually learns to walk "on need" only in a properly defined area.
It is also worth mentioning that many professionals educate pups to use potty pads even in the kennel, so you get a puppy that is already trained for the "toilet," and all that remains is to continue this "tradition" by giving the puppy its potty pads in a new home.
2. To organize a home toilet.
In this case, we're talking about decorative breeds of dogs that can avoid walking on the street and, like cats, go to the toilet at home on a regular basis. In such a situation, a special dog toilet is always used, but dog potty pads are also extensively used to help cleaning and reduce unpleasant odours.
3. For non-walking or sick animals.
Unfortunately, our pets get sick, and there are times when the dog is unable to go for a walk. Potty pads, which may be placed under your pet without causing discomfort, can assist you. Potty pads will also come in handy while visiting a veterinarian or taking a pet to a clinic.
4. For long journeys.
When you need to go somewhere for long distances, dog potty pads will allow you to easily organize a toilet for your pet right on the road and thus save you and your pet from a number of troubles.
5. During your dog's pregnancy and birthing.
Pregnancy and childbirth are the most important period in the life of an animal and, of course, its owner. Dog potty pads will help keep the area where the puppies are kept clean, if used as an additional bedding.
Pee Pad Types
Dog potty pads come in two main types: disposable potty pads and reusable potty pads.
1. Disposable
This type is used only once and must be disposed of after use. As a rule, it is used during the transportation of the animal, in case of illness of the pet and in any other situation when the pet is temporarily unable to do "their business" on the street.
Such potty pads are distinguished by their low cost, provided that all the most important properties and qualities of the product are preserved.
2. Reusable
This type can be used for quite a long time. Of course, this option will be significantly more expensive, but if you plan to use potty pads for dogs for a long time, then in the end a reusable pee pad will become a much more budgetary and optimal option.
The filler inside such potty pads allows you to absorb a large amount of liquid and allows you to wash the pee pad. When washing, it is best to use special disinfectants. The pee pad can be washed by hand or machine. Please note that after washing, it will take time for the pee pad to dry.
The Material Composition And Variances Of Dog Potty Pads
Dog potty pads are available in different sizes, making it easy to find the best option for your pet.
As a rule, potty pads have a multilayer structure: The top layer is made of a high-strength fabric that lets liquids through but dries quickly. This fabric is mostly made of polyester. Next is a layer of polyester and viscose fabric mixed together, then a layer with a barrier and, finally, a layer of polyester fabric. This structure of the pee pad can also be called without filling, this type of pee pad allows you to reuse the pee pad, retaining moisture in the inner layers, leaving your pet's paws dry and absorbing up to 2-3 liters of liquid.
Gel potty pads can also be defined as a distinct subtype. Specially designed and highly absorbent gel pads for dogs are designed primarily for use in litter boxes. The top layer of a pee pad of this type includes a layer of hypoallergenic non-woven material with a textured surface that prevents liquid from spreading on the sides.
This layer quickly absorbs moisture, which allows the pee pad to stay dry. The fluff pulp absorbent layer with SAP absorbent gels the liquid, totally retaining any scent.
The bottom, waterproof and non-spill layer, protects against leakage of liquid from the pee pad. In addition to carriers, such potty pads are perfect for puppies or as temporary potty pads when transporting a pet.
There are also potty pads with additional antibacterial impregnation, a sticky bottom layer for attaching to the floor or the surface of the carrier, with a built-in indicator of humidity and degree of filling.
How To Choose A Pee Pad For A Dog?
A good pee pad has the following properties:
Retains odors and moisture up to several liters.
Does not allow mold, pathogenic bacteria and fungi to multiply.
Consists of durable material.
It washes and dries quickly, and its characteristics are maintained after washing.
Does not cause allergies.
Pay attention to the size. The size of the canvas depends on the size of the dog:
30×40 and 40×60 are for small dogs.
60×60, 60×70, 60×90 and more – for large dogs.
A pee pad that fits the requirements must be chosen experimentally. IIt is possible that the filler satisfies the buyer's stated requirements and expectations, but the animal simply does not like the top layer material, colour, or smell obtained throughout the manufacturing process. As a result, you should select the package with less disposable pads. When your pet is comfortable with the filling, you may switch to a larger package with more units.
Tips For Pee Pad Training Your Dog
To train a dog to a pee pad, articulate to the animal what the mat is for. When the pet wants to use the toilet, he will begin to sniff and spin around to find a suitable place. It is now necessary to take the dog to the pad and make sure that the animal gets emptied on it. Reward your dog after each trip to the pee pad. Do not yell if the pet has done its business elsewhere. If the dog has made a puddle in front of you, say strongly that it cannot do so. The animal will then realise what it is doing is wrong. IIf the puddle was discovered after some time, punishing the dog is pointless because the animal will not comprehend why you are shouting.
Some owners use cat trays. Once it gets used to one tray, don't change it to another. The dog may not like it, and it will stop going there. It is better to accustom a puppy to a pee pad in a new house as soon as you take him. Getting used to the new conditions, at the same time you will teach the pup to relieve himself in the right place. Remember that puppies go to the toilet after waking up, eating and playing. So you will quickly catch the right moment. Some manufacturers of potty pads produce products with a special impregnation that acts on the instinctive level of the animal – the dog will understand by smell that this is the place for his needs. Dog training requires patience and effort. But if you are unable to train your pet to the toilet, you can seek help from cynologists.