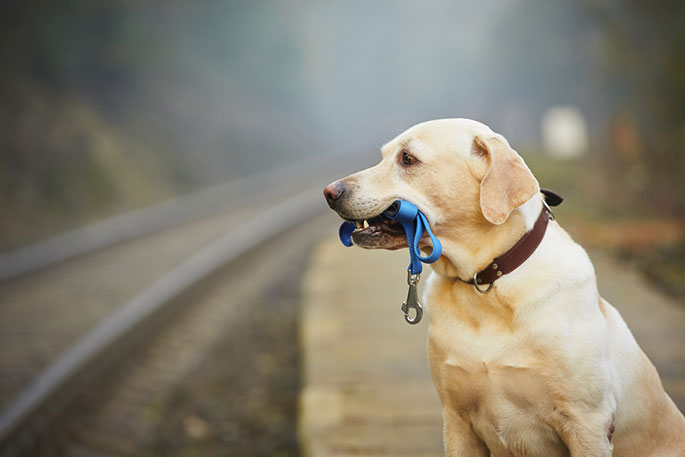 PetDogPlanet.com is an Amazon Associate, and we earn from qualifying purchases.
There are immediate steps that an owner should take when their dog is missing. Those are listed immediately below. If you are not fortunate enough to be reunited with your dog within the first 48 hours, then there are additional steps you should take. The moment you realize your dog is missing:
Search your neighborhood or the last known location of your dog thoroughly. You may have to do this repeatedly as your dog may be hiding, frightened, or could have wandered farther than expected. Call to them in a calm and friendly tone. Dogs can smell and hear stress and fear, so try to be as quiet as possible.

Put out an alert on your social media accounts and ask friends and family to share. Do not be too proud to ask for help. Ask your friends and family to help search for your dog, put up flyers, canvas shelters, and other things you will want to do as soon as possible.

Use apps like FindShadow to find your lost dog. Here you can print a customized flyer of your dog, send out a community-wide alert, and have volunteers start matching your pet to any found pet pictures. 

Distribute the flyers in the area your pet went missing. Make sure the flyers are on colorful paper. Then put them in every shelter. Ask businesses if you can post them. Plaster every telephone pole in the area. It may seem old-fashioned, but flyers have a proven success rate in helping find lost animals.

Use social media lost and found pages to search for your dog and post a recent picture of your dog. One tip: either add your phone number to the post or make sure you can receive private messages from people not on your friend list.

If you suspect your pet was stolen, file a police report right away. A police report on file makes it easier to reclaim your animal.

Contact shelters in your area. If you do not find your dog quickly, have someone

check the shelters

personally.
If none of these things see your pet returned home safely, it is time to expand your efforts.
Continue searching, in a widening pattern, the last known location of your pet. Leave out food, water, and items that smell strongly of someone familiar to your pet.

Put an ad on Craigslist. Offer a substantial reward for information leading to the safe return of your pet.

Remake flyers offering a reward, and re-distribute them throughout the area.

Update all social media postings and re-post on lost and found groups. Offer the reward here, as well.

Check with rescue groups in a wide area around your location. Someone could have rescued your pet and taken them to a rescue center farther away than you would expect.

Keep your information current on findshadow.com, and discuss further options for ways to find your dog.

Make sure every veterinarian's office in the area has a flyer. Call and ask once a week to keep your dog fresh on their minds.

Knock on doors in the area your pet was last seen. Offer flyers and explain how long your dog has been missing.
If there are sightings of your dog, but you are unable to find them, your dog may have slipped into survival mode. Survival mode means that your pet is no longer as trusting of humans and is doing what it must to survive. At this point, you may have to consider using a safe and humane trap for your dog. Set the trap in a place where your dog has been spotted, bait it with food, and check it frequently. (At least once every 2 hours in very hot or cold weather. Every 4 hours in more moderate temps).
You may have to move the trap to a different location if there is a new sighting of your dog. Once you have trapped your dog, please understand your dog will need much attention and work to reestablish trust. The first stop for any dog that has missing for more than a day is a full veterinarian check-up.
Last update on 2023-12-10 / Affiliate links / Images from Amazon Product Advertising API
Once the health of the dog, you will want to provide an ultra-secure area for them. Be patient and understand that your dog has been through a traumatic experience. It may take your dog some time to feel safe with humans again. Be watchful for aggression. Again, this is because your dog has been surviving on instincts. If she does not seem to be making progress toward re-integrating into your home, consult a professional trainer.
Some owners express shock at how quickly their dog went into survival mode and the changes in their behavior when they return home. Please understand that every dog is different, but your dog did what she felt she must to keep herself alive. Naturally, you want to shower your dog with affection now that she is finally safe at home. Unfortunately, for a dog that has been living in survival mode, this can feel threatening. Do not give up hope. Most dogs are integrated back into the family. It just takes time, patience, and training.