Best High Fiber Cat Foods in 2022 – Reviews and Top Picks
Your cat should eat high fiber cat food if it has gastrointestinal issues like constipation or diarrhea. Adding more fiber to the diet may solve both problems.
Your cat deserves the best cat food, and choosing the right one is crucial. If your cat lives strictly indoors, diarrhea and constipation may be factors. Keeping indoor cats active is hard so they might need more fiber. Using this guide, you'll be able to make the most informed and comfortable decision for your cat.
Hill's Prescription Diet Gastrointestinal Biome with Chicken Dry Cat Food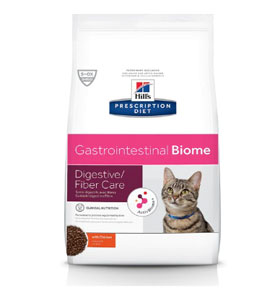 Nobody is happy when your cat's stomach is upset. Cats with digestive issues might throw up, have diarrhea, have soft stools, strain, gurgle, flatulence, change in appetite, or be drained of energy.
The Gastrointestinal Biome Digestive/Fiber Care with Chicken Dry Cat Food can help reduce stomach upset and support healthy stool. Veterinarians and nutritionists at Hill's developed this for GI care.
It's important to keep a balance between good and bad bacteria for your kitty's digestive health. Enhancing good bacteria's growth promotes digestion and helps control problematic bacteria.
The Gastrointestinal Biome Digestive/Fiber Care contains prebiotics to support your cat's digestive health and promote healthy, regular stools. Furthermore, it helps promote a urinary environment where calcium oxalate crystals can't grow. It's made in the USA with trusted global ingredients.
Why are vets recommending this cat food?
A special formula made by Hill's nutritionists and vets to support your cat's digestive health. The product also includes Hill's S+OX Shield ingredients, designed to promote urinary health.
Maintains regular, healthy stools.
The ActiveBiome+ ingredient technology helps activate beneficial gut bacteria for a healthy GI microbiome.
Contains a proprietary blend of prebiotic fibers to balance digestion and promote regular bowel movements.
Provides generous amounts of omega-3 fatty acids, DHA and EPA.
The same company also makes Digestion Chicken, Barley, & Whole Oats Recipe dry cat food. We'll get the results in 3-4 days.
Royal Canin Veterinary Diet Adult Gastrointestinal Fiber Response Dry Cat Food
The Royal Canin Gastrointestinal Fiber Response Cat Food is a high-fiber food specially formulated to help ease your cat's GI upsets with soluble and insoluble fibers. The prebiotics keeps the gut bacteria balanced. The fiber blend supports healthy digestion and good stool quality. It contains Omega-3 fatty acids, EPA and DHA, which nourish and soothe your cat's digestive tract. Additionally, the exclusive S/O Index prevents crystals from forming in the bladder by creating an unfavorable environment.
Key Features:
Highly digestible proteins and prebiotics help maintain digestion and stool quality.
The most effective solution for managing GI health and gastrointestinal sensitivities.
Contains both soluble and insoluble fiber to ensure a healthy GI tract.
Maintains urinary health with the S/O Index. It creates an environment that makes crystals less likely to form in the bladder.
Iams ProActive Health Healthy Adult Original with Chicken Dry Cat Food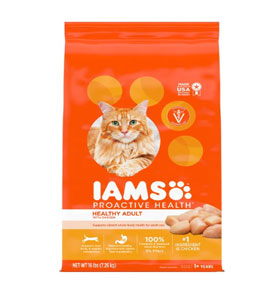 Do you own an older cat with a GI problem? Is he a picky eater? No worries! IAMS PROACTIVE HEALTH Adult Healthy Dry Cat Food can change your cat's life, and you'll never have to feed him anything else. This kibble has real chicken as the first ingredient, plus prebiotics that supports digestion and omega-6 fatty acids that keep skin and coat healthy. It's crunchy, tastes great, and reduces plaque buildup, so even picky cats will love it.
Provides energy for adult cats and supports their overall health.
The first ingredient in this recipe is chicken.
Prebiotics and fiber support healthy digestion.
Omega-3s and omega-6s keep cats' skin and fur healthy.
Conclusion
Finding the right diet for your cat can be frustrating. There are so many choices on the market, it's overwhelming. Shopping for fiber can be easier when you know what to look for. There are two kinds of fiber: soluble and insoluble. Foods with soluble fiber, like peas, carrots, and oats, help food pass through the digestive tract smoothly. Nuts, wheat bran, and potatoes contain insoluble fiber that helps control hairballs.