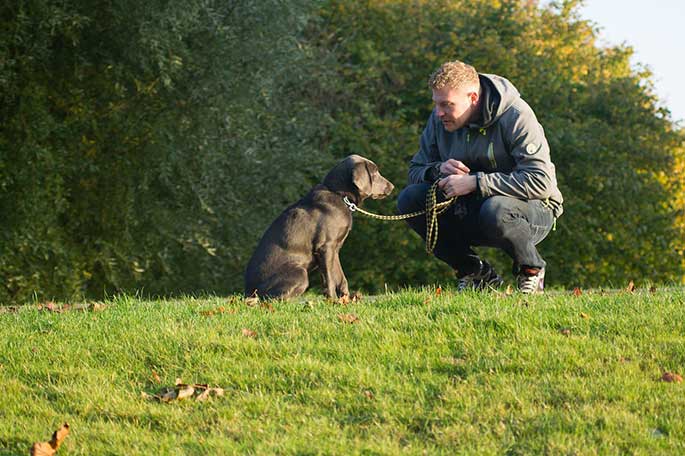 PetDogPlanet.com is an Amazon Associate, and we earn from qualifying purchases.
Are you in or about to enter your golden years? Maybe you know and love someone who is, and you're concerned about loneliness. Have no fear — Fido is here to save the day.
Dogs make the best pet for seniors during their retirement years? Why? Well, there's probably a million reasons, but here are seven of the best! Once you learn what man's (and woman's!) best friend can do for you, you'll want to head to the Humane Society today.
1. They Help Maintain a Routine
During your working years, it's easy to know what to do each day. You rise to the sound of the alarm and get ready. You punch your time clock and get to work. However, once you retire, you don't have to answer to a boss. While this gives you a newfound sense of freedom, it can leave you feeling adrift, like a ship that's lost its mooring. Do you lie abed until noon merely because you can? What do you do after you get up if you have nothing planned?
Dogs don't only give you a reason to wake up in the morning — they demand it. Even if you catch a case of the lazies, Fifi needs to go out and tend to her business. Like it or not, it's time to lace up your walking shoes. Chances are, once you get up and moving, you'll find it easier to resist the temptation to return to bed.
2. They Come in All Shapes and Sizes
When you picture a dog in your mind's eye, what do you see? If you've ever had a phobia of our four-legged friends, you might imagine a giant, slobbery beast out of Turner and Hooch. However, canines come in all shapes and sizes. No matter what size of home you have, you can find a companion who'll feel comfortable dwelling there with you.
Today, many assisted living facilities allow companion pets as long as they meet size requirements and don't pose a threat to others. If you adore long-haired varieties, consider a Llasa Apso or a Maltese. If you prefer lower-maintenance types, a short-haired miniature Chihuahua might become your new best friend.
3. They Keep You Moving
Regular exercise offers a host of benefits to everyone, but especially to seniors. Working out helps you maintain your independence by building strength and muscle mass. It keeps your limbs more flexible, helping to stave off injury and ease arthritis pain. It even alleviates depression and boosts blue moods.
However, finding the motivation to move when you don't have to can prove challenging at times. That's where Rex comes in — he wants to go outside and play! It doesn't matter whether you take him for a stroll around the block or head to the dog park for fetch. You're getting a workout in, too.
Last update on 2023-12-08 / Affiliate links / Images from Amazon Product Advertising API
4. They Help You Make New Friends
Have you ever approached a stranger not to meet them, but to say hi to their oh-so-adorable poochie? If so, you understand how a dog can help facilitate making new friendships. Dog lovers are a breed apart. Many embody the traits of openness and kindness, ideal characteristics in a new pal.
Loneliness among seniors is reaching epidemic levels, and dogs can help end the suffering. Lack of social contact can lead to an earlier death — adopting from the shelter can add years to your life.
5. They Can Sniff Out Disease
Your pup has a sensitive sniffer, and you can put it to good use even if you don't plan on spending your days out pinging ducks on the wing and waiting on a Retriever. Dogs can detect the scent of bombs or drugs — and even disease! That's right. Today, scientists put our canine companions to work sniffing out cancer and other diseases like tuberculosis. You might not have to train your pooch to do it. Anecdotal reports of dogs informing their owners of cancer appears with relative frequency.
6. They Make Coming Home a Joy
When you go home, does an empty house greet you? You can make your homecoming more welcoming every time you walk in the door — even when you only run to the store — when you have a dog. They don't register if you left for 20 minutes or two days. All they know is their very favourite person in the world is home, and the happy wiggle in their butt when they run to say hello will display their joy.
7. They Offer Unconditional Love
Finally, dogs don't care if you need to get to the beauty salon. They will gleefully cuddle with you, even if you haven't showered. You don't have to comb your hair or get dressed to win your canine's adoration. Dogs embody unconditional love.
Dogs Are the Perfect Retirement Pet
Nearly every senior can benefit from sharing their home with a four-legged companion. Why don't you head to the nearest shelter to adopt a new best friend today?