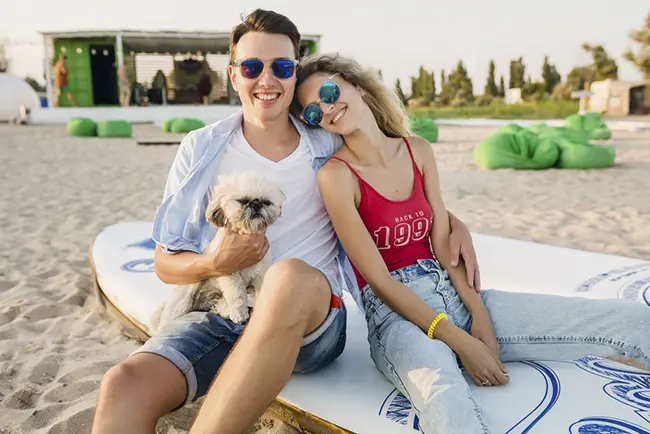 PetDogPlanet.com is an Amazon Associate, and we earn from qualifying purchases.
Caring for a dog comes with many responsibilities – from feeding them to ensuring they get enough exercise each day. But what do you do when you need to go on vacation or have a busy day at work and can't take them with you? Dog camps are specialized boarding facilities that offer everything, from accommodations to training services and pet care. Think of these institutions as you would a doggy daycare; a safe and controlled environment where your furry little friend will enjoy plenty of company, fun exercises, and structured activity while you're away. In the paragraphs ahead, we delve into the benefits of dog camps and why they are the more dependable dog-sitting option for you and your furry friend.
Socialization
Dogs are inherently social creatures; they thrive off interaction and company. Luckily, there's plenty of both at dog camps. These institutions are suitable environments for dogs to forge a socialization streak as they're constantly surrounded by people, play, and other pets. For a shy dog struggling with anxiety and social cues, such spaces can bring them out of their shell and coax them to overcome their fears. Socialization can also be beneficial for your dog's emotional and mental well-being.
Professional care
Dog camps are staffed with professionals who have experience working with dogs. They understand dog behavior, pet first aid, and what it takes to keep your furry friend happy and healthy. Even while you're away from your pet, you can always be at peace knowing that your furry companion receives expert care in a safe and secure environment. Glencadia Dog Camp caregivers will even go as far as administering medication, bathing, feeding, and providing grooming and veterinary care services. 
Behavior Training
Pet owners with younger dogs and puppies can benefit the most from this aspect of dog camping. Since most juvenile dogs have little training, a dog camp can be an excellent opportunity for behavior training. They'll be in a structured environment that fosters good behavior, and their caretakers will reinforce positive behavior and help correct any negative behavior- this will benefit your dog while they're at the camp and when they're back home with you.
Last update on 2023-12-08 / Affiliate links / Images from Amazon Product Advertising API
Structured Activities and Exercise
When dogs are left home alone for extended amounts of time, they tend to get bored and lonely. As a result, they try to entertain themselves, which often manifests as destructive behavior. Conversely, when you check your dog into a dog camp, they'll have their hands full with structured activities and exercise routines suited for their needs. Professionally supervised activities like daily walks, fun games, agility training, and swimming will keep your dog entertained and physically active, leading to better overall health.
Note: Dog camping facilities will provide your furry friend with all the equipment they'll need, from outdoor space to playpens and toys, so you don't have to pack anything up.
Peace of Mind
Last but not least, dog camps ideally relieve pet parents of the anxiety and guilt of having to leave their pawed babies behind. The knowledge that your pet is in capable, caring hands will give you the peace of mind to relax and enjoy your vacation. Then again, knowing that your dog's days are packed with fun activities and plenty of good company will give you one less thing to worry about.
Final takeaway
When paw parents think of dog camping, they imagine their dogs sulking in a corner, awaiting their return. Well, that is not usually the case; while these institutions are professionally run, they're nothing short of fun and exciting. The socialization, exercising, grooming, and play activities scheduled at dog boarding facilities make them a fitting choice for pet owners looking to have their pets in a safe, controlled, and comforting environment while they're away. Besides the accommodation, these expert-monitored institutions help to enhance your dog's mental, physical, and emotional well-being. So the next time you're scheduled for a vacation or have to attend to personal matters without your furry friend, consider sending them to dog camp so they feel loved and cared for when you're gone.