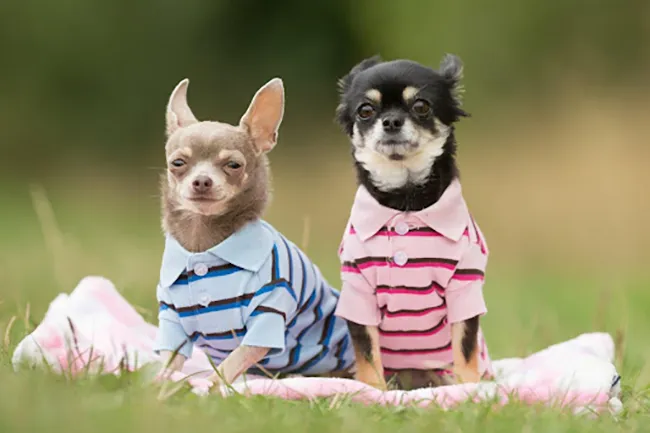 PetDogPlanet.com is an Amazon Associate, and we earn from qualifying purchases.
Did you know that there are over 900 million dogs in the world?
If you have one of these wonderful pets, you can make their day better by choosing designer dog clothes. Dog fashion is on the rise, and there's a lot of room to experiment with it.
We've got a run-down of what's hot this season, so you can let your best express their personal style. Read on to learn more!
Gender-Neutral Designs
More and more pet owners are moving away from traditional pink or blue outfits. Instead, they opt for clothing that is suitable for both male and female dogs. This trend reflects a growing awareness and acceptance of gender neutrality in our society.
Last update on 2023-12-10 / Affiliate links / Images from Amazon Product Advertising API
Not only does it promote inclusivity, but it also allows for more versatility in styling options for our furry friends. Whether it's a classic plaid shirt or a trendy denim jacket, these gender-neutral designs offer a wider range of choices for pet owners. By doing so, they will turn their dog's fashion to be a reflection of their own personal style.
Sustainable and Eco-Friendly Materials
Pet owners are now seeking products for their furry companions that not only look stylish but also have a positive impact on the planet. Materials such as organic cotton, hemp, and bamboo are being used in the production of the best dog clothes. This reduces the use of harmful chemicals and promotes sustainable farming practices.
These materials are better for the environment and are often more durable and comfortable for dogs. This makes them a win-win for both owners and their beloved pets.
Playful Prints and Patterns
Owners are now opting for more vibrant and fun designs rather than traditional solid colors. From quirky polka dots to eye-catching florals, these designs add a touch of personality to our furry friend's wardrobe. These prints and patterns make doggy dresses more appealing.
Plus, they also showcase the playful and fun-loving nature of our pets. Whether for a casual day out or a special occasion, these playful prints and patterns are becoming a must-have in every designer dog clothing collection.
Luxurious Fabrics
Gone are the days of basic cotton and polyester materials. Pet owners are now seeking out high-end fabrics such as cashmere, silk, and velvet for their furry companions. These luxurious materials add a touch of elegance to the dog's wardrobe.
It also provides unparalleled softness and comfort for their sensitive skin. Designers are also incorporating intricate detailing and embellishments into these fabrics.
This makes dog clothes unique and luxurious. From chic cashmere sweaters to glamorous silk dresses, this trend in designer dog clothes allows pet owners to pamper their beloved companions in style.
Designer Collaborations With Celebrity Pets
One notable example includes a collaboration between luxury fashion brand Gucci and Choupette, the beloved cat of fashion icon Karl Lagerfeld. The collection featured a range of elegant and chic pieces including cashmere sweatshirts and bomber jackets adorned with Choupette's face. Another collaboration that gained widespread attention was between streetwear brand Supreme and Instagram-famous bulldog Doug the Pug.
The playful collection included hoodies, bandanas, and apparel featuring Doug's iconic tongue-out expression. These collaborations highlight the growing trend of pampering pets in designer clothing. They also showcase the influence and impact of celebrity pets in the fashion industry.
Matching Sets for Dogs and Their Owners
These sets include coordinated outfits, accessories, and even personalized items for both the pet and their human. This trend has become popular among pet owners who want to show off their love for their furry companions in a fun and fashionable way. Matching sets not only make a bold statement but also serve as a symbol of the strong bond between a dog and its owner.
This trend is a perfect reflection of treating pets as beloved family members. It also shows that they're giving them the same level of care and attention as their owners.
Street-Style Inspired Ensembles
These outfits draw inspiration from the edgy and unique looks seen on the streets of fashion-forward cities. This includes New York, London, and Paris. Some examples of these ensembles include a plaid jacket with faux leather leggings for a chic and punk look.
Others opted for a denim jumpsuit paired with a trendy bandana for a casual yet cool vibe, or a sporty tracksuit with a designer logo T-shirt for a laid-back but stylish outfit. These ensembles make your dog stand out and showcase your own fashion-forward sense of style.
Customizable Options
Pet owners can also add personalized patches or embroidery with their dog's name or cute phrases. Another popular customizable option is sizing, as all dogs come in different shapes and sizes. With the choice to customize, pet owners can ensure the perfect fit for their dog's comfort.
Additionally, some designer dog clothes offer adjustable straps or button placements for a more tailored look. These options add a touch of personalization. It caters to the specific needs and preferences of each pet and its owner.
Comfortable Yet Fashionable Loungewear
Some examples of this type of loungewear include cozy hoodies, stylish sweatpants, and chic sweaters. These pieces combine comfort and practicality with high-end fashion elements. This makes them both comfortable for the dog to wear and pleasing to the eye.
Many designer brands offer this type of loungewear for dogs. They use soft and breathable fabrics such as cotton and fleece to ensure comfort. This allows dog owners to dress their furry friends in stylish yet comfortable outfits, perfect for lounging around the house or going out for a walk.
Sportswear-Inspired Designs
Owners no longer want their furry companions to look cute, but also stylish and versatile. These sportswear-inspired designs not only offer a fashionable aesthetic but also practical functionality. From hoodies to jerseys, these designs mimic our own athletic attire.
It reflects the active and playful lifestyle of our canine companions. They are not only perfect for a day at the park or a jog in the neighborhood, but also make a statement at pet-friendly events and social gatherings.
Designer Dog Clothes Trends and Ideas You Were Looking For
The world of designer dog clothes is evolving to keep our furry friends looking stylish and comfortable. From functional and sustainable materials to bold sequin designs, there are plenty of dog fashion trends to choose from.
Don't miss out on the latest styles, check out the hot new items and elevate your pup's wardrobe today! Get shopping and make your pup the most fashionable one on the block.
If you enjoyed this post, please consider reading one of our other posts.