CBD Dog Treats: 6 Exotic Flavors That Your Dog Might Love
CBD dog treats have become a popular alternative to traditional pet medicine because they are safe and may help with joint pain, general discomfort, and anxiety. Unlike supplements or medications made with harsh chemicals, these natural treats provide quick relief without the unwanted side effects of other treatments. They're easy to feed your pup, as they come in various flavors that both dogs and owners can enjoy.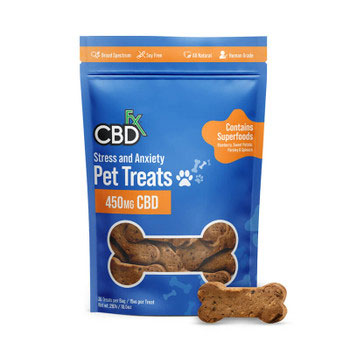 CBD Dog Treat Flavors That Your Dog Might Love
1. Blueberry
If you are looking for a way to treat your pet with an indulgent treat that is also beneficial, blueberry flavored, these dog treats are the perfect solution! This canine confection features all the full-bodied flavors of blueberries and a healthy helping of cannabidiol.
Together, they make a delicious snack that not only tastes good but can also help a dog's health in general. These treats are available in multiple sizes depending on your pet's needs and are formulated from all-natural ingredients, so you know your pup is getting only the best quality cannabinoids. Treating your dog has never felt better than when you combine their favorite flavor with health benefits.
2. Pumpkin
Pumpkin-flavored dog treats are an excellent way to give your pup a daily dose of cannabidiol. These treats contain full-spectrum hemp extracted from organically-grown hemp plants, ensuring the highest quality ingredients for your furry friends.
Cannabidiol is a natural compound that has been shown by scientific studies to have many possible therapeutic benefits, such as relieving pain and making it easier to move around. Your pup deserves the best nutrition, and adding these tasty pumpkin-flavored treats will become their favorite treat! The combination of flavors and proven benefits incorporates the perfect solution for your furry pal's well-being in a fun and delicious way.
3. Bacon
If you're looking for a natural way to help your dog feel better, have you thought about CBD dog treats that taste like bacon? Provided that they are made from the highest quality natural ingredients and a safe dosage of cannabidiol, these delicious little morsels can be a great way to elevate your pup's endocannabinoid system.
These treats also contain CBD oil that is helpful for pain management. Not only will this support overall well-being and bring about positive mood changes, but it could also help with stress, anxiety, or even specific digestive issues. With flavors that dogs like and all-natural ingredients, these treats with cannabidiol might become their new favorite snack.
4. Carrot
Carrot-flavored CBD dog treats are the perfect way to make your pup's snack time more enjoyable. These treats come in all-natural flavors, so you don't have to worry about artificial ingredients or chemicals in your pet's snacks.
It can help relieve inflammation, pain, seizures, and behavioral problems like anxiety and aggression. It is a natural alternative to traditional dog medications. The best part is that these tasty treats come with all the health benefits of cannabidiol without any psychoactive side effects for your pup. So if you're looking for a healthy treat option for your furry friend, carrot-flavored dog treats are the perfect solution!
5. Peanut Butter
Peanut butter flavored CBD dog treats are a convenient and tasty way to incorporate the potential benefits of cannabidiol into your pet's daily routine. These treats are made from a natural, whole-plant extract of hemp. They contain different compounds that may play important biochemical roles in your pet's body.
The peanut butter flavor makes them delicious for canines, and the small crunchy bits make them great for dogs of any size. Perfectly portioned, each treat is pre-measured with an optimal therapeutic dose of CBD, so you don't have to worry about measuring out a precise amount.
Whether looking to support your pup's wellness or help to ease the discomforts they may be experiencing. Peanut butter flavored CBD dog treats are an easy and convenient way to give your beloved pet all the potential benefits that hemp-derived cannabidiol can provide!
6. Apple
Apple-flavored CBD dog treats are taking the pet wellness market by storm! They're a tasty treat that your dog is sure to enjoy, and they're made with natural ingredients that meet their needs. It has been scientifically proven to help aid in joint pain, inflammation, and other common issues that can crop up as our furry friend's age.
With these treats, you don't have to mix anything or use droppers to give your pet this natural remedy. Plus, you can be sure that the amount of CBD your dog takes in is just right for its breed and size.
The Recommended Dosage Of CBD Dog Treats
When it comes to CBD dog treats, make sure that your beloved pet gets the right amount. The dosage can vary according to the size and type of condition being treated. Large breeds may require a higher dosage than smaller breeds.
Also, pet owners should talk to a vet who knows what they are doing and can accurately assess the situation and give advice on the right daily dose. Most experts agree that the starting dose should be between 2 and 5 mg per 10 pounds of your pet's body weight, with adjustments made based on your pet's response.
As with all hemp-based medications, it's best to start slowly and carefully monitor how their bodies react before gradually increasing their daily intake.
Factors To Ensure While Giving CBD Dog Treats to Your Pet
There may be some benefits to giving CBD dog treats to your pet, but you need to think about a few things first.
First and foremost, research the specific treat you intend to give your pet; look at the product's reputation with other customers, its ingredients, and the hemp source used in producing it.
Second, change doses gradually within each product and lower doses if you notice any bad side effects.
Finally, speak with a veterinarian experienced in cannabinoid therapy, as they can help you decide what quantities of CBD treats to give your pet based on their weight and health history. Taking these steps before giving the product to your pet will make sure that he or she stays safe while possibly getting the benefits of the product.
You can also give your dog CBD gummies to help them sleep if they don't sleep the same way every night. You can also give your dog CBD gummies to help them sleep if they don't sleep the same way every night.