Which Dogs Enjoy Road Trips the Most
Going on a road trip requires a fair amount of planning, and this increases if you are considering bringing your dog with you. Dogs cannot tell you what they need, so you will need to plan ahead adequately to ensure everything goes smoothly.
This article will advise you on which dog breeds enjoy road trips the most by providing you with factors to consider about the qualities of the dog and how to plan for the road trip. 
Read More:
What Makes a Dog Perfect for a Road Trip
The Size
The size of your dog is clearly one of the main factors to consider if you are considering going on a road trip with them. This is not necessarily correlated to the breed but more to the amount of space you have. You may find that smaller dogs are able to get more comfortable in a vehicle, meaning they can potentially go on a long road trip.
The Levels of Energy
If you are a dog lover, you will know that some breeds have an incredible amount of energy whilst others are more mellow. It may be a better idea to have a dog with a calm personality, such as the golden retriever, during your trip, which will significantly reduce stress on your journey.
Easy To Adapt
Some pets prefer to stay in their own comfortable place, whilst others enjoy traveling and exploring new areas. This is certainly the case for the Boston Terriers and Chihuahuas – they're always excited to go somewhere new! If your dog is usually happy with being in a different environment, it is a good sign that they will adapt well to the road trip.
What to Consider When Taking Your Dog on a Road Trip
The Dog's Health
You must consult with your vet before a big event that may have an impact on your dog's wellbeing. This is true even for a road trip. Having an awareness of your dog's health can help you identify whether your pet feels distressed during the road trip, leading you to react accordingly. Compare the Market researched and created the image below, which provides you with some examples of dog breeds and their average heart rate so that you can keep an eye on your dog. Make sure to always discuss any concerns with a professional before going away, so you have an understanding of how to deal with health issues should they arise.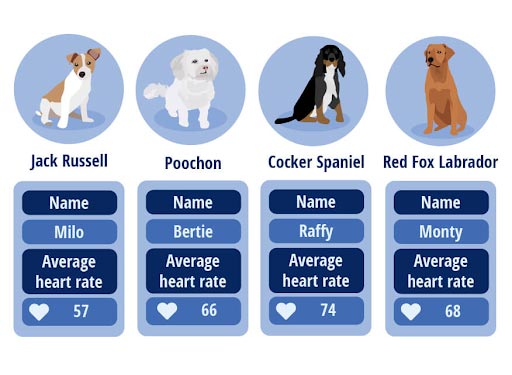 Train Your Pet
If you never take your pet in the car, it may be challenging for them to go on a road trip, no matter what breed they are. If this is the case, you may need to train your dog as soon as you are aware you will be going away together.
Space in Your Car
As mentioned previously, the size of your dog will matter as well as the room you have in your vehicle. Even a small dog may feel uncomfortable and uneasy in a car full of items and people. Make sure that there is enough room to ensure your best friend enjoys the ride too.
Schedule Breaks
Similarly to people, dogs need a break, too – no matter how calm and easy they are, they will get bored at some point and will need some exercise. For this reason, schedule a few breaks every 3-4 hours. This will be good for your dog as well as yourself.
As you can see from the information provided above, there is no right breed when it comes to road trips, although some are more likely to adjust to it. Make sure that you follow the tips provided on this page and be confident that you know your dog will enjoy the ride before making this decision.