The 5 Best Low Phosphorus Cat Food to Slow Kidney Disease in Your Cat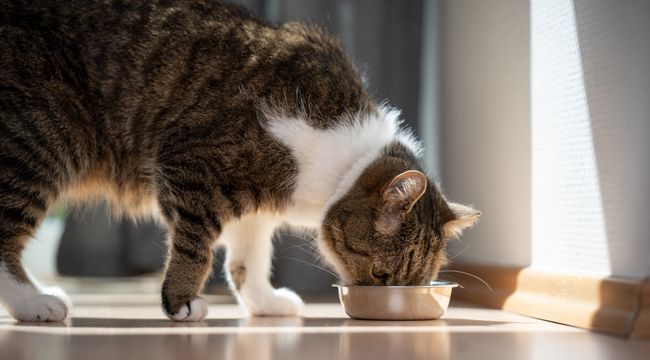 One of the most common conditions affecting older cats is chronic kidney disease, and dealing with the diagnosis can be extremely difficult. Still, there's hope, especially since chronic kidney disease can be caught early, so your cat can live for many more years. You can help extend their life by feeding them low-phosphorus cat food.
It is estimated that three in ten geriatric cats (aged 15 or older) will be diagnosed with chronic kidney disease.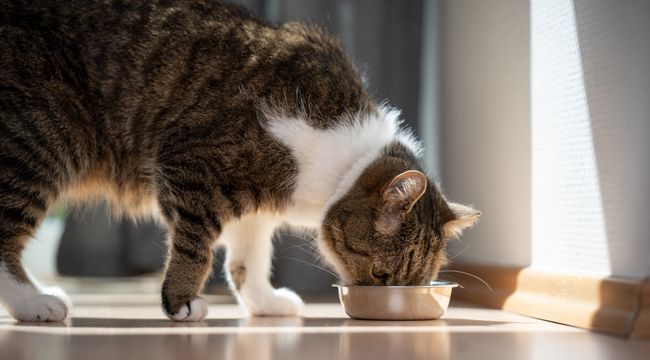 This article discusses chronic kidney failure in cats, also known as chronic kidney disease, and how low-phosphorus diets can help slow its progression.
Understanding Kidney Disease in Cats
In chronic kidney disease (CKD), the kidneys lose function over time. Cats' kidneys do a lot of things, most notably filtering blood and making urine, so problems with kidney function can result in various health problems.
Additionally, the kidneys stop removing waste products like proteins and phosphorus from the body and excrete them in urine. As a result, the cat's systems are thrown out of balance. There can be all sorts of problems, from high blood pressure to anemia.
What are the first signs of kidney disease?
You may notice your cat is thirstier or urinating more often. You may notice subtle weight loss even though they eat normally. It can lead to decreased appetite, weight loss, lack of energy, and poor grooming habits as the disease progresses.
Although kidney disease cannot be cured, if the condition is detected early on, a healthy diet is capable of extending a cat's life expectancy. During the course of this condition, cats may receive phosphorus-binding medications before meals, intravenous fluids, and other medications. Let us begin with the food.
Why Get a Cat Food Low in Phosphorus?
A low-phosphorus diet reduces kidney workload and improves health. According to research, cats with chronic kidney disease given a low-phosphorus diet are likely to live twice as long as cats without such changes to their diet.
The ideal cat food for cats with chronic kidney disease will moderate protein, carbohydrate, and phosphorus consumption to reduce kidney workload. Due to the fact that impaired kidney function allows acids to accumulate, renal diets are alkaline and serve to neutralize these harmful acids.
"Kidney diets are actually very different from regular cat food," explained Dr. Joe Wakshlag, professor at Cornell University College of Veterinary Medicine, in a previous video posted to the school's YouTube channel. "They have reduced levels of phosphorus and protein, and they have increased levels of potassium, B vitamins, and fatty acids."
When introducing new cat food, even low-phosphorous food, it's a good idea to mix it in with your cat's regular food. Eventually, you can switch your cat completely to a low-phosphorus diet. As cats do, you can introduce another brand or cycle through a few different types if they get bored of one.
When you're trying new foods, stay away from "urinary diets" unless your vet recommends them. As those are designed to prevent kidney stones -a totally different condition – they can actually worsen kidney disease in cats.
The Best Low Phosphorus Cat Food
Two types of low-phosphorus foods are on our list:
Veterinarian diets formulated with carefully calculated amounts of phosphorus, sodium, protein, minerals, vitamins, and fatty acids. In general, these foods are alkaline rather than acidic.
Foods with low phosphorus that have premium, natural ingredients but don't claim to fix kidney issues like prescription foods.
Your vet can tell you what's best for your cat. In order to buy prescription foods, you'll need a prescription or your veterinarian's contact info. In addition to prescription foods, your vet can recommend non-prescription foods that fit your cat's needs. Non-prescription foods may or may not be recommended depending on your cat's prognosis and any other health concerns.
Royal Canin Veterinary Diet Renal Support E
The reason Royal Canin has developed this low-phosphorus pâté in gel is because cats with kidney disease tend to lose weight. You can also try Royal Canin's D (morsels) and T (slices) renal support formulas, and it's worth experimenting to see which your cat prefers. Prescription required.
Hill's Prescription Diet K/D Kidney Care
With targeted levels of high-quality protein and controlled phosphorus, this prescription diet protects your cat's kidney and heart functions. This stuff needs a prescription.
Blue Buffalo Natural Veterinary Diet K+M Kidney
This veterinary diet is available in dry and wet forms with low phosphorus and low sodium content. Blue Buffalo uses natural ingredients without preservatives.
With controlled levels of protein, kidney supports canned cat food helps keep your cat healthy. It's enhanced with DHA, glucosamine, and chondroitin to support your pet's joint health. This holistic formula is made without grains, making it great for cats with sensitive stomachs.
It is a prescription-only food that contains only the finest ingredients available and provides both beneficial nutrition and a delicious taste that your furry best friend will enjoy.
Purina Pro Plan Veterinary Diets NF Kidney Function Early Care Wet Cat Food
In this specially formulated wet food, a moderate amount of high-quality protein is present with a restricted amount of phosphorus. This diet can be combined with the kibble version if your cat likes dry food.
A complete and balanced diet for cats with kidney issues, either on its own or mixed in with other kibbles.
With vitamins, minerals, and taurine for overall health, plus moisture to keep you hydrated. To support lean muscles and be easy on the kidneys, lower the amount of high-quality proteins like beef and chicken. With Purina Pro Plan Veterinary Diets NF Kidney Function Early Care Formula Wet Cat Food, you can keep your cat healthy. Prescription required.
Forza10 Nutraceutic Actiwet Renal Support Wet Cat Food
You might want to try Forza10 if you're looking for a low-phosphorus cat food your cat will like; it puts great taste into a food that's healthy for cats with kidney disease. It was developed by Icelandic vets and nutritionists, but you don't need a prescription for it. In addition, Forza10 has a dry food for cats with kidney disease. No prescription is needed.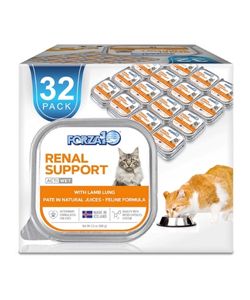 Tips for Homemade Low-Phosphorus Cat Food
Some cats with kidney disease get picky eaters. A homemade diet may be the best choice if packaged food doesn't work for your kitty.
You shouldn't always grab a recipe off the internet, even if it says it's good for kidney-failure cats. You should instead talk to your vet or a credentialed veterinary nutritionist — they'll know something that'll work for your cat.
Read More: