PetDogPlanet.com is an Amazon Associate, and we earn from qualifying purchases.
You probably always take your dog out for long and short walks, hikes or camping. You must have noticed that water is a requirement while you are out there with your dog. Without a good dog water bottle, taking water can be a challenge for your dog. This article has compiled a list of the top ten most efficient and effective dog water bottles that can help you keep your dog hydrated.
1. H204K9 Combo PACK Neosling Water Bottle
The Neosling bottle holder of this 25-ounce dog water bottle will fit comfortably around your waist or over your shoulder. So you can easily carry it while hiking, walking or doing some activity. It is made such that its lid is the bowl. Designed for rugged use, and it often serves for years. The fact that it is made from food grade stainless steel makes it durable and safe for your dog. The bottle material is BPA-free further keeping your worries away.
2. Water Rover Bowl and Bottle
Available in various sizes and colors, this bottle easily clips to a waistband, a backpack or a belt implying it is easy to carry around. Water cannot leak out even when the bottle is held upside down. It has a wide mouth that makes it possible to place ice cubes on a hot day, giving your dog a fresh feeling. This feature also makes it easy for the remaining water to get back into the bottle.
3. Gulpy Jr. Water Dispenser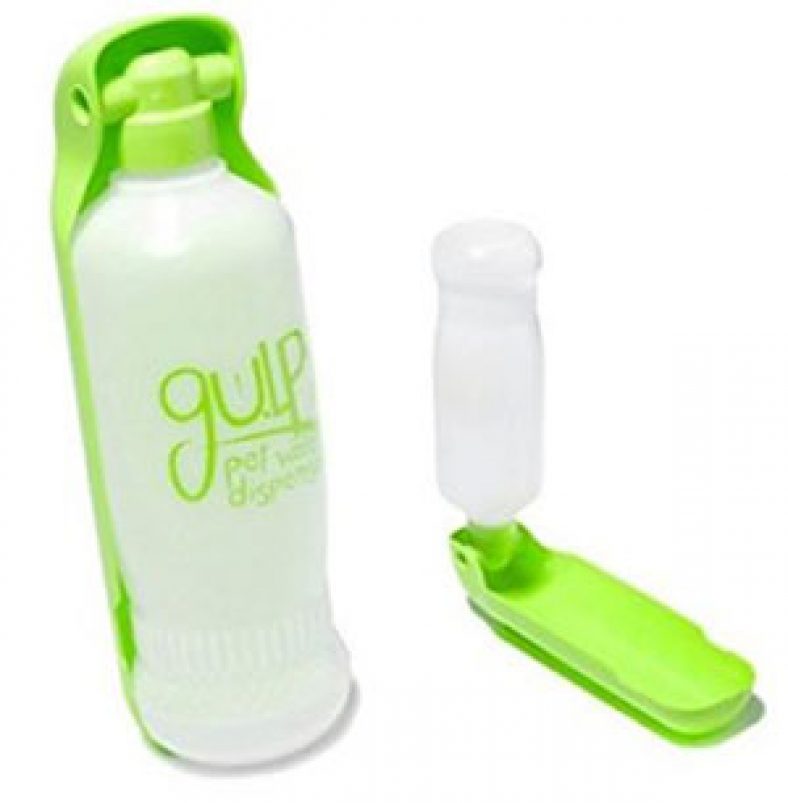 This bottle can be an excellent choice for your smaller dogs. The fact that it holds only ten ounces of water when full makes it lightweight even when full. It is best for short walks and hikes. It is easy to use as you only need to squeeze the bottle and the bowl fills with water for your pup.
The bottle is leak proof and the bowl works with other standard dog water bottles, a significant advantage.
Last update on 2023-12-01 / Affiliate links / Images from Amazon Product Advertising API
4. Popware H-Duo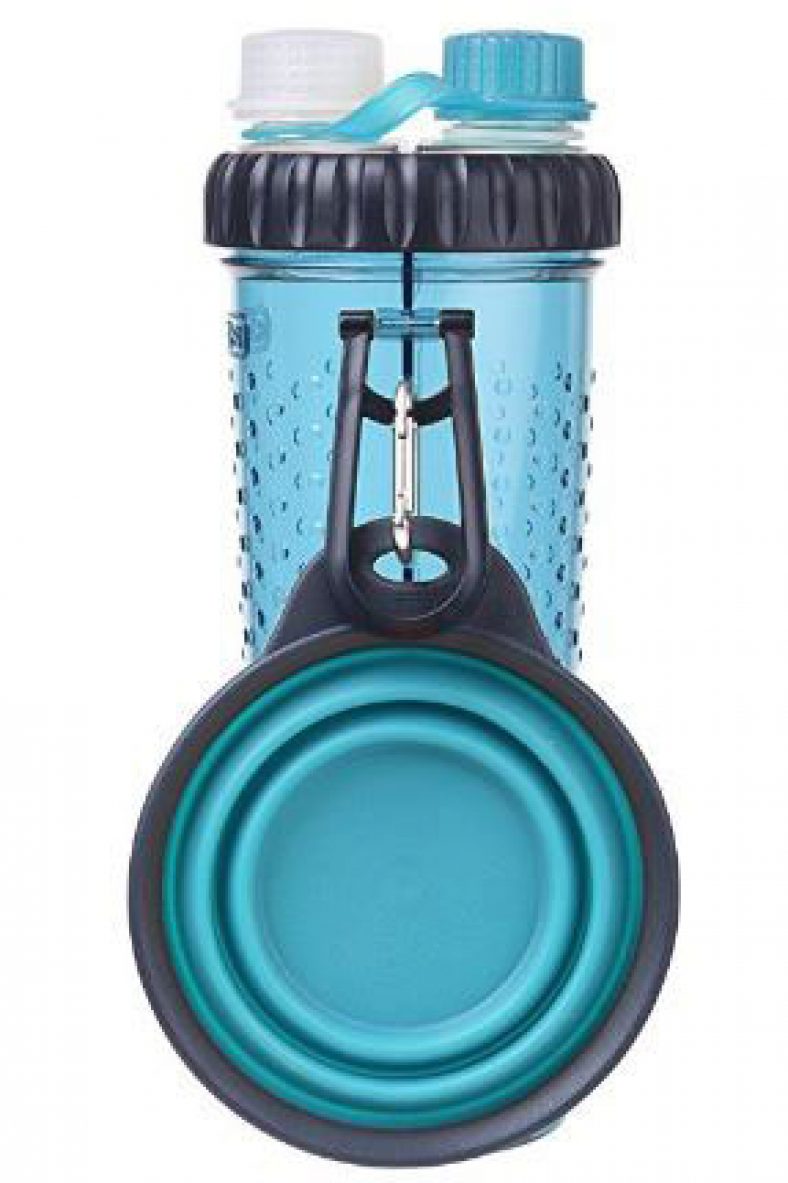 This is another fantastic product with a collapsible bowl. The bottle can hold up to 24 ounces of fluid. However, the most noticeable feature is that it is divided into two chambers making it possible to hold two different types of drinks simultaneously. Better still, you can hold water in one chamber and use the other for your doggie treats. The bottle is BPA-free. You can easily clip the collapsible bowl onto the bottle.
5. H204K9 Pet Water Bottle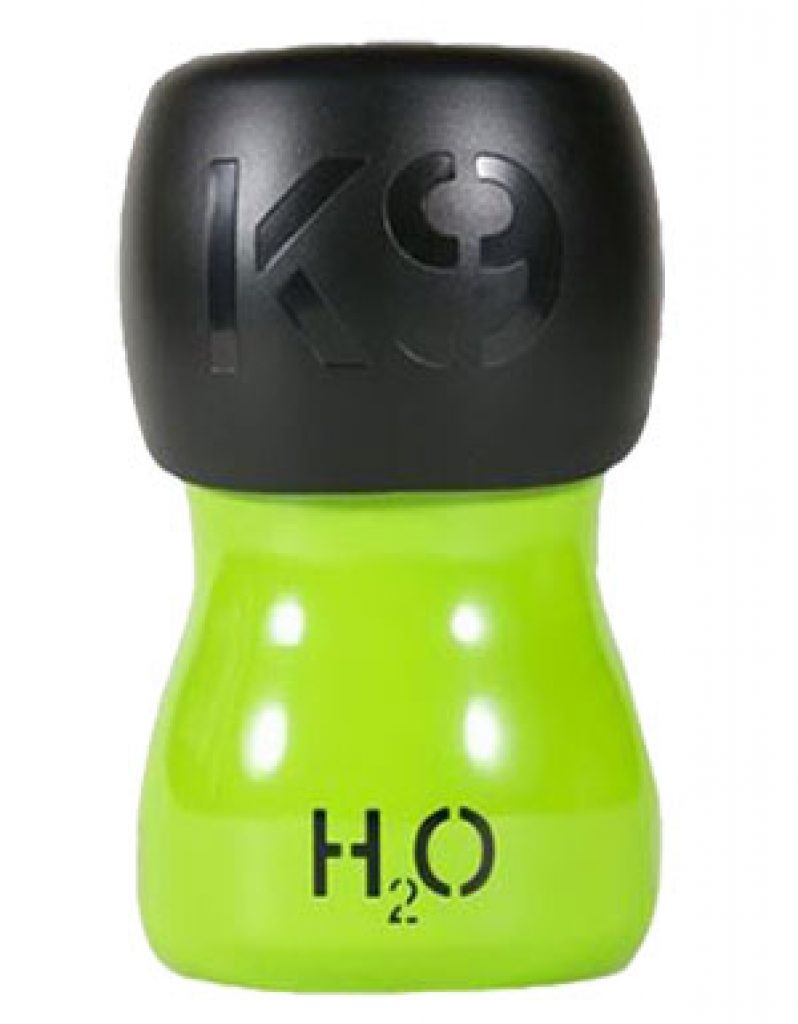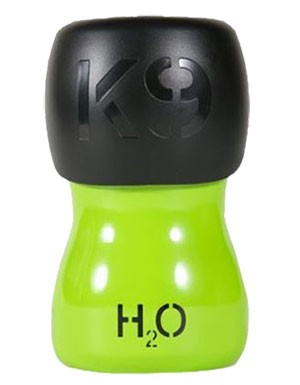 It comes with a travel bowl. The twist top lid is specially made to fit your dog's most natural drinking style. The bottle is BPA- free and the fact that the manufacturer uses food grade steel to make it should keep your worries away. This fact also makes it durable. Its mouth is wide enough to hold ice cubes on hot days and for easy pouring the unused water back into the bottle. Again, the lid is made such that it fits almost all snouts meaning different varieties of dogs can use it.
6. Lixit Waterboy Travel Water Bowl
This is a perfect choice for your large dog or if you have multiple dogs. It comes in a unique design such that even when held or flipped upside down, the water cannot spill. It is also BPA-free, and this makes it safe for your dog. It holds three-quarters of a gallon and the fact that it lays flat makes it ideal for use even in your car.
7. Good Life Gear Stainless Steel Dog Water Bottle
Perhaps the most important features of this bottle are that it has two openings, one smaller compared to the other. The smaller opening has a small ball bearing that controls water flow while giving the dog water when the bottle is held upside down. You use the larger opening for refilling the bottle and cleaning. The top of the bottle can also be unscrewed or flipped over.
8. Ethical Pet Handi- Drink Pet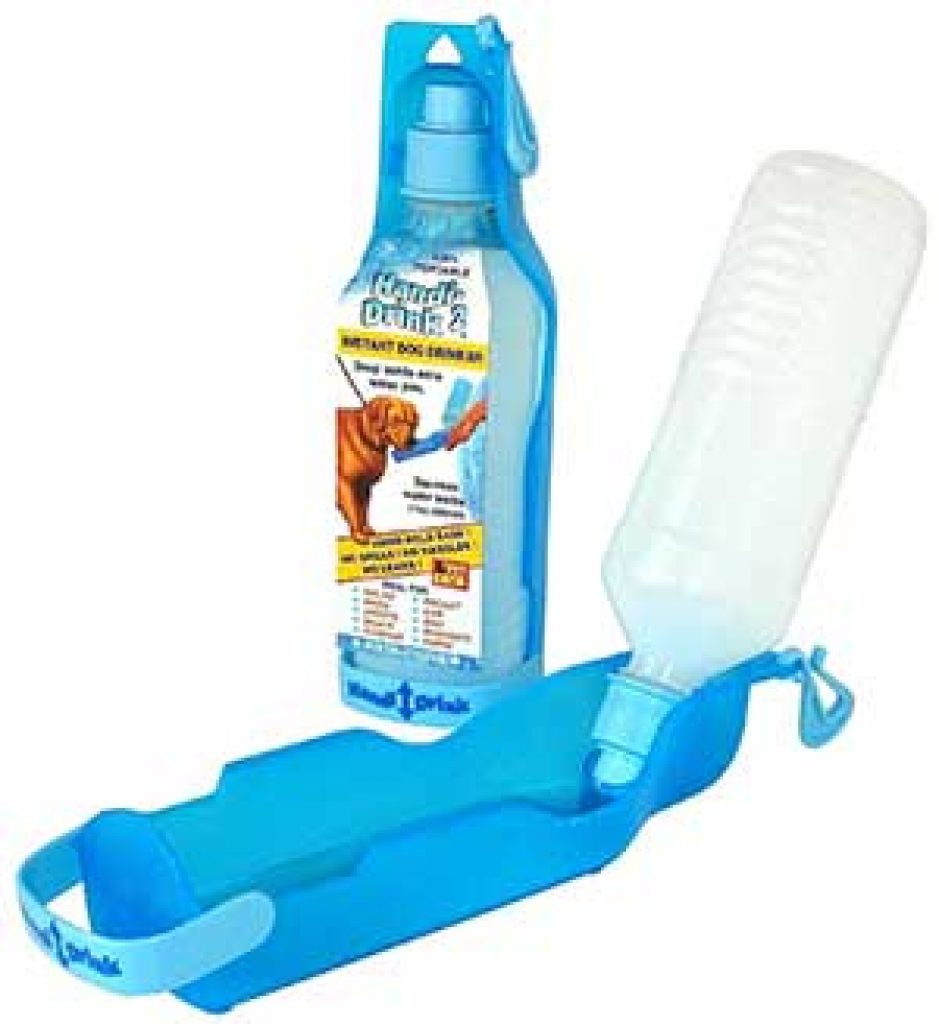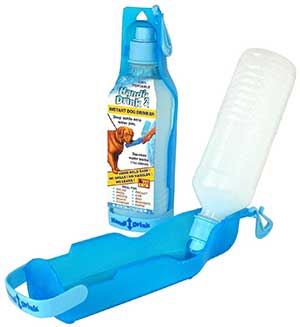 One of the most outstanding features of this bottle is that the bowl that comes with it is attached to the neck of the bottle meaning you can't easily lose it. It has a patented valve that prevents water leakages. This dog water bottle is available in three different sizes, so you are likely to get one no matter the size of your dog.
9. Singyep Portable Folding Pet Water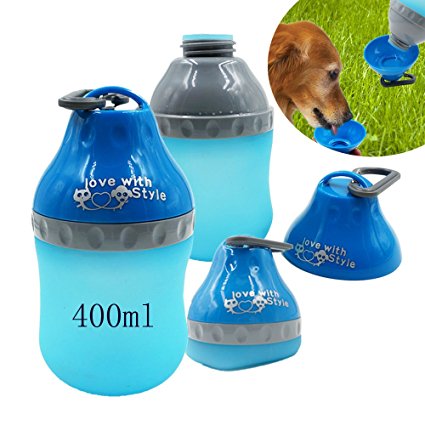 Holding up to 13 ounces of water when full, this bottle comes with a high-quality abs resin bowl. As a bonus, this great product can also work as a food storage system. The bottle is made from food grade silicone which qualifies it as safe for your pet. Easy to use, clean, and maintain. It is also very durable.
10. Heininger 3058 PortablePET PortaBottle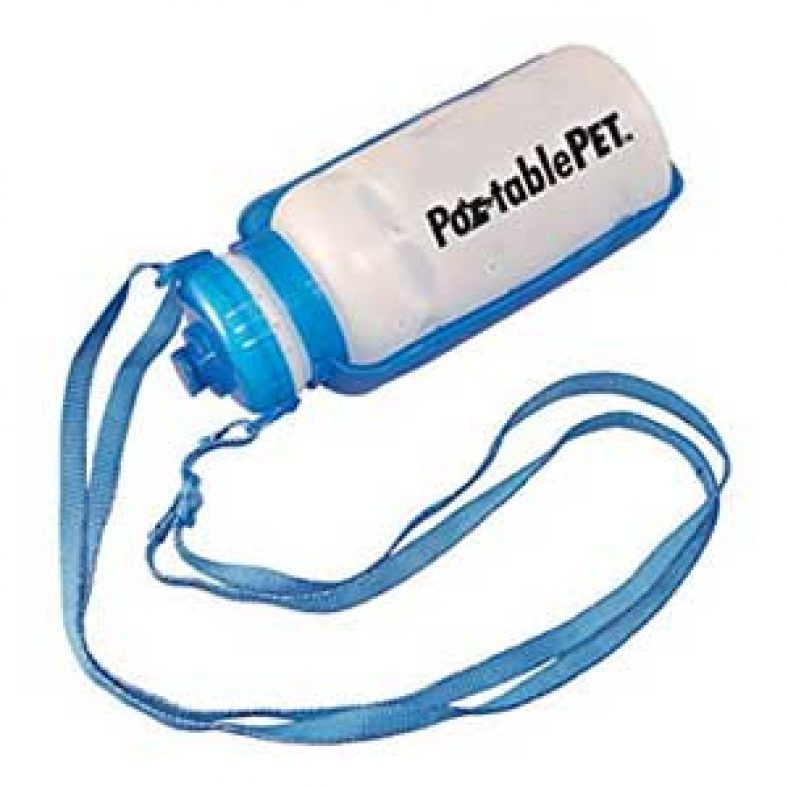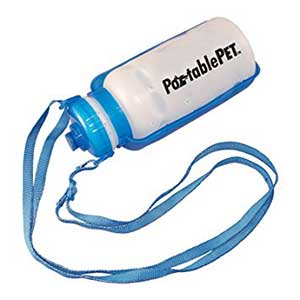 This 20-ounce water bottle has an adjustable carrying strap. Its bowl will clip to the bottle just next to the pour spout making it easy for you to serve them the water they need even as they are drinking. This bottle is also a great product.
To sum this up, it is important that you understand that dehydration is very common in dogs and therefore it imperative that you should provide your dog with enough water. Again, note that dehydration can negatively affect your pet, damaging their kidney and other vital organs. So choose from this list and get them a great dog water bottle to give them the best hydration.
Important Tags
Dry dog food |Amazing Dog Costumes| Different Dog Breeds Dog food advisor |Greenies Pill Pockets |sensitive dog breeds |neighbors dog won't stop barking|hypoallergenic dog treats recipes|most trainable dogs |dog kennel ideas|