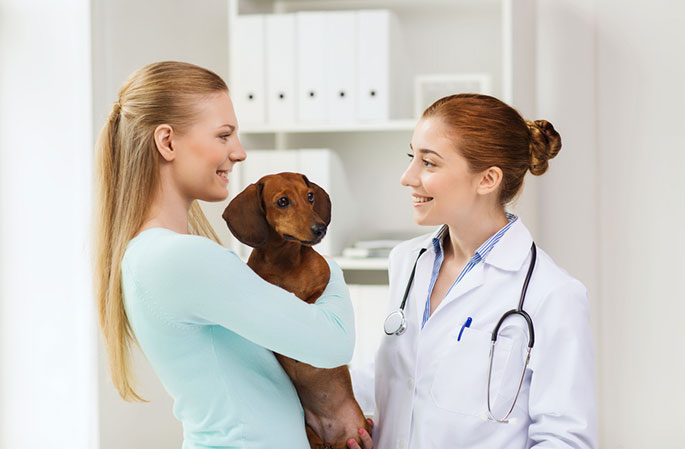 PetDogPlanet.com is an Amazon Associate, and we earn from qualifying purchases.
Dogs and puppies are some of the best furry companions ever. They give you affection, empathy, and all the warm hugs and kisses that you could want. Dogs aren't known as man's best friend for no reason. Over the centuries, dogs have given us their compassion. In modern times, they help people out in a number of ways–whether it's emotionally comforting them and keeping them company or helping them live their daily lives as with aid and health care dogs.
There are other ways in which dogs go the extra mile. Police dogs help solve crimes, army dogs help deliver medicine and heal, guard dogs help protect. When you think about the best thing that you can do for your pet, healthcare and keeping them happy should be at the top of your list.
A lot of dog owners don't think much about visiting the vet regularly because they're more focused on curing their pets once they get sick. Why wait for them to get sick? Pet hospitals and clinics aren't just for curing ailments. They're also for bringing your pet in for routine checks and strengthening their immune systems: an ounce of prevention is worth a pound of cure. Bringing them to a clinic for regular visits also helps with a cure if they do get sick through early detection and accurate treatments.
In this article, we'll be talking about the important facts that dog owners definitely need to think about when it comes to their pet's health. Read on to learn why you definitely want to start considering regular visits for your puppy!
Last update on 2023-12-01 / Affiliate links / Images from Amazon Product Advertising API
Heart Infections Are Very Common in Dogs
A heart infection is an often fatal condition that can stem from seemingly small causes like dental health and tartar build-up. When dogs aren't checked on the regular for their oral cleanliness, they could eventually have bacteria make their way into their veins, causing a heart infection. This could later move onto other organs and eventually cause organ failure.
By getting their teeth regularly cleaned by the vet,  you can avoid the accumulation of plaque and bacteria in your dogs' teeth. Bringing your furry friends to the vet for dental prophylaxis could save them in their old age. It might seem like a small, tedious step but it could be the game-changer when it comes to your pet's health.
Home Remedies Have Their Own Risks
These days,  most things can be searched through WikiHow and Google–including pet healthcare procedures. There are a lot of recipes for home remedies and homeopathic medicine available online that might be easy to conjure right in the comfort of your kitchen. However, this can be very risky for your pets.
For one thing, your pet could be allergic to some of the ingredients, or the home medicine might contain substances that are toxic for animals. There are also some home cures that are only advisable up until a certain age. When you get professional help, you eliminate all of these unnecessary risks through complete information.
Experimenting and making your own home cures, even if they're from popular sources, could lead to your pet's early death or to making them feel sick. You definitely don't want to end up poisoning your pets or causing them pain and discomfort.
Plus, when you consult an expert regularly, you can guarantee that any treatment they give your pets has gone through a lot of testing and accreditation. Remember that when it comes to your pet's health, you should never be taking unnecessary risks.
Vaccinations Are Essential to a Long, Happy Life
Pet vaccinations aren't just good for your pet's health–they're also vital for you and your family's safety. Pet vaccinations can help you avoid rabies infections and they will also help boost your pet's immune system. This keeps them protected while they play outside while also protecting you and your family when you play with them at home. Good health is the cornerstone to making sure that your pets live their lives with the best quality possible.
Monitoring Progress is Very Important
One of the biggest advantages of taking your pets to the vet for check-ups instead of only taking them into whichever clinic is the closest when they get sick is that the doctors and nurses can monitor your pet's habits and progress. Your dog will have a chart and a medical record which they can refer back to. This helps them both with diagnosis and treatment, giving them an idea of what's normal for your dog based on previous check-ups.
Parasites, Diet & Grooming
Parasites are one of the biggest health hazards for dogs and are a common cause of death. They make them suffer by living in their fur and sucking their blood. This makes pets feel weak and eventually, this leads to death because it also affects their appetite and organ function.
Although deciding on a vet and checking out the facilities of the veterinary clinic might seem like a hassle, it definitely pays off when you see how healthy and happy your pets are! Choosing a quality vet like Sugarland Vet Clinic in Bundaberg where your dogs will be treated well and the facilities are clean will make all your time, effort, and money worth it. Find the clinic for your dogs and give them the love they deserve!