Cat Arthritis: Can CBD Treats Provide Relief?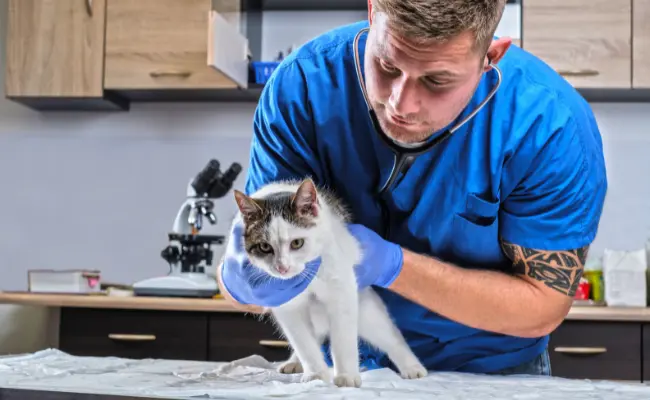 As of 2022, the CBD per market size was valued at over $190 million globally and is predicted to reach over $17 million by 20231. Many pet owners are now discovering the importance of CBD as an alternative and holistic medication. The pet wellness industry recommends using CBD-infused products to treat certain pain-related conditions, including arthritis.
Cats with arthritis often suffer from inflamed joints, mobility issues, pain, and discomfort. Besides old age, your cat might get arthritis due to obesity, genetics, or bone injuries. Luckily, an organic treatment from hemp extracts can help alleviate the pain and treat the condition.
This article provides valuable insights about CBD and how it is a useful remedy for cat arthritis.
What Is Cat Arthritis?
Cat arthritis, also known as osteoarthritis, is a serious ailment that causes joint inflammation ad degeneration. This disease attacks human beings and animals, including your feline friend. Over time, your cat might start having mobility issues due to aging or being overweight. The joints become painful due to the wearing down of the natural padding.
In many cases, arthritis might occur without any underlying conditions. It is usually common in aged and overweight cats. But sometimes, the cats might show the symptoms earlier in life. So, looking for any major changes in your cat's movements and daily routine is advisable.
Here are symptoms that will help you know your cat is suffering from arthritis:
Loss of weight
Joint deformities
Stiffness
Limping and lameness
Joint pain
Mobility problems
Struggling to get up
Staying in one position
Thus, if you notice any of the above symptoms, ensure you talk to your veterinary doctor before the condition gets worse. Early treatment prevents bone degeneration and saves your cat from daily agony and discomfort.
How CBD Treats Arthritis in Cats
It is imperative to understand CBD before proceeding to the treatment. CBD is a short form of cannabidiol and is a main compound in the cannabis plant. Unlike the THC element that causes a high feeling, CBD has gentle effects and is used in the medical sector. It has therapeutic effects, which is why it treats numerous ailments in humans and animals.
CBD-infused products for cats are free of the THC compound due to its intoxicating effects that might cause adverse effects.
So, does CBD treat arthritis? Studies reveal that CBD oil has analgesic properties that help reduce chronic pain and inflammatory infections. Today, many professional vets recommend CBD treatment plans to pet owners as an alternative medication.
When you give your cat the right CBD dose, it immediately interacts with the CB1 and CB3 receptors in the endocannabinoid system – ECS. This system acts as a communication channel that sends signals to the brain, which releases certain reactions affecting the body's functions. In this case, your pet will get immediate relief from the severe symptoms. After using CBD, your feline friend will get better and enjoy general wellness.
Benefits of CBD for Cat Arthritis
As mentioned above, CBD is an effective remedy for arthritis due to its potent properties. It helps in pain management and alleviates joint inflammations. Over time, your cat will regain mobility and no longer have painful joints.
Let us explore other benefits of CBD on cats:
Relieves Anxiety
Pets usually get anxious, especially when they suffer from painful medical conditions. You may notice your cat is restless or has discomfort because of the ailment. Giving your pet a daily dose of CBD as directed by your vet will provide relaxing effects and alleviate anxiety.
Treats Seizures
Several studies reveal that CBD-infused medications treat epileptic disorders and seizures. The compound can reduce the severity and frequency of seizures. Besides, CBD treats or oils are organic and naturally heal your cat without harmful side effects.
Increases Appetite
It is normal for your cat to lose appetite when feeling sick or battling pain-related conditions. Or your feline friend might have constant nausea due to the prescription drugs given by the vet. CBD is a perfect remedy to increase your cat's appetite and reduce the feelings of nausea. Besides, CBD treats come in tasty flavors that appeal to your cat's cravings.
Supports the Immune System
CBD is a natural healing compound widely known to promote a healthy lifestyle. It will boost your cat's immune system and help maintain a balanced life. Ensure you get the recommended dosage and administration from your vet.
Facilitates Digestion
Some pets are picky eaters, especially when they are sick. Or the prescribed medication might make the cat's stomach sensitive and interfere with digestion. CBD will help ensure your cat has smooth digestion without any difficulties like constipation or loose stools.
Promotes Sleep
Sleep is vital for both humans and animals. So, if your cat has irregular sleeping patterns or lacks sleep, you can administer a dose of CBD and solve the issue. CBD has soothing effects that promote quality sleep. Your feline friend will sleep for long hours and enjoy consistent sleep. Thus, CBD is great for the general wellness of your pet.
What Is the Right CBD Dose to Give Your Cat?
Before administering CBD to your cat, you must talk to a professional veterinary doctor. The dosage usually depends on the severity of the condition and your cat's weight.
For instance, if your cat weighs around 10 lbs, you can administer 2-4 drops (each drop contains 2mg CBD concentration). Cats weighing 21-30 lbs can get around 8-12 drops.
Thus, the dosages always depend on what you are dealing with. That is why you should talk to a health expert to avoid future problems resulting from adverse effects.
Factors To Consider When Selecting the Right CBD Cat Treat
When purchasing the best CBD product for Cat arthritis, you must be keen to avoid picking substandard products. You can browse legit websites that sell CBD cat treats for arthritis https://askgrowers.com/cbd/cbd-cat-treats-for-arthritis and get quality products. Here are factors you can consider when shopping for the best CBD cat treat:
Company Reputation
The market is awash with numerous brands, and you might fall victim to scammers. Thus, you must research a company's reputation before purchasing any cannabis product. Identify licensed CBD dispensaries or reliable websites with exceptional products.
Third-Party Labs
Find out if the company uses independent labs to test for purity and quality. You can request the COA – Certificate of Analysis – from the vendor if it is not in the public domain. But usually, legit brands will not have an issue giving the information to consumers.
Potency
It is vital to check the CBD potency of your product. This information will guide you when giving your cat the right dose per your vet's recommendation.
Consumer Reviews
Lastly, you can research online and read reviews from customers who have used the brand or particular CBD oil or treat you want to buy. The reviews will assist you in making the right choice about the vendor.
If you follow the above guidelines when buying a CBD product, you can identify quality cannabidiol treats for your ailing cat.
Conclusion
CBD is becoming quite popular across the globe since many pet owners are embracing the benefits of the cannabis compound. Besides treating arthritis in cats, CBD is an organic remedy for many other ailments, such as cancer, anxiety, and pain-related conditions. It also improves the immune system and provides holistic wellness.
Therefore, ensure you visit your vet for a proper diagnosis, CBD dosage, and administration. Find a top-quality CBD product from reliable brands and let your cat enjoy a healthy lifestyle.