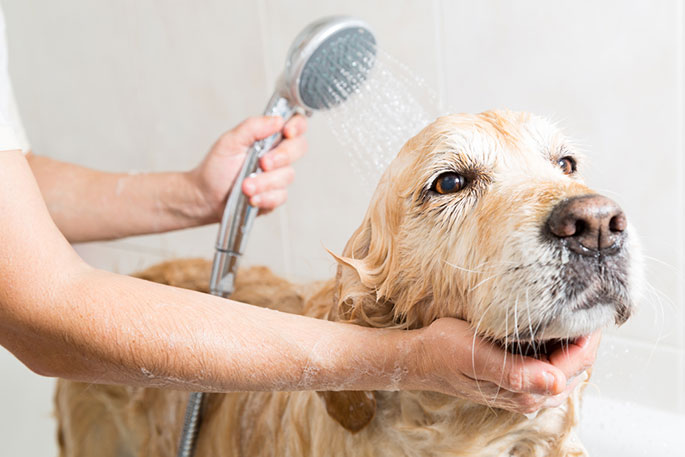 PetDogPlanet.com is an Amazon Associate, and we earn from qualifying purchases.
We love our dogs, that is a fact. However, dogs are curious by nature and tend to follow their nose. This can lead them to some pretty dirty, but interesting, stuff. In addition, good grooming habits mean you will need to bathe your pooch from time to time.
Not all dogs like a bath and not all dogs enjoy water and grooming. With some planning and patience, you can make sure your dog is neat and clean. Here are some tips on the best way to bathe your dog.
Prepare
You first want to make sure that you have the essentials on hand and within easy reach. Besides a dog friendly shampoo, you want to have dog towels, a dog grooming comb and a dog shower hand at your disposal. The right tools will make the job easier.
Dog Shower Head- this is a nice tool to have on hand. There are many different brands, but they work essentially the same way. Most of them will have a contoured head, which makes it easier to wet your dog thoroughly. Some might have a built-in water comb on the head or have some kind of massager. This is helpful for dogs with thicker or coarse hair. These shower heads will also have long hose attachments, which is helpful for larger dogs.
Last update on 2023-12-01 / Affiliate links / Images from Amazon Product Advertising API
Dog Grooming Towels- these should be soft and super absorbent – find some here
Dog Grooming Comb-it is essentially that you de-mat your dog's fur so that the water and shampoo can thoroughly clean your dog's skin and hair. It will help untangle and eliminate loose hair as well.
Time to bathe
Now you are ready to start the bathing process. If your dog is nervous or does not like baths, the first step is to get him to the bathing area. You should put a dog towel on the floor of the tub to prevent slipping.
Put your dog on a leash if needed. Then gently and calmly coax her to the bathing area by giving treats along the way. This should be a positive experience.
If your pup has trouble standing still in the tub, you can put some peanut butter on the tub wall. This will encourage your dog to stand in one place while licking it.
Before turning on the water you need to brush your dog. Make sure there are no mats or knots left. It is important to do this first so that the water can reach the skin.
Turn on lukewarm water and get your dog wet. It is helpful to drape another dog towel over your dog in between washing and rinsing; this prevents your dog from shaking water all over.
Take a small amount of shampoo and work it into your dog's coat. Make sure to get the belly, legs and under the tail, too.
Rinse thoroughly.
How to dry off your dog
Once the bath is finished, have your dog towels on hand. Place one towel over the back of your dog. Take another one and begin to dry his face, ears, legs and tail. Make sure that your dog is completely dry before letting him out, or you will have a muddy dog.
Make sure to brush out your dog after he is dry.
You're all done!
With a little patience, you will have your dog nice and clean in no time at all!