Paws for Thought – 5 Tips for Flying With Your Dog from SAN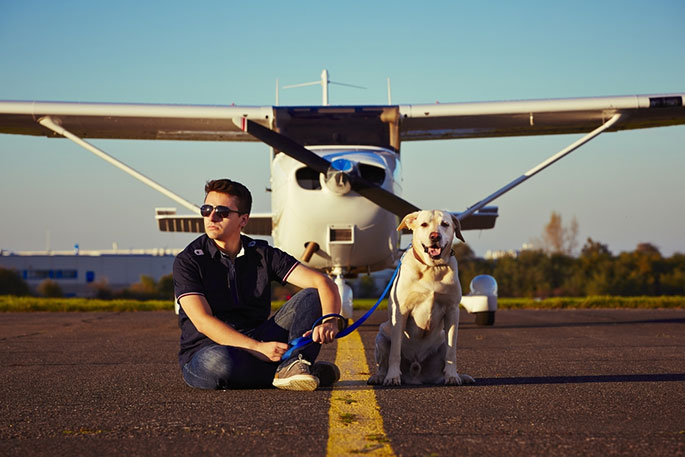 If you're a true San Diegan, the chances are that you're probably a pet lover at heart.
According to this WalletHub pet survey, San Diego ranks an impressive 11th in the list of 100 most pet-friendly cities in the US, comfortably beating off competitors like Denver, Miami and Los Angeles.
And while cats have their charms, rabbits are fabulously fluffy and even stick insects have a certain je ne sais quoi, for us, a loyal and clever canine can't be beat. Dogs simply seem to be better companions – perhaps because they rely on our love and care more than other, more independent critters.
If you're booking a vacay and are worried about leaving your favorite four-legged friend behind, don't despair, because with some prior planning it's perfectly possible to take them with you.
With that in mind, here are five tips for flying with your dog from SAN.
1. Check rules and regulations first
Taking your pet abroad usually means they'll have to be placed in some sort of quarantine at your destination for a predetermined time period and that you'll have to provide documentation that proves they don't carry diseases like rabies. And if you plan to fly with a brand new puppy, think again my friend – no dog can travel if it's less than 8 weeks old. Depending on the length of your trip, these strict rules might make the process of flying abroad with a dog feel like far too much hassle.
The rules for domestic flights may be less stringent, but they vary on different airlines and according to whether you want your pooch with you in the plane or if you're happy for them to fly in the hold. This People article on flying with dogs has excellent information on everything from mandatory paperwork to weight restrictions – make sure you read it thoroughly before booking your flight and you'll have complete peace of mind as you prep.
2. Be Prepared for Dog Comfort Breaks
Flying with your furry friend is all well and good, but while we've seen some pretty clever pooches, most of them aren't able to take themselves to the toilet, answer nature's call and perform the associated ablutions.
So luckily, pet-friendly SAN has no less than seven areas across Terminal 1, Terminal 2 East and Terminal 2 West, where your dog can perform a number one or two in perfect peace. There's even artificial grass and plenty of gratis poop bags so that you can tidy up in a jiffy – remember to grab a few extra in case there are any little accidents on the flight itself, because air crew are unlikely to be happy if you use paper air sickness bags as alternatives!
3. Get to SAN Feeling Free and Easy
Provided you live in the vicinity, it's possible to get to San Diego's air hub via public transport with your canine in tow. However, if they're not used to crowds, a packed bus or train carriage could make them anxious and even aggressive.
Better to book SAN parking on Looking4.com and cruise there in your own ride – fido can stick his head out of the window as you both sail along the freeway feeling completely chilled out.  When you arrive at a pet friendly airport parking lot like parkingaccess.com, you might even be greeted by some of the airport's in house therapy dogs – this terrific troop features diverse breeds including Shih Tzu's and Goldendoodles, is regularly paraded around by volunteer ambassadors and all in all, makes SAN a much more friendly and fabulous place.
4. Build in Time for a Walkies Stop
Your canine chum might feel a but cooped up and cramped if your flight lasts longer than a couple of hours, so giving him one last taste of wide open spaces beforehand is definitely recommended.
Luckily, there are plenty of stunning parks close to SAN, so if you're traveling in your own ride, leaving home early means there's plenty of time for a pitstop that allows you both time to enjoy the feel of the grass under your feet (and paws) and soak in some super views of the city skyline and countryside. Harbor Island Park is an excellent choice, because dogs are allowed on leashes and there are plenty of picnic tables and restrooms – check out portofsandiego.org for opening times.
Don't Feed Fido too Soon Before Your Flight
Traveling can make us humans antsy and one way to overcome airport stress and nerves is by making sure that you don't fly on an empty stomach.
But apply the same logic to your dog and you turn their dream vacay experience into a nervous nightmare. According to USDA pet travel advice, you should make sure that your dog is fed four hours before they fly, but most experienced pet flyers prefer not to feed them after that point as it can make them nauseous and could mean that you're left cleaning up what's explosively expelled from one end or the other. Water is a bit different though – make sure your furry friend is well hydrated prior to flying and don't withhold water during the flight either.
There are a lot of logistics to consider when you're taking to the skies with a dog and in some ways, they need just as much care and attention as the human members of your travel party – because beloved pets are members of our extended family, we naturally want to take every step necessary to make their vacations as comfy as we can.
However, by talking to your vet, chatting to your air carrier and conversing with airport staff as soon as possible, you can make all the necessary arrangements to ensure that taking to the skies with your pampered pooch is an absolute pleasure for all involved.
So ends our list. But do you regularly fly across the US of A with your dog by your side? If so, please share your own tips in the comments section – your contributions will set everyone's tails wagging!